Its almost Mother's Day and as a mother myself, I wanted to think about what might be something I would love to get. I am a big fan of presents that are heartfelt, and they get a couple extra points if its handmade. Acts of service is my love language and I love to give the same to people I care about. Recently I saw a couple different family rock art ideas and I thought that was something I would love to get. It is thoughtful, super easy to make(your kids can make it too!) and its inexpensive, which we can all agree we need these days.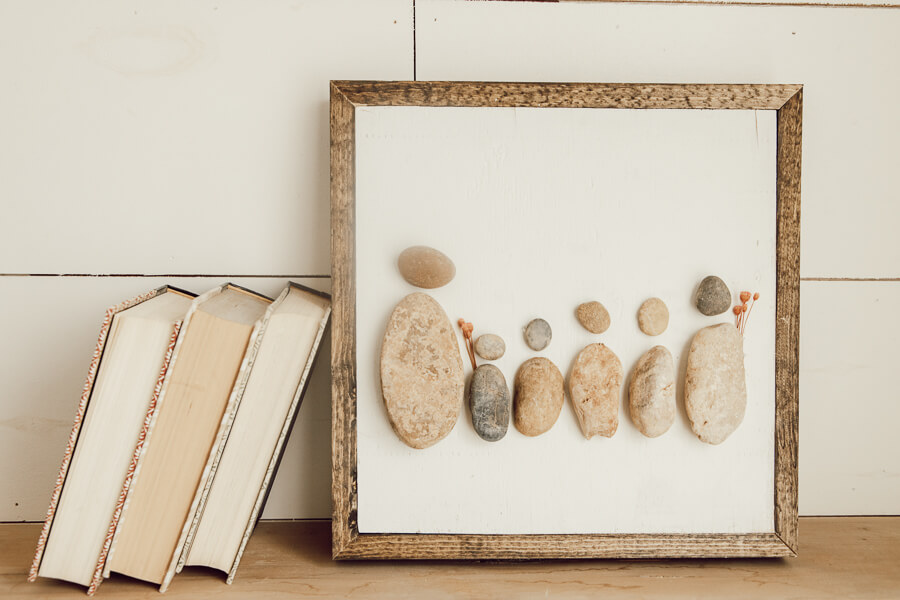 I have seen some very adorable rock art ideas and I chose to create one so that I could show you how to create one for your mom! Today I am sharing an easy DIY Mothers Day gift with some of my favorite bloggers! Make sure to check their gift ideas out at the end of the post!
I created this simple video to share how easy it was to make this DIY family rock art
Here are the supplies you need for this project:
rocks
hot glue and hot glue gun
Canvas or wood base to glue the rocks to.
Any other objects you want to add to it (I added some tiny flowers to two of the rocks to signify females.
First, you want to have a base to glue the rocks to. I used a piece of framed out 1/2 inch plywood that I painted white. The frame is stained a darker color to add some contrast. Next, I wandered out to my backyard, my side yard and even the road! I was looking for specific rocks. I needed more flat and longer types of rocks for the bodies and smaller ones for the heads. I went inside the house and gave all the rocks a good wash to make sure they were free of dirt and debris so that they would adhere to the glue well. Now the fun part. I laid out my rocks on the board and found a design that I liked. Once you find the way you want them laid out, you can start gluing them to the board one piece at a time so that you don't forget where they go. I added some adorable preserved flowers to two of the rock forms to signify me and my daughter. It is a subtle change, but the perfect amount.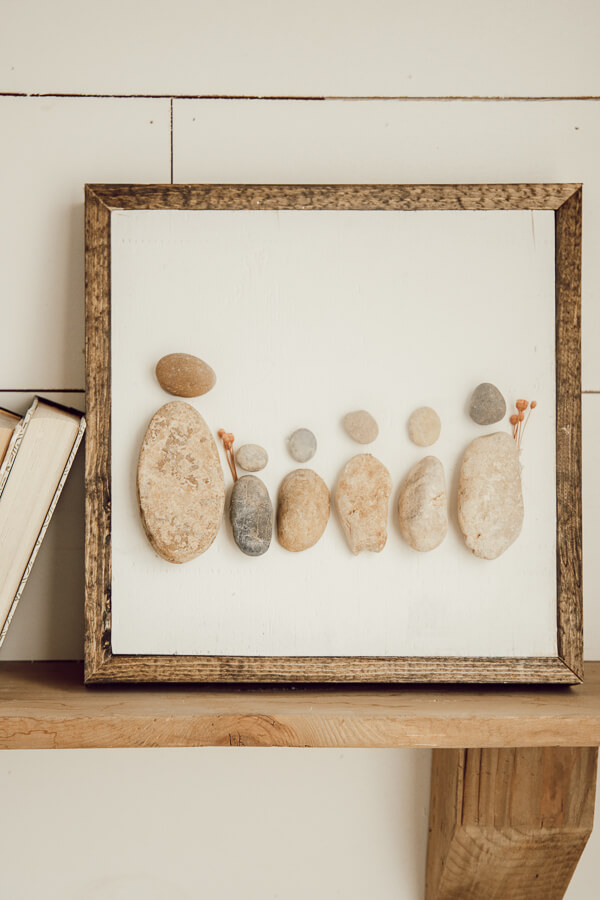 This was a super easy project that would be so fun to make for a grandma or other friend in addition to your mom or wife! I think that this can be a really great and heartfelt gift for the "mother" in your life.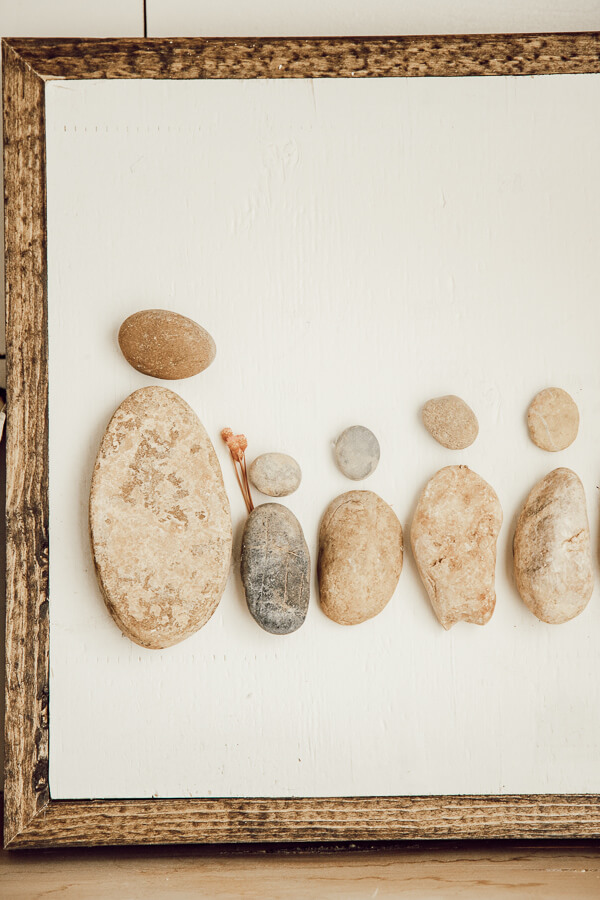 I love that each one of these family rock art projects are completely unique because of the use of rocks as well as the fact that each family is different. Make one unique to your family. Get your kids involved in creating this too!
I love the little flowers added to the two rock structures so signify women. I think that the coolest thing about these is that you can tell what they are, and especially for that person you give it to, they will know! My kids looked at ours and knew exactly which rock was who they were in the family.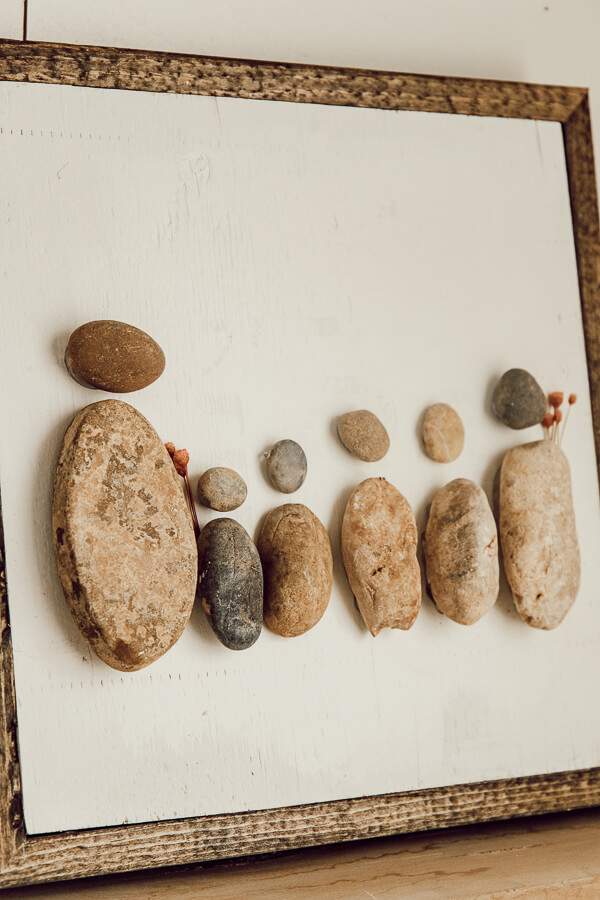 Why not try this fun craft project out and make the "mother" figure in your life feel so lucky to have you!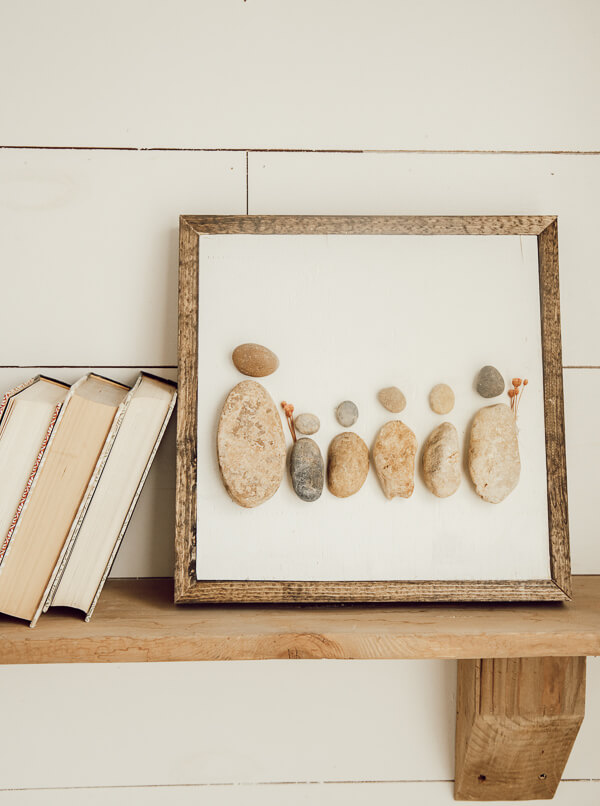 Blogger's Best Mother's Day Gift Ideas

Family Rock Art | Twelve on Main
DIY Beaded Plant Pot Mothers Day Gift Idea | The Happy Housie
Free Printables for Mother's Day | My Sweet Savannah

Rose Body Butter Recipe and Printable Tags | Tatertots and Jello
Lemon Sugar Scrub Recipe With Olive Oil | Happy Happy Nester
Garden Kit for Mom | Most Lovely Things
GET YOUR FREE GUIDE to 30 DIY projects that can be done over the weekend!
By subscribing, you will gain access to my FREE guide with 30 DIY projects that can each be done in a day, or over a weekend!
You will also receive a weekly email with some of my favorite tips, tricks, and design ideas.