A Summer Farmhouse Home Tour Part 2
I told you I would be back and today I am back with a summer farmhouse home tour, part 2.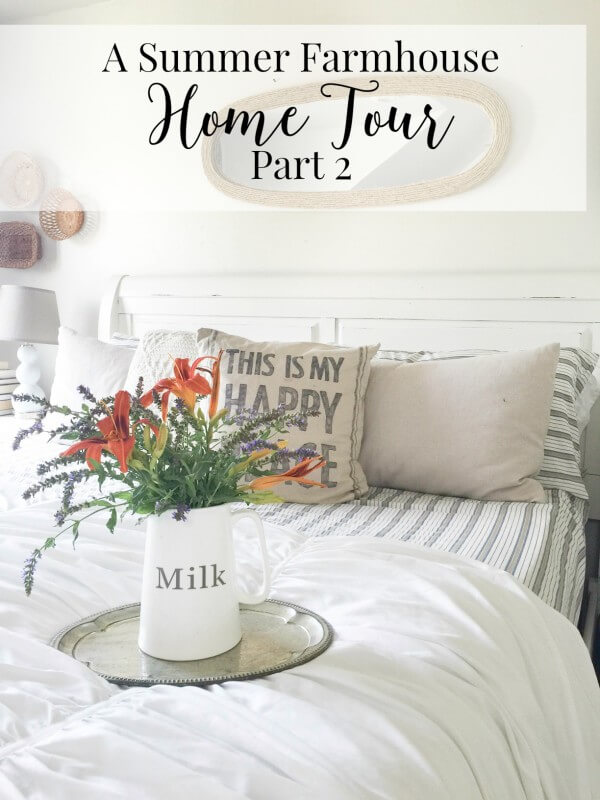 Yesterday , I featured Part 1 of my summer farmhouse home tour and today I am featuring a few spaces from my homes second level.  I still have a few areas that are under progress right now. but I have some of my favorite spaces to feature.
My first space is my bedroom.  It is hard to say that any room is in a perfect state, and my bedroom certainly is not, but I love this room, I love the space and I love the light that streams in through the windows in the morning.

This is my favorite place, my happy place.  It is definitely my favorite spot in my room.  I love to fill the room with fresh cut flowers.  The soft whites and neutrals allow the flowers to stand out.

This post contains affiliate links for your convenience.


The next room I want to feature is my sons bedroom.  Mainly, since he really wanted me to:)  His room is quite the drastic change to my otherwise neutral farmhouse pallet.  We went with something a little more vibrant for his room.
i added a chevron accent wall on the opposite side of his bed.
We built his desk out of reclaimed barn wood.  This is where I will do a bit of bragging.  I have to say my son is pretty amazing at styling and organizing.  He set his desk up all by himself.  I love what he did.
He also built this plane out of some scrap wood that we had left over from his desk.  He tied some string to it and we hung it from the ceiling.  I think he takes after someone in this house:)
It has everything an 11 year old would want: trophies, good books, and airplanes.   The only thing he would want to add is a mini fridge full of treat s and sodas.  Not happening.

My daughters room, it is so dreamy.  If I were little again, this would be my dream.  we went light with her room.  The duvet cover is from Ikea.   That amazing light is from a little antique store about 30 minutes from my house.  I saw it and had to have it.  I bought it before I even had my daughter.  I knew once she was born, it was going in her room.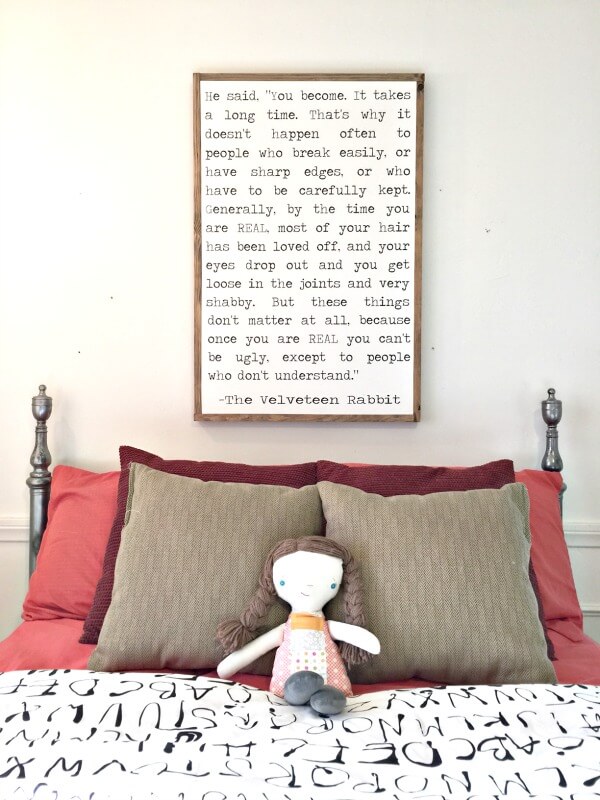 The Velveteen Rabbit sign is from Homespun Signs.  I love this quote and love it in her room even more.

I sewed the curtains myself from some fabric I scored at a store that was going out of business.  It was the inspiration for the whole room.
Everything about her room has a story.  I hung her blessing dress with some of her most favorite toys, a mini rocking chair and horse.  We actually found these at a thrift store and painted them white  She loves to play house with them.  I create the sign and thought it would go perfect in her room.
This bed may have the best story.  This toddler bed was built by my great-grandpa, which is my little girls great great-grandpa.  It is a priceless piece of furniture that I am so incredibly lucky to have.  We treat this thing like it is made of glass.  Only my daughter is allowed to lay on it, since it is too fragile for anyone else.  The character and patina on it are incredible.

We added some rustic pallet shelves full of some of her favorite books.  I tell you, pallets….genius.
The last space I thought I would share is my family room.  This room was almost an afterthought.  We originally were going to build our home with a main family room downstairs that would have been open up into the second story.  As I was looking at our plans, I realized that we could create another space without compromising the felling of height downstairs.
  It was a win- win.  The beams in this room are all completely structural.  I sat and watched my husband and brother in law build these things in place.  It was an amazing feat to watch.  This room has to be one of the hardest to photograph, so I apologize for the less than stellar pictures.
Every afternoon this room is filled with light.   This is my kids favorite place to have sleepovers, movie nights, and guitar hero.
It is a cozy space that we come to relax.
The light spills in and envelopes our floor to ceiling fireplace.  I have added a few patriotic touches to the mantle as well as some found objects.
Of course, I have to feature our industrial shelf entertainment center.  This baby was no easy feat, but we love it.
Thanks again for stopping by for the second part of my summer farmhouse tour.  If you missed the Part 1, you can see it here.  Be sure to check it out.
I hope you've enjoyed touring around my home.  I enjoyed having a clean space for a few hours.  Thanks for stopping by and remember…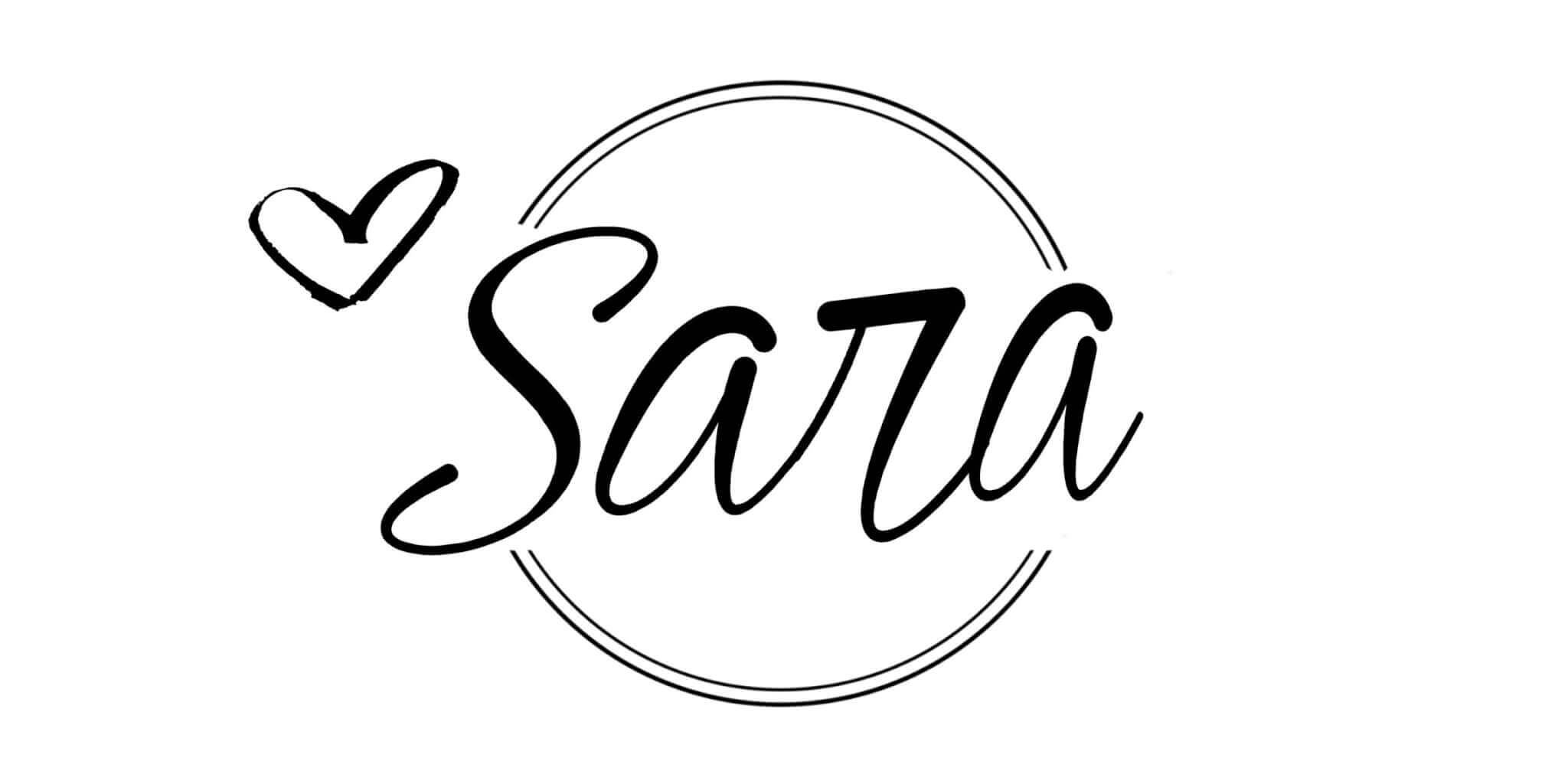 If you like this post, you'll love:
GET YOUR FREE GUIDE to 30 DIY projects that can be done over the weekend!
30 DIY Projects to do this weekend!