A few days ago I posted my summer garden tour. It was full of all the outdoor farmhouse goodness that surrounds my home. Now, its time to take a look inside. Are you ready for a farmhouse summer home tour?
*This post contains affiliate links for your convenience*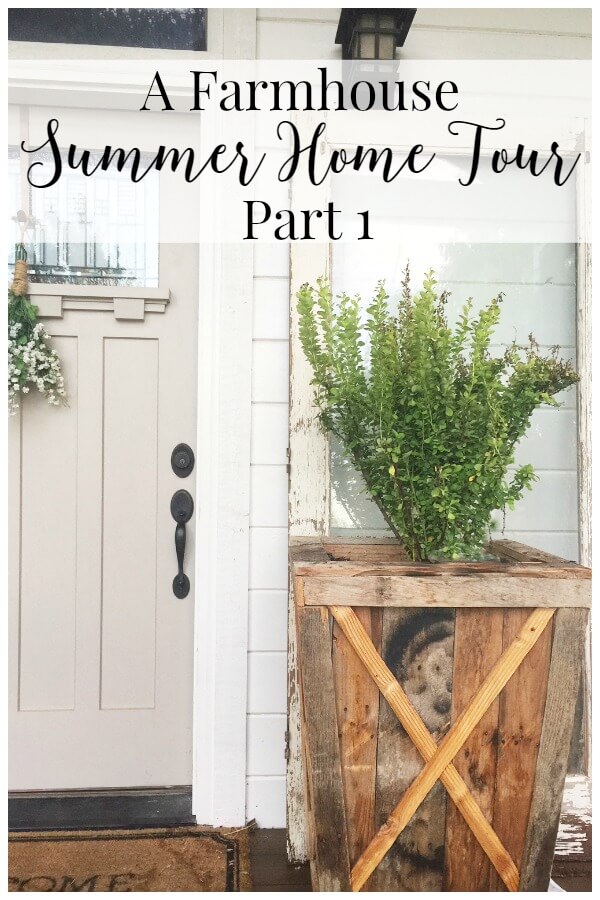 I always like to start my tour on my front porch. It is the entrance to my home, and this is where the goodness will begin.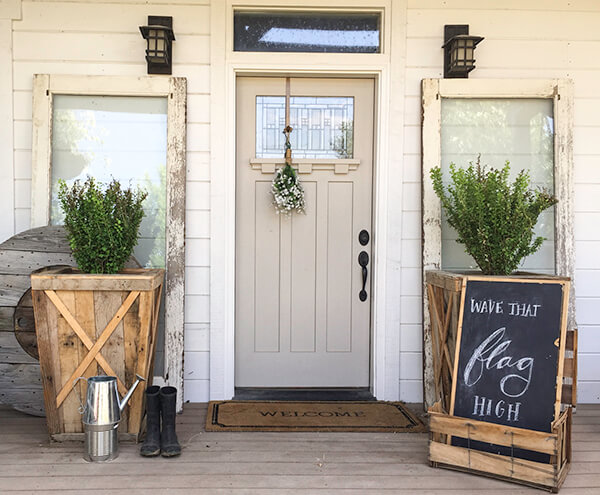 Welcome, so glad you're here!
Upon entering my home, you are greeted by one of my most prized possessions, my antique church pew. I decided to set it on an angle to change things up and I am loving the change.
In the summertime I like to keep my home light and airy, and I love to take advantage of all the lush foliage I have right outside my door.
Lavender, Lemon Balm, Lilacs, Mint, and Salvia line my flower gardens and now they adorn all the rooms in my home with their fragrances wafting in the air.
My entry is simple. A place to sit down, with an inviting feel. I added some fresh Lavender to the pew as a fun little touch. Obviously this will not stay put, not with little fingers around. The photo above the pew is the actual blue print from our house. We built our home from the ground up ourselves. There;s a lot of blood, sweat, and tears in these walls.
I love how the light streams in from the front door.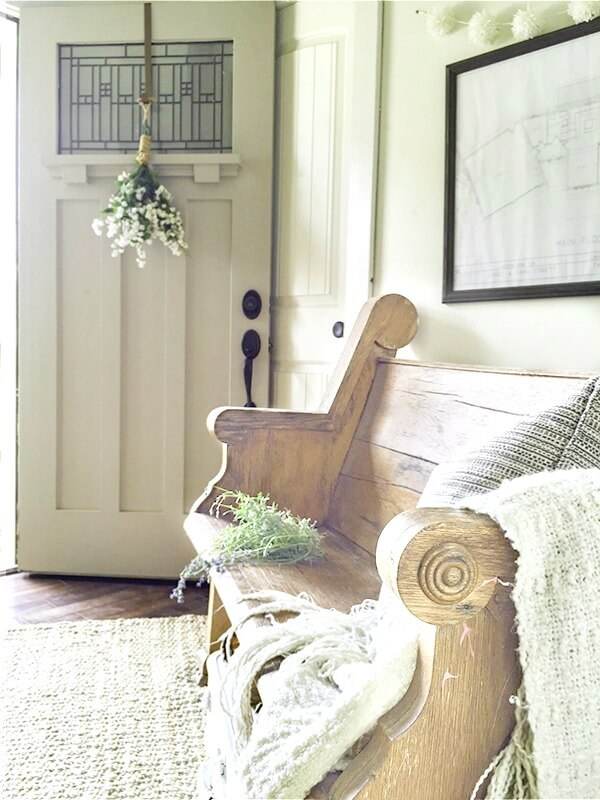 As we leave my entry, I want to do something a little out of the ordinary for myself. I want to show you a little bit of where I work. My office is no where near finished, but I love, absolutely love the light filled room and the view out onto my porch. With the windows open on a warm summer day, it just might be the perfect place.
Every blogger has a lighting kit, am I right? One of these days I will start painting again…one of these days.
My office connects to the heart of my home, my kitchen and dining room.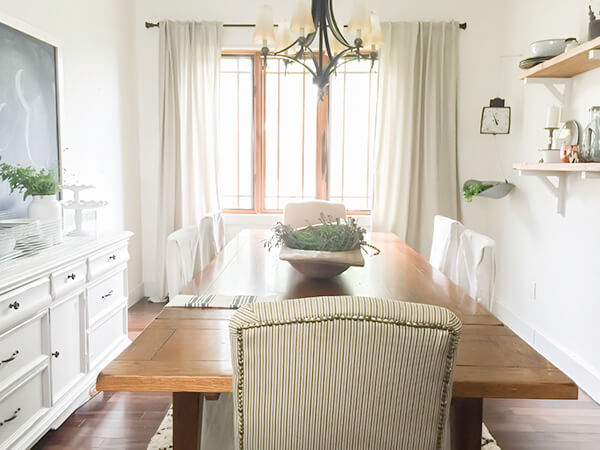 My dining room has been simplified as well. Some fragrant Salvia in my antique dough bowl.
A little updated summer artwork on my butcher paper roll and a little rearranging on my farmhouse style reclaimed wood shelves.
From my dining room you can see my bleached antique barn doors in my breezeway. I love this view.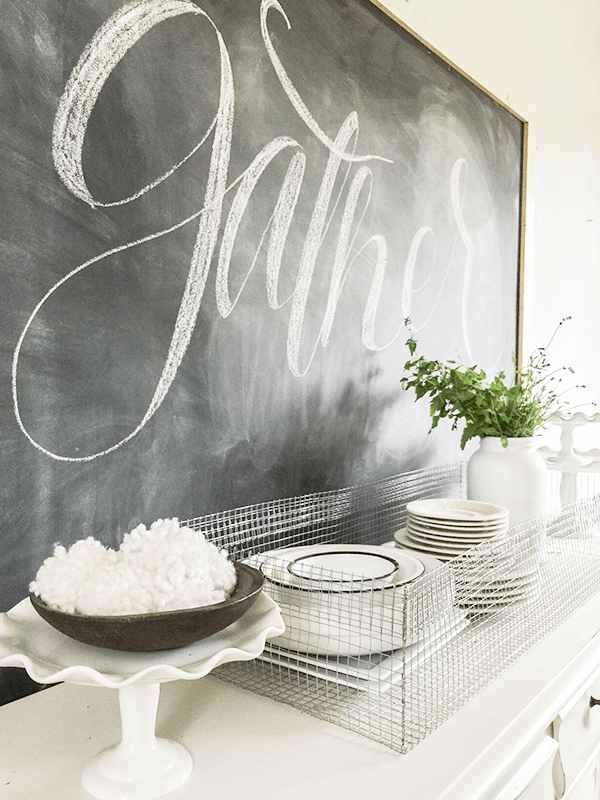 I cut some fresh mint to be hung in my antique scale.
My kitchen has not changed in a while, and I may be getting ready to do some "updates". What can I say, I am always planning things. I do love my knotty Alder wood cabinets, but I think I may be ready for a change.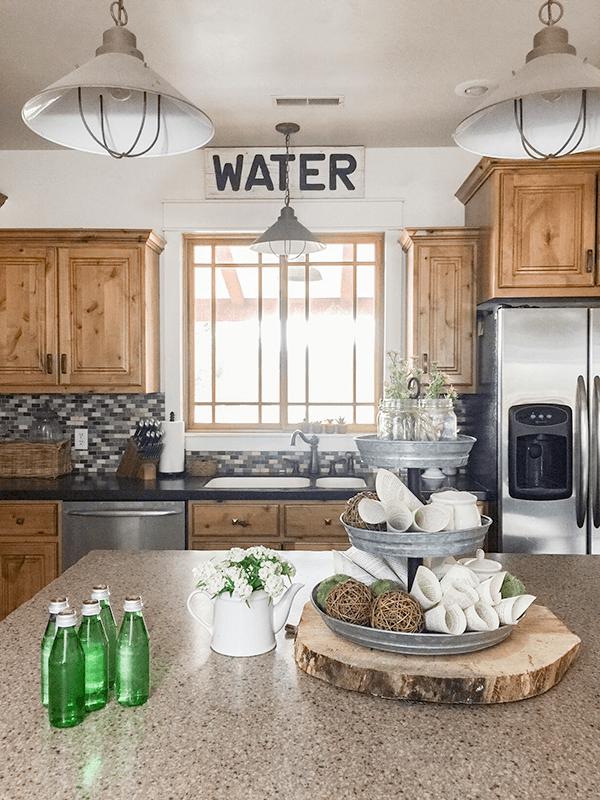 I've filled my galvanized tray with book page rolls, moss balls and twig decorative balls.
I still love my reclaimed water sign above my window, and have no plans of moving it.
Our kitchen is truly the heart of our home. We spend so many hours in this space. I love the views out my windows and the views from my kitchen to the rest of my house, where I can watch my kids play.
This is the view from my kitchen. Not bad eh?
Shop This Room
This cow print is one I have wanting for so long and I finally got it! You can find it at Minted. I have mounted it simply with wood slats and will be doing a tutorial on it sometime soon.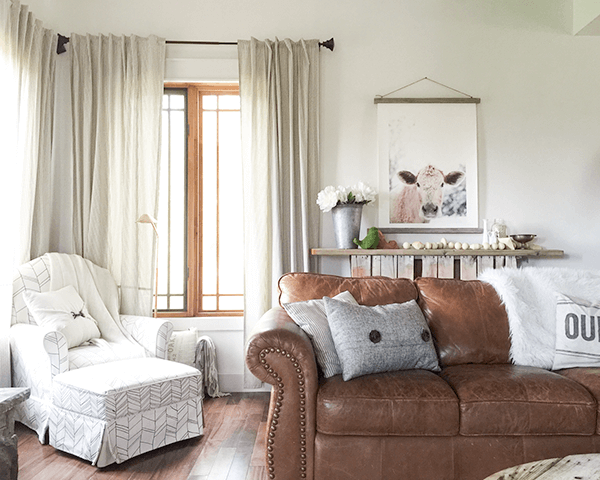 There on the left is my painted upholstery chair, with a design created with sharpie markers. 2 years later, and it is still in excellent shape.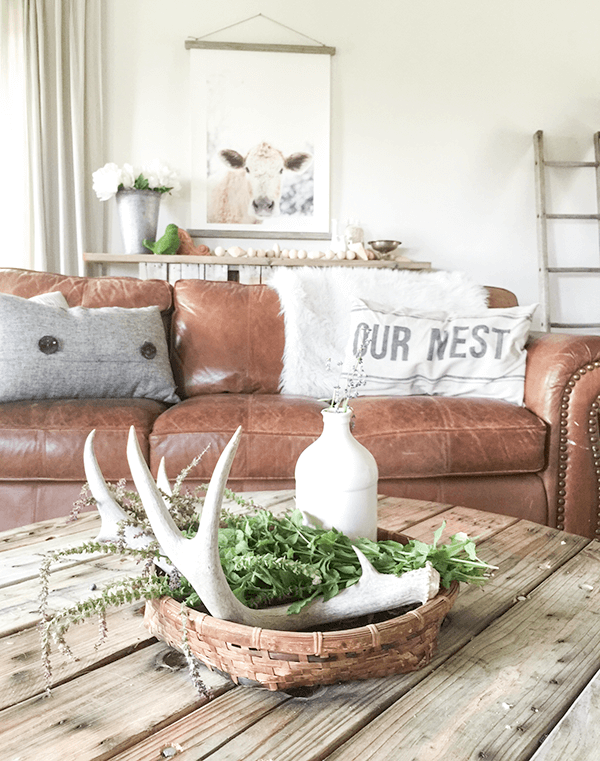 I wanted to keep my centerpiece simple on my wire spool coffee table.
One of my newest acquisitions is this vintage water jug with its wooded crate in tact. When I saw it, I had to have it. My number 4 pillow was created with a sharpie marker, and you can see my technique here. The chairs are from Lamps Plus. Aren't they lovely?
Of course we have to have our television, but does it have to be unsightly? No. We framed it out with barn wood and dressed it up with my white sideboard buffet.
I can't leave out my sweet fiddle leaf fig. Can you believe I got this on Amazon?
My fireplace got a simple farmhouse style arrangement.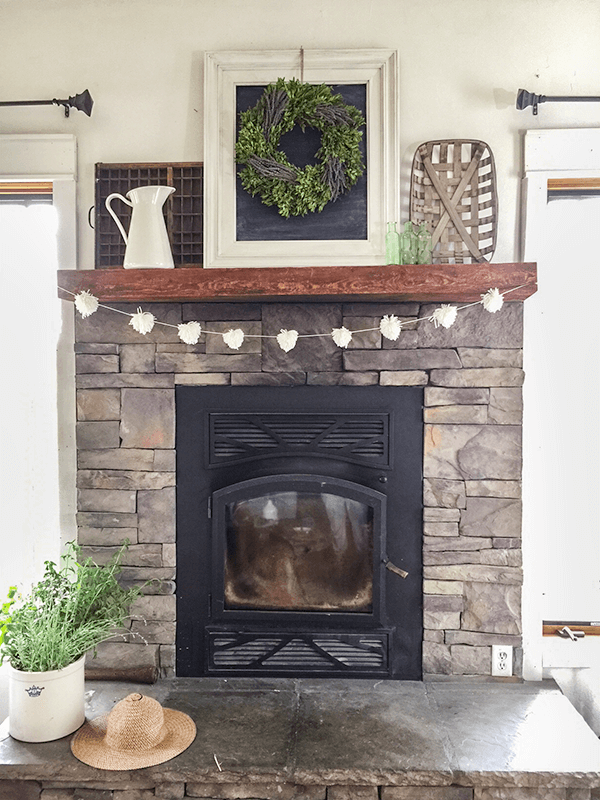 A blank chalkboard, white pitcher, boxwood/lavender wreath, antique printers tray, and a tobacco basket.
Shop This Mantle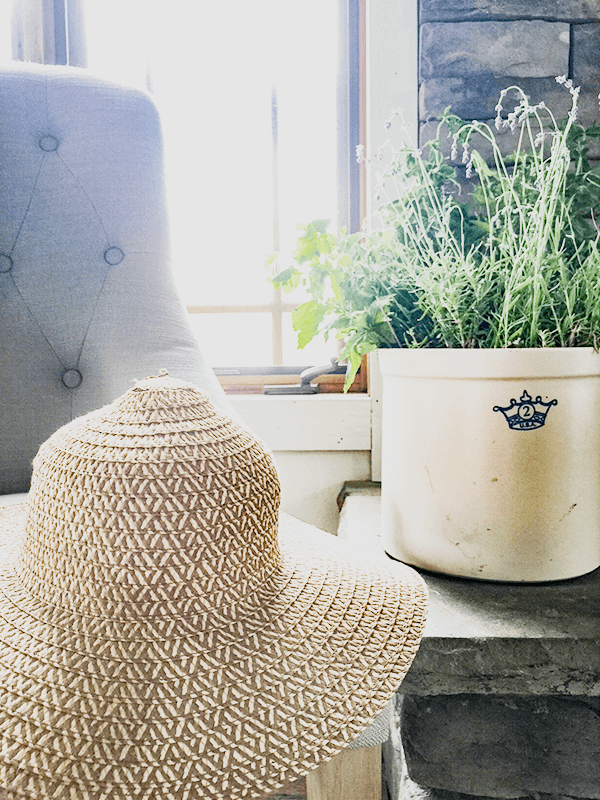 A little more lavender and my garden hat.
As you leave my family room and head toward the front door once again, you will pass my sweet old bessie.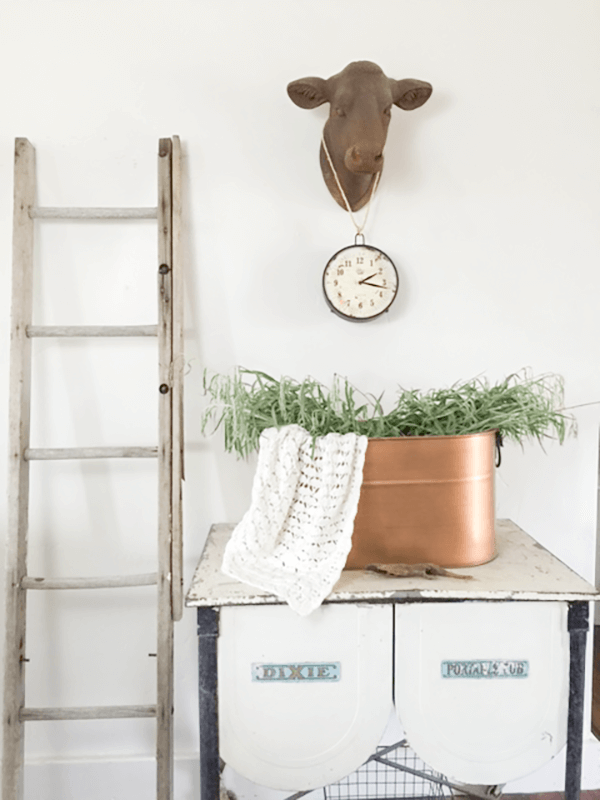 A copper bucket, willows, old ladder, and laundry tub. It can all be combined to create a wonderful space.
My reclaimed wood table fits perfectly in this little alcove.
On the right is an old piece of molding from a house over 100 years old! I had to have it. I am not really sure what I will do with it, but for now it will sit where it is.
And here we are, back at the beginning. Thank you so much for stopping by for my home tour today. I will be continuing this home tour tomorrow, where I will feature my second story spaces. I hope you will stop by or that! This farmhouse summer home tour is just getting started!
Have a great day and remember…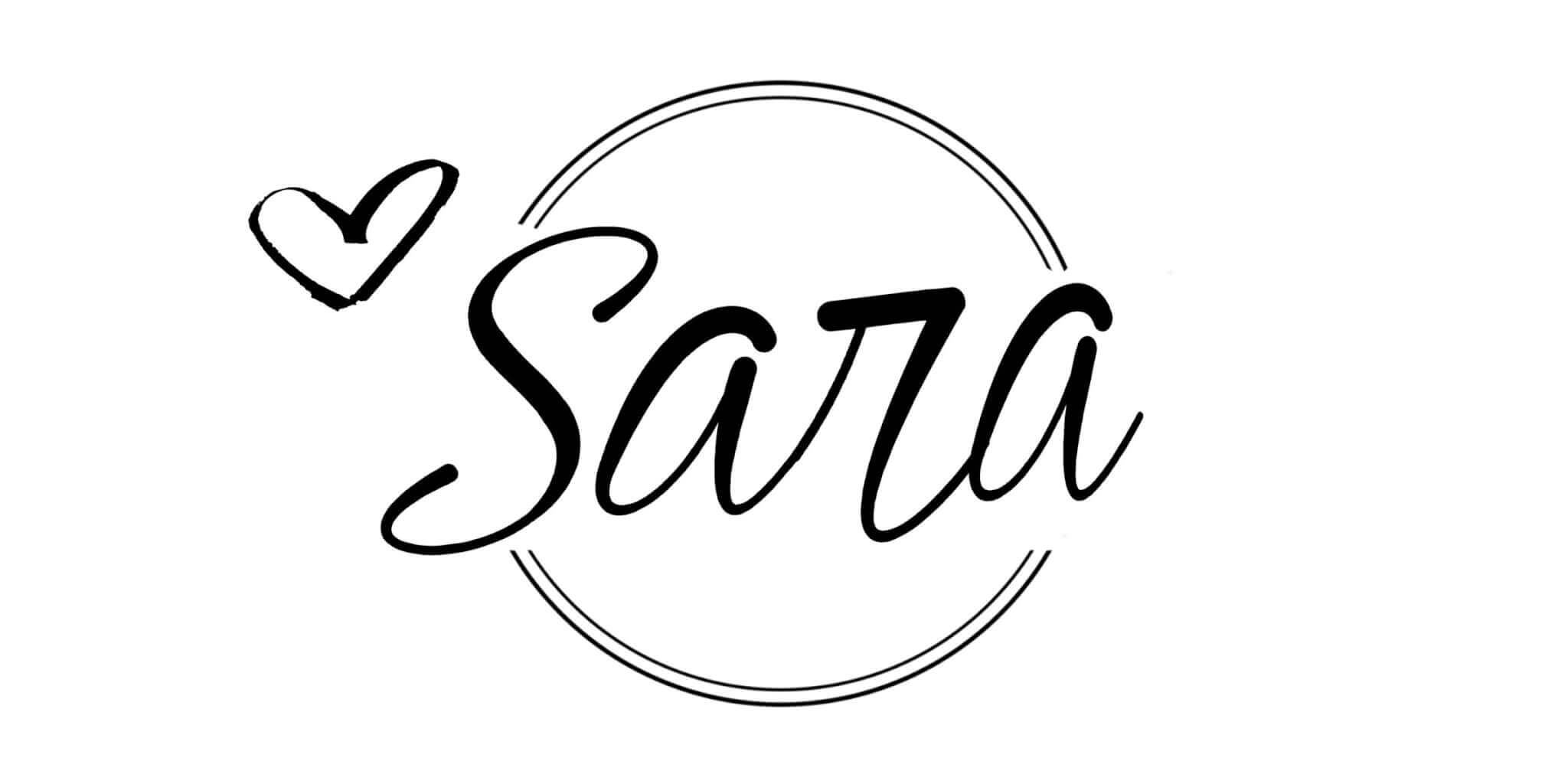 Check out some of my favorite farmhouse decor:
Remember to stop by the rest of these amazing bloggers that are also featuring their summer home tours!
*This post contains affiliate links. I may earn a few pennies when something is purchased through these links, at no extra cost to you.*
Monday
Green With Decor
Iris Nacole
Our House Now a Home
My Life From Home
Refashionably Late
Tuesday
Live the Fancy Life
Seeking Lavender Lane
The Weathered Fox
Q-Schmitz Home Design + DIY

Wednesday
Twelve on Main
Little Bits of Home
Beauteeful Living
My Creative Days
Thursday
Architecture of a Mom
Two Purple Couches
The Tale of an Ugly House
2 Bees in a Pod (house 1)
Friday
Simple Nature Decor
2 Bees in a Pod (house 2)
Lehman Lane
Farmhouse 40
GET YOUR FREE GUIDE to 30 DIY projects that can be done over the weekend!
By subscribing, you will gain access to my FREE guide with 30 DIY projects that can each be done in a day, or over a weekend!
You will also receive a weekly email with some of my favorite tips, tricks, and design ideas.