This free printable calendar with handlettered details is the perfect thing to help you organize your life. Check out the full post to claim your FREE printable calendar!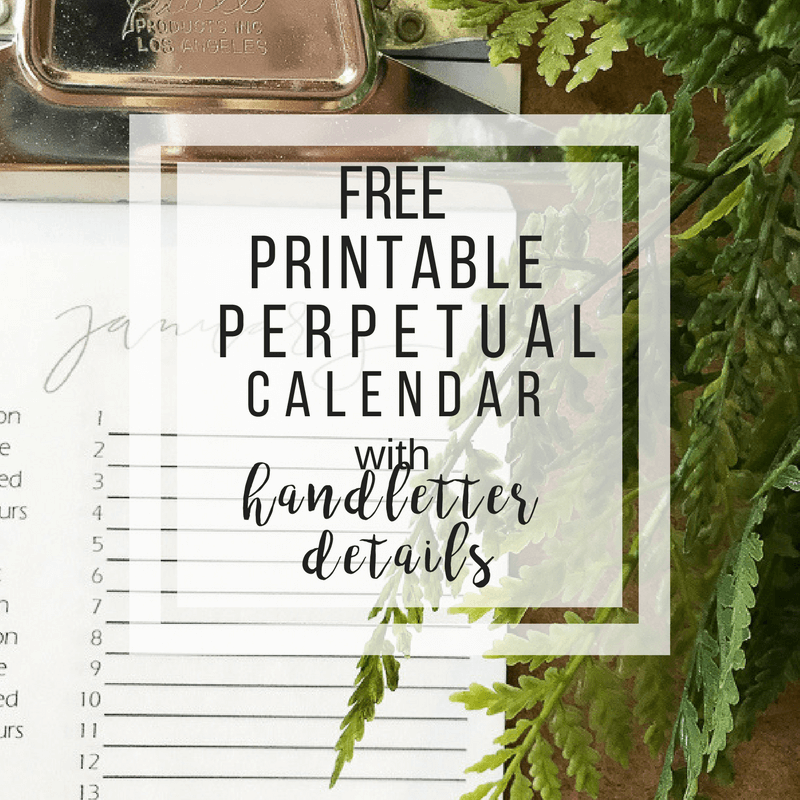 Well, its Friday! Oh I am so excited that it is Friday! What do you have planned for the day? Hopefully something fun! I am excited to start up my FREE Printable Friday posts! If you are new here or don't remember me doing a Free printables Friday posts, I used to offer a printable to my readers every Friday! I got so busy last year that I stopped doing them for a while. Now, I am not less busy, but I decided it was time to start it up again as a big Thank You to my readers! After all you are the reason for the success of my blog!
So this Friday I am bringing you this new free printable calendar, with handlettered details by me!
MY LATEST VIDEOS
Now, this calendar is actually a perpetual calendar. This is a simple calendar that you can use at a glance. It has the days and dates of the week and a simple line to jot down daily tasks.
Ways to hang this FREE printable calendar:
This free printable calendar is the perfect thing to hang in your kitchen or office for a quick at a glance calendar. I love to hang this on my fridge. Check out these metal magnetic clips that will make it easy to add this to your fridge.



I find I do a lot of brainstorming and planning when I am doing the dishes, and this makes it super convenient.
I used an old clipboard to store my calendar. This is a great place to hang it, and it looks really cute on it.
Now, this free printable calendar comes on 6 sheets. I have made it so that there are 2 months on one page. You can print them all off and then cut the page down the middle with a paper cutter or scissors.
Each month has a handlettered title. I love the simple look of the names of the months. That is really all you need. This calendar would look perfect in any home. It is not specific to any one style. Its classic and stylish!
I hope you enjoy this perpetual printable calendar and use it in your home. I would love to see photos of how you are using it! Make sure to tag my on Instagram with @twelveonmain and there is a chance I will share it with my fans!
To download your FREE printable calendar, click the image below. This will give you exclusive access to my entire printable library as well as this printable perpetual calendar.
I hope you have a great day! Make sure to follow me on Facebook and see what I am pinning on Pinterest!
If you like this printable calendar, check out some of my other printables I offer!
Early Harvest Tablescape With Free Printables
14 Inspiring Free Spring Printables
Farm Fresh Printable
Have a great day!
Love farmhouse style?
Join a community of over 10,000 and get simple design tips, tricks, and with my weekly newsletter. You will also gain exclusive access to my Printable Library!!