How to Make a Grain Sack Pillow Without Grain Sack Fabric
You may be wondering, what? How do you make a grain sack pillow without grain sack fabric? Well, you make your own grain sack fabric duh! Keep scrolling to see how I did just that and then how I turned it into a grain sack pillow!
Okay, okay, maybe this isn't the most exciting post today, but after yesterdays post on how I made my faux grain sack fabric, and you can see that here. Today I wanted to show one of the ways that I decided to use it. Pillows were on the menu. I wanted to add some grain sack pillows to my Christmas decor this year. Don't worry, its not the only thing I made with this fabric. But, you will have to wait and see that another time.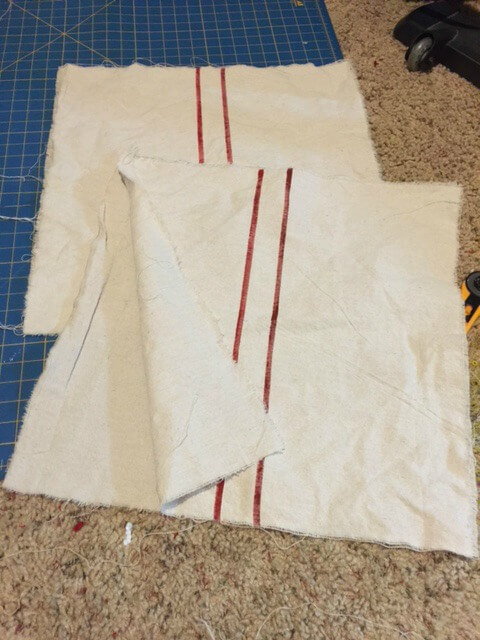 So what I did here is I decided to make some grain sack pillows with the grain sack fabric. A great thing about this drop cloth fabric is if you make a small cut in the fabric, you can pull it and it will rip straight, leaving you a nice straight line. I decided to make the style of pillow with a band of fabric open around the edges. Does that make sense? Literally I am sewing a square and leaving a 2 inch piece of fabric around the outside.
Here is what I used to make my grain sack pillow:
my Pfaff sewing machine with matching beige thread.
Scissors
I cut my fabric into 20 inch squares, making sure to have the grain sack lines in the center of the pillow. You could however offset them as well, which would look really cool. I wanted mine in the center.
Since I did not want to use up all the fabric on one grain sack pillow, I only used the grain sack fabric on the fronts and used plain drop cloth for the back. This was easy enough. Next was to match up a front and back piece and pin them together with pins.
I sewed all the way around the perimeter of the pillow leaving a 1 inch fray on the edges. I sewed all the way around the pillow and then left a small opening on the pillow to be able to fill the pillow with Polyfill
. Once it was filled to my liking I simply continued the stitch to close up the square.
Once I stitched it closed, I pulled off the stray threads to create a frayed look.
I made 4 of these pillows and I am loving the simple farmhouse Christmas vibe they are adding to my home.
I love using grain sack fabric for home decor projects and these grain sack pillows made with faux grain sack fabric were so easy to make and they are perfect for Christmas!
**Update 12/12/2018- I have also made these kinds of grain sack pillows with my envelope pillow cover method. This way you can wash the pillow cover, separately from the pillow form.
And with that, I hope you try this project out for yourself! I love making my own pillow covers, and this is something that could last for along time.
Have a great day!
GET YOUR FREE GUIDE to 30 DIY projects that can be done over the weekend!
30 DIY Projects to do this weekend!