It has been one of those days.  After a few days of work, and all the necessary minutia that follows my life around, I get antsy.  I bet I am hilarious to watch.  I start a project, but in the middle of  that project, I come up with another one.  While I am juggling both of those projects, I hatch another one….and the cycle continues.  That is how today was.  I was in the midst of decorating my dining room for Christmas, but nothing was going quite as planned.  I just was not loving the direction it was heading.  I sat down a minute and was looking through some of my inspiration pics when it hit!  My dining table needed a grain sack tablecloth!  Oh yes, I will just run to my closet and look through my collection.  Oh wait, don't I wish.  So instead, I went looking in my fabric closet.  Drop cloth fabric, that is what I was looking for.  Red paint?  Yup, found it.  I was getting very excited.  I decided I needed to make a tablecloth and some extra for other projects.
*This post contains affiliate links.  This means by clicking on the link I may earn a few pennies towards my kids college tuition.*
Here is what I used:
MY LATEST VIDEOS
Canvas Drop Cloth
General Purpose Masking Tape 1 1/2- 2 inch wide
Red Craft Paint

(or whatever color you want to make them)
Now let me just say this:  I am in no way trying to replace the amazing antique grain sack fabric that you can sometimes find.  If I could keep a nice large collection of that stuff in my home, oh my, I would be in heaven.  But, alas, purchasing that is just not in my budget these days.  Maybe one day.  Until then, I will use my go to method and create my own.  I know its not the same, but it sure is close.
The first thing I did was lay out my drop cloth fabric.  This fabric had been washed a few times so it has a much nubbier and softer feel to it.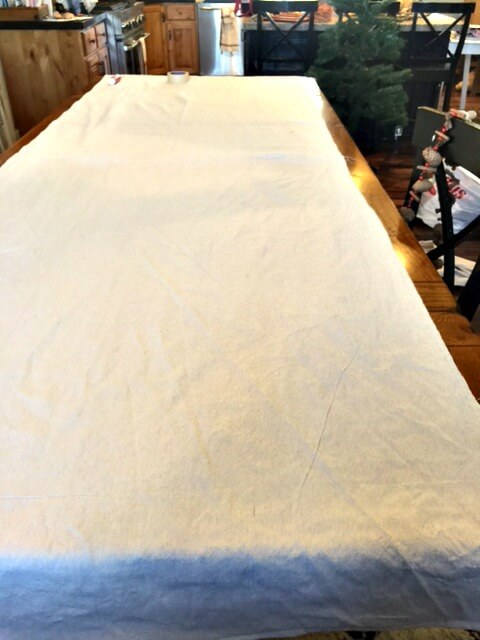 I will say drop cloth is a pretty good substitution but I do think that you need to wash it with some bleach to soften it up.
I taped off the lines that I wanted to create on the fabric.  I chose two skinny lines for this piece.  I also made some with a wider stripe on it.
Once the fabric has been taped off, I took some red paint and brushed it on in a dry application.  I did not paint it solid.  There is unevenness that I quite like.
You can see the look of the paint effect here.
Once I was done, I took the tape off.  I did not wait until the paint dried, because sometimes the tape will dry to the paint and you will have a hard time getting the tape off certain spots.
The last thing I did was sand down the lines a bit once they were dry.  I just wanted to give them a more antique feel.
And that is it!  I spent about an hour making two different patterns and had amassed a large amount of faux grain sack fabric.  Do not worry, though it will all be put to good use.  Check back tomorrow when I show you what I have done with it.  I know rude, right?  Making you wait.
Check out these posts too!
https://www.twelveonmain.com/making-a-pillow-with-my-grainsack-fabric/
https://www.twelveonmain.com/farmhouse-christmas-dining-room-tour/
Have a great day!
Love farmhouse style?
Join a community of over 10,000 and get simple design tips, tricks, and with my weekly newsletter. You will also gain exclusive access to my Printable Library!!