Over 60 Gorgeous Foyer Bench Ideas for Your Home
Having an entryway is kind of a luxury I think. Often times many homes do not have a dedicated foyer or entry to their home, and that is okay! The hard thing about it, is most people like to have a spot where people can sit to remove shoes, hang jackets, you know that sort of thing. Whether you have a small space or a large space in your entryway, its important to take advantage of it and create the most functional as well as stylish space for you and your guests. Rarely do people have a dedicated mudroom where they can put all this stuff, and the foyer is the next best spot. I want to share over 60 foyer bench ideas today, including some images of different foyers, as well as a collection of gorgeous and functional foyer bench options that you could use in your home.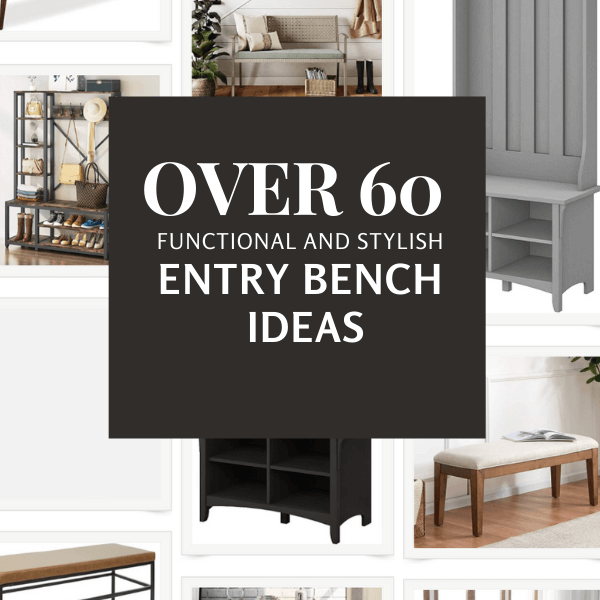 I have changed my entryway many times over throughout the years. I have used an entry table, a bench and ultimately settled on my antique church pew as my favorite feature in my foyer. I added some hooks to the walls to give people a place to store their jackets and other accessories as well as some cute decor items. I love creating a space that is functional and beautiful.
I feel like my entry way is of average size, not huge but its not a small entryway either. Whether you are wanting to build a DIY bench of your own, or a bench – coat rack combination there are tons of different plans and ideas online that you can use to create your own. Ana White has tons of great tutorials on DIY entryway benches and more. On top of that, there are thousands of different foyer bench ideas online available for purchase.
Adding an entryway storage bench is a great way to add much needed storage into a home as well as place to sit and rest while taking off shoes or to visit. It can so much more than just a piece of furniture. There is no reason why you cant have something that is functional and beautiful too. You can use it as extra seating and its the perfect place to set your accessories.
If you have a tiny entryway off the living room it is a good idea to add something minimal that will also be functional. A small foyer doesn't mean that you cant create a landing space that works for your home. Even a small amount of extra storage space with a small bench is enough to help create a functional home and whether you want a modern design or lean toward the traditional design options there are thousands out there. Let me share some with you.
I want to share some of my favorite spaces that have great foyer bench ideas:
Below are some of my favorite entryway ideas for you to swoon over! Keep scrolling to see tons of amazing foyer bench ideas for larger homes, smaller spaces and everything in between.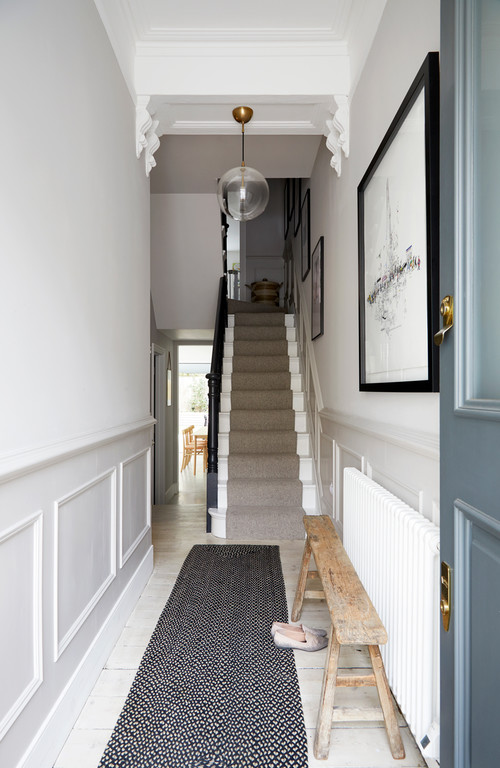 Photo by Indie & Co. – More entryway photos
In a more narrow hallway type of entryway, having a simple wood bench is the perfect thing. I love this rustic bench and the oodles of character it has. It is a great option for a narrow hallway. A narrow side table would also look great too. The simple rug is the perfect accessory in a foyer. Gorgeous artwork is also a great thing to add as wall decor of any space.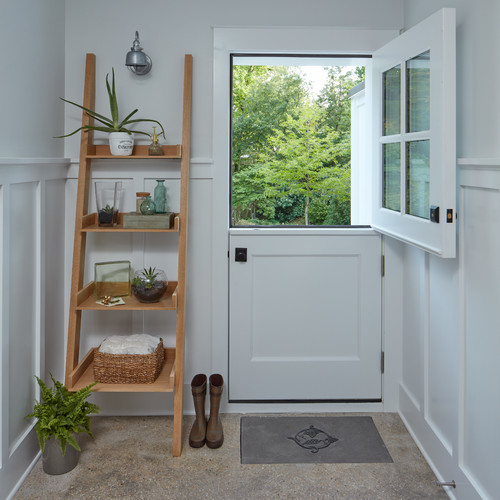 Photo by Melissa McLay Interiors – More entryway ideas
I am obsessed with dutch doors and I love how this simple shelving unit adds an inviting feel to the entryway and front door area. I love the shelf. Its a great place to put decor as well as keys, and other accessories.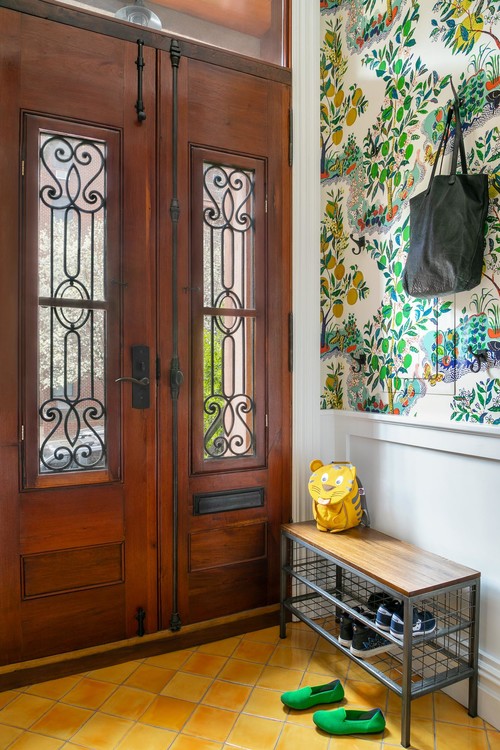 Photo by Ben Herzog – Search entryway design ideas
This tiny bench is both functional and looks really great. The industrial feel with the shelves below for shoes is a great landing spot for all the things. This works great in a little space and the combination of wood finishes and metal are a nice touch.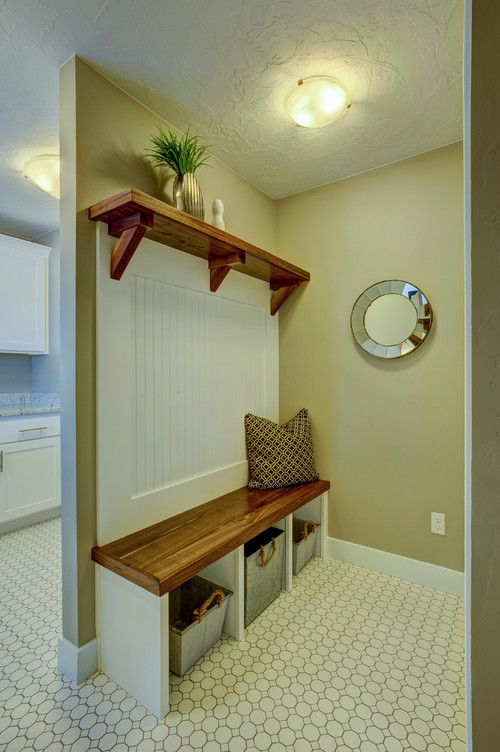 Photo by Roy Talmage Builders – Look for entryway design inspiration
This built in entryway bench is a dream. The touches of wood along with the white is really pretty and the cubbies below allow a place to store shoes and bags. I could see some hooks here as well. A place to hang jackets and backpacks.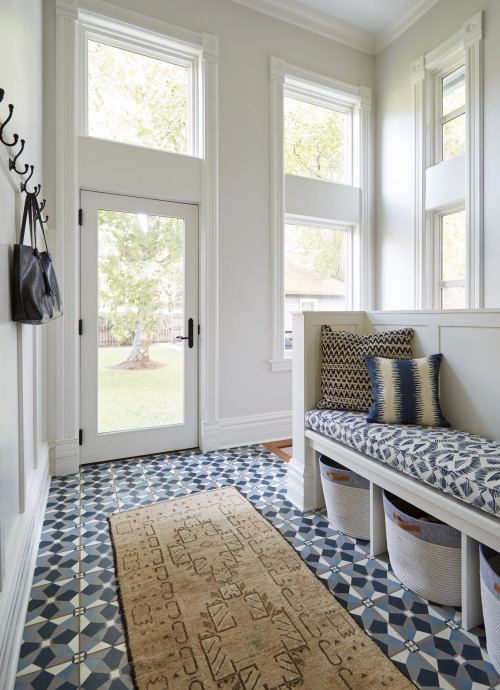 Photo by KitchenLab Interiors – Search entryway design ideas
This built in bench is really pretty and it coordinates so well. I love the hooks on the wall. The unique tile looks amazing with the white walls and doors.I love the way the color scheme brings everything together. The storage below the bench is nice and tidy and a great place to hide unsightly items.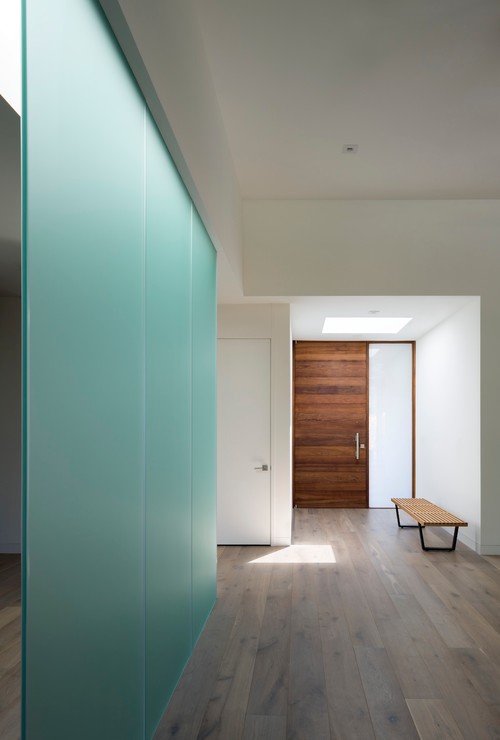 Photo by modern house architects – Look for entryway design inspiration
Minimalism is also a great way to go. I love the simplicity of this foyer with an architectural bench. This works so perfect for the modern style they are going for here.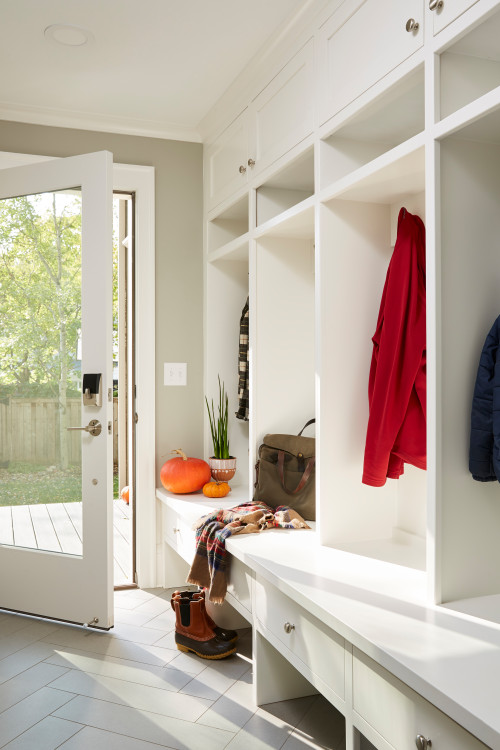 Photo by Quality Cut Design | Remodel – Search entryway pictures
This entryway bench was built for a family! With individual lockers, coat hooks, drawers and more cubbies its the perfect place to hide all the things you need stored away. This is the perfect drop zone for all the things and for those with young kids!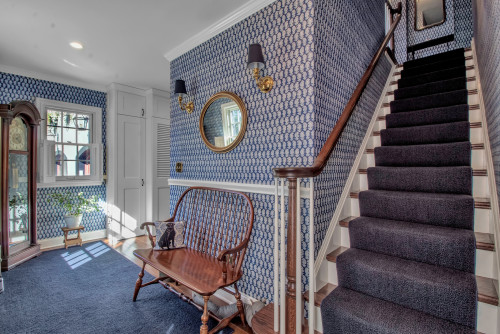 Photo by Bailey&Harris Architects – Browse entryway photos
Sometimes a simple bench or chair is all you need in an entryway. I love this piece of furniture with the classic feel.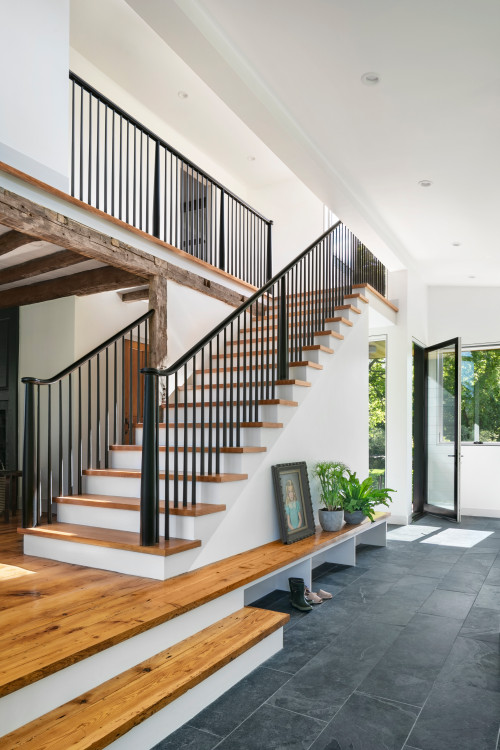 Photo by Arkins Construction Inc. – Discover entryway design inspiration
What a grand entrance. How about having a bench built into the staircase. I love how this wooden entryway bench is seamlessly built into this staircase. It has a minimal look while being extremely functional.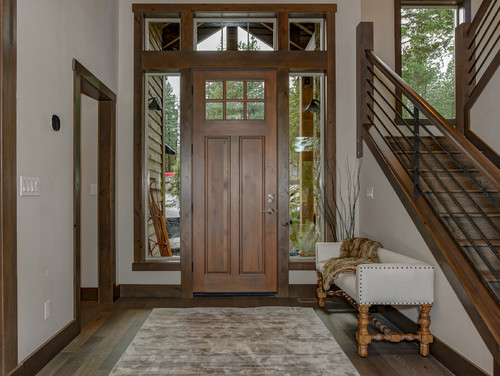 Photo by Trailside Homes – Browse entryway photos
A beautiful bench like this upholstered bench is another excellent option for an entryway. It is a comfortable spot to land as people enter your home.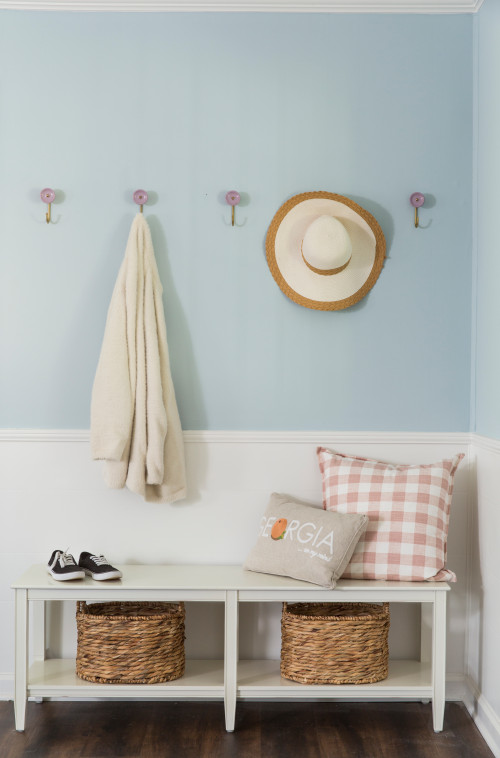 Photo by Leah Atkins Design, LLC – Discover entryway design ideas
This looks like a more affordable bench option for an entryway or foyer. There is ample storage offered where you can add a basket or shoes to the shelves.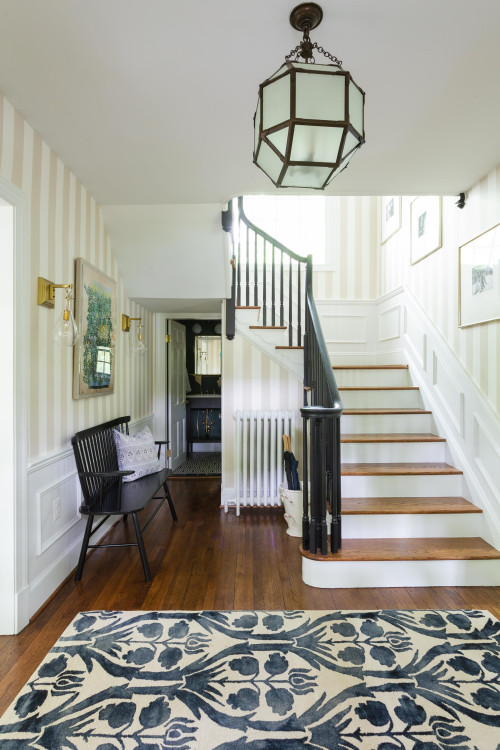 Photo by Residents Understood – More entryway photos
Another gorgeous spot where all you need is a simple bench and the added pillow makes it more inviting and more homey. I love these types of chairs and think they have so much to offer in terms of style and design.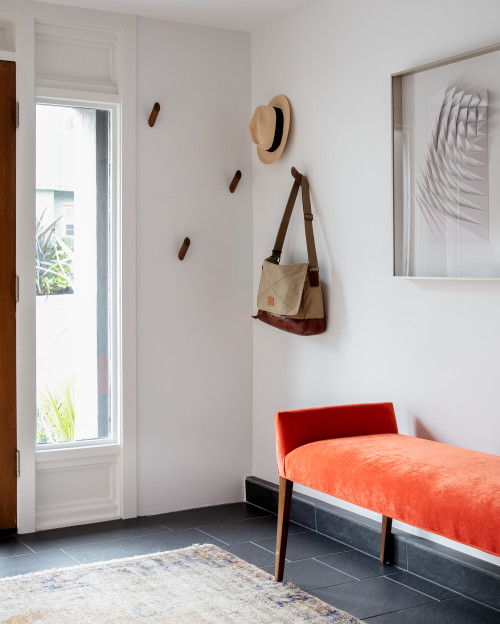 Photo by Jennifer Wundrow Interior Design, Inc. – More entryway ideas
I love this entryway. The minimal hooks in the wall and the bright upholstered bench make a stylish and functional spot.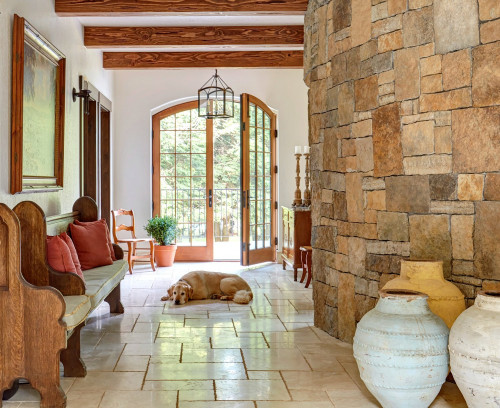 Photo by Way architecture + design partners, llc – More entryway photos
I am personally a big fan of this entryway with the antique church pew. I love the use of old church pews in the home. They have so much character and tons of history.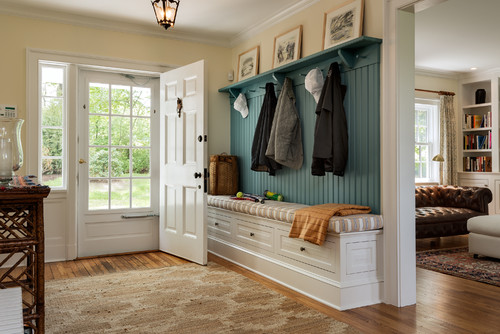 Photo by Crisp Architects – Look for entryway design inspiration
This is a gorgeous entryway. I love the pop of color on the wall of the bench. The cushion on the bench makes it more inviting and the hooks and drawers add tons of storage.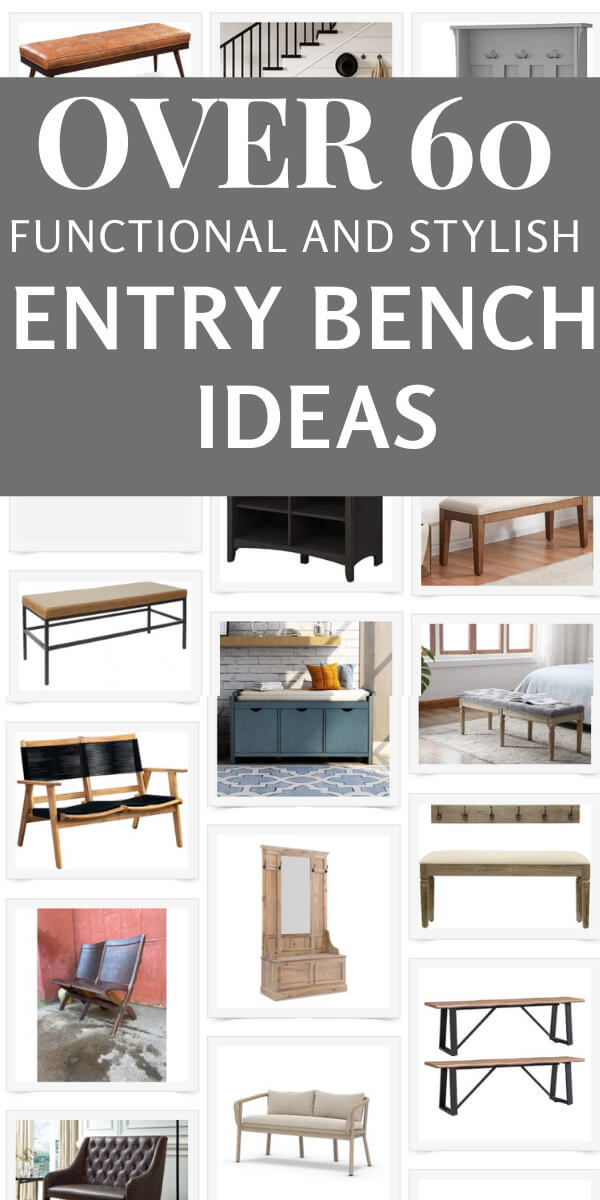 These are just a couple of of the foyer bench ideas I could find to show all the different things that are available. I wanted to share more of what is available for purchase that might be perfect for your home.
Check out the best entryway bench ideas below:
Simply click on the image to see the exact product and its details….

Make sure to check out these other great posts as well:
Over 30 Gorgeous Mudroom Bench Ideas
Farmhouse Entry Makeover for Under $100
A Farmhouse Entryway and My Church Pew Bench
GET YOUR FREE GUIDE to 30 DIY projects that can be done over the weekend!
By subscribing, you will gain access to my FREE guide with 30 DIY projects that can each be done in a day, or over a weekend!
You will also receive a weekly email with some of my favorite tips, tricks, and design ideas.