Sometimes in the middle of a remodel, you hit a standstill, and you just can decide on what the next step should be. This is how I was feeling today. I was stuck. So I decided to work on something that I knew was going to make this whole entry way pop. My church pew bench.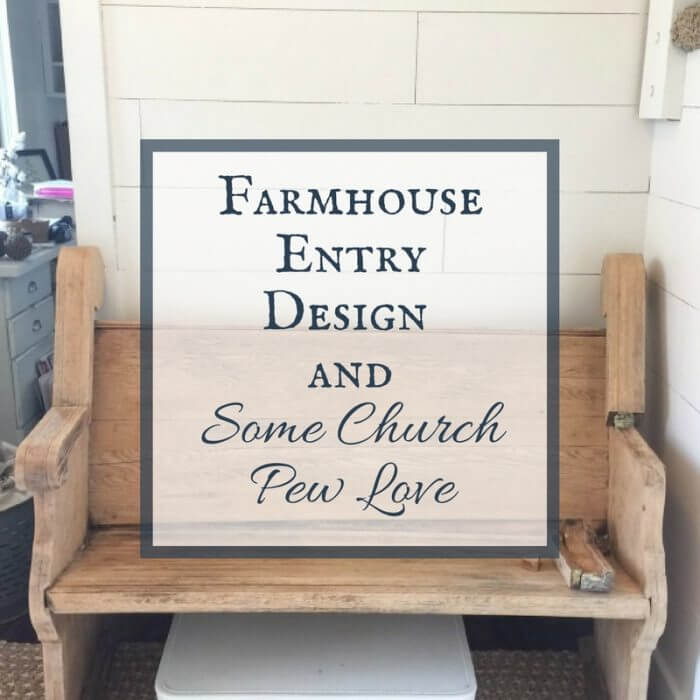 Before we get into my church pew bench project, I will just touch base on what I have done in this space so far. I wanted to add shiplap to my farmhouse entryway but I wasn't sure if I could fit it into my 100 dollar budget.
My entryway update
I found out I had a few more pieces of shiplap in my wood storage from when I had remodeled my master bathroom. I was quite elated at this find! When I thought I had run out of shiplap, I was going to paint the last wall in a blueish chalkboard paint, but I just wasn't sold on the idea. I felt like the look I was going for was just not going to come to life without shiplap on that wall……dramatic, right? The room needed balance, and since that one wall was really the very first thing you see when you enter my house, I want it to be right. We thought the dark chalkboard wall might do the opposite of what I wanted in that room.
So, upon finding the few extra scraps of shiplap, I knew exactly what I wanted to do. I finished installing the shiplap in the entryway, and if was as if the clouds parted. It was a glorious period to the end of my shiplap sentence. It only made sense.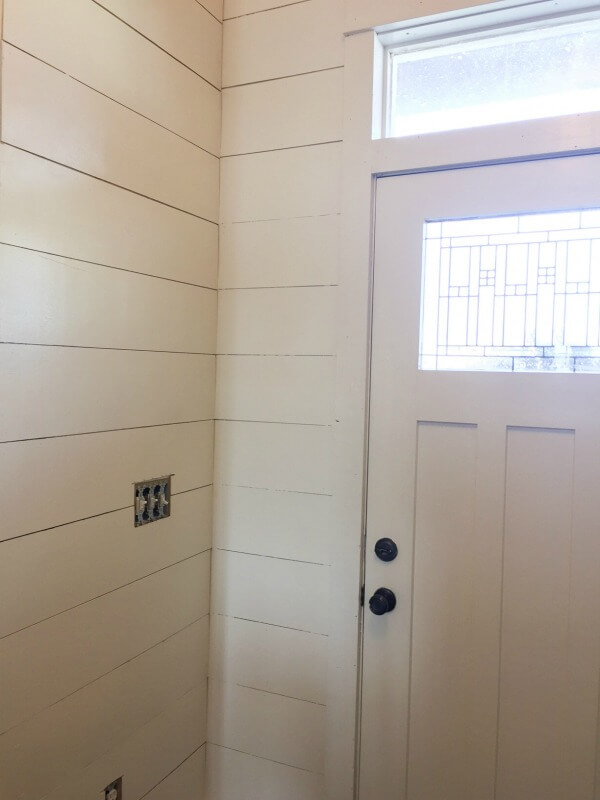 Once I got the shiplap painted, there were a few other things that I wanted to address in terms of my farmhouse entry design. The interior of my front door was black, and suddenly it seemed really dark. Like it stood out like a sore thumb in the room. So, I bet you can guess what I did. I painted it white! Haha, I know, I know, white is simple, and its probably pretty obvious that I would paint it that color, but honestly, it was exactly what the room needed. In order for my farmhouse entry design to be complete, it was just one more necessary step. The next step was to work on my church pew bench.
My Church Pew Bench
Now, the most exciting part of my farmhouse entry design this week, was the church pew bench. Last week, I asked you if I should paint it, refinish it, or leave it as is. And, just as it is likely, I got about the exact amounts of votes for each option. Then I had a friend that mentioned my bleached barn doors, and suggested that I do that do the church pew, while we were out on a walk the other day.
Now, why hadn't I thought of that! Genius I tell you! I came right home from our walk and man handled that church pew bench out to my front yard, where I began the process of bleaching it.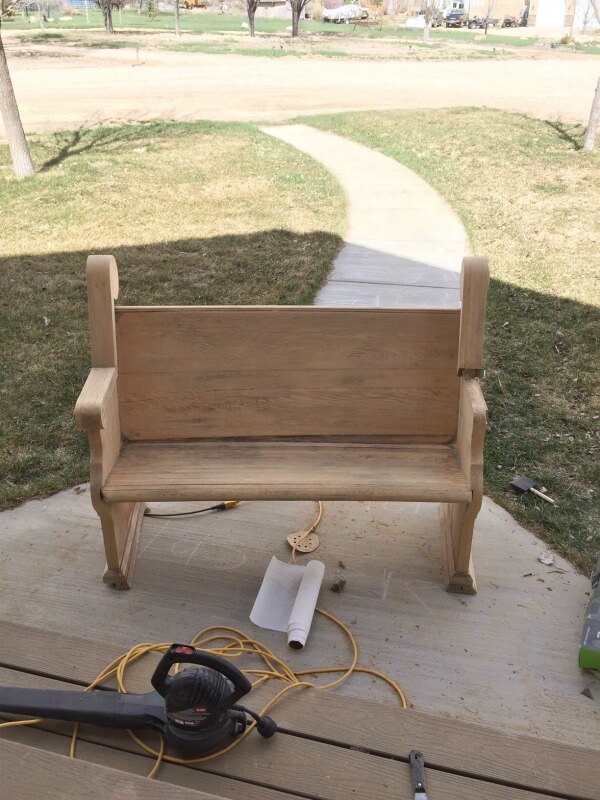 Upon taking a closer look at the church pew bench, I found it to be in worse shape than I thought! One arm was loose and was starting to fall off. Once I started looking at the original varnish, I noticed it was peeling, and bubbling up all over the bench. I think it had been left outside for some time before I got my hands on it.
So the great thing about this was that sanding was much easier since the varnish was coming off on its own already. I used my orbital sander to sand down most of the church pew bench, but I resorted to using some stripper to get into the detailed portions of the pew. it has some lovely rosettes and other parts that needed my orbital sander would have just eviscerated them.
As I sanded down the church pew bench, I was amazed at the beautiful color of the wood that was under the old, peeling orangey varnish that was on top. It had this lovely appearance of raw, weathered wood. The age and weathering is deeply ingrained in the wood. Sanding and stripping the church pew bench was the best thing I could have done. The color of the raw wood was exactly what I wanted. Something warm, yet slightly washed out, with all of its dings, scratches, and imperfections. It was perfect.
Perfect in all its imperfections. What more could a mom of 4 want? Not much..not much.
After about 3 hours of sanding and scraping my church pew bench, it was done. And it was perfect, really.
I honestly did not even need to bleach the wood of this church pew bench because it already had the look I wanted. The only thing I am going to do to it is seal it with a nice mat poly-acrylic.
If you want to see more church pew bench love, check out this amazing one I transformed as well. You can see how I distressed it by watching this video: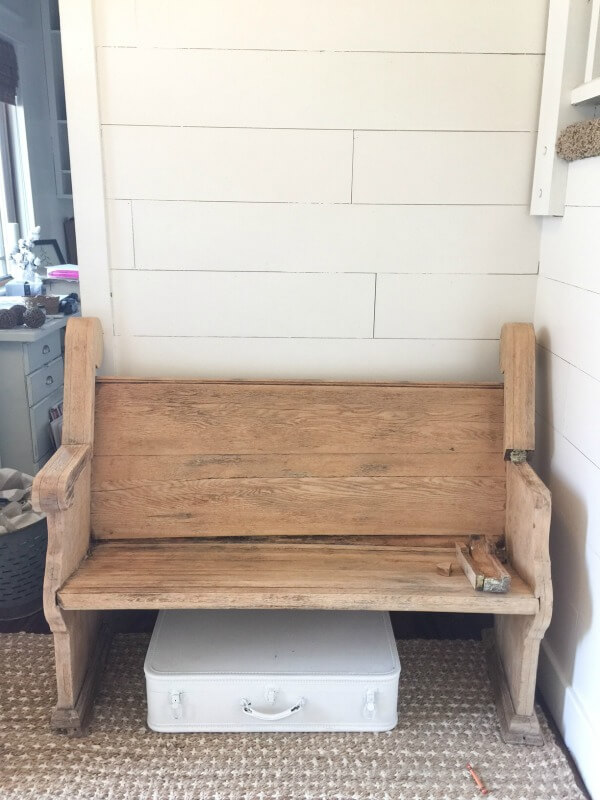 With that, my farmhouse entry design is exactly where I want it to be. And can you believe that I am doing all of this for under $100?
Working on my farmhouse entry design and completing it all for $10o dollars, is not a small undertaking. I will tell you what I have said before. Remodeling a room for under $100 dollars is entirely possible. But, you have to sacrifice, be creative, innovative, and work your butt off to create it.
You have to focus on a few important key elements that will drive the whole space. For my farmhouse entry design, I focused on the shiplap walls and a vintage church pew. By marrying them together, using their strengths as design elements, all the other elements I add will be the perfect compliment to them. Build from the ground up.
The next step in my farmhouse entry design:
The next step in my farmhouse entry design is adding accessories. I have some amazing wire hooks that I will be hanging up this week. There are also have a few ideas for what I might hang above my church pew. Its going to be a surprise though.
I am also working on a little project with Shibori dyeing which I will be posting about soon. But, I am hoping to incorporate it into the room in some way.
Only one week left in the challenge and I am excited to have it finished and move on to another project. That's just the way I do things around here. I don't stay idle for long.
I hope you follow along to see the the last week. Its going to be fun to see all the other talented bloggers as well. Speaking of them, check out what they have been up to this week!
Make sure you PIN IT for later!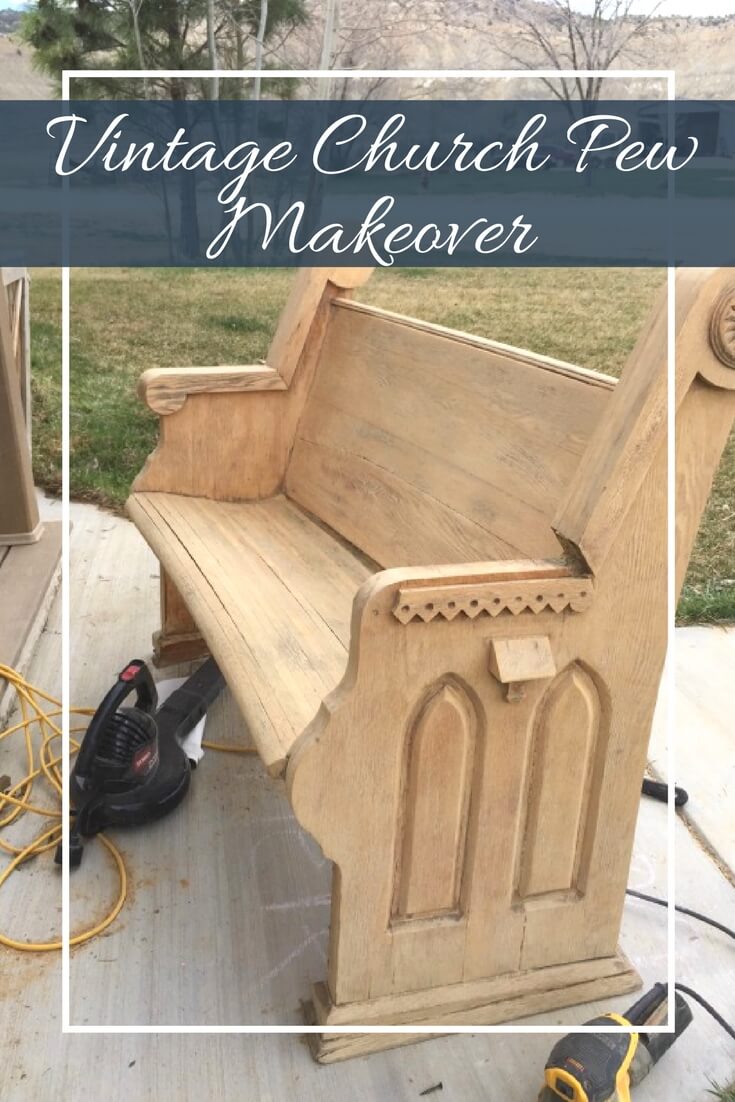 GET YOUR FREE GUIDE to 30 DIY projects that can be done over the weekend!
By subscribing, you will gain access to my FREE guide with 30 DIY projects that can each be done in a day, or over a weekend!
You will also receive a weekly email with some of my favorite tips, tricks, and design ideas.