Keep reading to find the best sources to get your own faux wooden beams directly to your door! You just need to install them or have someone else do it for you!
It's not so secret that I love wood beams in my house. I love the way they look in my living room and in my bedroom.
There's so many ways you can use faux beams in your house for a stronger design element or as a big feature in a room with tall ceilings and so many other ways.
For my house we have used mostly real beams on the outside. We have real beams on our front porch and they're actually structural.
We also have real beams in our upstairs living room and they're also structural.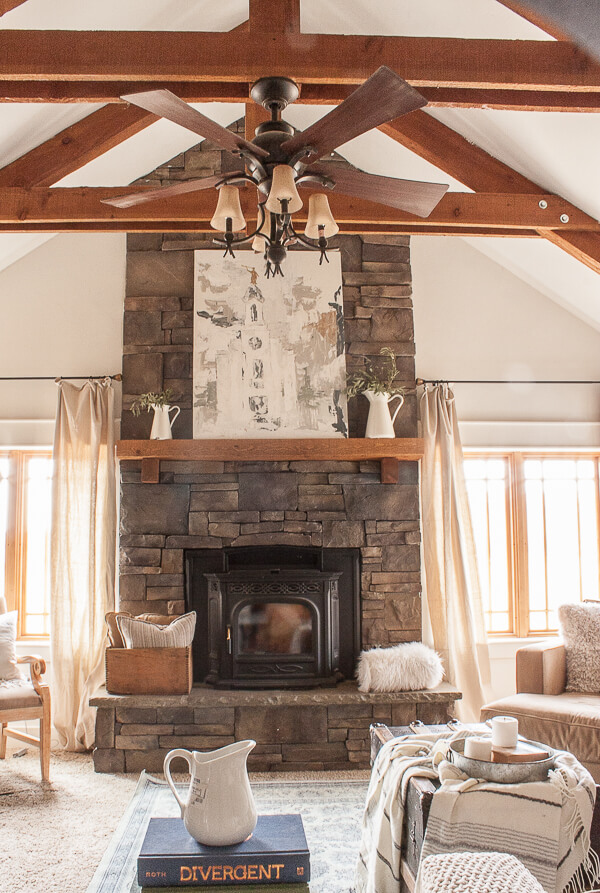 Other than those we do have full beams insider house. We have use the faux wooden beams to transform the spaces that needed a little bit of character.
There're a few caveats to adding beams into your home after it has been built. Adding real beams to a home already built can be difficult because they are so heavy and they need additional support. In our master bathroom we were able to install real beams by accessing our ceiling trusses and bolting them to the trusses.
Don't get me wrong though it was a lot of work. Real beams are heavy and require a lot of support in walls and ceilings.
This is why we opted for photo beams in the both our family room and in our bedroom.
You can see them here from out Christmas home tour from last year.
Here they are in my master bedroom. Nice, don't you think?
Looking at them you would not think that they were fake. We Easily built them ourselves using common board from the Home Depot.
I have a blog post on the blog showing exactly how we did this. You can see that here.
Now I know not everybody is handy or has the desire to build things by hand like we do.
We personally love to build things ourselves and find it satisfying to do it that way. If you Are looking to have the wood beam look in your house, boy do I have a treat for you! I have collected up a ton of the faux beam resources for you today.
All of these faux beams can be shipped straight to your house and all you need to do is get somebody to install them or install them yourself.
Something so amazing about adding faux wooden beams to a bedroom is they immediately add character and charm to an otherwise blank space.
When room has tall ceilings, it can look vast and empty but by adding faux wooden beams you can really give the space a more intimate feel.
This is what we did in our living room last fall. This room does not have a vaulted ceilings but it does have a taller ceiling height so we felt like you needed something to give it a more cozy look and to give the space a better focal point.
Like I said you can see how we install these ourselves here.
And if you're even slightly handy if you could definitely do this all by yourself with another persons help.
But what I want to focus on today are some of the places where I know that you can get phone beams shipped straight to your house.
Believe it or not I have found some amazing resources on Amazon as well as the Home Depot. There are also some independent companies that you can get some through but I find the prices are the better through these two sources.
A few things to think about when you are looking to add beams to a room is to look at the ceiling shape and design. Take my bedroom for example, we have a large vaulted ceiling in that room. We decided to add horizontal beams that span the length of the ceiling from the vertical side to the vaulted side.
I wanted them to look as if they came out from one wall and were attached on the other side of the wall. I wanted them to look more structural. We also opted to keep it simple as one log instead of adding webbing. As you look at them they look as if they're floating across the ceiling. They are not secured completely to one-sided or the other.
The installation of the photo beams in our family room were quite different. We decided to install them flush up against the ceiling running from one end of the room to the other. But the concept was still the same. We created a U-shapedWooden beam that could wrap around some blocks in ceiling.
The advantage to buying faux wooden beams is that they are generally lighter in weight and are easier to hang.
But they have the similar U shape. They're often made of a different material that is lighter than wood as well.
The difference between using full wood beams and DIY wood beams is that they will be more expensive purchasing them through a company. This is the main reason why we decided to build them ourselves.
So let's check out all the faux wooden beams they can be shipped straight to your door:

I wish that I could link it to all the faux wooden beams I found, There're just so many. I chose my favorite and decided to share that with you.
Which ones are your favorite?
I would love to hear if you have used them in the past or if you plan to use them in the future.
For me it wooden beams creates a sense of nostalgia. I hearken back to the times I would sit out on my grandma and grandpa's cabin porch and marvel at the wood beams that they had.
Wood beams add warmth, character, and style to any space. I hope that you have found this post helpful and that just maybe it's inspired you to add some faux wooden beams to your home.
If you like this post make sure to check these ones out:
How to Make Faux Brick Panels Look Like Real Brick
DIY Reverse Shiplap Wall Treatment
DIY Butcher Block Countertop from Old Trashed Lumber!
The Best and Easiest DIY Faux Wood Beams to Make Yourself
Wrought Iron Beds You Can Crush On All Day
GET YOUR FREE GUIDE to 30 DIY projects that can be done over the weekend!
By subscribing, you will gain access to my FREE guide with 30 DIY projects that can each be done in a day, or over a weekend!
You will also receive a weekly email with some of my favorite tips, tricks, and design ideas.