Wrought Iron Beds You Can Crush On All Day
Wrought Iron beds are the epitome of classical farmhouse décor. They are such a nostalgic piece of history and I think for myself especially, when I see them in a space, they remind me of times gone by in a way. If you are a fan of iron beds, then this post is for you. Maybe you are thinking of purchasing one, or you need some inspiration for one in your home already. I have rounded up some of my favorite rooms with metal beds. So sit back and enjoy the eye candy and check out the shop at the bottom of the post!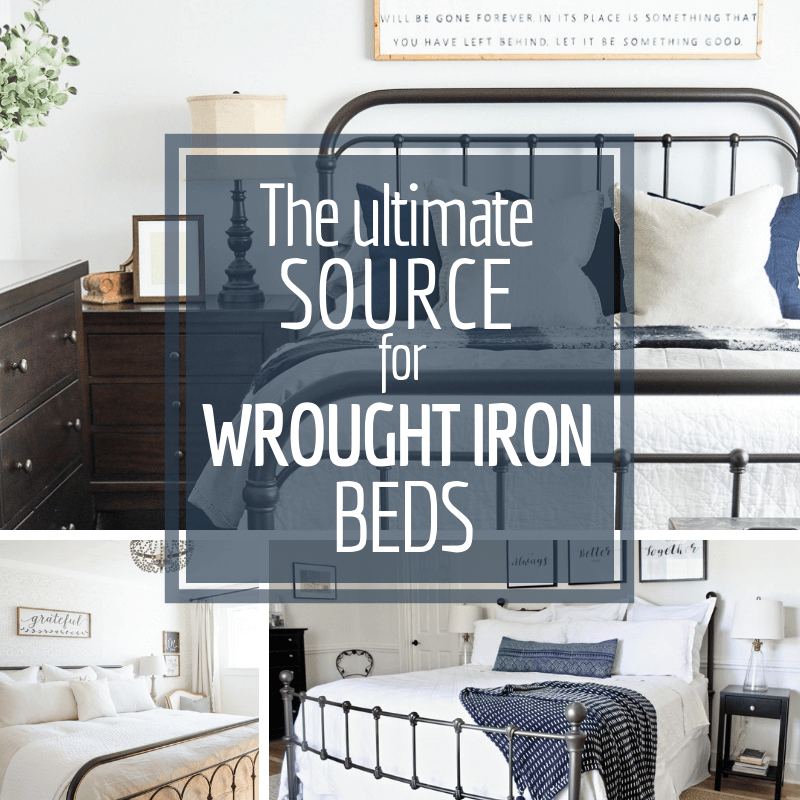 Wrought iron beds are one of my favorite pieces of furniture. However, I have yet to convince my husband to change to one in our room. I have recently added some in my boy bedroom, and they are so cute. I love the multiple looks you can achieve with these beds. They are so versatile and up until recently they have actually been pretty pricey.
You imagine my surprise though when I started shopping around for them and found so many….I mean sooooo many metal beds at really great prices! I was actually quite shocked at some of the prices. SO, I will make sure to share a whole collection of them at the bottom of this post, so make sure to check them out!
But, I really waned to also show you some of my favorite rooms with wrought iron beds in them. Granted most of them are farmhouse style bedrooms, but metal beds can be used in many other décor styles and I want to show you some of them.
Lets start with one of my all time favorites. This bedroom by my friend Ashely at Little Glass Jar is just so great.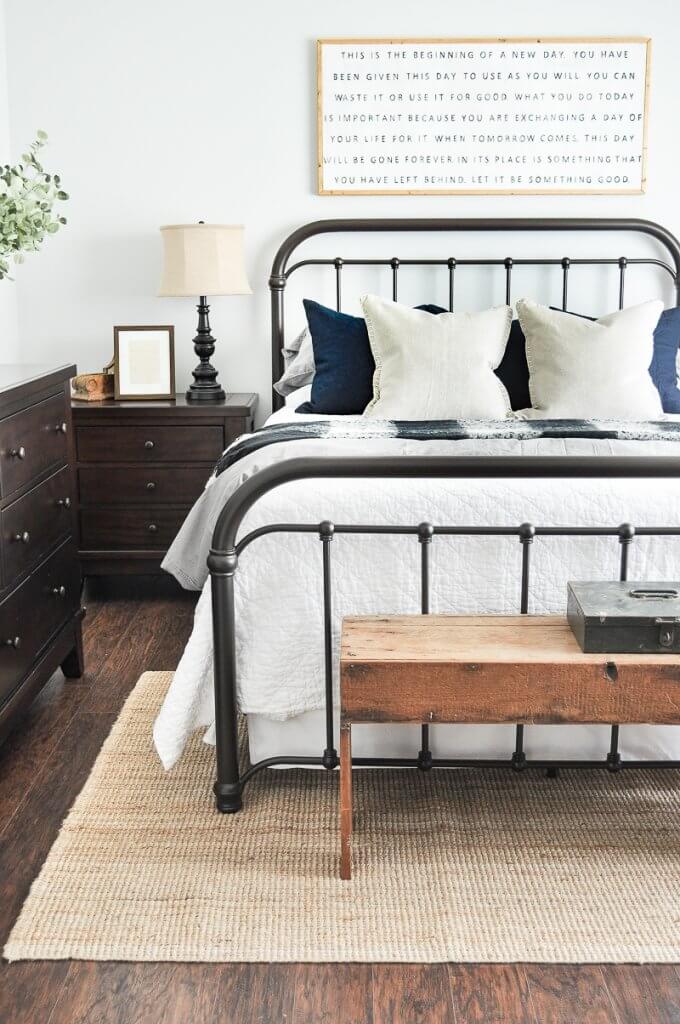 Master Bedroom Makeover | Little Glass Jar
I love the way the dark iron bed contrasts with the white and blue bedding and is grounded by a natural fiber rug. The dark stained furniture also looked really great with the bed. I love this space and anytime I see it online I secretly wish it was mine. I forgot to mention the adorable rustic bench at the end of the bed. Its a great contrast to the metal bed.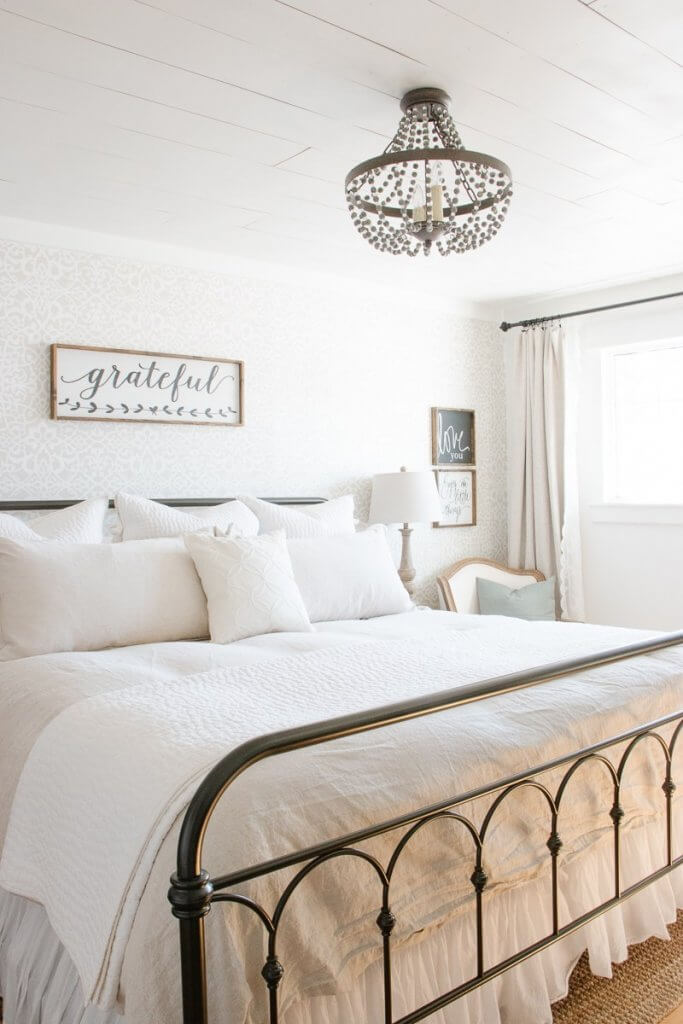 Light and Airy Farmhouse Bedroom | Making it in the Mountains
This is another one of my favorite spaces. My friend Kristi at Making It In The Mountains bedroom is so dreamy. The whit bedding and soft accents on the wall all combine nicely with the dark wrought iron bed. I love the curved details on the bed as well. It adds a more traditional and feminine touch to the space.
Boys Bedroom | Sawdust Sisters
One place that I love to see iron beds is in boys bedroom. Metal beds can be completely feminine or masculine depending on the accessories and finishes used in the space. With dark wood, blues hues and fun accessories this room is a great representation of that.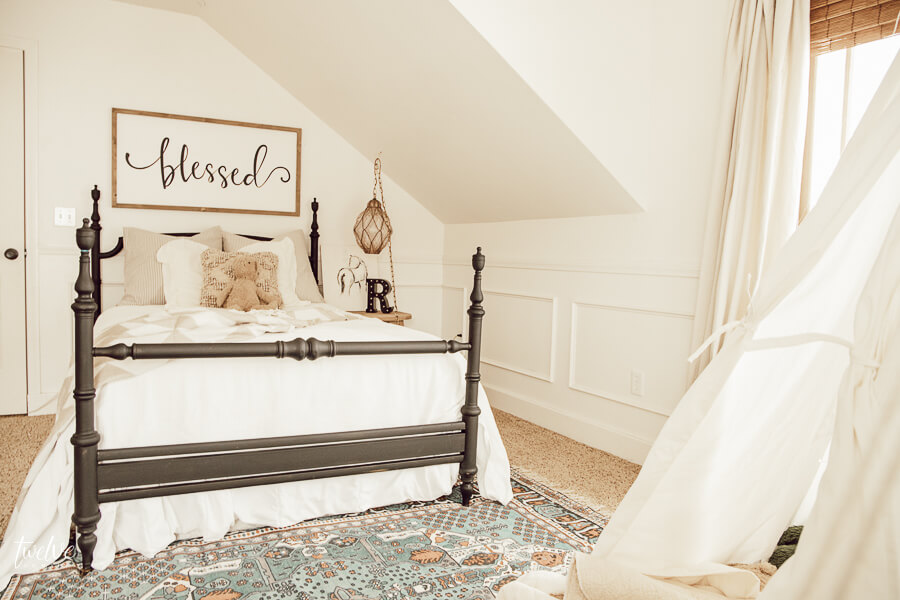 This is my daughters bedroom. I recently repainted this iron bed and love the way it looks this color. It contrasts nicely with the white bedding and really stands out. We found this bed at a second hand store in the area for almost nothing! It has been painted a few times, since the paint that was on it when we bought it was a bright yellow. Painting furniture is the easiest way to update a room.
Guest Bedroom Ideas | Sustain My Craft Habit
Love this feminine white metal bed. This room serves as a guest bedroom. I think anyone would be lucky to spend a visit in this room! Its so cozy and welcoming!
Guest Bedroom Makeover | Thrifty Decor Chic
The before and after of this room is amazing! And that bed, its a showstopper! I love to combinations of soft muted colors along with the dark metal bed. Using light colors allows the bed to stand out and be the focal point.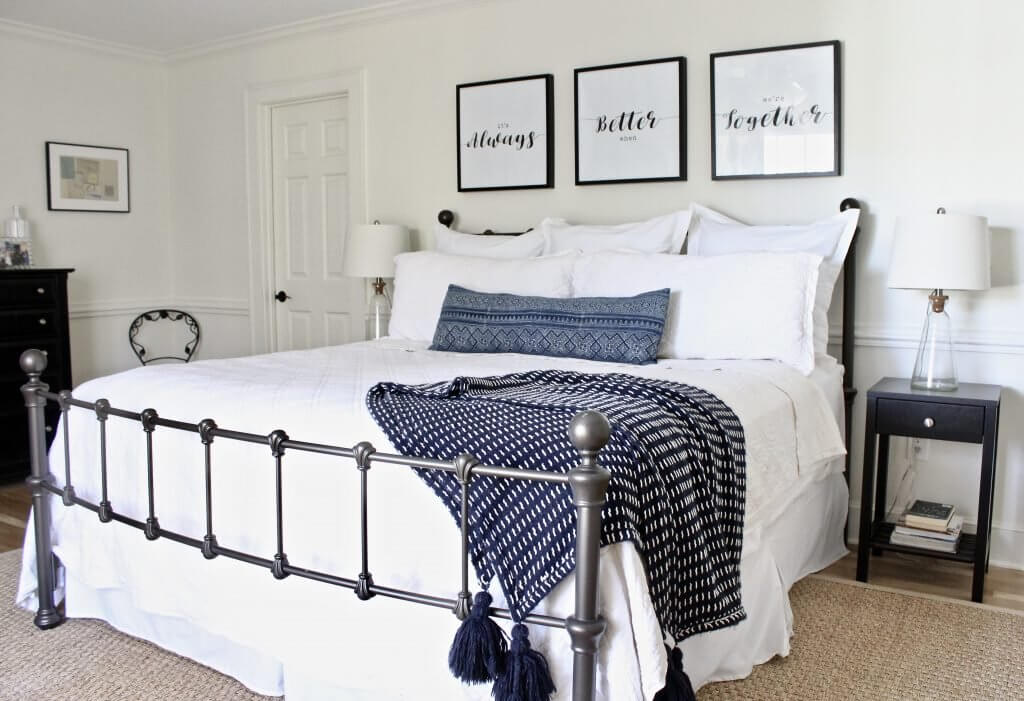 Master Bedroom Makeover | My Hammock House
This bed, its drool worthy! I love the design of this iron bed. I cannot get enough of the finish. The touches of blues and greys look amazing with the white bedding. This is definitely one you should try to replicate!
Vintage Boho bedroom | Up to Date Interiors
I am completely and utterly obsessed with this room. I love the amazing aged brass finish on the bed, firstly, the lines of this metal bed are so beautiful. As you can see there are so many different styles of iron beds, and this is a perfect example of a good one! The textures and patterns in this room are so gorgeous too!
Source: The Glitter Guide
This room with double tin wrought iron beds….man its so adorable. If I had two girls, I definitely would have done this! I do have two boys that have matching beds, but there is something so perfect about the ruffles and floral patterns contrasting with the black iron beds.
Summertime Bedroom | Love Grows Wild
The shiplap, the breezy feminine curtains, and the glorious white bedding all set the stage for a perfect spot for a metal bed like this. I have always loved this space…the whole area is feminine and yet the iron bed looks perfect with it all.
Have you seen enough iron beds? No? Well, good because I am not done!
I have also collected a ton of really great wrought iron beds that are all gorgeous and have great prices!

If you're still looking for more inspiration, check out these posts:
DIY Butcher Block Countertop from Old Trashed Lumber!
The Best and Easiest DIY Faux Wood Beams to Make Yourself
DIY Reverse Shiplap Wall Treatment
40 Inexpensive Farmhouse Style Wrought Iron Beds
17 Farmhouse Painted Furniture Pieces You Will Want to Steal
Make Chalkboard Paint In Any Color You Want!
Make sure you save this post, share it or PIN IT for later!
GET YOUR FREE GUIDE to 30 DIY projects that can be done over the weekend!
30 DIY Projects to do this weekend!