*This is a sponsored conversation on behalf of Cricut. My opinions are all my own*
It has been a couple of years since I got my first Cricut cutting machine and over the years, sharing my projects, there have been a lot of questions that I have answered for readers and friends. I, myself had similar questions when I first looked into these cutting machines and even after I had my Cricut Maker in my hands! So, today I want to answer those frequently asked Cricut questions, the top questions that I have gotten including my most common, what kind of projects can you make with Cricut.
First, who and what is Cricut?

Cricut is a company that makes cutting machines. What are cutting machines? Well, these competitive cutting machines are able to use cutting tools such as a rotary blade, knife blade, fine point blade and more to cut designs in paper, vinyl, iron on vinyl, and so so many more materials. They are the ultimate tool for crafters and even small business owners! They can be used for all types of projects , lets talk about them.
What kind of machines does Cricut carry and what are the differences?
Currently there are three different cutting machines. There is the Cricut Joy, Cricut Explore 3, and the Cricut Maker 3. So, what are the differences?
The Cricut Joy is ideal for quick, everyday projects without the learning curve. It is the smallest of their machines and would be a great beginner option as well as an option to have for smaller, quicker projects.
The Cricut Joy can cut 50 plus materials including Including sticker paper, vinyl, iron-on, pre-scored cards & more.
This small but mighty machine can use three cutting tools:
Cricut Joy Blade
Cricut Joy Foil Transfer Tool
Cricut Joy Pens & Markers
This small machine is a great companion to one of the larger cutting machines or would be a great starter machine for a beginner Cricut crafter.
The Cricut Explore 3 is a full-featured cutting machine for popular craft projects. This machine can cut more than 100 different materials including specialty and lightweight materials. There are 6 tools that you can use with the Cricut Explore 3.
Fine-Point Blade
Deep-Point Blade
Pens & Markers
Scoring Stylus
Foil Transfer Tool
Bonded-Fabric Tool
The Cricut Explore 3 is Bluetooth enabled aws well as has a USB for connectivity.
This machine is the most versatile and powerful machine that Cricut has. It has so many unique capabilities as well. The Cricut Maker 3 can cut over 300 different materials including all that the Cricut Explore 3 can cut as well as fabric, leather, balsa wood & more.
The Cricut Maker 3 has 13 different cutting tools that can be used including
Fine-Point Blade
Deep-Point Blade
Pens & Markers
Scoring Stylus
Foil Transfer tool
Bonded-Fabric Tool
Rotary Blade
Knife Blade
Scoring Wheels (Single & Double)
Engraving Tool
Debossing Tool
Wavy Blade
Perforation Blade
The cut force 0f the Cricut Maker 3 is 10 times the force of the Cricut Explore 3 (which has standard cutting force). It is also Bluetooth enabled as well as USB for connectivity.
What kind of projects can you create with a cricut?
There are practically an unlimited amount of projects you can create with your Cricut! Considering your experience level and the type of machine you have the options are endless.
Here is a quick list of ideas:
labels
custom water jugs
custom mugs
t-shirt designs
hat designs
custom shoe designs (using iron on)
custom signs
stickers
decals
cards (gift cards, invitations, thank you cards etc)
gift tags
ornaments
wreaths
faux flowers
and more…….keep reading to learn more!
Cricut Beginner
When I learned to use my Cricut machine, Cricut offerent a small project in the box that would help you to become familiar with the workings of the machine, Cricut Design Space and the tools required. I would strongly recommend doing these projects because they give you step by step guides and it is easy to follow.
Once you become familiar, I would say the best beginner projects are creating a t-shirt using iron on vinyl, creating a greeting card or book mark, labels, or simply cutting a vinyl design to add to a wall or to put on a water bottle. These are basic projects that can help you become familiar with how to use each part of your machine as well as get familiar with materials and cutting tools.
Learning the basics of Iron on applications is really important. Cricut has a heat guide for certain materials, and how to use their Easy Press heat press machines.
Cricut Design Space has a ton of easy beginner projects with step by step instructions. This can take the difficulty of designing out of the equation if you are still not confident in creating your own designs.
Cricut Intermediate
Once you become more experiences with your Cricut machine and what it can do, you can have free reign over making shirts, hats and even shoes with custom designs! Once I was more familiar with my Cricut Maker, I wanted to branch out and make more fun stuff! I started playing around with Design Space and started creating my own designs.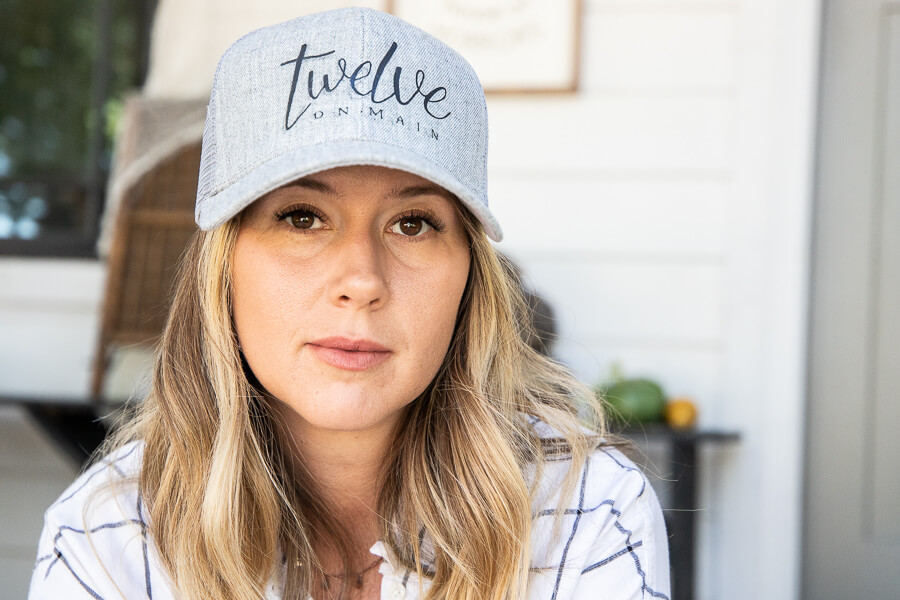 There are tons of intermediate projects available on Design Space as well. There are oodles of great projects available there. How about making a sign for your front porch or for in your home. You can use vinyl cuts to create a custom sign for your home.
Infusible Ink- I think this is a great time to learn to use Cricut's Infusible Ink. Once you are familiar with using their heat press, Infusible Ink is te next step. You can make shirts, coasters, mugs, bags and so much more!
Cricut Advanced
Projects with layered cuts, the use of transfer tape and more are perfect for advanced Cricut users. Once you have really become accustomed to your machine as well as Cricut Design Space there is no stopping you other than your imagination. Custom sign making, stickers, car decals, 3D wreaths, cutting fabric patterns and other designs are all great options for advanced Cricut users.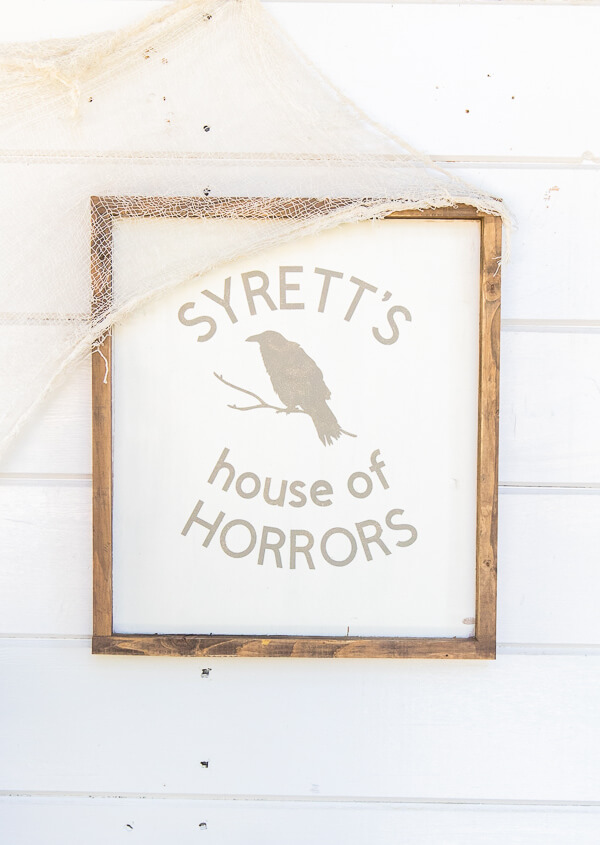 Don't be fooled though, you can accomplish any of these projects no matter your experience in using the Cricut machines. These machines are perfect for you and your projects.
There are so many different FREE Cricut projects available for you to make! When you set up a Cricut account, there are some great FREE benefits including Unlimited use of 1,000+ images
Unlimited use of 15+ fonts
A la carte digital purchases
250+ ready-to-make projects
Up to 5 collections
This gives you access to so many different projects and you can make hundreds of projects using a free account.
What kind of products can I make with my Cricut to sell?
Some of the best-selling Cricut projects for a profitable Cricut business in 2022 include:
Stickers and vinyl decals. (if you get an affordable inkjet printer this would be great for stickers)
T-shirts and other personalized clothes.
Mugs, tumblers or bottles.
Personalized gifts for various occasions.
Paper products like flowers, cards.
I feel like for me, t-shirts, signs and stickers have been really successful options. Use your imagination and come up with something unique to offer people.
What kind of materials can you use with your Cricut machines?
I have an entire blog post right here listing all the different materials that are available for use with each Cricut Machine.
What is Design Space?
Cricut Design Space software is the software that Cricut provides to create and cut all your designs. They have an enormous library of images, fonts, shapes and projects to choose from. Design Space is easy to use and very user friendly. There are great video tutorials available on Cricut.com
Does it cost extra for the use of Design Space and designs?
With a standard Cricut access account, you have tons of FREE images, fonts and designs available, but if you decide you want more options than the standard designs available, check out Cricut premium account options which offer: (with Cricut premium subscription)
Unlimited use of 200,000+ images
Unlimited use of 700+ fonts
10% off licensed images
Thousands of ready-to-make projects
Unlimited collections
The premium version also offers more benefits including free shipping on orders, 10 percent off Cricut.com purchases and more.
Is Design Space easy to use?
Yes it is! Cricut has a great resource, Cricut Learn where you can learn everything you need to become familiar with Design Space as well as your Cricut Machine. I would highly recommend spending time experimenting and learning all the things about Design Space. Cricut software is easy to learn and to use. There is a small learning curve, just like with any software.
Can I upload my own designs and images into design space?
Yes you absolutely can! Once you become comfortable with Design Space, you can begin uploading your own designs. If you are an artist or creative who uses an ipad to create designs it is easy to upload these into Design Space to create unique stickers or other items using your own designs. Design Space makes it easy to add a design, remove the background and specify how elaborate of a design it is. You can also choose to print then cut or simply have it as a cut file. Print then cut is great for sticker making.
Can I create and design on my ipad, tablet or phone?
Yes! Cricut Design Space is available for Windows and Mac computers and iOS and Android Devices. In addition to this the Explore 3 and Maker 3 come with a dock for your device,
Is a Cricut machine right for me?
If you are someone who likes to create, loves to craft and wants to create things to sell or give to friends, a Cricut is perfect for you! Do you want to try your hand at creating unique gifts and crafts for your home? The Cricut is right for you. There are an an unlimited amount of ideas and projects that you can create with one of these machines.

Is Cricut affordable and worth the investment?
Personally, I think that these cutting machines are. pretty affordable. I think that you need to assess what you want to use these machines for and make sure you will use it. There's no reason if its just going to sit in a closet gathering dust. But, they are invaluable crafting necessities.
I have used mine so often, and many times for things I wouldn't have done if I didn't have one. Cupcake toppers are a breeze to whip up and top those cute cupcakes. Thank you cards are a great idea when you receive an unexpected gift. Creating cute seasonal shirts for yourself or family members is such a fun activity. And all these things, you could create to sell! A small business is very possible with the use of a Cricut machine.
Are Cricut Machines complicated to use?
No they are not! Aside from the initial getting to know you stage, it is a breeze to use. Using a cricut machine is not complicated. It is very straightforward in its functions. Design Space will probably need a bit more time to become familiar with, but that is. no different from any other design software you might use.

What kind of cutting tools are available and what do they do?
The Cricut machines have an adaptive tool system. It makes it easy t change out tools depending on the need and the machine will tell you when to use easy tool depending on the project you are cutting.
This is a durable and custom blade designed for precise cuts. It is an all around blade and I use for for about 80 percent of my projects
With the Deep-Point Blade, you can cut most materials up to 1.5mm thickness including poster board, heavy cardstock, and more.
You can actually use your machines to draw designs and letting on just about any surface. This is tool that I use often. I love using the pens to customize cards, gift tags and more.
The Scoring Stylus lets you use your Cricut machine to score fold lines for cards and envelopes, boxes, 3D projects, and more. The Cricut Explore holds the Scoring Stylus and a cutting blade at the same time, so you can cut and score in one step—without changing mats!
This unique, pressure-activated tool gives you pro-level, polished results that last. It is 3 tools in 1 with interchangeable fine, medium & bold tips giving you freedom to create whatever you want.
This cutting blade stays sharper longer is used with bonded fabric and fabric with an iron-on. It's made from premium German carbide steel and designed to make intricate cuts with your Cricut Maker machine. You can create beautiful DIY projects, including truly personal applique and sewing projects and so much more.
The rotary Blade handles everything from silk, cotton, and denim to canvas and burlap without any backing. You can also cut highly delicate materials like crepe and tissue paper. There are hundreds of patterns in the Cricut Library. Choose one and then use your Cricut Maker to mark and cut your pieces. You can cut pieces to create quilts, bags, accessories, home decor, and so much more.
The Knife Blade cuts through thicker and denser materials such as balsa wood, leather, matboard, and Cricut Chipboard with ease. This blade is perfect for projects with extra dimension like puzzles, dinosaur skeletons, models, leather pieces, wood decor, and so much more.
Scoring Wheels (Single & Double)
The Double Scoring Wheel Tip gives you crisp creases in one pass for perfect, smooth folds. It applies double score lines with up to 10X more pressure than the Scoring Stylus, so you can take on thicker and even coated paper materials easily.
With this tool, you can write personalized text or create monograms, draw decorative flourishes and embellishments, or inscribe your favorite quotes on a keepsake. You can use Cricut Aluminum Sheets or anodized aluminum to reveal the silver beneath by using this engraving tool.
This tool is used to create crisp, detailed debossed designs. This rolling debossing ball gives you free reign to customize, personalize, and design with intricacy. You can make a dimensional wedding card, thank you card or greeting cards with your monogram, or add flourish to gift boxes, tags, and more. This tool creates a stunning effect on foil cardstock, coated paper, shimmer and glitter paper, foil cardstock, and much more. For use with Cricut Maker machines.
This unique blade is a fun one to have. This stainless steel blade is great for original vinyl decals, iron-on designs, envelopes, cards, gift tags, and collage projects, or any time you need fabulously finished edges and stylish design accents. It is also perfect for iron-on, vinyl, paper, cardstock, fabric, and more.
This is pretty cool blade to use! You can create evenly spaced perforation lines which will allow for clean, even tearing without the need to fold beforehand – this is especially great for shapes with curves. Perfect for tear-out booklet pages, raffle tickets, homemade journals, or for any project that demands a clean tear
What other equipment is available for use with Cricut machines?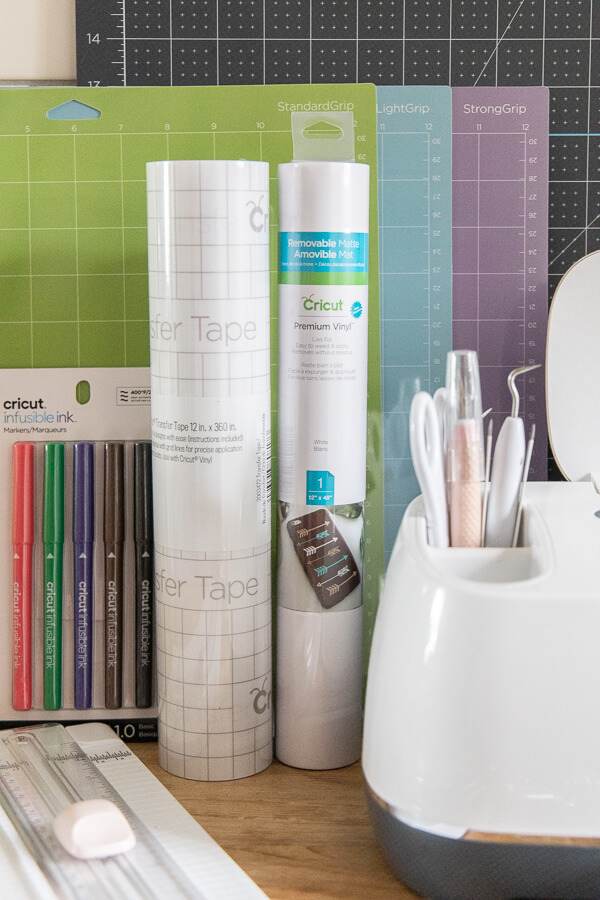 There are tons of great pieces of equipment that are super helpful when using your Cricut machine. Here is a list of things you will want to use with your Cricut.
Cutting Mat
Smart Vinyl
Cricut Easypress and Easypress Mini
Weeding tool set
Brightpad
Self healing mats
Rulers
Cricut pens
Tool sets
Do you have a craft room that is yearning to add one of these creative cutting machines? Make custom t-shirts with iron-on vinyl or infusible ink. Add vinyl stickers to water bottles. There are all kinds of different DIY projects that you can create with these cutting machines. Which is the best Cricut machine for you? I think that depends on what you want to make!
With a wide variety of materials, tools and unlimited resources and great ideas on their website you can create exactly what you are wanting. With three types of Cricut machines there is one for every kind of crafter. What types of projects are you wanting to make?
GET YOUR FREE GUIDE to 30 DIY projects that can be done over the weekend!
By subscribing, you will gain access to my FREE guide with 30 DIY projects that can each be done in a day, or over a weekend!
You will also receive a weekly email with some of my favorite tips, tricks, and design ideas.