I know it has been a hot second since I have shared a new FREE printable with my readers, and today is a good day for that! I have some new watercolor flower printables I will be sharing through the month and in the near future and this beautiful watercolor peony printable is the first of many! Keep scrolling to see this beautiful peony printable as well as tons of amazing peony projects!
If you are a fan of peonies then this post is for you! I find them to be such an interesting flower with unique and different shapes and varying colors. I love peonies and I was super excited when my blogging friends decided to do a fun blog hop all about this adorable flower. There are some gorgeous art print ideas as well as flower arrangements with this beautiful peony flower. Make sure to scroll to the end of the post to see all the wonderful ideas.
Whether I am working with red peonies, or a pink peony flower, or even white, I am guaranteed to fall in love. I love this beautiful flower and they are perfect for floral bouquet 's watercolor illustration, and you can even use my free download watercolor print as invitation cards, a watercolor greeting card, or it would make a wonderful mothers day gift.
There is something so magical about this flower when I paint it. I find that the movement of the flower is captured so well using the right watercolor brushes. Watercolor brush strokes have so much depth and movement, it raises the beautiful peonies to a different level. I can get lost in the varying shapes and colors. There is freedom in painting loosely but also with purpose.
This watercolor floral print is an abstract version of red peony flowers. With the gorgeous pattern of watercolor paper, it brings out the texture of the watercolor peony flower. The watercolor background adds interest and dimension to the actual painting itself.
I would have to say overall the white peony is my most favorite of all, but it is more difficult to capture the true essence of that flower, at least for me. Never fear though, I am working on it!
I have had a hard time these past months being inspired on what to paint, and just recently begun using watercolors again. There is nothing better than watercolor flowers.
I am offering this watercolor peony printable to you as a PDF file to use for wall art. It is not to be used for commercial use, only personal use.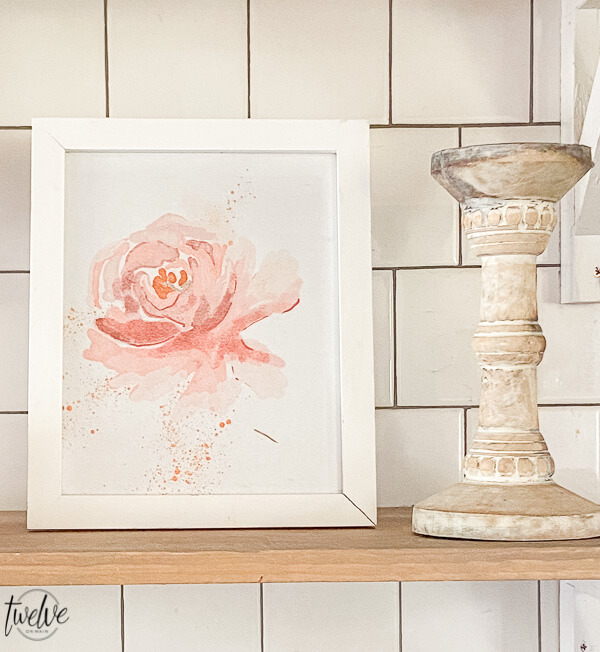 It is very easy to access this watercolor peony flower printable. First you can simply sign up for my weekly newsletter below to gain access to my entire printable library. This library includes over 50 printables including calendars, original artwork, simple quotes and more.
Click the image below to sign up for my printable library and receive weekly newsletters with blog updates and happenings with new posts, ideas and more.
Dont want to sign up for my newsletter, but still want the printable? You can do that too!
If you are not interested in signing up for my newsletter, you can easily purchase this watercolor peony print below for a very low price. You can then print it at home, or have it printed at your favorite printing company. For one very low price you can print it in any manner that you choose, be it on a canvas that is framed or unframed, printed on art paper, or even matted and framed!
When you purchase this watercolor peony print, you will receive a zip drive with two files including a PDF and a JPG file. It will also include a digital downloads terms and privacy policy. It will give you detailed information on how to print this file at your local print store. This is for personal use only. If you want to use it for commercial, contact me personally for pricing.
The choice is yours! These beautiful watercolor peonies cannot be missed! I think it would also make a beautiful wallpaper design.
Interested buyers, click the button below to get instant access to this gorgeous watercolor peony printable file.
I love the versatility of having the digital file that I can create with. It is incredibly affordable to have it printed at places like Walmart, Staples, or Shutterfly.
Maybe my next printable will be a watercolor rose. Who knows, the summer has me inspired to bring color and beauty into my home. I hope to bring it to yours in turn.
This white pink peony watercolor painting print is just one of so many I have available. In addition to that, I have so many in the works to be released soon! Maybe some watercolor wild flowers or a watercolor peony bouquet? Oh goodness the possibilities are endless. Do I even dare mention a watercolor wreath of peonies? How gorgeous!
So, what do you prefer? In addition to my new peony watercolor printable, I am sharing some amazing peony projects and ideas below from some of my favorite bloggers. Check them out below!
Peony Cake (with Fresh Flowers) // Happy Happy Nester
How to Enjoy Peonies Season All Year Long // My 100 Year Old Home
Watercolor Peony Printable // Twelve On Main
DIY Dollar Store Faux Cane Vase with Peonies // The Happy Housie

DIY Faux Peony Arrangement // Modern Glam
Peony Arrangements & Vase Finds // Finding Lovely
Peony Tips for the Most Gorgeous Arrangements // Inspiration For Moms
Three Free Peony Prints // Tatertots & Jello
Peony Floral Arrangement // Zevy Joy
How To Make Your Own Coloring Book // My Sweet Savannah
Want to see more amazing printables I have to offer? Check them out below:
Handmade Watercolor Olive Branch Spring Printables!
FREE Spring Inspired Hand Painted Watercolor Plant Printables
How about more digital art? Check them out below. All are available for purchase!
GET YOUR FREE GUIDE to 30 DIY projects that can be done over the weekend!
By subscribing, you will gain access to my FREE guide with 30 DIY projects that can each be done in a day, or over a weekend!
You will also receive a weekly email with some of my favorite tips, tricks, and design ideas.