Boy oh boy do I have a great post for you today! I have thoroughly immersed myself into fall and I truly intend to enjoy each and every single day. Fall is my favorite time of year. I love the chill in the air, sitting by a warm fire, the mild warm days, and the long shadows and change in the colors outside. Today I wan to talk about some affordable fall home decor ideas that can take you through the entire season and even items you can keep all year long!
*This post is sponsored by Walmart. I am truly grateful for this partnership. I only endorse or support those things I truly believe in*
As fall approaches, you may be thinking how overwhelmed you are about the thought of decorating you home for the season. Whether you are decorating your front porch, a living room, or the entire house it can seem daunting and expensive.
My approach to seasonal decorating is a bit different that most. I tend to shy away from obvious markers that indicate the season. I want decor that will work through the seasons and by simple changing out just a few elements, you can create a cozy home that works throughout the year.
Here is a quick list of the elements I like to change out:
Wall Hangings or Wall Art
Rugs
Pillows and Pillow Covers
Throw blankets
Stylish Dinnerware, Silverware etc.
Add simple decorative elements
When it comes to fall home decor you have so many options to choose from, and honestly, whatever speaks to you and makes you happy is what you should use! I used to use tons of fall leaves, pumpkins and cutesy wall signs and obvious fall decor accessories. As my style has changed, and my desire for less upkeep on my home decor has arrived, I have chosen to scale back and really focus on elements that give that certain vibe without being obvious. This way, if I choose to keep thee decor up for longer than the season, it still works.
I try to choose timeless pieces and elements that are not obvious fall decor, or Christmas decor. I just find this works for me and makes my life a lot easier.
Lets talk about the elements I add to my home. I chose to find the items from Walmart Home. Walmart has such a vast and amazing selection online to choose from. I am always so thrilled with the items I find and the affordable price too!
Check out my newest YOUTUBE video where I share how I decorate for fall!
Wall Hanging or Wall Art:
An easy way to update your house for the seasons is to add some new wall art or a simple wall hanging. I have found some really great and affordable options at Walmart and this woven wall hanging I chose for my mudroom may not be obvious fall decor but it has the textures and colors I want for fall. Adding artwork with moody, fall colors is another great way to usher in the season without being too obvious.
Rugs:
Hands down my most favorite way to change through the seasons is with a rug. Yes, rugs can be very expensive and it should be a big decision, but you can also find so many affordable and stylish options. Take this runner I got for my mudroom. It has all the fall colors I want and with the fall ranch theme, it goes well in my home. It warms up the space without being an obvious fall element, which means I can keep it through the winter too.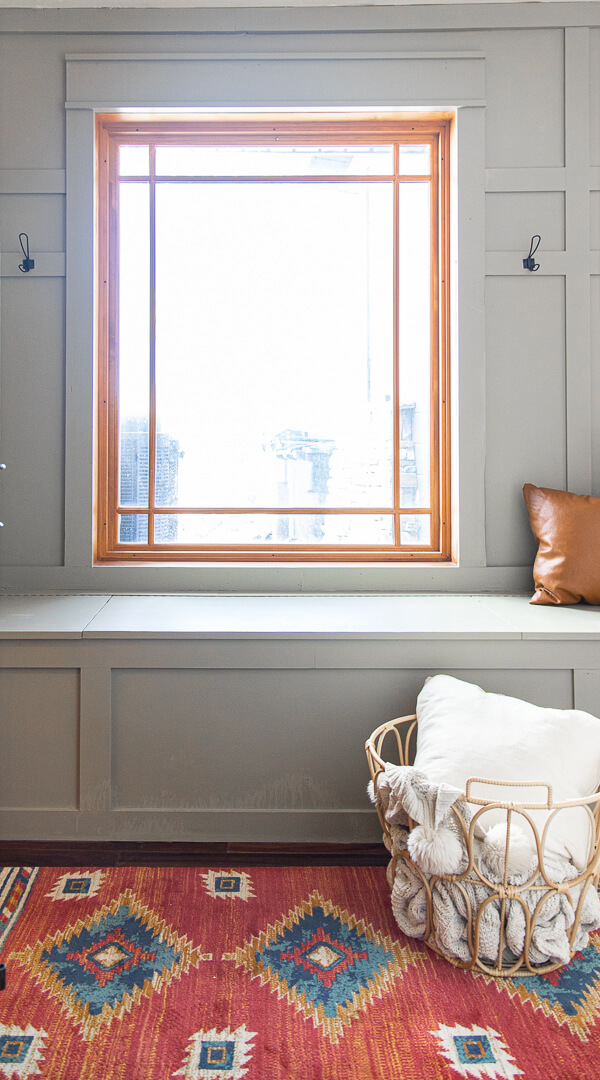 Walmart has tons of gorgeous affordable rugs on their website, you can check them out here.
Throw Pillow and Pillow Covers:
Honestly, pillow covers are where its at. I change out my pillow covers often. Purchasing pillow covers is often more affordable than purchasing new pillows. You also have the ability to take off the pillow covers and wash them, which is super convenient. I love the velvet pillow covers I got from Walmart, along with the boho inspired pillows I got there as well. These are the perfect addition to my fall home decor.
I also got the large linen/burlap pillow cover and I think it is a great anchoring piece for the couch and will last well past the fall season.
Throw Blankets:
Another easy way to bring fall into the house is with a couple throw blankets. There are oodles to choose from, and I got this gorgeous blanket from Walmart. The rust color that is woven through the blanket really ties into the colors in my living room, Make sure they are cozy, so you can curl up with them on a chilly morning.

Simply click on the image to learn more about my favorite fall home decor items!

Stylish Dinnerware and Silverware:
One thing I did different this year is I purchased a new set of dinnerware and silverware. I did this because I was in need of new items of both. My kids had broken so many of my plates and bowls, we were down to using plastic. I no longer had enough to even put together a table setting. The same went for our silverware. I dont know how they all seem to disappear but I was down to only a couple forks and many of them were mismatched. So, I took the opportunity to purchase some that were not only affordable but had the moody vibe I was going for.
I chose some black dinnerware with a rustic gold trim on the edges. The gold silverware I purchased went so beautifully with it. Another item I wanted was a new set of glasses and these rose colored glasses from Pioneer Woman at Walmart were just the right ones.
The last thing I would recommend adding are small decorative accessories:
Walmart has tons of these! From a favorite vase, a large basket to hold blankets and pillows, wooden trays, and natural elements, you can find just what you are looking for. I got some preserved eucalyptus that I can use all year round as well as these cute farmhouse vases that I put on my coffee table. They might not exude fall vibes, but they add to the feel as a whole.
Use the items to entertain as well!
How about a wooden pumpkin, or some fall leaf garlands? They have that too! As you can see from my outdoor space, I was able to create a simple fall centerpiece using gorgeous black candle holders, and a couple mini pumpkins. They look gorgeous with my new plates, silverware and the new cloth napkins I got. This was our first fall outdoor dining experience and we loves every bit of it.
So whether you are looking for outdoor decor, or indoor decor for fall, you can find it at Walmart. Their online site makes it easy to find what you need and it arrives right at your door! Find yourself a cute fall wreath for your front door, replace that old rug with one that will carry you through the seasons, and add some warmth with some cozy throw pillows and a blanket or two.
I love autumn decor, and by decorating this way, I can enjoy it the entire year if I choose to.
Check out these other great fall posts as well!
Simple Outdoor Fall Table Decor Ideas
Nature Inspired Twig Wreath for Fall
15 Organizing Tips to Help You Prepare for Fall
Fall Entertaining in the Kitchen
GET YOUR FREE GUIDE to 30 DIY projects that can be done over the weekend!
By subscribing, you will gain access to my FREE guide with 30 DIY projects that can each be done in a day, or over a weekend!
You will also receive a weekly email with some of my favorite tips, tricks, and design ideas.