15 Organizing Tips to Help You Prepare for Fall
Well, its almost fall y'all! Yes I just said that! When the weather starts to change, the shadows get long, and you know that summer is coming to an end, it can be a good time to take stock of what is going on in your home and what you can do to get it ready for the colder weather and the holiday seasons that are soon to follow. I want to share some fall organizing tips that will help you tackle your home just when it is needed most.
I am sharing these fall organizing tips along with some of my favorite bloggers who are also sharing some great fall organizing ideas. Make sure to check out their posts at the end of mine!
I like to think of fall as the second spring for me. Spring is always a time for rejuvenation, and for freshening things up after a long winter. It is a breath of fresh air. I think of fall as the perfect time to prepare your home for the colder weather and the busy holiday season.
Now, I am not a professional organizer, but if you need that kind of assistance, do it! I wish I could hire one. For me, I keep it basic and focus on some main areas in my home and around my home to clean and organize for the fall.
Here are the best organizing tips I can offer as fall approaches:
Declutter major areas of the home including laundry room, mudrooms, kitchens, dining rooms and living rooms. Create simple storage space using baskets and even storage ottomans. These are a great way to store pillows and blankets for those chilly days that are soon to come.
Create a back to school area for backpacks, etc: Now that school is back in session its time to get organized for school. In our breezeway/mudroom we have a hook for each child where they can hang their backpacks and coats. This has been really helpful in preventing a big pile on the floor every day. We also have individual areas in our bench for each family member where they can put their shoes. This helps tremendously with the clutter. Clutter causes so much anxiety for me and its nice to have everything put away.
Clean out your closets: Its time. If you have been putting it off, take this as your sign to get going. I like to use the Marie Kondo method and discard anything in my closet that no longer brings me joy. It is an easy way to make room for new items, as the fall seems to be the time when we purchase new clothes. Clean out your linen closet and discard old blankets and sheets no longer used. These are great items that can be donated to those in need.
Donate any old clothes, coats, boots and other items you are not wanting that are in good shape: The fall is a great time to take those unwanted items such as blankets, coats, boots. Winter time is a hard time for those in need and if there are article of clothing that can be donated to keep kids and adult warm through the winter, this is the perfect time to rid your house of them all.
Want more organizing tips? Keep scrolling!
Clean out dresser drawers as well! A lot of stuff gets hidden and lost inside those dresser drawers. Make sure to go through them and get rid of clothes that are too small or too big, as well as items that are in bad shape.
Store away summer and spring decor: I am sure we all have summer and spring items still hanging around our house and right now is the perfect time to get everything put away! Find an area in a linen closet, attic or garage. Take the time to store these items away and make sure to label the storage boxes or plastic containers so next year, you will know where they are and can pull them out in the spring.
Clean your medicine cabinet and stock up: I find this to be an absolute essential. I completely reorganized my medicine area that I had in my kitchen cabinets(you can see how I did it here).
I made sure to categorize everything. Ultimately, no matter how hard to try to keep it organized, there will be empty boxes of cold medicine, or empty bottle of Tylenol. Its always when someone is sick that you find this empty bottle of medicine. Its probably midnight and the stores are closed. I make sure to stock up on vitamins such as Vitamin C, D and B as well as EmergenC, or Airborne.
We also stock up on cold and flu medicines. I make sure I have all the essential oils I need, and I have an entire area dedicated to these. Lastly, I make sure my first aid supply is full of bandaids, alcohol and peroxide as well as other essentials. In addition to this, I make sure I have all my pets needs such as vitamins and ointments. I use a label maker to make custom labels for each area.
Clean your pantry and stock up on essentials: Just like I find empty boxes of medicine in the medicine cabinet, I find empty boxes of food! I love it when I go into the pantry to get that box of crackers only to find it is an empty box of crackers. Routinely decluttering the pantry is important. Besides decluttering, take inventory of what you have and what you need.
My goal is always to have enough food to feed us for 3 months, and I have to get creative to do this. But if you cannot do this, make sure to stock up on essentials such as toilet paper, paper towels, rice, oatmeal, sugar, flour and other ingredients you use the most of. I find having canned beans, soups, tomatoes and pastas are things we use the most often and I often restock these. I use them most often in the winter so I make sure that we have plenty.
Clean and organize your garage: This is a daunting task. It snows a lot where we live and cleaning out the garage in the winter is not ideal. Its also a real pain when the snow melts and damaged items in the garage. So, why not clean this space out in the fall while the weather is nice. This is a great opportunity to reorganize and add those seasonal items as well as summer clothes, etc. You may also find you have other items to donate to thrift stores and that is great too. We store away our bikes and sports equipment in the fall. We wont be doing much of that once the snow flies. You can clear up a lot of space in your garage doing this. At the same time, I like to bring Christmas decorations as well as fall decorations and bring them to a more accessible spot in the garage. This way, when I am ready to use them, they are right where I need them.
Create a command center or station for working or paying bills or homeschooling: If you are homeschooling your children, now is the time to create a command center or work space for them to do their school work. There are so many different ways to do this. You can customize the space to what works best for your family. It can be an entire dedicated room or simply a plastic folding table in the corner of a room. Have an organization system that works for your kids. Have a place to store smaller items(storage containers work great). You can also use drawer organizers if you are using a home office.
Clean fridges and deep freezers: Believe me when I say that right now is the best time to do this. We have a large deep freezer in our garage t hold our meats, as well as other frozen items. Living far away from major cities with big grocery stores requires us to be able to store more than we usually would. Deep freezers tend to get tons of frost inside them. About every year we defrost the freezer. We clean out old food and freezer burnt food and make room for food we have harvested from the garden. Make sure to clean out your fridge as well and toss out anything that is past its expiration date. Having an organized fridge and organized kitchen makes such a big difference.
Clean out that junk drawer: I know we all have that kitchen drawer full of junk that we pretend does not exist. Well, guess what? It is time to clean it out! Life gets crazy and those junk drawers fill up so fast. They become the drop zone for unwanted stuff. Try to use a drawer organizer to organize daily use items such as pens, pencils, rubber bands, paper clips, tape and more. I am always surprised at how much junk is inside this drawer. Often times, stuff needs to just be thrown away!
Make a list of household chores: If you truly want your life to be organized, make a list of daily chores for the family. We struggle with this, but once fall hits and we are back into a schedule having assigned chores makes our life so much easier.
Clean up your outdoor space: We often spend time in the fall storing away hoses, sprinkler parts as well as outdoor furniture. We like to keep our furniture out for as long as possible to enjoy the outdoors. Eventually it is time to store it all away to protect it from the harsh winter storms. Having everything stored away for the winter also helps ease my anxiety over having clutter out. At the end of the day, thats all I am trying to accomplish.
Have a yard sale: Lastly, if you have gone through all the spaces in your home and have amassed a lot of great stuff, you can have a community yard sale and make a couple dollars to help the upcoming holiday season.
With these fall organizing tips you can get control of your home during a busy and chaotic time of year. There is no better feeling than being able to walk into a clean and tidy space. Being able to find the items you need and have your entire home where you want it to be is so satisfying. These may seem like big things but they can make a huge difference for you.
Want more fall organizing tips? Check these out: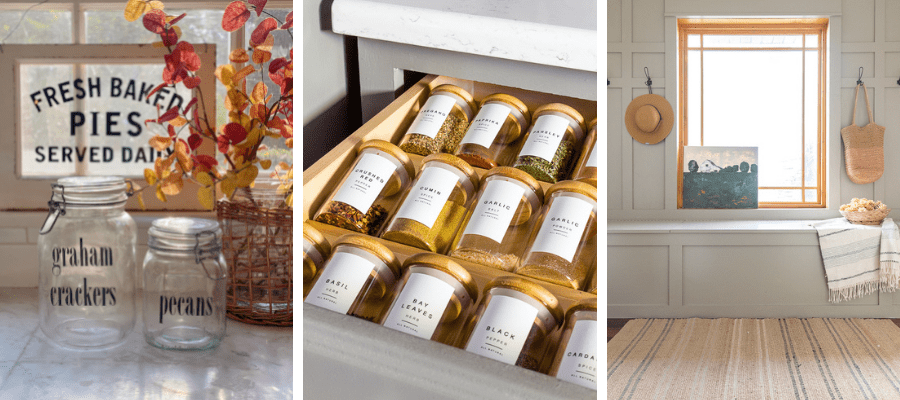 Organizational Tips and Some Fun Ideas to Enhance the Items in Your Pantry! // My 100 Year Old Home
Spice Drawer Organization Tips // Inspiration For Moms
10 Organizing Tips to Help You Tackle Fall // Twelve On Main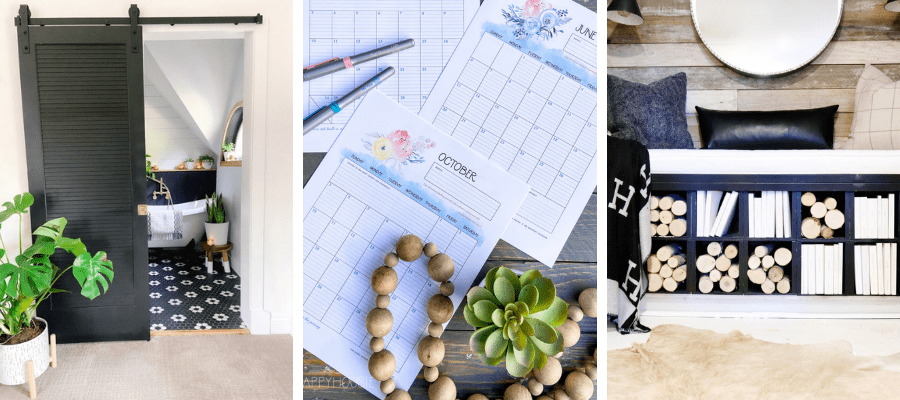 A Small Bathroom That's Big On Organization // Tatertots & Jello
Free Printable Family Planner Academic Year Calendar // The Happy Housie
Don't Judge A Book By It's Cover // My Sweet Savannah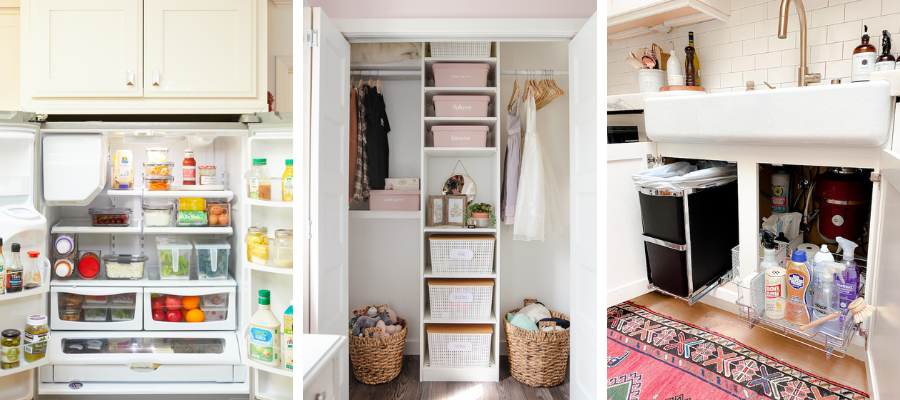 How to Organize a French Door Refrigerator // Happy Happy Nester
5 Quick Kids' Closet Organization Ideas to Start The School Year Off Strong! // The DIY Mommy
Under Kitchen Sink Organization Ideas // Modern Glam
Make sure to follow me on Pinterest! I share tons of recipes, DIY projects and more!