Can you believe it's almost Easter? I cant. I guess we still have about a month until its here, which gives you plenty of time to create some fun Easter decor that looks great and is stylish. My easy bunny art is just the right project for anyone with a scrap of wood some scraps of fabric. Let me show you how I did it.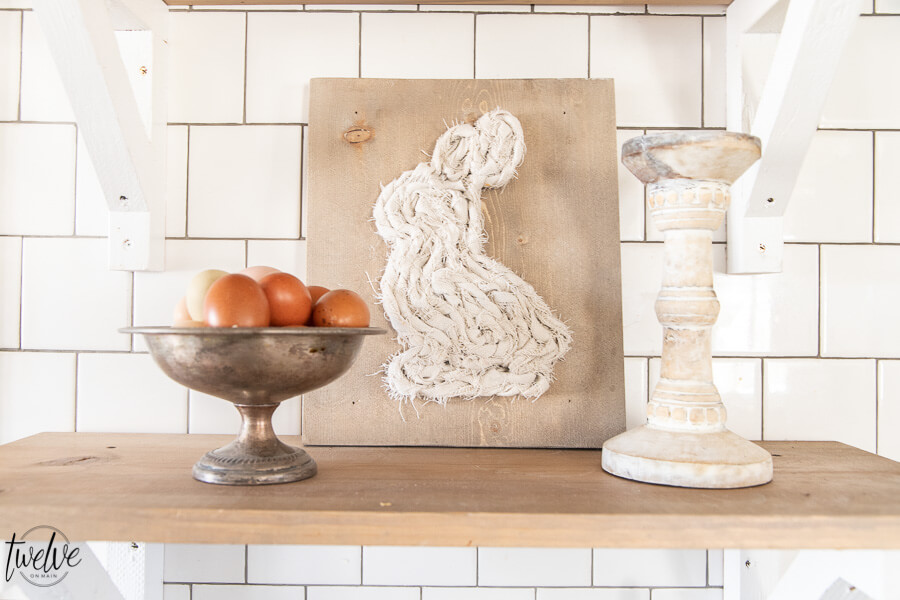 This is a super easy project that you could involve your kids and have a fun craft day. To make this simple bunny art for Easter, you need just a couple supplies:
hot glue gun
piece of scrap wood, whatever size you want it to be, mine is 14 by 10.
scrap fabric or an old t-shirt
pen
bunny template (you can get the template here)
Once you have your materials for your bunny art, it's time to get prepped.
First, take your fabric and rip it into 1-2 inch thick strips. I used some leftover canvas drop cloth. I loves the organic look of the frayed material. Its almost like it is giving the bunny a furry look.
Once you have three strips, hot glue the ends together and braid the entire length of the fabrics.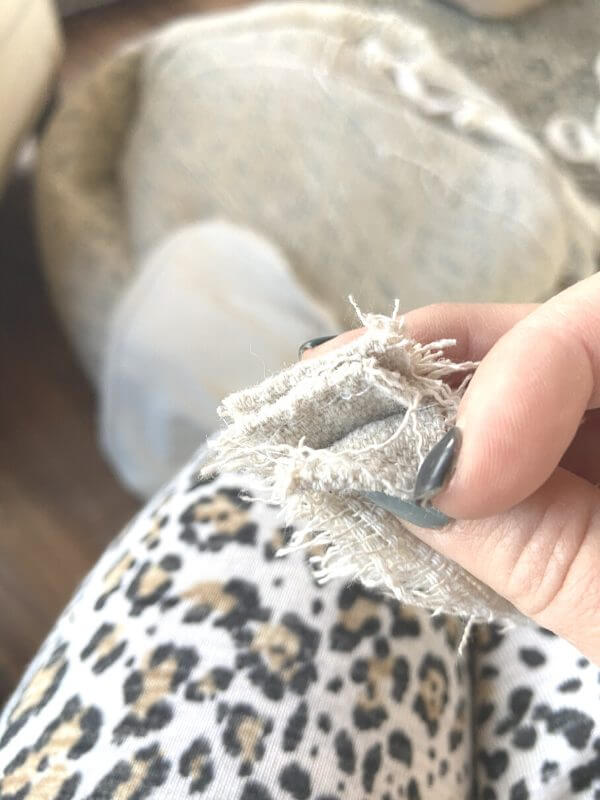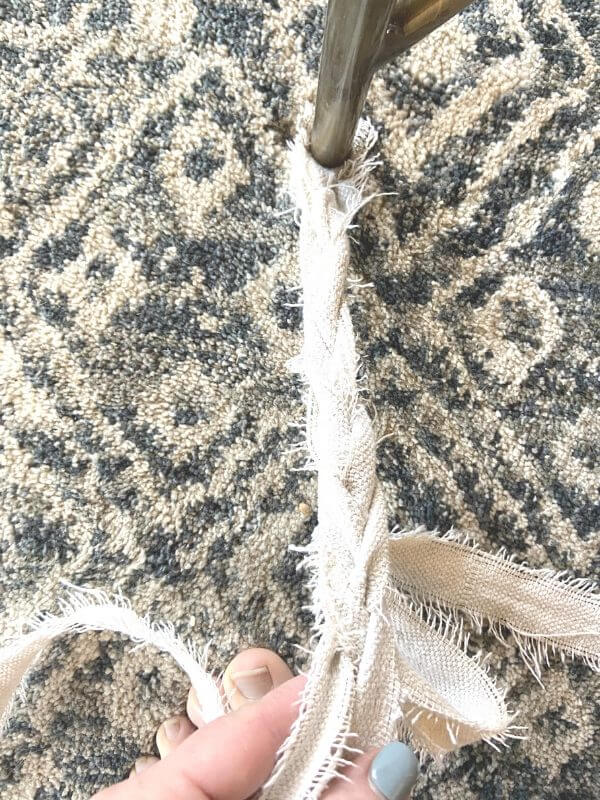 Once they are braided, glue the ends to secure it.
Next, its time to get the bunny design transferred to the wood.
Cut out the bunny design and lay it on your wood. Trace around the bunny with a pen or pencil.
Now that you have the design transferred, its time to start gluing our braided scrap fabric. Our bunny art is starting to take shape.
Take your time. Start with a small area and hot glue the fabric in small sections to make sure it does not move before it hardens.
Once the outline is complete, you can fill it in. You can choose any kind of design you want to give it a unique look. I chose to follow the contours all the way to the center.
It was really so easy and took me less than 10 minutes to create! How fun would this be with different colors of fabric? Why not use an old t-shirt if you don't have any scrap fabric?
How cute does it look tucked onto one of my kitchen shelves? I love the organic feel and the addition of textures to the shelves.
I have always been one that does not subscribe to the commercial holiday decor(for any holiday). I want something that looks like it was meant to be there, but can feel like it works for the holidays or any other day as well. This bunny art looks so cute accompanied with my organic farm fresh eggs.
This was a fun project and I am thinking I need to make some more for different holidays and seasons.
Want more Easter decor ideas? Check these posts out:
Sweet Inspiring Easter Printables
Free Hand Painted Easter Printables
15 Creative Easter Egg Ideas for Your Family
Simple Spring Paper Garland Using The Cricut Maker
Full of texture and character.
I hope you enjoyed this simple DIY bunny art project. We are a little bit closer to Easter and I am excited to add a couple more pieces of spring decor. Maybe it will get me out of my winter slump~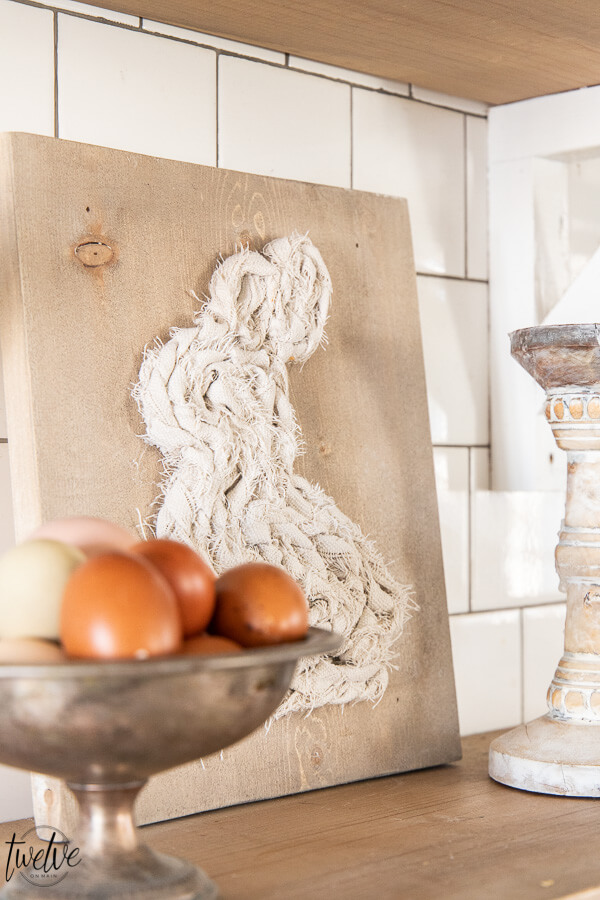 Want to see more amazing DIY Easter ideas? Check these out below from my fellow bloggers~

The DIY Mommy | Fuzzy Crochet Chain DIY Easter Eggs
Happy Happy Nester | Decoupage Easter Eggs
Finding Lovely | Wooden Easter Egg Bunnies DIY
Zevy Joy | Vintage Inspired DIY Painted Easter Eggs

Craftberry Bush | Hand Painted Easter Eggs
Modern Glam | Living Centerpiece for Your Easter Table
Twelve on Main | Easy Bunny Art Using Scrap Fabric
Tatertots and Jello | Easter Basket Living Floral Centerpiece
My 100 Year Old Home | How to Make Easy Paper Flower Daffodils
GET YOUR FREE GUIDE to 30 DIY projects that can be done over the weekend!
By subscribing, you will gain access to my FREE guide with 30 DIY projects that can each be done in a day, or over a weekend!
You will also receive a weekly email with some of my favorite tips, tricks, and design ideas.