Hey friends! I am so glad you are here today! I am excited to share something that I absolutely love and cannot get enough of. Pavlova! The instant I saw one on TV on a cooking show, I absolutely knew I had to learn to make it, and I had to eat it all. And as daunting as they might seem, they are actually pretty easy to make, and so so delicious! Today I want to show you how to make a mini pavlova that is the perfect Easter dessert! Lets call them Easter Egg Pavlovas!
Now, before we indulge in the amazing dessert, we need to talk about what Pavlovas are. Pavlova is a meringue based dessert named after the Russian dancer ballerina Anna Pavlova. It is believed to have originated in Australia or New Zealand and from what I've read there has been quite the fight about it.
This dish is quite popular in both countries. I don't really care who it originated from….I am just so happy that it did! It is so delicious. The combination of a meringue layers or simple a shell, filled with cream of your choice and topped with sweet and tart fruits.
My gosh, the combination is amazing. As my son says, "the textures and flavors go so perfect together". Haha I am so proud to have kids that appreciate food in this way.
You can make Pavlovas do your liking. Pick the fruits you love and add your favorite cream. I have seen them with lemon curd, puddings and more. I chose to use a cheesecake mousse in mine. This is the easiest cheesecake mouse ever. Its so so good too~
I call the Easter Egg mini pavlovas because I made them into adorable edible Easter eggs! You can make Pavlovas in any shape you want. I use a piping bag to pipe the meringue in different shapes. Today we are making Easter eggs! Its easy to pipe out the shapes. I drew an egg shape on the underside of the parchment paper that it baked on. I was able to pipe it into an egg with ease.
You could make so many fun additions to these "Easter egg" mini pavlovas. Why not dress them up in as many different ways, creating your own cute Easter eggs.
You could also turn them into birds nests, I just wanted to make these a fun Easter dessert. And my kids think they are pretty amazing!
So lets talk about how to make the perfect mini pavlova.
The most important part is the base of the dessert, which is a meringue.
How to make the mini pavlova meringue:
Watch this video to see how easy it is to make them!
For this recipe, there are only a few ingredients. Egg whites, cream of tartar, sugar, vanilla, and cornstarch.
First you want to whisk the egg whites until they reach soft peaks. Gradually add the cream of tartar and sugar and continue beating at high speed. Add the cornstarch and vanilla and whip until it has stiff peaks.
Fill your piping bag and pipe your meringue onto parchment paper on a large sheet pan. I use this piping set and love it!
While I am mixing up my meringue, I preheat the oven. You want to cook these on low heat. I start the oven at 32o degrees, and turn it down to 245 right before I put the meringue in the oven.
I cook the meringue for 30 minutes and then lower the temperature to 200 degrees until the outsides of the meringue is dry to the touch.
When they are ready, turn off the oven and open the oven door half way. This will help prevent cracking which is so easy to happen.
They should be crisp on the outside and a bit gooey and chewy on the inside. My vary from gooey to chew and crisp. My kids love them any way that they can get them. It reminds us of a crisp marshmallow with a soft center.
Once they have cooled completely they are ready to be filled and eaten up!
I used my piping bag to pipe my cheesecake mousse into the meringue shells. I then topped with assorted fruits according to what we like. I had to make some with strawberries and raspberries(it is our favorite). We also made some with pineapple and blueberries. I find the acidic fruit to be so refreshing against the creamy filling and crispy, soft and chewy meringue shell.
You can create fun designs with the fruit. I created some flower designs with the strawberries.
Dont they look like the cutest easter egg desserts?

We made an assortment, and the kids all loved them!
The pineapple and blueberry is my sons favorite, while the strawberry and raspberry is my daughters.
Not to mention that they are super pretty desserts! Its pretty easy to make them look good.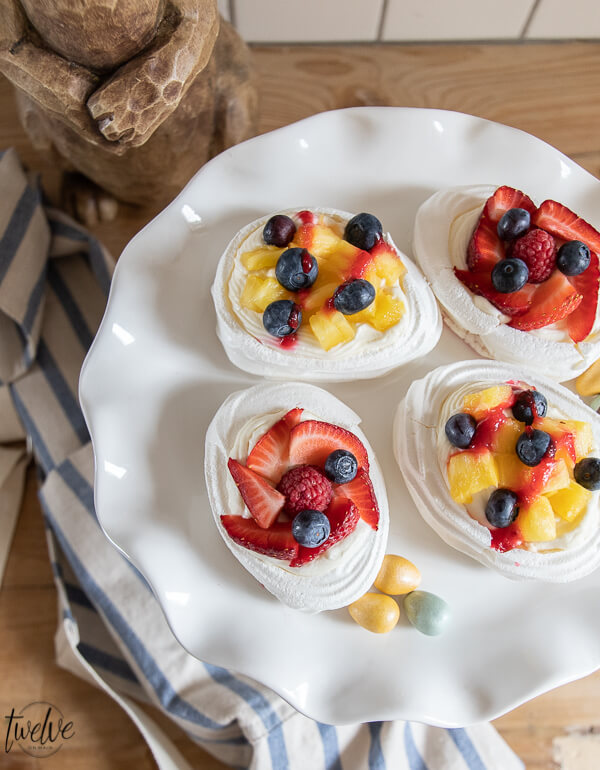 How to store mini pavlovas:
Mini pavlovas are recommended to be eaten soon after baking, but if you want to bake them and store them you can do that. You can store them in an air tight container. I like to put a paper towel in between each mini pavlova shell.
Do not fill them with toppings until you are ready to eat them. The meringue will absorb the liquids and become soggy. We don't want that!
Mini Pavlova Recipe
Crispy meringue, creamy filling and sweet and tart fruit topping this easy, decadent dessert!
Ingredients
4

eggs

1

cup

granulated sugar

1/2

tsp

cream of tartar

1 1/2

tsp

cornstarch

2

tsp

vanilla
Instructions
Preheat the oven to 320 degrees

Beat the egg whites together until they are forming soft peaks. I use my Kitchen Aid for this.

Slowly add in the sugar and cream of tartar beating at high speed.

Add the vanilla and cornstarch and keep beating at high speed until the egg whites for stiff peaks.

Pipe the egg whites onto a parchment paper on a cookie sheet.

I like to pipe the base and then the sides up to make a but of a reservoir to hold the cream. Not too high though, just about and inch.

Put the meringue in the oven and immediately drop the temperature to 245 degrees and bake for 30 minutes.

Turn the temperature down to 200 and bake until the outsides are dry. Turn off the oven and open the door to let it cool slowly. You do not want to take the meringues out right away, the change in temperature can cause cracking.

Then top with fruits and a sauce if you so desire. I like to make a raspberry sauce and drizzle it over the top.

You can store the meringue shells in an airtight container, with a paper towel in between each shell. These a re best served fresh. Once they are put in the fridge, they will begin to degrade a bit.
Make this mini pavlova as your next Easter dessert. Its so easy and it is the most refreshing and interesting dessert. It is sweet, creamy, chewy, and so decadent.
Make sure to check out all these other great Easter dessert ideas!

Gluten/Dairy Free Floral Sugar Cookies – Zevy Joy // Mini Layer Cakes – Jennifer Maune // Perfect Coconut Cupcakes – Sincerely, Marie Designs // Macaron Angel Food Cake – Life Is Better At Home

Quick and Easy Spring Dessert – Happy Happy Nester // Bunny Cupcake Toppers – Finding Lovely // Painted Buttercream Spring Carrot Cake – Craftberry Bush // No-Bake Lemon Cheesecake Trifle – The DIY Mommy // Easter Dessert Board – My Sweet Savannah

The Best Macarons – My 100 Year Old Home // Easter Bark – Modern Glam // Easter Bunny Chow – She Gave It A Go // Bird's Nest Cookie Cups – Tatertots & Jello

Keto Friendly Chocolate Mousse with Raspberry Drizzle – The Happy Housie // Healthier No-Bake Bird Nest Cookies – Cassie Bustamante // Simple Strawberry Pie – A Blue Nest // Best Sugar Cookie Recipe – The Handmade Home // Mini Pavlova Easter Dessert – Twelve On Main
Apparently I make a lot of cream cheese desserts! Check some out below!
Pumpkin Cupcakes with Cream Cheese Icing and Salted Caramel Topping
My Go To Cream Cheese Frosting
Easy Cream Cheese and Spiced Apple Dessert with Homemade Caramel Sauce
The Ultimate Cream Cheese Peach Cobbler Recipe
Roasted Peach Dessert with Cheesecake Mousse and Basil
Strawberry Throw-up, Our Favorite Strawberry Dessert
How about some great Easter ideas?
15 Creative Easter Egg Ideas for Your Family
Free Hand Painted Easter Printables
GET YOUR FREE GUIDE to 30 DIY projects that can be done over the weekend!
By subscribing, you will gain access to my FREE guide with 30 DIY projects that can each be done in a day, or over a weekend!
You will also receive a weekly email with some of my favorite tips, tricks, and design ideas.