You guys aren't going to believe how easy that DIY pallet table is. With only a few steps you can make a fun and rustic piece of decor for your home! All in under 10 minutes!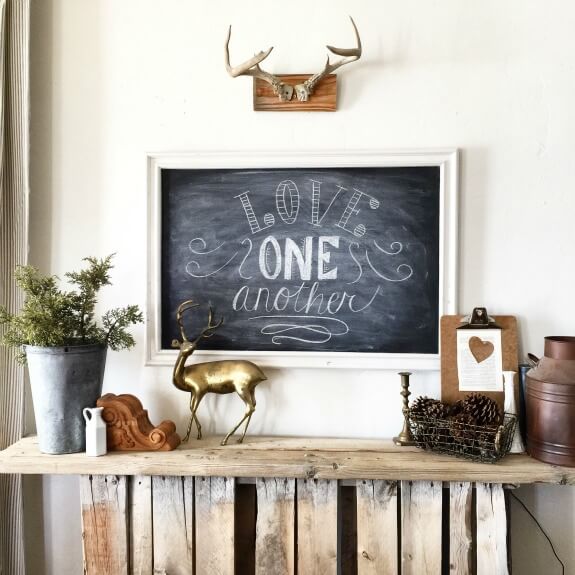 It is a pallet table I built all by my lonesome one day while my hubby was at work one day.
So I've decided to post a quick DIY on how I made it.
DIY Pallet Table….
Something you might not know about me and my hubby is, his family owns some hotels right outside the entrance to Bryce Canyon National Park.. I tell you this because…..some of my best scores have been in their junk yard. I tell you its a gold mine for someone like me who loves to re-purpose objects. This is where I was able to find my pallets. Anyone who has taken apart a pallet knows what a beast it can be!
Here are 2 tools to not be without if you want to make your life easier.
*This post contains affiliate links. By clicking on them I may earn a few pennies to help maintain my blog. Thanks for your support. All my opinions are my own.*
A miter saw! This beast of a tool will come in handy so often. It may be a bit of an investment, we bought this exact model and have had ours 11 years. It had been through building a house and about a million DIY projects. It has been well used and is still going strong!
Reciprocating Saw– This bad boy is a great addition to your tool collection. If you ever desire to attempt cutting a pallet, this is the tool that will save your life. We use ours so often. It is a handy little devil.

These are amazing tools to have if you are looking to do a pallet project in the future. The reciprocating saw has to be the most important tool when tearing them apart.
Now, back to the project at hand.
One day I was perusing my go to Pinterest and found a picture of a pallet table I liked.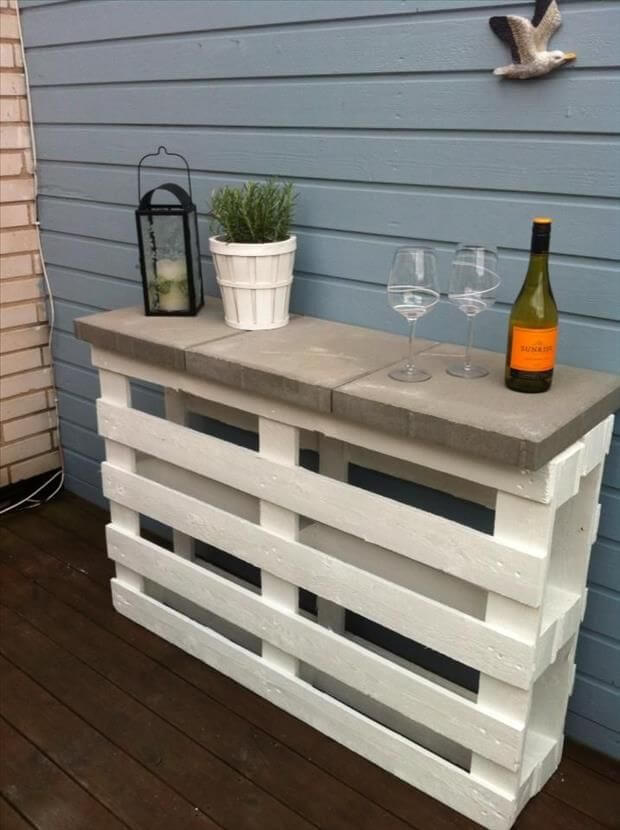 I liked the general Idea of it. I didn't have any blocks lying around for the top. But I did have some only 2 by 6's from when we built our home. Best part? They had been sitting out in the sun getting all sun bleached, distressed, and aged. All things I love.
I grabbed two pallets from my pile and screwed them together to make the base. Simple enough yes?
Once the pallets were screwed together, I set them up on their side. This is how they are going to sit in my house.
I grabbed my 2 by 6 and measured it to fit on top of the pallets.
I then took the 2 by 6 to the garage.
I measured how long I wanted the top to be. I wanted it to overlap the pallets by about 6 inches so I measured accordingly.
I then marked and cut the wood with, according to my not so crafty sister(self proclaimed) "the up and downy saw" or the miter saw. Whichever you prefer.
Then it was a simple as placing the tops on and screwing them in. I did need to get some help from my husband on this because according to him, I don't have enough….hmmm lets say, bum behind me to screw them in. I'm sure if I had drilled a pilot hole, I could have, but I was being lazy and he was sitting there so strong!
Initially I had used it outside as decor, but soon found it needed a home inside. That is the great thing about pallets and barn wood. Inside or outside, its tough, beautiful, and multi functional. So for now, it has a place inside my home. I do not have any plans to move it, but you know, the day has just begun.
This pallet sofa table has been styled in so many ways in its short life inside our home. Here are a few of the roles it has played.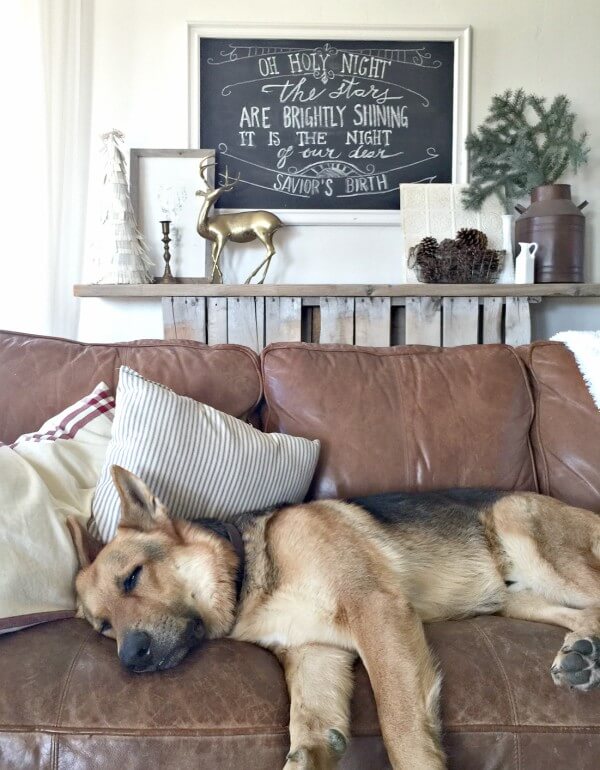 Sometimes I try to get a nice picture, but the pillows just wont cooperate, you know? It couldn't be that sweet thing laying in the foreground:)
Halloween Clipboard Decor– With Free Printables
For Halloween it was dressed up with creepy skeletons, neutral pumpkins, and all sorts of Halloween goodness.
This spring it was styled simply for my spring farmhouse home tour. Something about blank chalkboards as a backdrop make me so happy.
This pallet sofa table was a simple project that has made a huge impact in my home. I love to style it in so many different ways. By adding soft and feminine touches to an otherwise rough and rustic table, you can create an interesting combination of textures and add interest to the area.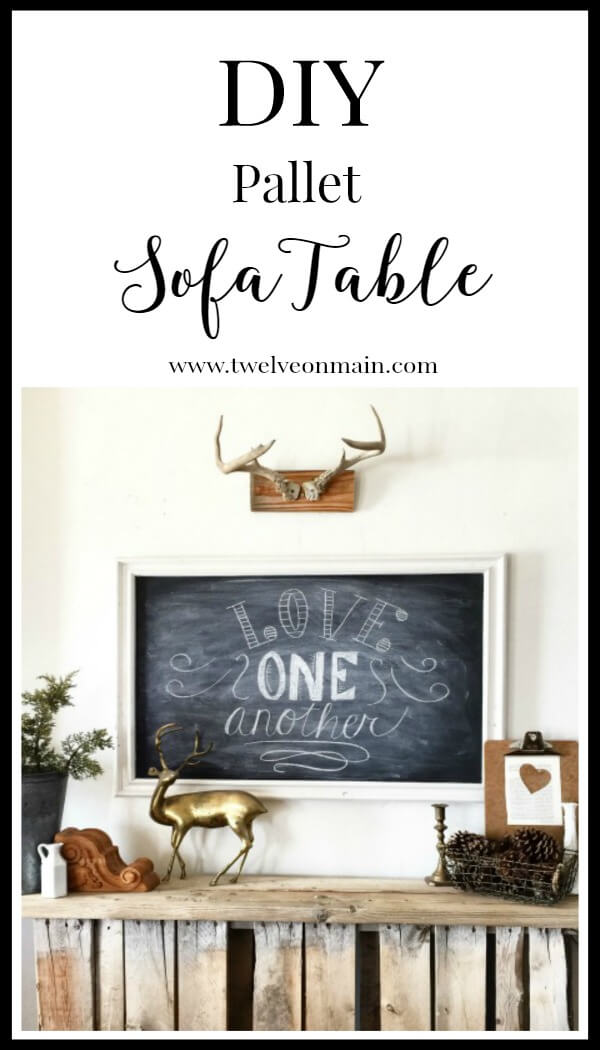 Thanks so much for taking time out of your day to see what is going on at Twelve On Main.
Have a great day and remember….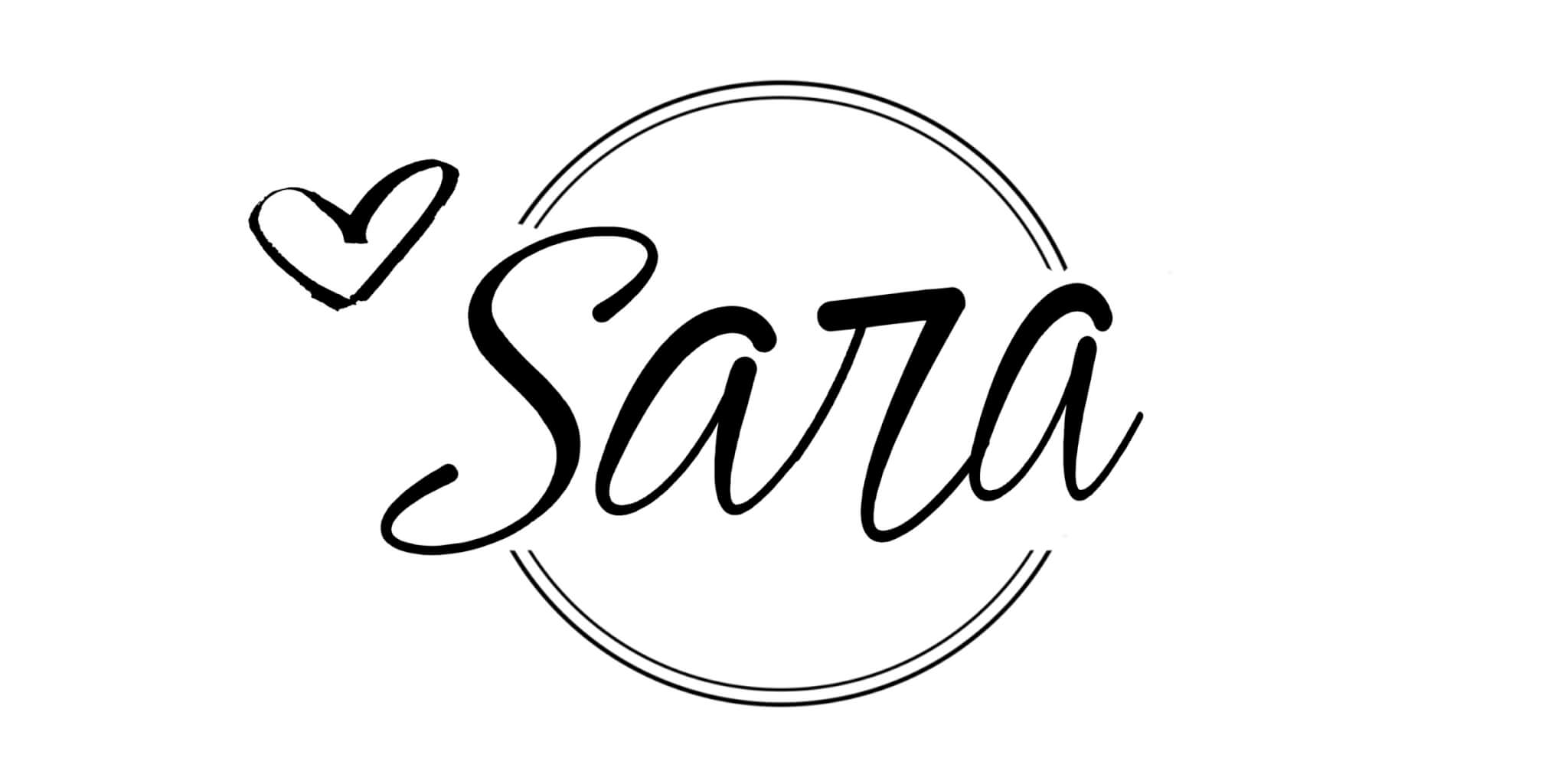 If you like this post, you'll love….
Some of my favorite tools:
GET YOUR FREE GUIDE to 30 DIY projects that can be done over the weekend!
By subscribing, you will gain access to my FREE guide with 30 DIY projects that can each be done in a day, or over a weekend!
You will also receive a weekly email with some of my favorite tips, tricks, and design ideas.