Sometimes when I have no large pressing projects, I find myself neglecting the dishes and creating things completely on a whim. Like a vintage wooden sled. You know the kind. Those wooden sleds that we all look on with nostalgia of days gone by.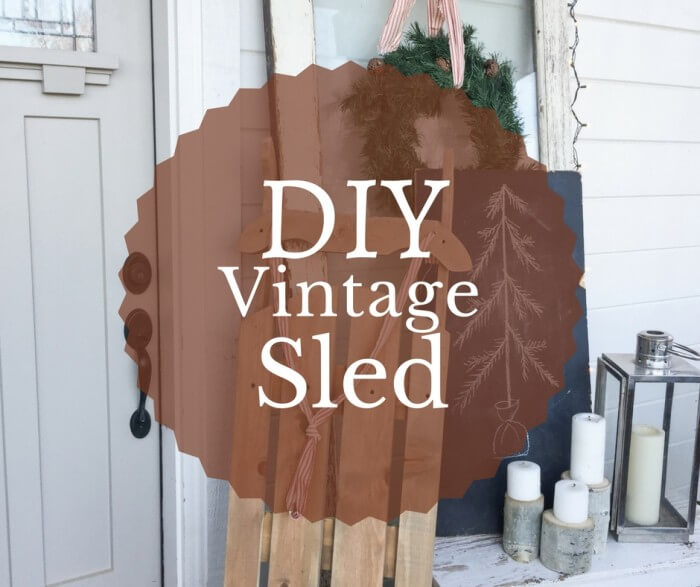 I love the feelings they evoke for the young and old. I also have always wanted one to add to my Christmas decor, however they are hard to come by, and when you do come across one, they're quite pricey.
Well, this vintage wooden sled that I am going to show you how to make cost me less than 10 dollars. Yup, you heard me right, 10 dollars!!
*I will note, that this is only the case if you already have a few tools in your possession already.
Here is what I used for this project:
I've created a diagram of the pieces toy need to make this DIY vintage wooden sled.
2- 55 inch long skis cut out of the 1 by 6 plank
3- 14 inch long by 4 inch wide planks
4- 4 inch wide planks with variable lengths
1- 21 inch long piece for the top of the sled
The first thing you want to do is cut out the ski pieces that will go underneath.
Here they are cut out.
Here is a tip, it is easier to paint or stain each layer as you go*
I then screwed my 14 inch long pieces to the tops of the skis. I basically eyeballed these are about 8 to 10 inches apart. These just need to be secure so that the top planks have something to support them.
Once they are secured with screws, I cut out my top planks. The secret to these is that I wanted them to taper down as they went out to the edge of the sled. The two center pieces are 39 inches at the very center, and on the opposite sides, they are 38 inches. So the taper slightly. The next two outer pieces do the same. You can see the measurements on the diagram above.
I screwed these on spacing them out evenly.
I cut the top piece out of the 1 by 6 plank with my jig saw. and attached it at the top of the sled. I drilled a hole in either side of it that once the sled was stained, I will run some fabric through to create the reins of the sled.
And voila, you have you very own vintage wooden sled!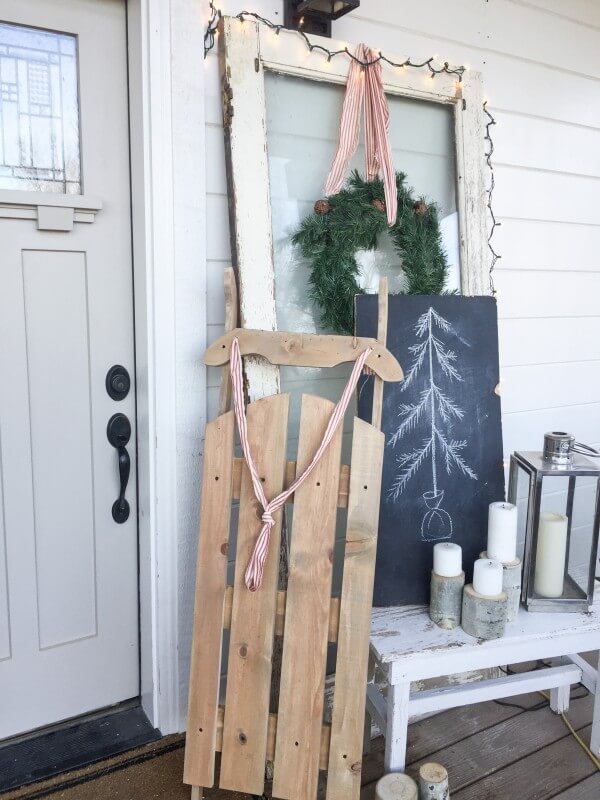 Tell me you don't want to run to the hardware store and make this right now!
I am currently making a few more for friends so I will let you get at it!
Have a great day and remember…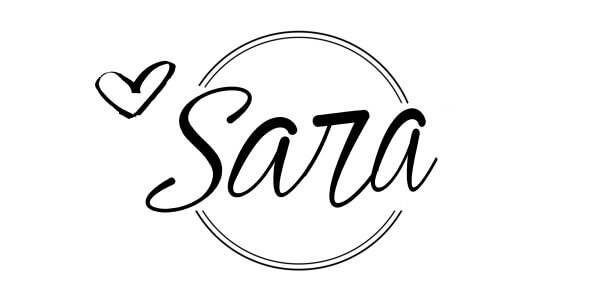 If you like this post, check these out:
Make Simple Farmhouse Style Stockings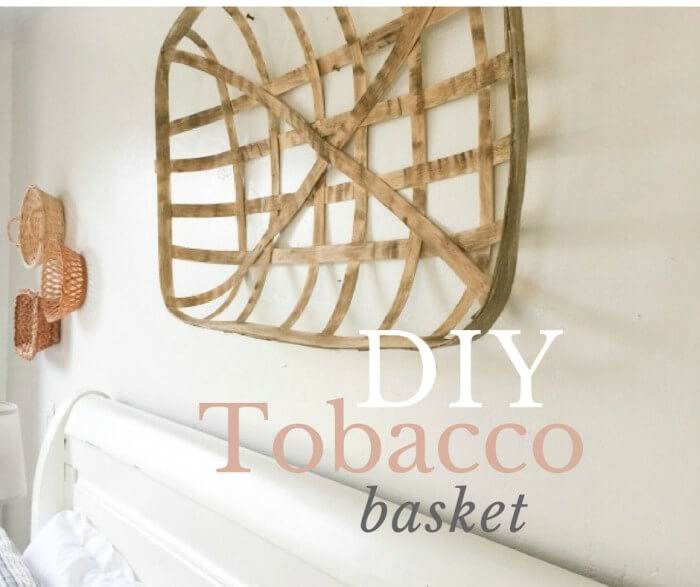 Farmhouse Christmas Tablescape
GET YOUR FREE GUIDE to 30 DIY projects that can be done over the weekend!
By subscribing, you will gain access to my FREE guide with 30 DIY projects that can each be done in a day, or over a weekend!
You will also receive a weekly email with some of my favorite tips, tricks, and design ideas.