Are you having issues with your wood finish coming out blotchy after staining it? You might need to use a pre-stain wood conditioner! Keep reading to learn how to use wood stain conditioner and why you should use it for every wood staining project.
After many wood projects under our belts, we have spent hours learning how to work with wood, how to paint and how to stain wood. Staining is by far more of a daunting concept to most people.
Painting wood is easy. You get a nice uniform look, and anything you do not like, you can paint over. With wood stain, what you stain you will see. Depending on the grain of the wood, you will get varying results. I have found certain woods stain much easier and better than others. For today's post, we are going to talk about using a pre-stain wood conditioner on our newest DIY project, our Crib Mattress Porch Swing.
For this project, we used very basic wood. So basic, just simple 2 by 4 pieces of wood from the local hardware store. These pieces of wood are generally made from a pine type of wood. They can have larger wood grains and be more sporadic. I have also found them to have more knots and also to have soft and hard wood combined in one piece of wood.
This can cause some issues when wanting to stain. The harder wood areas will stain a bit differently than the soft areas and the grain will look uneven. We really like using this kind of wood because it is affordable and easy to find. But, you have to take the good with the bad, and learn t
Does Pre-stain wood conditioner work?
Yes, yes it does! I have found it to make a big difference, especially if I am using a more inexpensive type of wood. Using raw construction lumber to build furniture, like our DIY crib mattress porch swing can be challenging if you want to stain the wood and get an even finish. I find the pre-stain wood conditioner makes a huge difference in how the stain turns out.
Should you use wood stain conditioner before staining?
Yes I think using wood stain conditioner should be a key step to any staining project. You need to make sure not to wait too long in between the wood conditioner application and the stain application for best results. I have done many projects with stain (both with and without conditioner) and have found it to be an important step.
The only time I would say you do not need to use pre stain wood conditioner is if you are using a gel stain. Gel stain tends to not blot like an oil based stain. So, if you are using oil based stain, then definitely use a wood conditioner.
What can you use as a wood conditioner?
There are a types of wood conditioner on the market. I use the Minwax Pre Stain Wood Conditioner. There are others available such as Varathane Wood Conditioner and Behr Pre Stain wood Conditioner. I have also seen people make their own at home. We will discuss that in just a bit!
Should you sand after applying wood conditioner?
Since the pre stain wood conditioner can cause the wood grains to raise up a bit after application, I would recommend sanding it with a 80-200 grit sandpaper to smooth it out.
Can I make a DIY wood conditioner at home?
Yes I have seen this done before. According to what I have read, you can use the recipe below to create your own conditioner. I have not used this, so I cannot guarantee the usefulness. But, I have seen many people use it!
⅔ cup of coconut oil.
⅓ cup beeswax pellets.
2 tablespoons of food grade mineral oil.
What kind of brush should I use to apply pre-stain wood conditioner?
When applying wood conditioner there are a couple of different options. You can use a rag, foam brush or a synthetic brush. I find the two first options to be the easiest because you can discard them after use. You will need to clean your brush if you use a synthetic brush.
What wood type works best with wood conditioner?
In my experience, I have found wood conditioner to work best with soft woods, more porous woods, than less porous hard woods. Something like pine will take the wood conditioner well and prevent it from absorbing too much stain.
Here is a list of the wood that wood conditioner works best with : Walnut, Alder, Pine, Birch, Fir
Step by Step Guide to Using pre-stain conditioner.
First make sure the wood you plan to stain is clean and has been sanded with fine-grit sandpaper to the finish you desire. Once it is clean and free of dirt and debris, you can apply the wood conditioner. Make sure to brush it the direction of the wood grain for best results.
The next step is to brush one layer onto the bare wood(going with the direction of the grain) making sure that you coat it evenly and fully. Once it is completely coated, let it sit for about 20-30 minutes. You do not want the conditioner to dry completely. After this time, you may need to sand the wood once more because the wood conditioner can cause the grains to raise after applied.
Once the wood is smooth to your liking, you can then apply your wood stain finish. I like to apply my stain with a brush. Once the stain is applied, wipe of the excess with a dry cloth that has not absorbed.
You can continue on to apply a second coat of stain if that is what you want. You can sand in between coats but make sure to wipe it with a clean rag.
Apply a sealer such as a polyurethane and let dry.
Make sure to clean your brush with mineral spirits / paint thinner so that you will maintain the integrity of the brush and be able to use it again.
Okay so the instructions are simple and straightforward, right? Yes! Now let's just chat about if it really does make a difference if you use conditioner or not. I decided to take a piece of unused 1 by 18 wood "common board" from The Home Depot. This is a soft wood, like pine or fir.
Wood Conditioner VS non Wood Conditioner
I decided to paint a strip with wood conditioner and a strip without wood conditioner. I then applied the exact same wood stain to each part of the same piece of wood. I used a darker wood stain so that you can see the difference.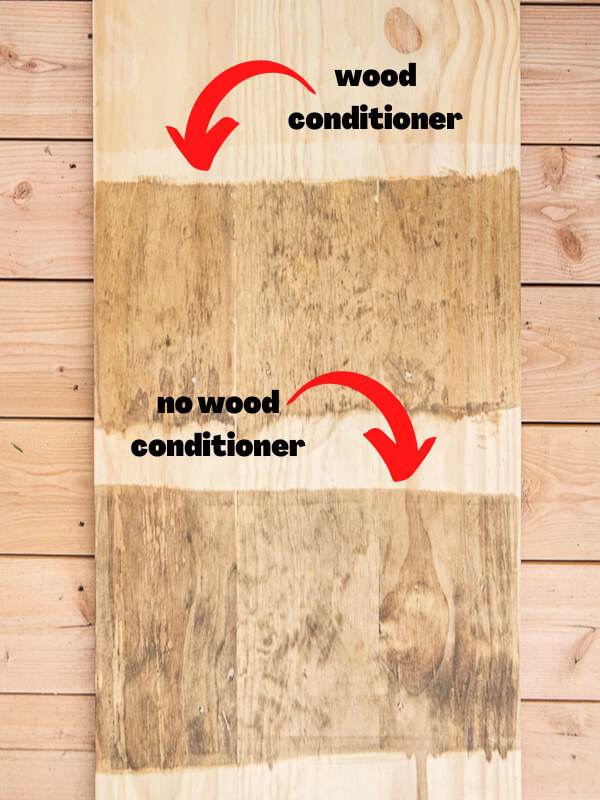 This was a rough piece of wood, so keep that in mind. I did not sand and perfect it. I just wanted to see how this would look on raw wood.
The top part is where I used the wood stain with the wood conditioner.
The bottom piece was put straight on the raw wood.
I noticed a few things when I did this.
The top piece did not allow the stain to absorb and penetrate the wood as much, keeping the color more consistent. I had to wipe off the excess stain from the wood.
The bottom section soaked up the wood stain, and it didn't matter how much stain I applied, it continued to absorb the stain. There was no excess stain to wipe off. The absorption of the stain was incredible. It soaked up so much stain!
If you look at the bottom line of the stain that had been applied over the wood conditioner, you can see where the wood conditioner stopped, as there are some darker spots at the bottom.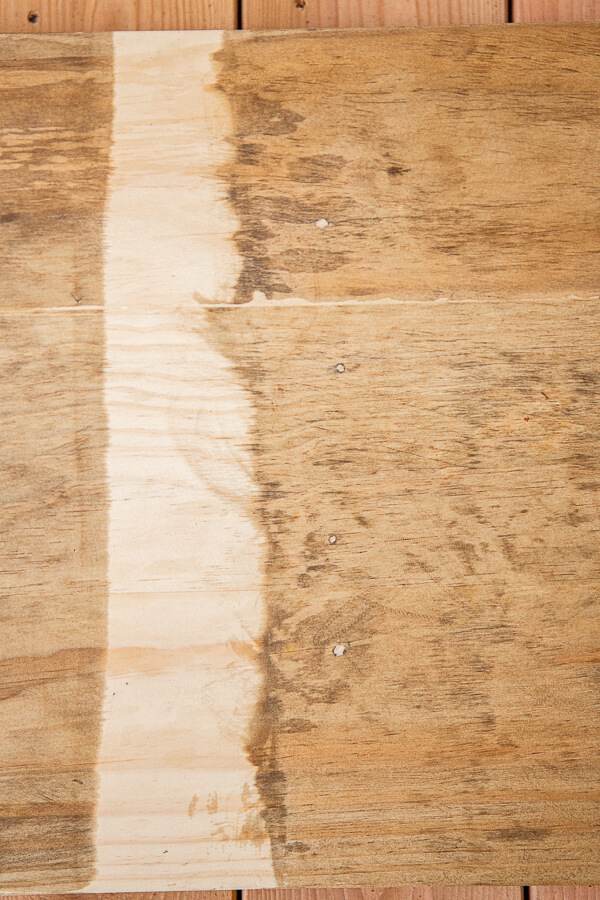 The bottom section without the wood conditioner is not even, it has blotchy spots and where the wood grain changes, and where there is a knot the stain was absorbed differently and some areas absorbed way too much.
The top piece has a more uniform acceptance of stain compared to the bottom section.
Overall, I found it really interesting to see the difference the wood conditioner made on the exact same piece of wood. I think it is pretty obvious that wood conditioner is a key element when staining a piece of furniture or a wood project.
There are many different types of stains, and if you choose to use a water based stain, make sure to use a water based wood conditioner.
A few words of caution:
The use of proper protective equipment is very important. Make sure to use safety glasses and work in a well ventilated area and have access to fresh air. If you come into skin contact make sure to wash them thoroughly. Using gloves is a great option.
Final thoughts on pre-stain wood conditioner
My general recommendation is to use wood conditioner on any project you want to have a nice uniform finish. I find that it is an important step on any project where I am staining wood.
The type of wood conditioner will depend on what kind of stain you use. The wood will react differently depending on the pores of the wood and how hard or soft the wood is.
Make sure to give this a try and even practice on a scrap piece of wood. Make sure to read the back of the can of wood conditioner, since each type of conditioner is a bit different.
I used this method on my new wood porch swing and was so happy with how it turned out, even though we were using inexpensive 2 by 4 lumber.
Make sure to check out these other great posts!
How To Stencil A Concrete Floor!
How to Use a Paint Sprayer to Paint Furniture
How to Paint a Stone Fireplace with a Paint Sprayer
Painted Furniture Makeover Tips and Tricks You Need to Know
Painting and Distressing Furniture 101- Bringing Farmhouse Style Home
GET YOUR FREE GUIDE to 30 DIY projects that can be done over the weekend!
By subscribing, you will gain access to my FREE guide with 30 DIY projects that can each be done in a day, or over a weekend!
You will also receive a weekly email with some of my favorite tips, tricks, and design ideas.