If you have been here before, you know that I love a great furniture makeover. Today I want to talk about one of my most favorite painted furniture transformations to date. I have spent a lot of my time transforming nd redoing old junk pieces of furniture….but I hope you'll agree that todays furniture piece is neither junk nor old anymore. Keep reading if you want to see more tips and tricks on having a successful furniture makeover!
A long time back, I got this old buffet from a neighbor that was moving. I always had my eye on it and one day, they said they were going to trash it or take it to the second hand store. 50 dollars later, it was mine all mine. It did need a lot of work. There were many pots where the trim on the front was busted off, and there was a lot of water damage on the top. even with all that, I kept it as is for quite a while, feeling as if I could not, or should not paint this piece of furniture.
After a while, I decided to take the plunge and paint it. It truly needed it and I was excited to try a new furniture paint on it.
*UPDATE the furniture paint I used is really hard to come by, so I am linking to some great ones here that you might like.
Lets talk about what other supplies you will need for a successful furniture makeover:
Here is my lovely sideboard before its big makeover:
I lived with the original finish for quite a while, but it had honestly seen better days. I attempted to fix some of the problem pieces, but it just didn't look right.
I had an opportunity to try out a new furniture paint and decided this piece of furniture would be the perfect time. L'Essentiel Botanics Furniture Paint, is a really great paint. I was referred by a friend and was very curious about their product. I found their information very attractive, since I am someone who paints furniture quite often and have tried so many different types of paint, I was also looking for non-toxic types of paint to use around my kids and pets.
L'Essentiel Botanics Furniture Paint is a vegan paint, it is all natural made of chalks, clays, minerals, and pigments. It comes in biodegradable containers, and personally I think the containers are quite cute. I might end up using them in my decor once I am done using the paint. It is water based and is zero-voc.
This product is made in Australia and can now be purchased through Serendipity House.
They also carry a line of non toxic beezwax and hemp finishes to go over the top of the paint. Waxing is optional, and dependent upon the finish you want. I wanted a more mat finish so I decided not to wax it.
How to start a successful furniture makeover project:
The first thing you want to do with any painted furniture makeover is to prep the surface. This all depends on what paint you plan to use. Furniture paints such as chalk paint, mineral paint, or milk paint require less prep. If you play to use a latex paint, you will want to either sand the finish or prime it to roughen up the piece of furniture so that it accepts the paint better.
You can also use a liquid sandpaper if you want an even easier option. Just make sure that whatever you use works with your paint. DO NOT USE AN OIL BASED PRIMER WITH WATER BASED PAINTS.
Now, once you have your furniture prepped its time to paint. I always like to start with one thin coat. This is the time that you will feel unsure about your decision to paint..but keep going. Let the first coat dry thoroughly. If you don't, it will ball up and create an uneven finish on the next coat. Trust me, I know this through experience.
Once the first coat is dry, apply another coat, using long even strokes.
You can see how I paint a piece of furniture in this video:
And now, are you ready to see the furniture makeover complete?
As I said, I used L'essentiel Botanics for this project. I received 2 bottles of their White Clay at 250 ML each. Most might seem concerned at the small size, as was I. Painting this entire buffet with a little more than 2 coats, it only used 1 1/2 of the bottles. I still have some to use for a future project.
I was able to paint this whole buffet in about an hour. This paint seems to dry really fast so I was able to add layers pretty quickly. Once it was all painted and dry, I took some sand paper to it to give it a more aged farmhouse look. Let me tell you this: this stuff dries hard, like hard! I have never before had such a hard time sanding down paint on a piece of furniture. Now, this is not a bad thing. This is a really, really good thing. Put it into perspective, with such a hard finish, it is going to withstand much more wear and tear than regular paint. I guess that is why it is called furniture paint? Haha.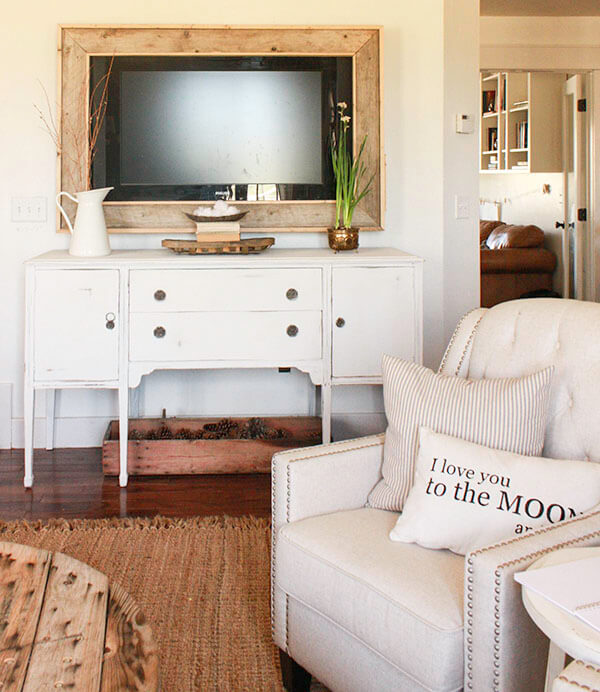 I ended up not waxing it because it didn't need it. But that is entirely up to you.
I love the way the painted buffet looks in my family room. The height along with the long legs provide a more open feel to the area. The buffet had great bones, it just needed a little love.
I love the amazing detail on these drawer pulls.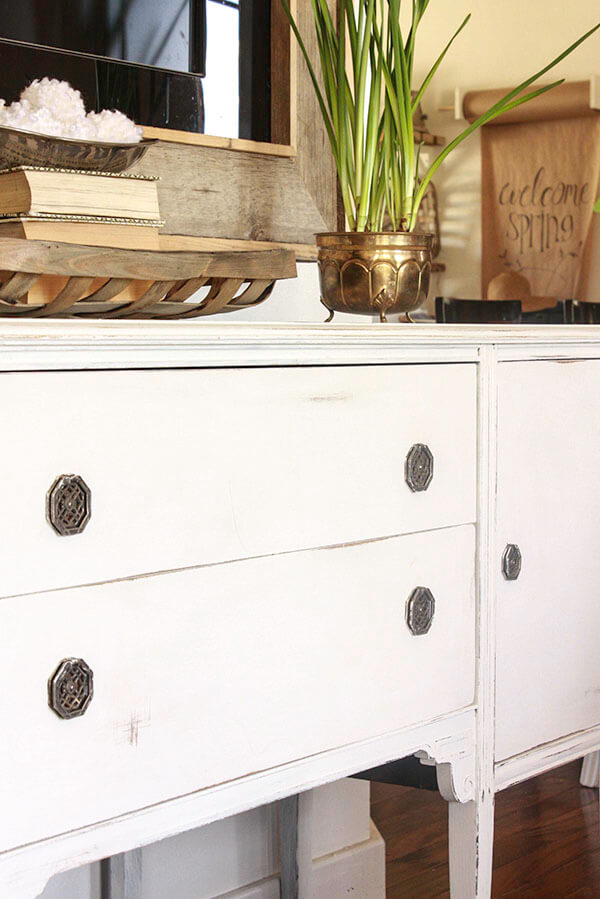 All in all I am completely in love with this product. I find with the amount of painting and furniture makeovers I do, that this will be a great tool to have in my arsenal.
Shop the post!

I would highly recommend trying this paint out. The furniture needs next to no prep, sanding and stripping are not needed. Bonus.
* I was gifted the paint for this project. My opinions are my own and I only represent products I have tried and believe in.*
Thanks for stopping by to see whats going on at Twelve On Main. I hope you're having a great week.
Take a little time for yourself and remember….

If you like this post you'll love:
How to Paint Furniture Like a Pro
Wrought Iron Beds You Can Crush On All Day
Make a Fixer Upper Style Vintage Green Chalkboard
How to Make Chalk Paint with 3 Household Items
17 Farmhouse Painted Furniture Pieces You Will Want to Steal
Painting and Distressing Furniture 101- Bringing Farmhouse Style Home
How to Distress Furniture Like A Pro!
Some of my favorite farmhouse decor:


GET YOUR FREE GUIDE to 30 DIY projects that can be done over the weekend!
By subscribing, you will gain access to my FREE guide with 30 DIY projects that can each be done in a day, or over a weekend!
You will also receive a weekly email with some of my favorite tips, tricks, and design ideas.