I have always been a big fan of distressed furniture. I love the old, worn look of a piece of painted furniture that shows a bit of the wear and tear of daily life. Waiting 100 years for it to age to this condition is not something any of us have time for. That is why learning to paint and distress your own furniture can be a valuable resource and skill to have. Painting and distressing furniture can be a great way to transform old or dated space. I recently transformed my bedroom furniture….and this is my story.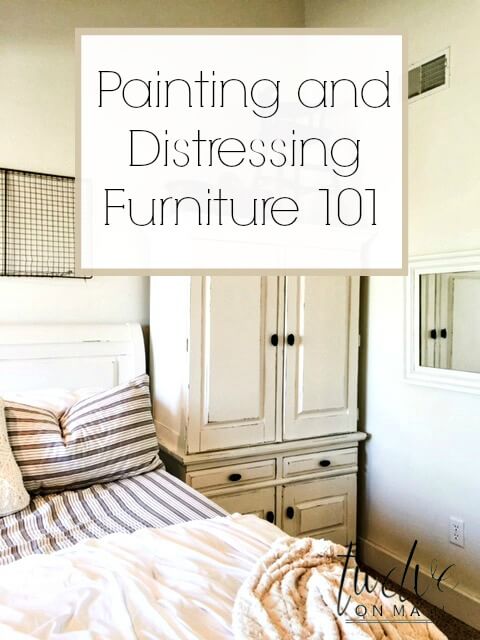 You know those times when hubby is out of town on business, and you decided its the perfect time to paint all your bedroom furniture because you know asking for forgiveness is way easier than asking for permission? Come on, I know its not just me. Well, I am guilty of this. Like. A lot. Another great method is telling him you are going to paint the kitchen cabinets, but instead you paint your bedroom furniture and he is so elated to see that you didn't paint the cabinets, he wont care as much about the bedroom. I'm nothing if not sneaky.
A few weeks ago, I did just this. Now, mark my words. I will be painting my kitchen cabinets. But, hubby will need to be gone longer than a day or two.
Don't hate. I really did love the color of my bedroom set. About 9 years ago it was all I could have dreamed of. But, I change, my style changes, it happens.
I really wanted to create a post that demystifies the idea of painting furniture. With a few of the right products, it can really be an easy project to tackle.
This is what you will need to created distressed furniture:
*This project contains affiliate links. By clicking on them, I may earn a few pennies toward my college education. All my opinions are my own.*
First off, this paint brush is the amazing. This improves the application of the paint. It goes on nice and smooth. The only thing it lacks in is getting into the cracks. For that I use this paint brush.

Here are the other items I used to paint distressed furniture:
So I began.
I took everything out of my bedroom, took out my mattress, and covered the floor where the bed touches the floor with newspaper, to protect the carpet. I ended up with a big pile of mess in my bathroom.
The next step was to clean the furniture well. This step is very important. You want to make sure you clean it well so that the paint will adhere to the wood. When I had wiped everything down, it was time to get painting and distressing furniture.
This is the ratio I used to make my own chalkpaint for painting and distressing furniture:
1 cup latex paint
1/3 cup warm water
Mix these ingredients well, and use immediately. If you try to store it for a long time, it will harden. I found out the hard way that it does not store well. I had a jar full of hard chalkpaint. I was not happy with that. How am I supposed to create distressed painted furniture if I don't have any paint! Haha,
This is my sister. She came the weekend my husband left and she helped me paint and distress my bed. It was a lot of work so I was glad for the help. We did watch quite a big of Jimmy Fallon while we were painting. It definitely makes the time pass quickly.
The secret to painting and distressing furniture:
The secret here is to make your sister do it. Haha, just kidding. But it sure does make it more fun with someone that enjoys doing it too. We started off painting the first coat. I had the round brush and she used the angle brush. The first coat is always the scariest. The furniture will look BAD. You will question why you decided to do this and you will feel pangs of regret.
Ignore them…and keep on going, it will get better, I promise.
Now I was lucky to have my sister there to help, but keep in mind this does not have to be a 2 person job. If I was doing this all alone, I would have started with the angle brush and done all the corners and cracks that are more difficult to get to. I then would use the round brush for the larger areas.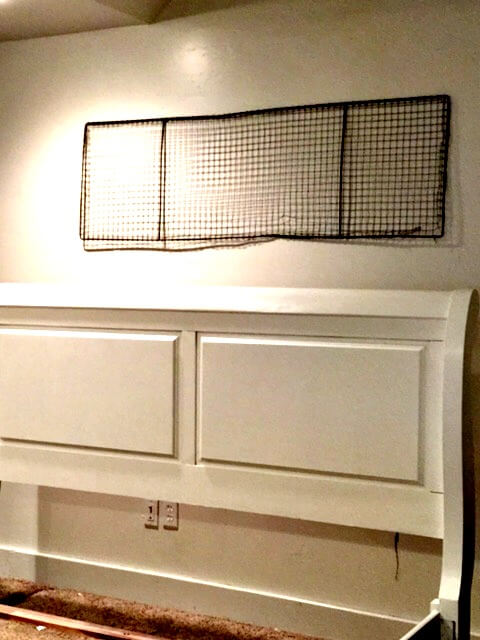 This is after the second coat. Even as dark as my furniture was, it only took two coats and part of a third in certain areas.. While the paint dried, we watched a little more Jimmy Fallon. If I can give you one good piece of advice, this is it. Turn on some good music, or some Jimmy Fallon. It just makes the time pass more enjoyably. I know I said it before…but i will say it again.
Here is is the next day after a late night of painting and Jimmy. I ended up sleeping on our mattress in our bathroom. It was quite the adventure and I am sure glad my husband was not around for it. He would not have been amused. Now, the furniture is ready to be distressed and waxed. This is where the sanding sponges and wax come into play.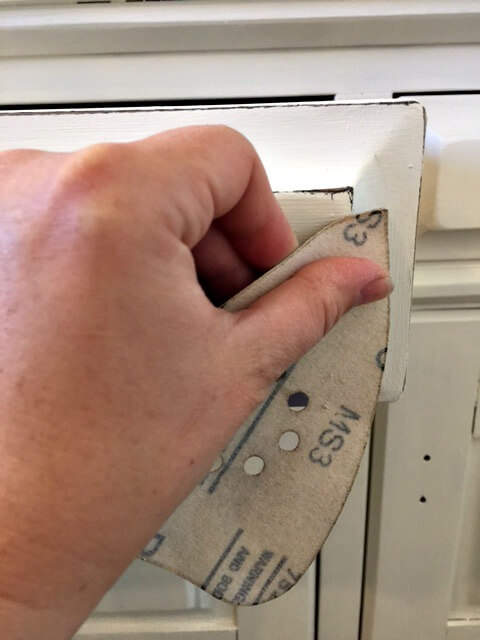 I started by sanding the edges of the doors and most of the raised parts of the furniture. What I like to think about is if this piece of furniture was actually 100 years old, and distressed with age, what areas of it are going to show the most wear. The edges and the raised areas. I start with a little bit at a time. You can always sand more, but I really do not want to have to touch it up with paint because I overdid it on the sanding.
I have used many different techniques to antique and distress furniture including steel wool, a scotch brite pad, chains are a great way to rough up and add dents and dings to a piece of distressed painted wood furniture. I most recently distressed my vintage church pew with my orbital sander….oh gosh it was easy! Check the video out below of how I did it!
If you want to see another painting and distressing furniture technique, check out this video:
This video shows just another method that I use to distress furniture. You just have to be more careful when doing it this way, since the orbital sander can really get away from you. I would only recommend distressing furniture in this way if you are comfortable with power tools and have used an orbital sander before.
Once I was finished adding my distressing, I waxed all the pieces. I have an extra round brush
that I brush on the wax with. By the time I was done applying the wax, it was time to start buffing it. Really this is not so bad. A good, clean rag is all you need. Just start buffing in a circular motion and you will see it start to shine. Once this is cured, it dries to a hard finish. Waxing is the most labor intensive part of finishing the furniture. You have to give it a good rub to get the wax to shine. Painting was easy in comparison…but it still wasn't that bad.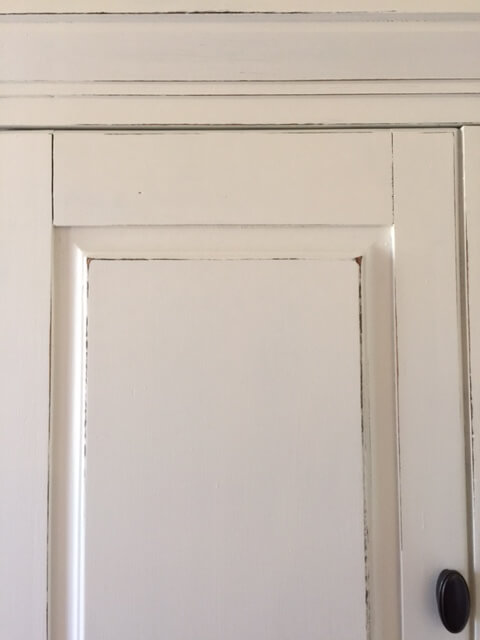 Now, this is where I started to panic. I had to get everything back in its place! Lance was on his way home! Remember, he had been out of town. This is how we work. He doesn't seem to mind if I do any of my crazy paint projects, as long as it doesn't look like a bomb has gone off. Maybe I am just fooling myself, but it makes it easier on us both if that aspect of the project is not an issue. I like to see the look on his face when he walks in after being gone for a few days and sees something transformed! He never disappoints! The look on his face is priceless. Its like a combination of amusement, frustration, and resignation. I wondered sometimes if he is reminding himself that he loves his wife….haha!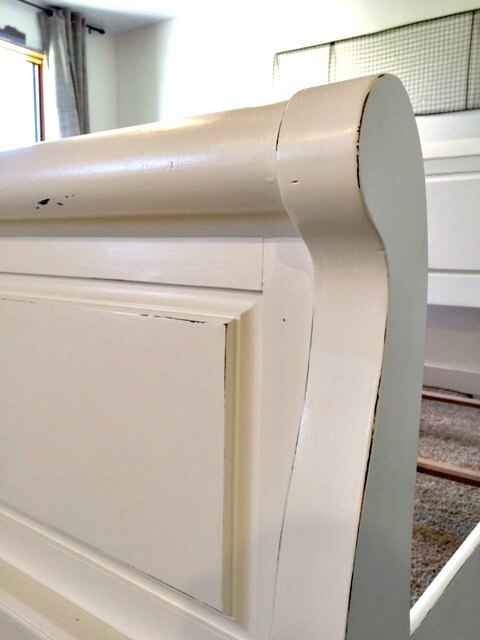 I am totally obsessed with my "new" furniture. It is so pretty. it has just the right amount of distressing and it has brightened up the entire room. The furniture before was pretty, but it was dark, and I really wanted to lighten it up and this made all the difference.
I just keep telling myself, he is lucky to have someone that cares so much about his home, that they want to keep it beautiful. He is so lucky, right? Yes, I believe he is.
I promise guys, these types of projects really aren't that bad! This project took me about a day and a half start to finish, and I neglected to tell you we had a full day of birthday parties in between. Really, I only worked on it at night once the kids were under control. I promise, it is doable! Having your husband gone is a bonus though, because then you wont have anyone to harass you about it.
This would be a really great idea to use on cheap reclaimed furniture, or something that you have grown tired of, like I did. Check out those garage sales or thrift stores. You are sure to find a piece of furniture that will look amazing painted and distressed.
*****UPDATE*******************************************************************************************
It has been a few years since I painted my bedroom furniture and I wanted to give an update on how it had held up. I have had a lot of people ask if it really held up even though I did not sand my furniture.
So, let me tell you…it has held up beautifully. I mean I cannot believe how well it has withstood 4 kids and a large husband that is rough on everything. I only have one spot on the end of the bed, where the kids would climb over the sleigh bed and it got scratched. But, that is nothing. It still looks amazing and I am still so very happy I took this project on.
If I had to give any advice that I may have learned over the past few years of living with this distressed furniture…I am not really sure what I would say! It has held up well, and I do not regret it. I would say that if you are nervous about making your own chalkpaint, make sure to just purchase a good chalk paint that you feel confident in. My friend Thea at That Sweet Tea Life is an amazing furniture painter and sells a really great chalkpaint as well as paint brushes on her site. I would definitely check it out….
I have also created some new posts having to do with painting and distressing furniture, check them out here:
How to Make Chalk Paint with 3 Household Items
How to Paint Furniture Like a Pro
How to Distress Furniture Like A Pro!
17 Farmhouse Painted Furniture Pieces You Will Want to Steal
*************************************************************************************************************
This project was definitely a success, and I have and will paint and distress furniture again! But, for now I am going to take a break and enjoy my new bedroom set.
I am so happy that I am able to share a little bit of my life with you though! Make sure to stop by again soon! I am upping my blog posts and pushing myself into a new blogging schedule for a little bit as an experiment. I am hoping the results are what I think they will be. There is going to be so much Christmas goodness coming your way! Stay tuned!
If you like this post, you'll love these easy projects that can help beautify your home with just a little bit of effort: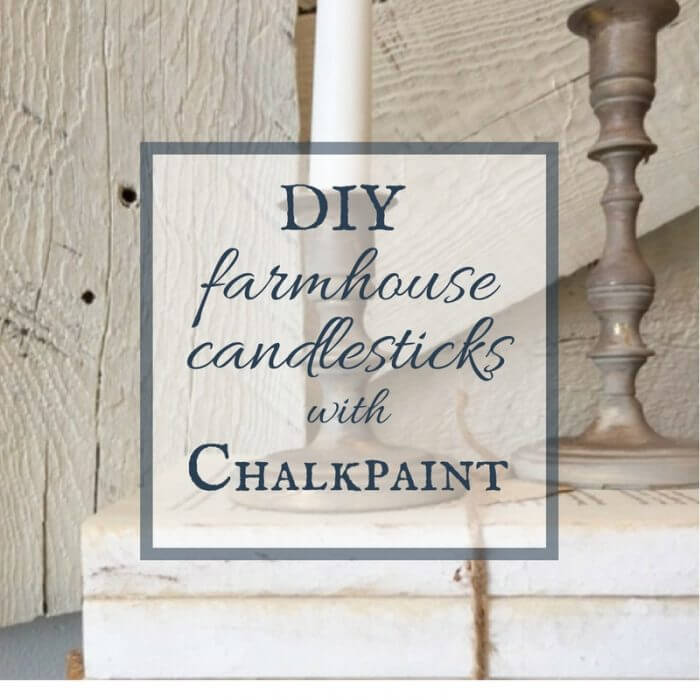 DIY Farmhouse Candlesticks with Chalkpaint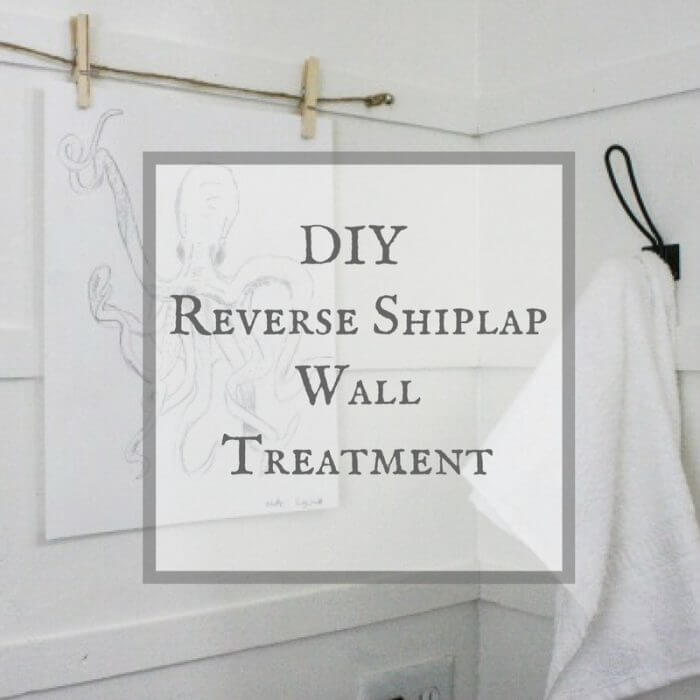 DIY Reverse Shiplap Wall Treatment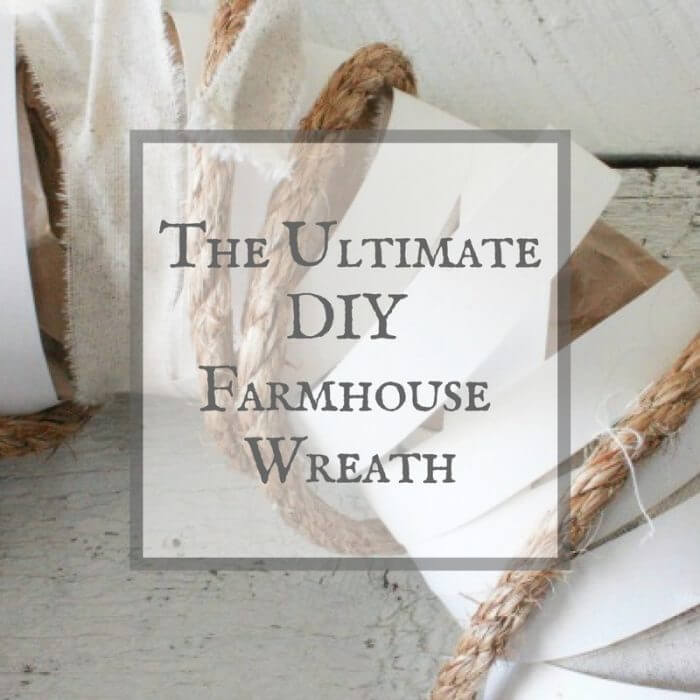 The Ultimate DIY Farmhouse Wreath!
The Best DIY Weathered Wood Stain
GET YOUR FREE GUIDE to 30 DIY projects that can be done over the weekend!
By subscribing, you will gain access to my FREE guide with 30 DIY projects that can each be done in a day, or over a weekend!
You will also receive a weekly email with some of my favorite tips, tricks, and design ideas.