I have decided. I will tear out the carpet in each and every one of my rooms. This has my husband in quite the panic. Its just a concrete floor.
I digress. I must wait and break him in slowly. He is not a fan. Like at all. It is hard to explain to someone why I initially tore the carpet out in my office. I was having a bad day was the main root of it. I really was having a bad day. Like one of the worst. I have come to the realization that there is a very obvious correlation between a bad day and a very project heavy day. When I have had it, and need an out from life, this has become my therapy. I will tell you tearing out carpet all on your lonesome, wanting to prove to your husband that you can do it, really gives you time to work through those crazy days. Many people tell me this type of activity would stress them more, but not me. I have to tire my mind and my body. I end up sleeping like a baby. It is a similar feeling to Xanax without the hangover. And yes, I know what I am talking about.
So, back to my original thought. even though mu carpet had been professionally cleaned twice a year for the past 10 years, it was still the most awful thing to see what lingered underneath said carpet. GROSS. Hey, we live in our house. If you have been following my office to art studio transformation, it was following a slow progression. That was until this last weekend. I was able to accomplish the biggest beast in the room: stenciling the concrete floors. I kept hoping and praying I could find the exact stencil I wanted to use so that I could avoid having to create my own. But alas, I am difficult and that did not come to fruition. So, with a little encouragement from my sister, I just went for it. Here is my tutorial on how to stencil a concrete floor without losing your mind.
*This post contains affiliate links, which means I may earn a few pennies if you purchase any items through these links*
Here the items I picked up to prep the concrete as well as the paint and sealer I purchased:
Quikrete Concrete Crack Filler

Quikrete concrete patch

Painter's Select White Pastel Base Interior/Exterior Urethane Fortified Porch and Floor Coating, 1-Quart

Concrete Cure Seal

Pro-Pole Extension Pole, 6-to-12 Foot

One Coater Roller Set, 9-Piece

Belt Sander with Cloth Dust Bag

Particulate Respirator with Valve
I began my day by sanding and cleaning the concrete thoroughly. This meant I spend a few hours on my hands and knees. I was going to use a floor buffer from our business, but found that we did not have the right Amp for the machine. Once the floor was clean, I began to make my stencil. I used a cardboard box to create my stencil. I drew up what I wanted the stencil to look like. I measured the widths and made sure that they were the same on all four sides. I was okay with it not being perfectly exact since it was freehand, but I did want the measurements to be pretty spot on.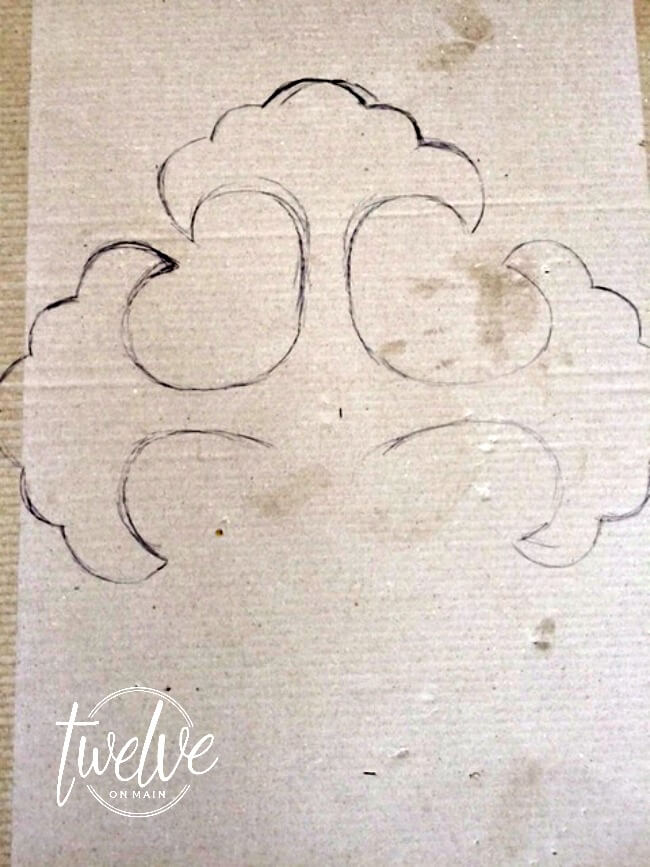 I found my original inspiration form a small store in one of our local towns called Small Town Cozy. They have some amazing items in their store if you are ever in Panguitch, Utah. They had painted s stencil similar to this on their hardwood floor. I wish I had old wood floor to paint on.
Once I had it drawn to my satisfaction, I used my Xacto knife to cut out the pattern. I began by making superficial cuts though out the pattern. I then went through and cut deeper, removing sections as I went. Once I was done with that I was ready to stencil. I used concrete plaint in white to paint with. I picked a spot in the room to place the first stencil.
I used a smaller paintbrush and traced the pattern making sure there was no excess paint on the brush. You do not want the paint to puddle up. I painted a full coat onto the pattern and then once it was dry, which was rather quick I added one more coat.
My goal for this pattern was to give it a slightly imperfect and weathered appearance. I was okay with a little unevenness. Having said that, I did want consistency. I did not line up my stencil rather, I eyeballed and rotated the pattern and just made sure there was a good balance to the pattern.
Once I had most of the floor done, I focused on the areas closest to the walls. I ended up cutting my stencil in half and then cut those into pieces. I ended up with a puzzle of sorts. That way I could use just the pieces I needed to paint right up against the walls. I was able to create the appearance that the pattern continued under the wall. Continuity my dear friends.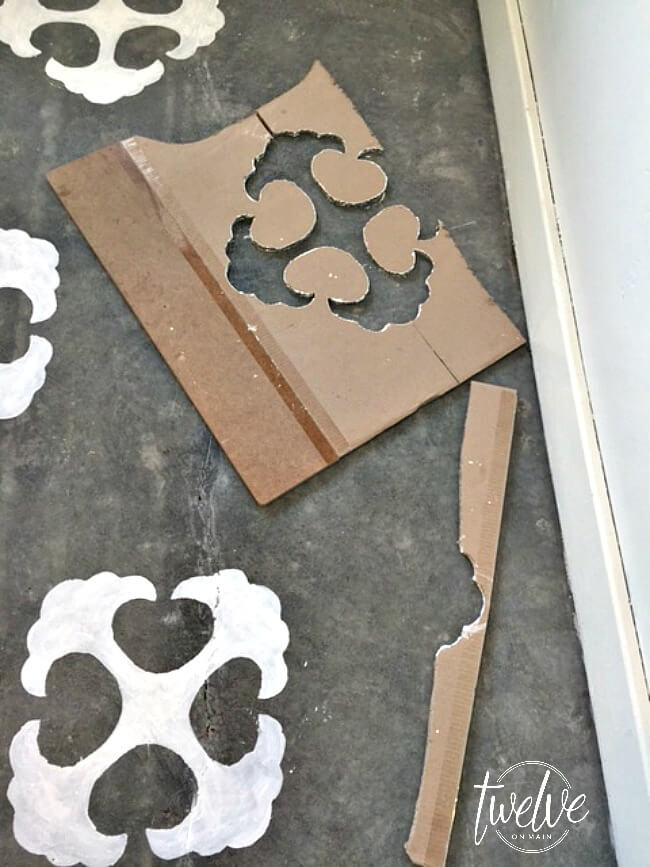 Once I was done with the stenciling, I let the floor dry for about 2 hours, which was the instructions on the concrete paint can. The next step might not have been necessary but it was for me. I used a concrete sealer on the floor to protect the stencil and seal the floor. This brought out the amazing color and texture of the concrete floor. It also created a barrier for water, oils and other paints. That is kind of a requirement in my studio. I painted the sealer on with a roller, and ended up applying 3 coats. Again, this would totally be up to you and how much wear and tear you are anticipating.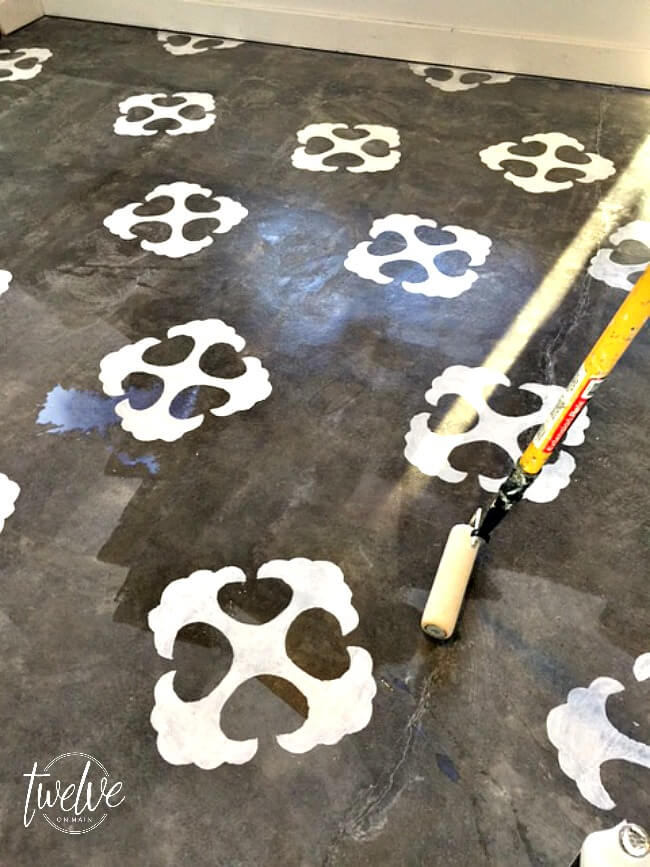 I let the sealer cure overnight before doing anything else.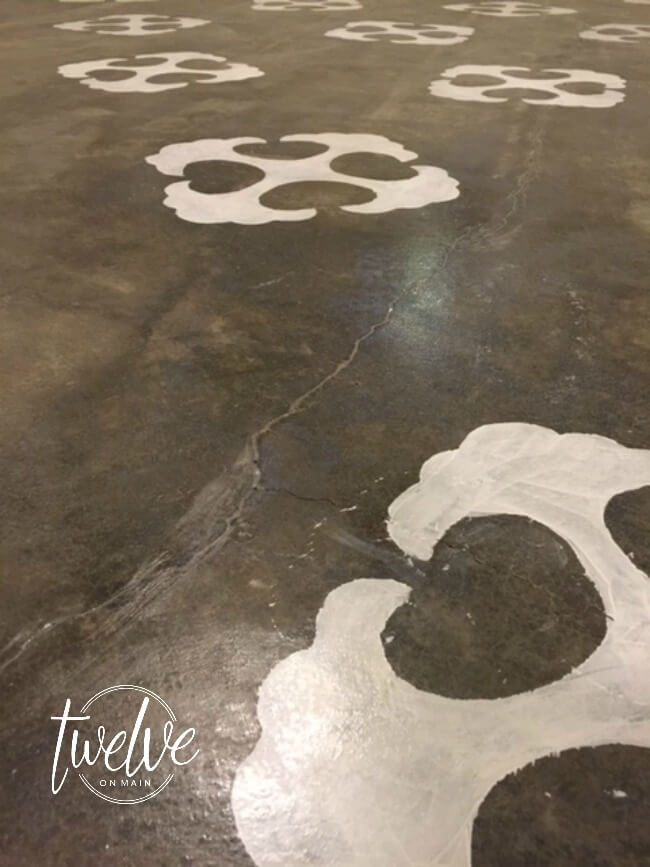 I am so pleased with the result. I love my new floor. Surprisingly, this floor is quite warm to walk on. That really was something I did not expect. I added a small rug to the room to break up the pattern, add some texture, and protect the area where my office chair will be. The room is about 70 percent done now. I still have much to do, and cannot wait to reveal the completed room. If you would like to see my previous posts about this room, check these out:
https://www.twelveonmain.com/office-to-art-studio-day-1/
https://www.twelveonmain.com/office-to-art-studio-day-2/
https://www.twelveonmain.com/office-to-art-studio-day-3/
I really cannot wait to jump into creating some artwork in here too. I mean, after all, that is what I am doing this for. Stay tuned for more exciting reveals in this room.
Have a great day and remember….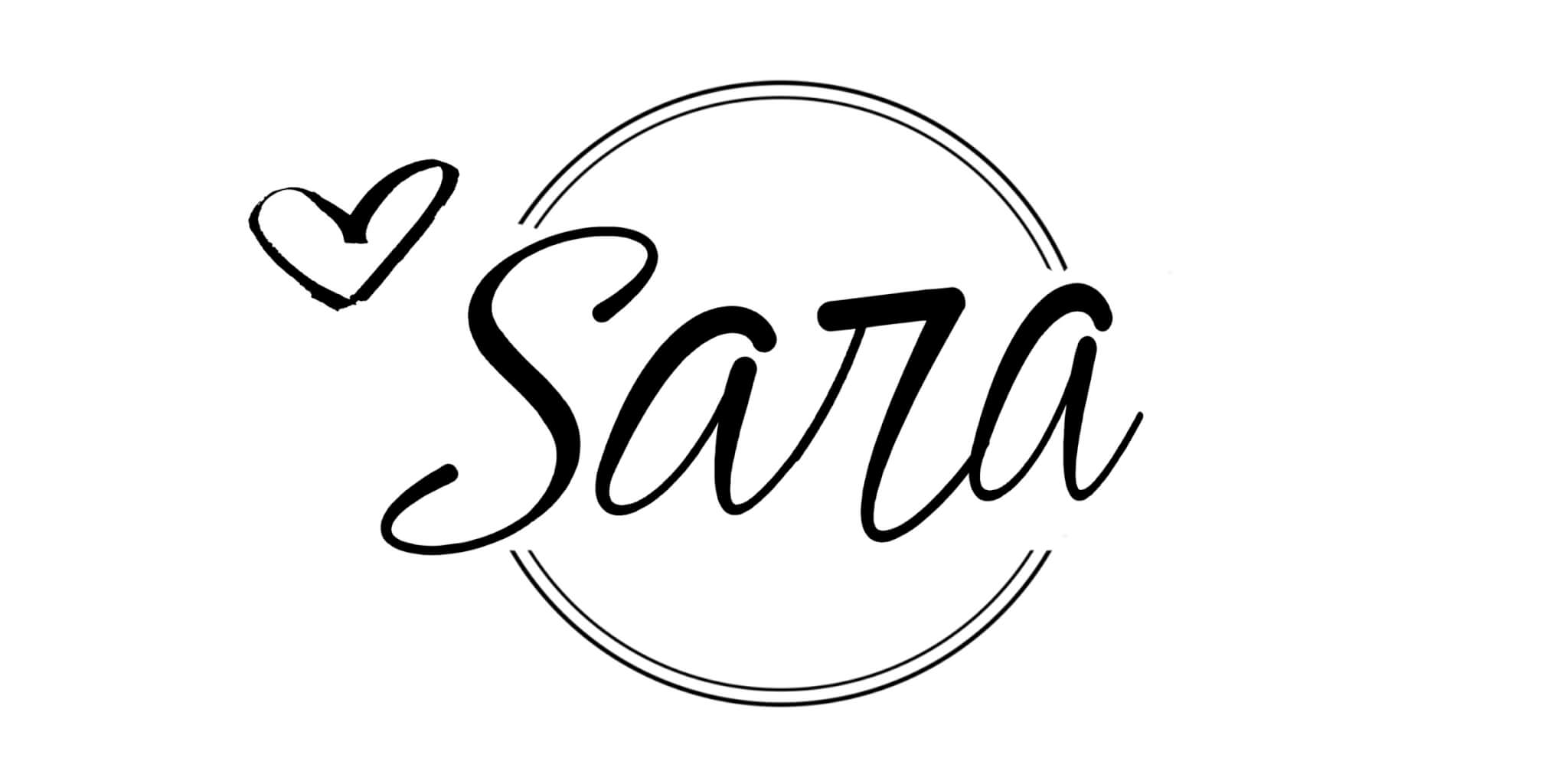 GET YOUR FREE GUIDE to 30 DIY projects that can be done over the weekend!
By subscribing, you will gain access to my FREE guide with 30 DIY projects that can each be done in a day, or over a weekend!
You will also receive a weekly email with some of my favorite tips, tricks, and design ideas.