So, its been a few months since I finished my master bedroom One Room Challenge, and I thought for the Summer Showcase, which is all about bedrooms this week, I would talk about my favorite farmhouse bedroom features. What I love about my farmhouse bedroom, and what I would change if I had a chance…..(there isn't much!)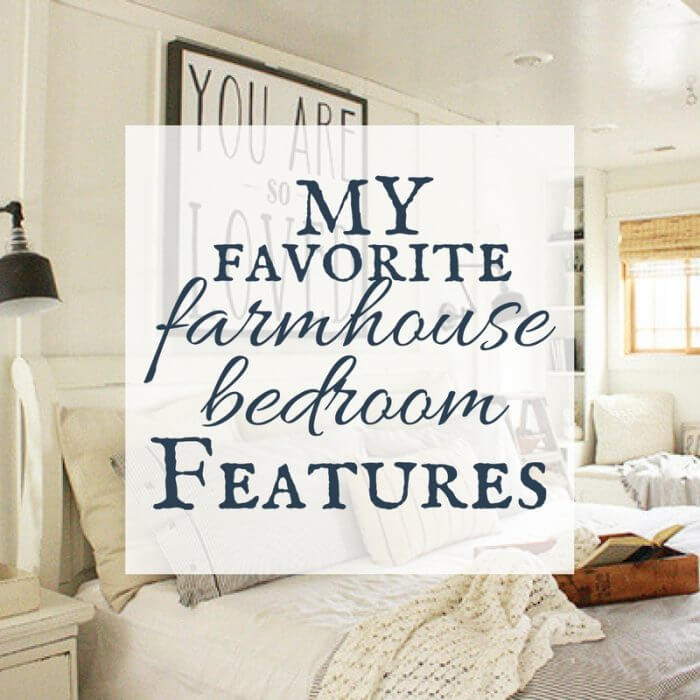 When I started my master bedroom I had some very specific goals. I actually spent some time tonight talking with a friend about those goals, and how they have completely changed my home life, my daily routine, and how I live in my room.
Here is the most interesting thing that had occurred: My room stays clean!
Let me tell you why this has happened. My goals. I touched on them a minute ago. I had goals and things I wanted in this room. I wanted storage. Both in the closet and in the bedroom. And I think I can say that I fared quite well in this aspect.
Storage:
We built a large built in set of bookshelves, and two large window seats. I will say I am married to a pretty great guy, but he is so messy when it comes to bed, sleeping, and his accessories. He has many, many pillows and blankets. You have no idea what it was like to make our bed in the morning.
Before we finished our master bedroom, I had nowhere to store all his bedding accessories and they often ended up in a big pile by our bed. It drove me crazy! So that was a must, and that is where the window seats came into play. Our largest window seat can store all our pillows and blankets when not in use. We actually don't have anything in the smaller one, because, well, we created so much storage, that we haven't had to fill it yet!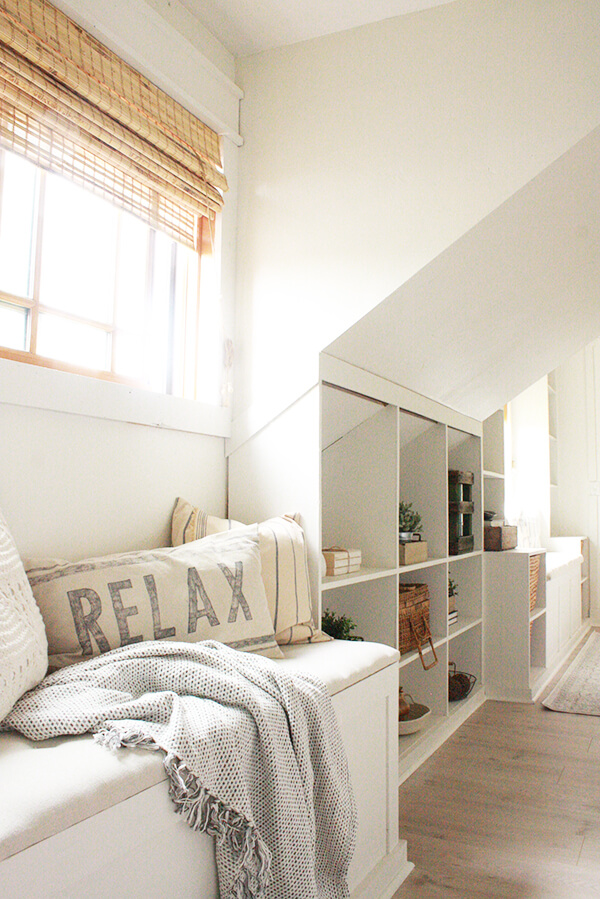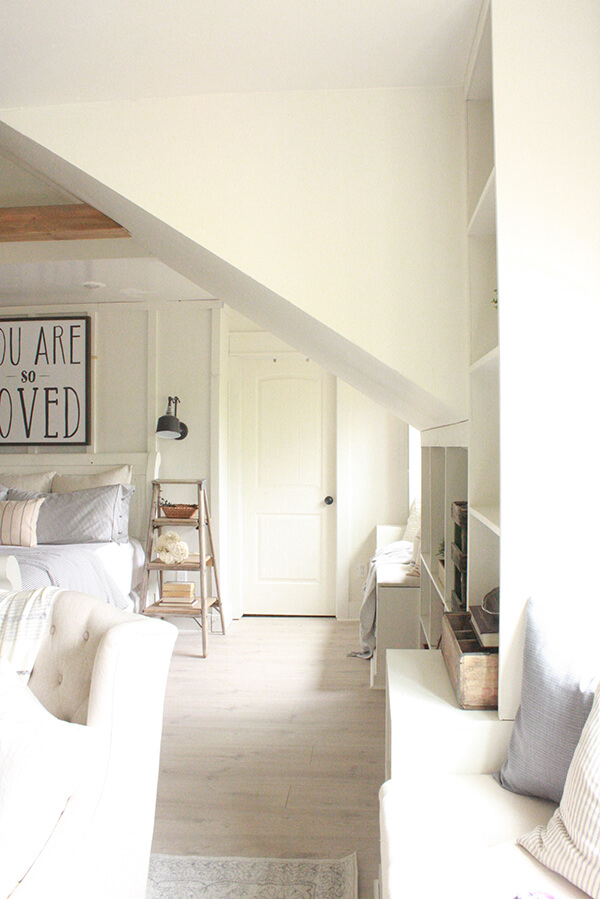 Now, our bookshelves are also a wonderful addition. We were able to build some larger base shelves, that hold large baskets, which conceal television accessories, my cameras, and even an iron in one. Everything in its place, I guess you could say.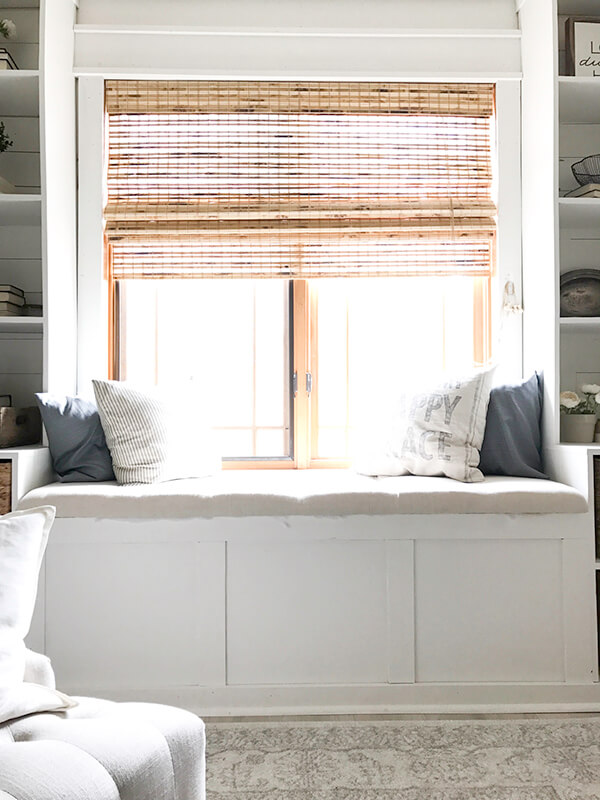 Between these and my large armoire in the room, I could not ask for more storage. It is wonderful, and this helps my room stay clean!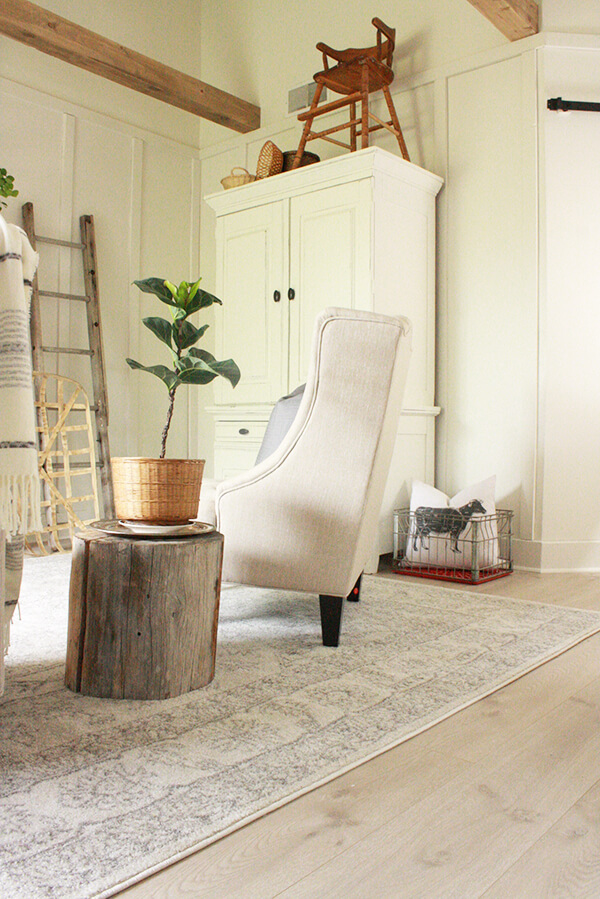 My Farmhouse Fireplace:
This was another must have on my goal sheet. We have the coldest room in the house, which is totally okay with me, but its a little too chilly in the winter. Maybe this isn't something that is in use at the moment, since it is summer, but this is one of my most favorite features in the room. I love, love, love the hand build faux fireplace that we built, and you will get to see the tutorial soon! Like, this week!
We installed an electric freestanding fireplace that will be used everyday in the winter, I just know it. For now, it sits pretty in the room.
My Faux Wood Beams:
I could not complete my farmhouse master bedroom without installing wood beams! It took some creative thinking to figure out how to install beams that looked like they were already in the room, and that looked like they could be functional. With our weird ceiling lines, that was difficult, but not something that we couldn't tackle.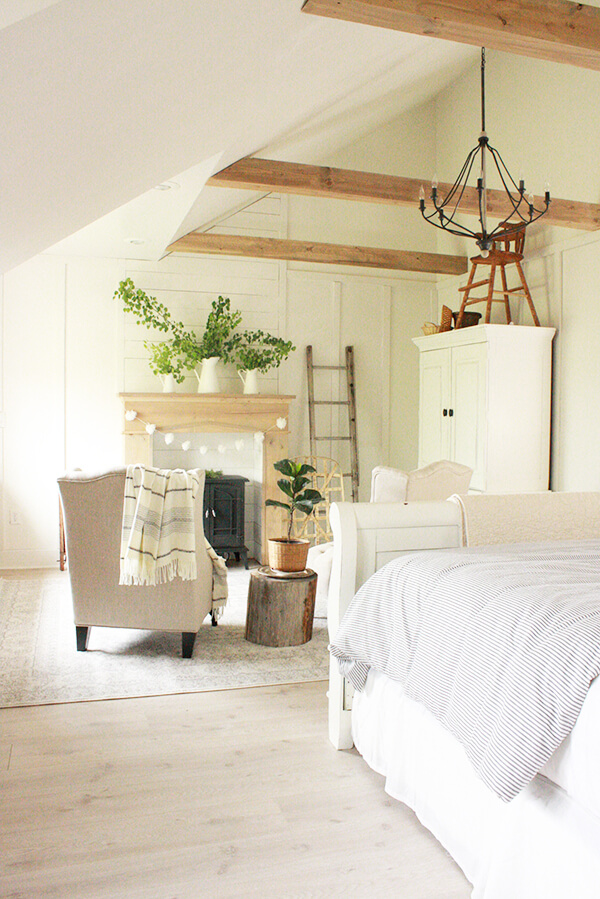 Adding these beams was so exciting, and it created that cozy feeling that I wanted. Without them, our ceiling was just a wide expanse of white walls, all converging at different angles. I love them. And you will not believe how easy they were to build and install! Not to mention, they were quite inexpensive. This is definitely a project any DIYer can do.
My Nightstand Wall Lamps: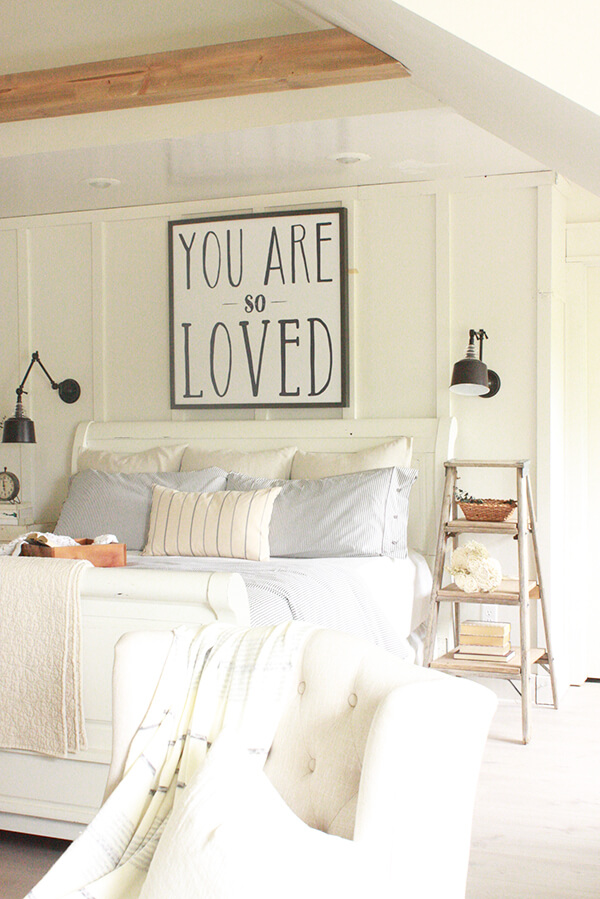 Why didn't I do these sooner! I am absolutely in love with these lamps. The convenience of a lamp, but less clutter on the nightstand. And you know they look sexier on the wall anyways. I think they do. They are super convenient and I think if you are considering installing some wall lamps, you really should! If you like the ones I have, you will also love these that I have collected for you. Click on the image to be taken directly to the source.
*This post contains affiliate links for your convenience*


These wall lamps also help with the multiple lighting option that I wanted in the room. Before our remodel, we had a fan with some lights, which were very dim. We also had can lights, but they were only in the flat parts of our ceiling. By adding wall lamps, as well as a new chandelier, with tons of light, and with our can lights, we can create different moods with the more dim lighting options, and also illuminate the room with as much light as we need, which wasn't an option before. it was always dull and dark.
What would I change in my farmhouse bedroom features:
Now on to a what I would change. Well, not much really. I learned no much with this remodel, but if there was one thing I could change, it would be to center my chandelier in between the beams.
Yes, sounds obsessive compulsive a little bit. But it is much closer to one beam, which truthfully, bugs me a bit. It was something we didn't notice when we were installing the light fixture or the beams. Call it ignorant bliss. I couldn't think about one more thing at that point. And I do need to say, its not a break it problem.
One other thing I may have changed is to turn our small window seat into a desk area instead, since I spend a lot of time in my room working on this blog. I am actually sitting on my window seat as we speak.
I am so thrilled with my bedroom and how easy it has been to keep it clean, beautiful, and functional.

I have carefully selected items both exact and similar if you would like to recreate or incorporate some of these awesome products! Simply click on the image to be taken directly to the source. This post contains affiliate links for your convenience!


This farmhouse bedroom remodel was the best thing I have done all year. I have found it to be a true retreat, where I can escape from my problems and relax. I really do feel so incredibly blessed.
Now, make sure to check out my other blogger friends participating in the Summer Showcase in addition to my farmhouse bedroom.
Check out other awesome room remodels and fun farmhouse DIYs!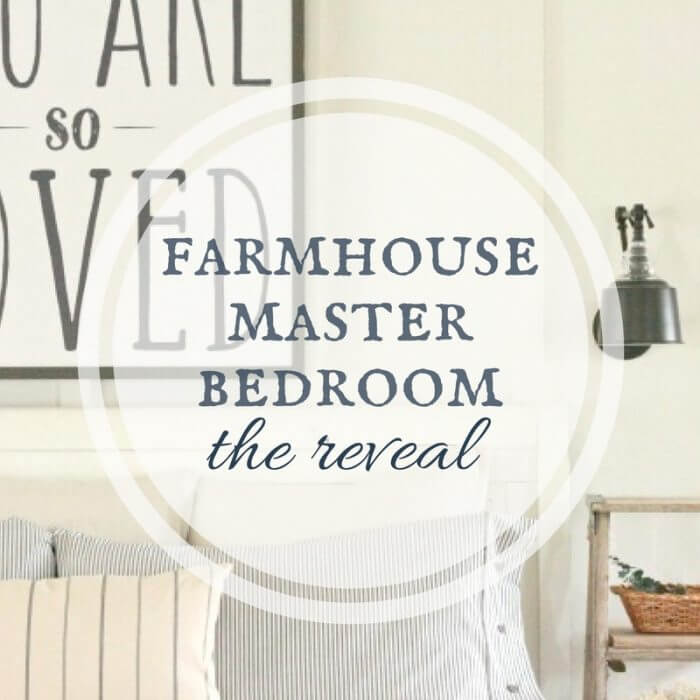 The Ultimate Farmhouse Master Bedroom | ORC Reveal
One Room Challenge- Farmhouse Laundry Room Reveal!
The Ultimate Farmhouse Master Bedroom | ORC Reveal
Large Farmhouse Sign | Laugh Often
GET YOUR FREE GUIDE to 30 DIY projects that can be done over the weekend!
By subscribing, you will gain access to my FREE guide with 30 DIY projects that can each be done in a day, or over a weekend!
You will also receive a weekly email with some of my favorite tips, tricks, and design ideas.