Hey there friends! I am so happy to share my newest printables with you today! Things are changing a bit around here as far as my printables go. I want to explain that a bit. But first, lets have a look at my newest set of 4 watercolor floral printables hand painted by me! As the warm weather begins to show itself here in Southern Utah, we have tons of new life in terms of flowers, animals and blooming trees. I use these as my inspiration for many of my watercolor prints. From blush peonies to early purple tulips, there is inspiration all around. I want to share what I see with you.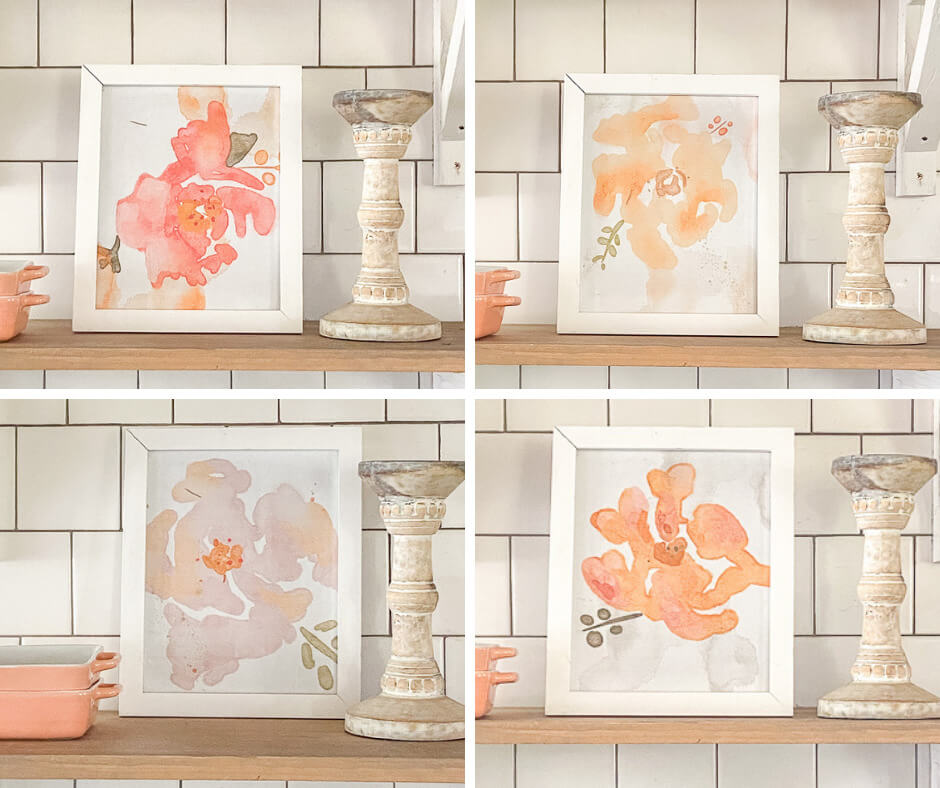 As you may know, I offer my printable for free to all my email subscribers, which I feel is quite a nice thing to do. I truly appreciate each and every one of you that have signed up and read my emails and download my printables. Alas, there is one caveat. I have many that sign up, take the printables and leave. I also have many that do not want to sign up for my email newsletter but still want the printable. So, I am offering something new.
Starting now, I have many of my digital downloadable printables available for purchase at a super low price on my art website. This is actually an even better option, let me tell you why. The printables I offer in my printable library are for simple 8.5 by 11 prints, many of them PDF files and while this is great, it limits the size you can actually print with good quality.
Because it takes time and effort to provide a higher resolution file I have found a solution. When you purchase one of my digital downloads from my website, you get a high resolution image that can be printed as large as 24 by 36 or larger! You will get my digital download privacy policy which explains how and what you can print with my files. These also are only for personal use. They are not for commercial use.
I wanted to create an option for every reader. If you would prefer simply purchasing the printable, I would love that for you! As a content creator, spending most of my time creating things for the masses, it is necessary to make this change.
Okay, now lets talk about these watercolor floral printables. I love creating new wall art. Watercolor flowers are one of my most favorite things to paint in watercolor. Watercolor paintings have so much movement and expression in them and I think that my watercolor florals are just as expressive.
On the first day of summer break, I found myself driving my 14 year old up to one of our local lakes to fly fish at 6:30 in the morning. I found myself sketching and doing some plein air paintings with my watercolors. Being out in nature, with zero distractions is something I think we all take for granted and I was grateful to my son for pushing me to take him up there.
I love the fluid motion of flowers. These were each created individually by myself and turned into prints for you. They are the perfect addition to any home. I like to add them to my shelves in the kitchen and you can see how I have styled each one individually below:
To purchase this set, click below~
Floral watercolors have my heart and I have so many more to share with you. You can get these printed as art prints and frame them up in a nice wood frame. You can also print them as a canvas wall print. There are many companies online that you can have them printed, sometimes with free standard shipping.
Which floral watercolor print is your favorite? Why have to choose? This set of 4 watercolor florals would look amazing as a set on the wall together. Think of them all in matching frames, lined up or grouped together. There are so many options and I hope that you find them as fun as I do.
These all have the same watercolor floral pattern giving them a cohesive look. Make sure to subscribe to my weekly newsletter to get access to my printable library as well as exclusive offers from my weekly newsletter.
Click the image below to sign up. You will receive an email confirmation with all the info including the login information for my password protected printable library. Please check out my terms of service as well. These prints are only for personal use. For commercial use options please contact me VIA email.
There are always new arrivals here on Twelve On Main. I am constantly brainstorming different options and ideas to make this work best for you and for me. I truly appreciate the support and I am grateful to each one of my readers and followers on social media.
Make sure to check out some of my other amazing printables available for purchase or for free:
Watercolor Peony Printable to Print at Home
FREE Rae Dunn Inspired 2021 Printable Calendar
New Apple and Pumpkin Fall Printable Art For You!
FREE Spring Inspired Hand Painted Watercolor Plant Printables
Free Botanical Illustration Printables for Spring!
GET YOUR FREE GUIDE to 30 DIY projects that can be done over the weekend!
By subscribing, you will gain access to my FREE guide with 30 DIY projects that can each be done in a day, or over a weekend!
You will also receive a weekly email with some of my favorite tips, tricks, and design ideas.