Thank you First Alert OneLink for sponsoring this post. Onelink Safe & Sound – Meet Your Family's New Best Friend. #ONELINKSTORY
All opinions are my own and I do not endorse anything I truly do not believe in.
Over the past few years, we have been dealing with some pretty unpleasant nighttime anxiety from one of our sons. We have tried many different things to help aid him in keeping himself calm and relaxed at bedtime. We have and will continue to do this, and this is why we decided to try the Onelink Safe & Sound smoke and carbon monoxide detector.
You may wonder….what the heck would a smoke detector do for a young boys nighttime anxiety. Well, lets talk about it for a bit.
When my son has anxiety at night, it is for a few different reasons. He fears the quiet dark spaces. He is worried that something bad may happen to them in the night and that we will not be alerted. Then there is the need for some extra light at night. We have often left many lights on in the home to keep his anxiety at bay.
We have tried so many things, playing music, keeping the television on in the family room just so that he has background noise, and often we end up hanging out in the family room until he falls asleep because he feels more safe with us there.
Some of it is definitely growing pains, and we think as he gets older he will just grow out of it. Some of it has been inherited by me. And I understand how long that anxiety can last. And as we continue to work with him, and create a safe place for him, the Onelink Safe & Sound seemed like a great addition to our homes safety and security, while having some fun features.
What I like about the Onelink Safe & Sound
The Onelink Safe & Sound is an incredible piece of technology, in my opinion. As soon as we received this product, I was thrilled and my son was intrigued.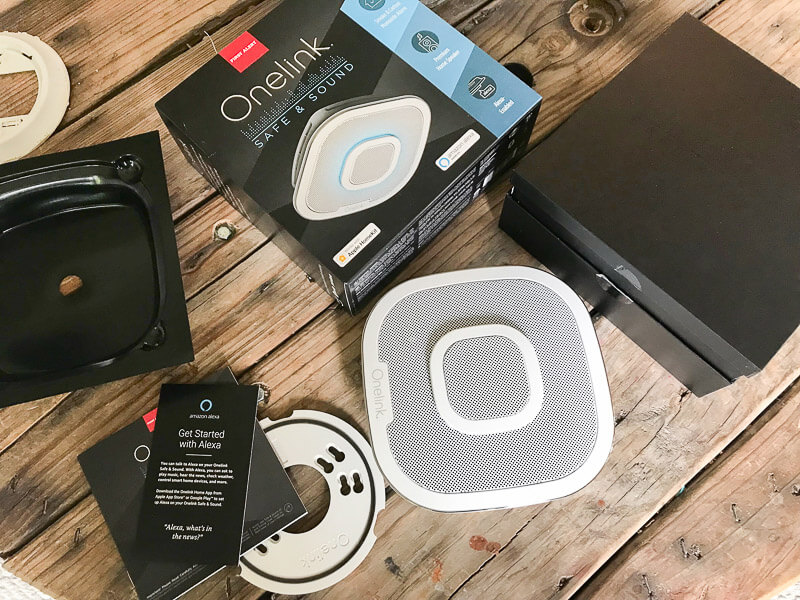 Now, anything that has some cool technological features is a win in our home. So my kids were practically giddy that we were installing a intelligent smoke and carbon monoxide alarm. The fact that it had Amazon Alexa included was just about the coolest thing.
Onelink Safe & Sound Features
The thing my son found exciting was that it had a nightlight, and that we could talk to our Amazon Alexa in our Onelink Safe & Sound. Somehow, those options seemed to give him a better sense of security and it has seemed to help his nighttime anxiety quite a bit.
As a parent, I love how easy it was to install! We literally unplugged our previous smoke detector and plugged this one in. It was made easier since we already had a Onelink smoke detector installed years ago.
The other thing I really like about the Onelink Safe & Sound is that I receive remote notifications! Now, when we go out of town, or even just out for dinner, I can be alerted right on my phone. That is peace of mind. This 3 in 1 product is convenient-making lives easier and more enjoyable.
So, now that we have our Onelink Safe & Sound installed, do you think we listen to music as we prepare for dinner? You bet we do. I find myself often times asking Alexa what time it is, or what the weather is like. It may seem simple, but it sure is fun. Do you think we feel just a little bit more safe as well? Absolutely.
My son loves that he can listen to music as he lies in bed just down the hall, and that there is always a night light. While we still deal with nighttime anxiety, this device has helped cross off a few of his fears, which in turn has been really encouraging for us.
This device was easy to install, a snap to set up on my phone, and now we can enjoy the added security features as well as the integrated speaker and Alexa. With the premium home speaker, great sound experience. It is sleek in design, and blends well into the space.
The only thing we have to figure out now is how to correctly talk to Alexa so that she listens. We find ourselves sometimes trying to get her attention, and she ignores us haha!
If you are looking for something to keep your home protected, while adding some really cool bells and whistles, you need to check this out. It seamlessly blends security and technology allowing us to feel safe, while also adding a bit of fun to our day.
I was selected for this opportunity as a member of CLEVER and the content and opinions expressed here are all my own.
Interested in more reviews? Check out these products:
Litter Robot Review | Why It Saved My Sanity
Create an Efficient and Beautiful Laundry Room with LG Appliances
Get A Better Nights Sleep | Voila Mattress Review
Install a Beverage Cooler In An Existing Cabinet | Giveaway!
GET YOUR FREE GUIDE to 30 DIY projects that can be done over the weekend!
By subscribing, you will gain access to my FREE guide with 30 DIY projects that can each be done in a day, or over a weekend!
You will also receive a weekly email with some of my favorite tips, tricks, and design ideas.