A couple weeks ago I shared how we built our very own affordable raised garden boxes. We made a conscious effort to build some that were affordable and easy to do. I know that sometimes building things yourself can be a daunting task. Maybe you do not have the tools, or maybe you don't have the time. These are all very valid reasons. We found ourself in this exact position this spring. We had built our planter boxes last year and with the severe drought conditions in our area, we were afraid to grow a garden at all.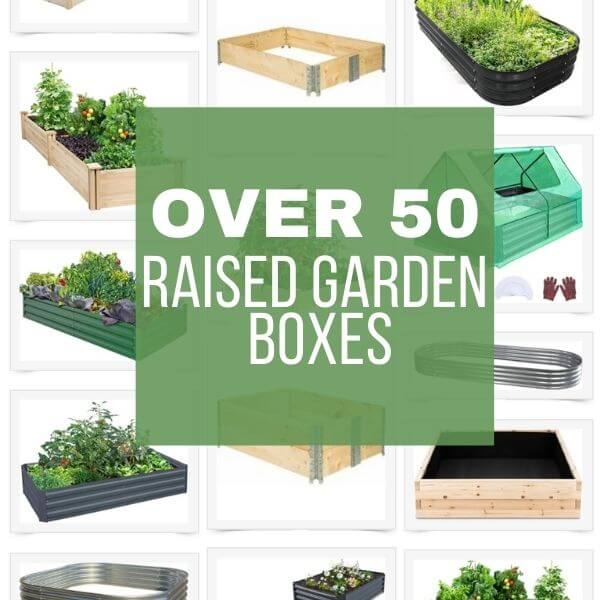 We took a step back and tried to figure out how we could still grow a garden while being careful with our water usage. With our experience using our planter boxes, I have found that we use considerably less water than when we grew traditional gardens where we sprinkle and water the entire garden, not just the plants.. Bed gardening makes the most of your water. It is a great way to conserve water while growing those bountiful veggies.
So the thing we decided to do this year to conserve excess water was to get some more planter boxes and plant the rest of our garden in them. We have been growing about half of our garden in the ground in addition to what we grow in our planter boxes. It is a lot of hard work. We chose to grow our corn, tomatoes, squashes, and pumpkins in the ground. So, we had to figure out how to grow them inside a garden box. And I figured it out!
So, back to this past spring. We got Covid. We has so much on our plate that we did not have time to even consider building more planter boxes. I decided to opt for some raised garden boxes that came in kits online. I searched high and low, scouring the internet and looking at every type of garden box. From wood garden beds, cedar raised garden bed, to galvanized garden boxes, there were so many options.
I opted for the galvanized raised garden boxes and I have been so impressed with them. These metal raised garden boxes have been a game changer and have made growing our garden even more efficient. The best part is that I can control the soil conditions, give the plants as much space as they need, the weed control is so much easier and less time consuming and with little effort, I am growing a more bountiful garden than I ever have.
Let me tell you though, I was super nervous about planting my corn, pumpkins and tomatoes in planter boxes, because we plant on a larger scale. I often plant over 30 tomato plants which I bottle and freeze at the end of the harvest. This posed a challenge to try to accomplish a large harvest while using a smaller garden space.
We planted our tomato plants slightly closer together, using the "square foot gardening" technique in theory. We simply made sure to use the space wisely. We made sure the plants and the plant roots had plenty of space to grow and used a ton of organic matter in our garden soil. We wanted the soil quality to be the best that we can have it.
Now lets talk about things you should look for when choosing raised garden boxes:
Are you planning to have a large garden or a small garden? If you choose to plant in a small space, this can greatly effect the type of raised planter boxes you choose. There are so many different sizes and types of raised planter boxes. Make sure to measure out your space with a tape measure prior to purchasing so that you can find the perfect size planters.
Are you a beginner gardener or an experienced gardener? Consider starting small with just a couple planters in your outdoor space if you are a new gardener. Your skill level can greatly impact how much you may want to take on.
Make sure that you have a nice flat surface where you can set up your raised planter boxes. I would strongly encourage checking it for level because this will effect the watering of your planters. If it is slightly off level you may have water that runs to one side to the box or you may have uneven soil in your planter boxes.
What is the condition of the soil where you will be setting up your planter boxes? Is there grass or weeds? I would strongly recommend adding landscape fabric to any raised garden bed, no matter what is under them. There are tons of easy tutorials on how to do this. I have a tutorial here where you can see how I did mine.
Raised garden boxes require a lot of soil. If you click here you can see how I use certain methods to help eliminate using as much soil inside of the bed.
What kind of irrigation systems will you be using on your vegetable garden beds? You can hand water, run sprinklers or drip irrigation. Drip is by far the most superior when it comes to conserving water. A self-watering system is perfect for someone with limited time to water.
Do you plan to grow root vegetables in your raised planter boxes? Consider this when choosing the height of your planter box. You may want one that is a deeper.
Choose a planter box that is either made of rot-resistant wood or galvanized metal. These will hold up in the long run. A cedar garden bed is a great option since it is a rot resistant wood. I have seen many different colors when it comes to galvanized metal. You can get them the natural metal finish or one that is coated with another color. This is a fun way to add character to your garden.
Now, after all that talk, I have scoured the internet to find some of my favorite raised planter boxes that are easy to assemble and look great too.

MAKE SURE TO FOLLOW ME ON PINTEREST WHERE I SHARE TONS OF GARDENING, HOME, EVEN RECIPES!
GET YOUR FREE GUIDE to 30 DIY projects that can be done over the weekend!
By subscribing, you will gain access to my FREE guide with 30 DIY projects that can each be done in a day, or over a weekend!
You will also receive a weekly email with some of my favorite tips, tricks, and design ideas.