Summer is in full swing here at our house. That means a lot of sleeping in, working in the yard and generally just trying to enjoy all of our hard work. One thing we love to do is have cookouts in our backyard. And of course, s'mores are always a big part of that. I decided it was so much easier to create a s'mores bar with tons of options, than to throw a couple bags of stuff out and see what sticks. Today, I am going to show you how to make the ultimate s'mores bar that is perfect for the summer.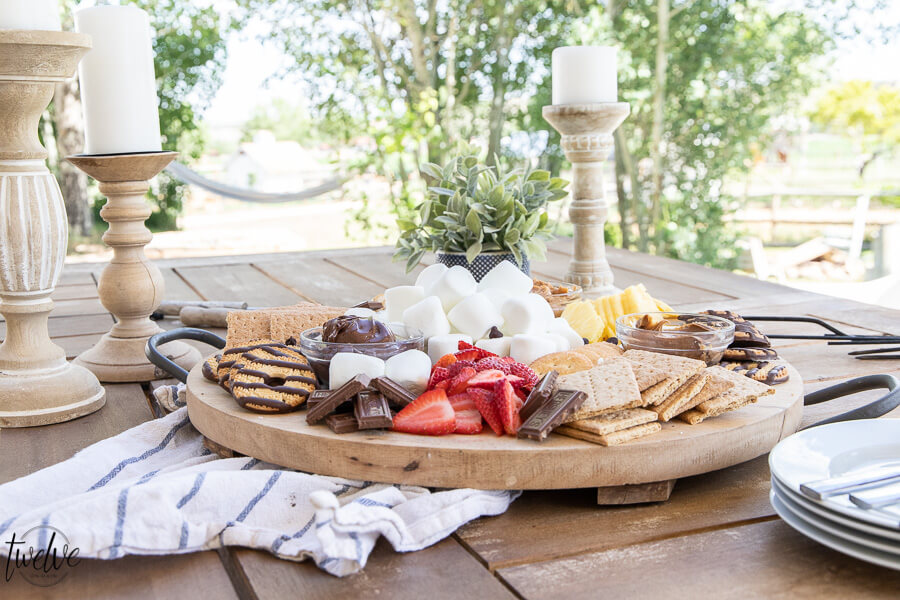 Hey friends, I am excited to share this post with you today! I am joining up once again with some of my favorite bloggers to bring you our favorite s'more ideas! I want to share with you my s'mores bar ideas.
Creating a s'mores bar is a great idea for if you are entertaining a group, or if you are simply having a family night. I find it is a lot of fun to create these s'mores bars, and they end up being so much more than a source for making s'mores.
I love to add tons of stuff to my s'mores bar, making it the ultimate place to snack and create unique s'mores you might not have otherwise.
How to create a successful s'mores bar:
First you need to come up with some ingredients that you want to add to your s'mores bar. I have a couple different groups of ideas
graham crackers/ritz crackers/ other types of ingredients that you can use as the top and bottom of your smores.
fruit- I love adding strawberries, pineapple and bananas to my s'mores bar. You could also add peaches and raspberries when they are in season.
fillings- of course you need marshmallows but I also like too add some other sauces/butters to give the s'mores more umph. I like adding Reeses peanut butter cups as well!
I add things like Nutella, peanut butter, cookie butter, and cream cheese
Fill in the spots with small stuff like chocolate chips, coconut, and nuts
So thats just a quick idea of what you can use to make the ultimate s'mores bar.
I love a s'mores bar like this when I am entertaining. It makes it easy for guests and friends to create s'mores they never would have. They can experiment with all the different ingredients and make some pretty tasty s'mores.
I like to have a combination of sweet and salty ingredients to give a balance to the s'mores bar. I love using peanut butter on my s'mores because I thing a traditional s'more is too sweet.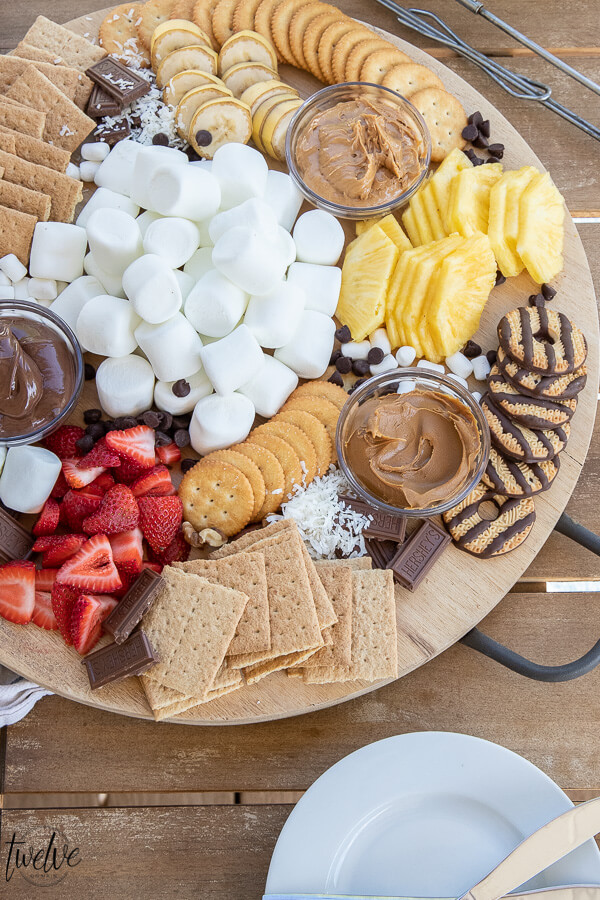 I started this s'mores bar by adding a large pile of marshmallows.
I added three different small bowls with peanut butter, Nutella, and cookie butter.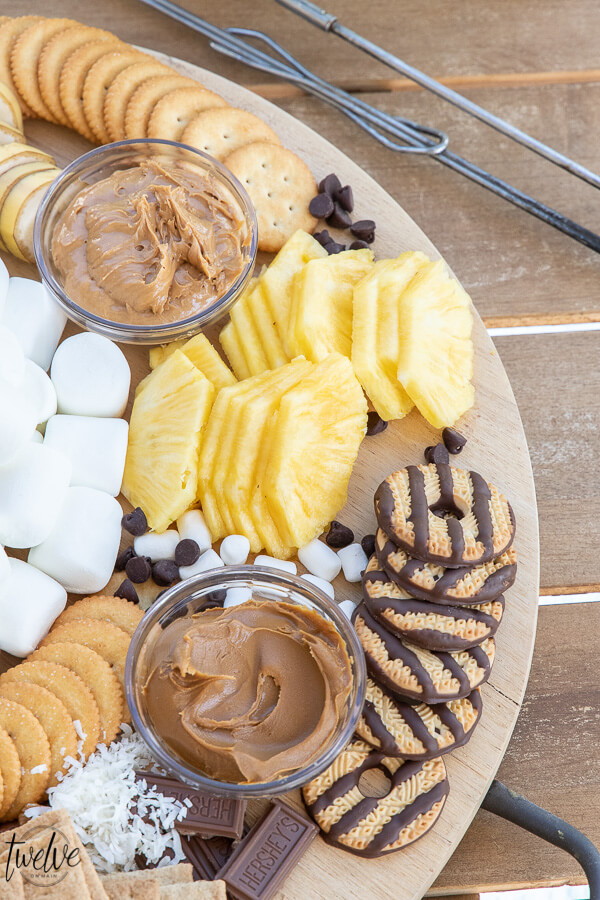 I arranged my cookies, Ritz crackers, and graham crackers around the cutting board in different areas.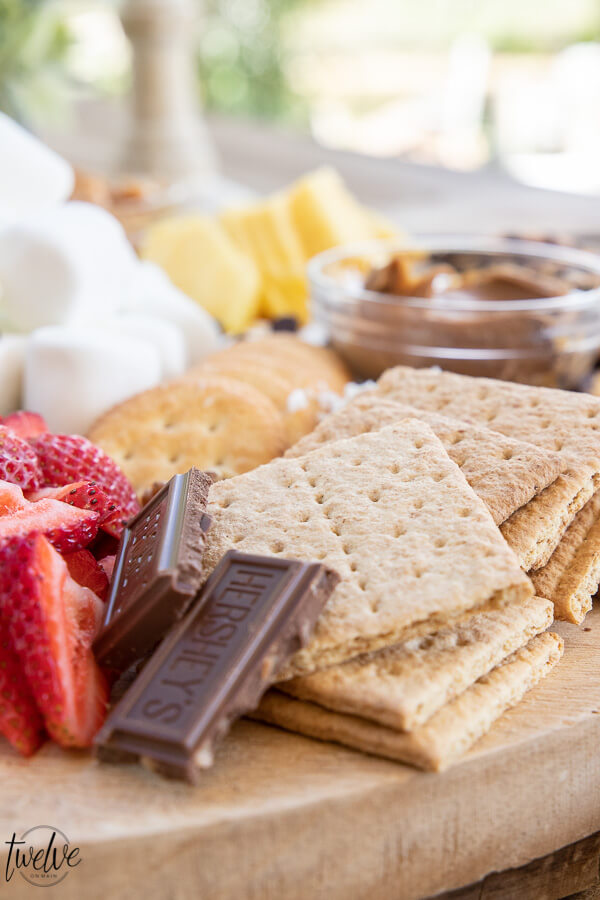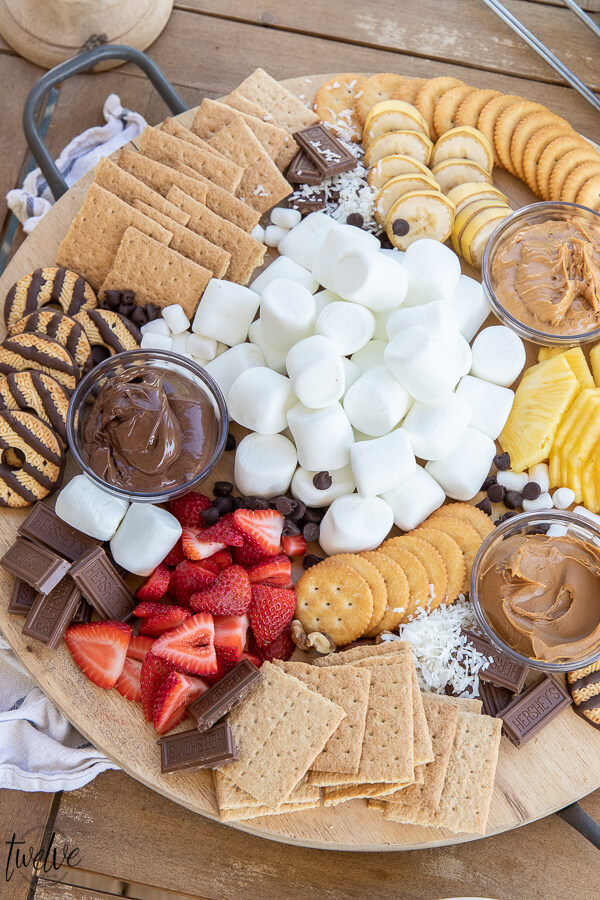 I then added my slices fruits in a couple different spots making sure they did not come into contact with the crackers and cookies, so that they would not get soggy. I also made sure the fruits weren't overly juicy so they didn't make a mess.
I then sprinkles chocolate bars, nuts, chocolate chips, and coconut around the cutting board, filling in the empty spots.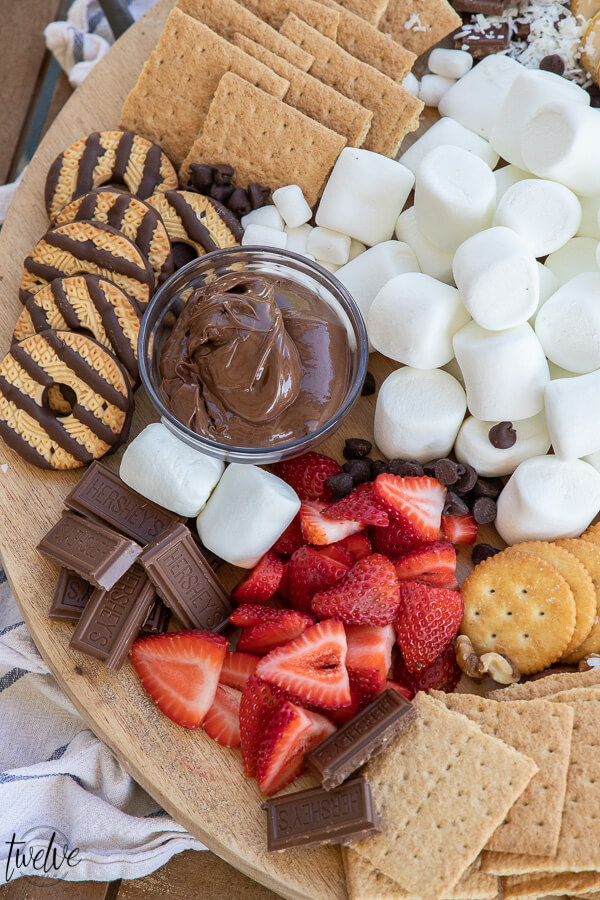 The s'mores options are endless when you create a s'mores bar!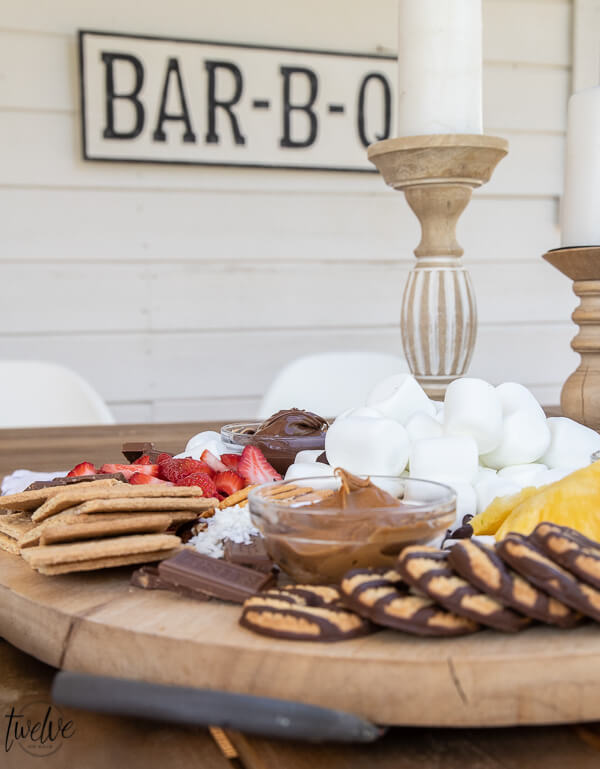 I make sure to lay out some plates and the roasting sticks so everything is handy.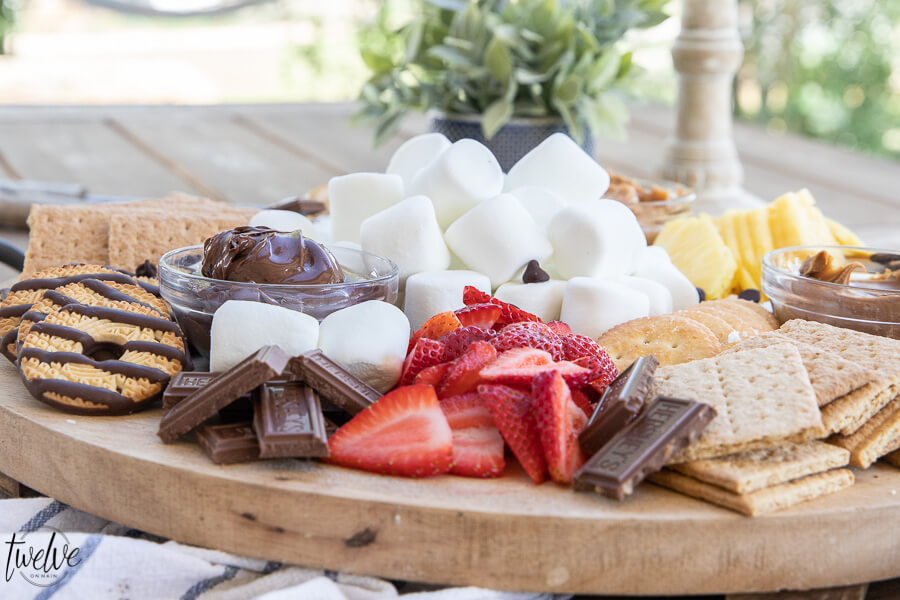 Creating a s'mores bar is such a simple and easy way to make entertaining easy.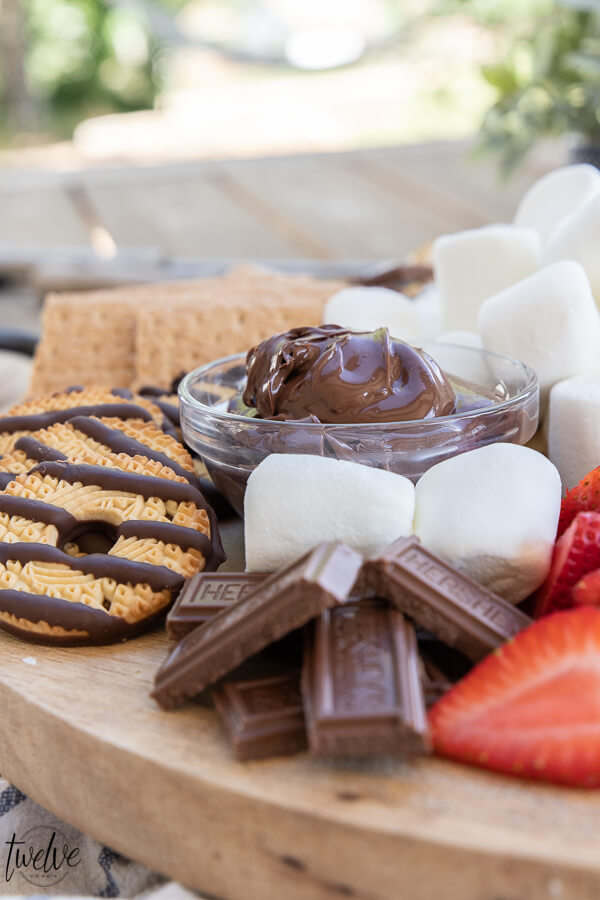 The yummy sauces really help to add flavor and structure to a s'more. I have never loves a traditional s'more, but I love adding peanut butter or Nutella to one. I always has beef with the fact that bars of chocolate did not melt. But I wanted to add that option because I know some people do like it.
The idea is to create a s'mores bar that everyone could enjoy.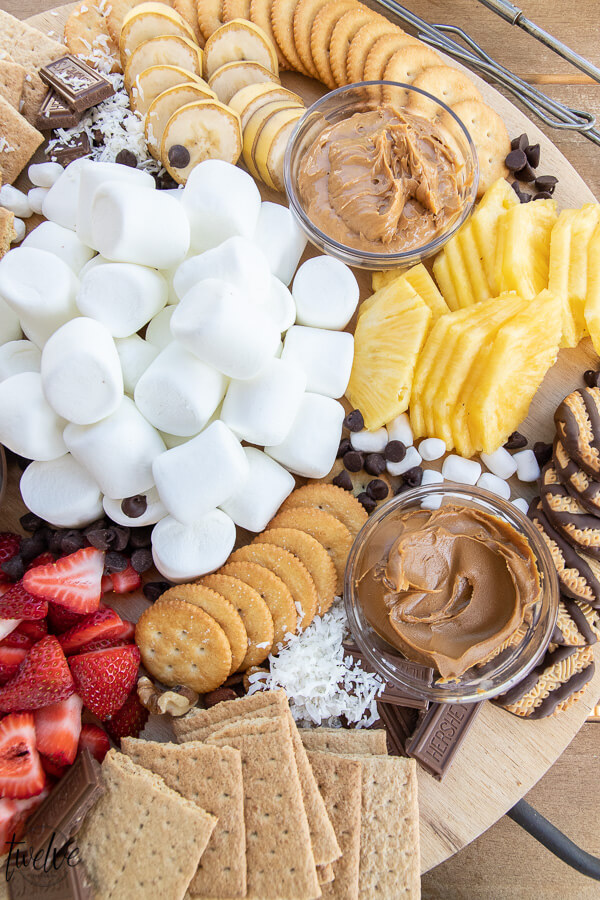 This s'mores bar gives you so many options and is so fun to share with family and friends!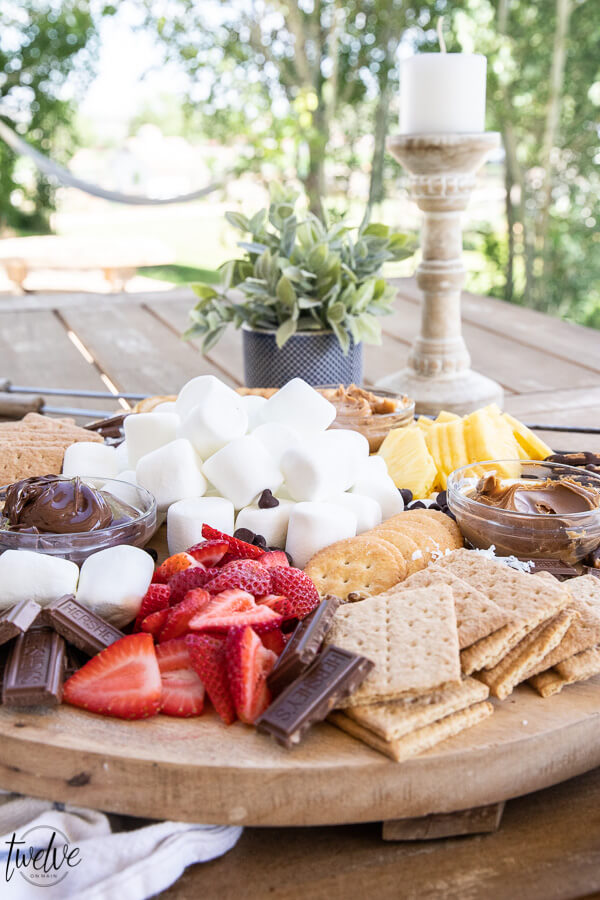 And if they don't want to add fruit to their s'mores, they can snack on them too! Its a great "charcuterie s'more board idea".
Plus, it looks so pretty too! Isn't that important? I think so.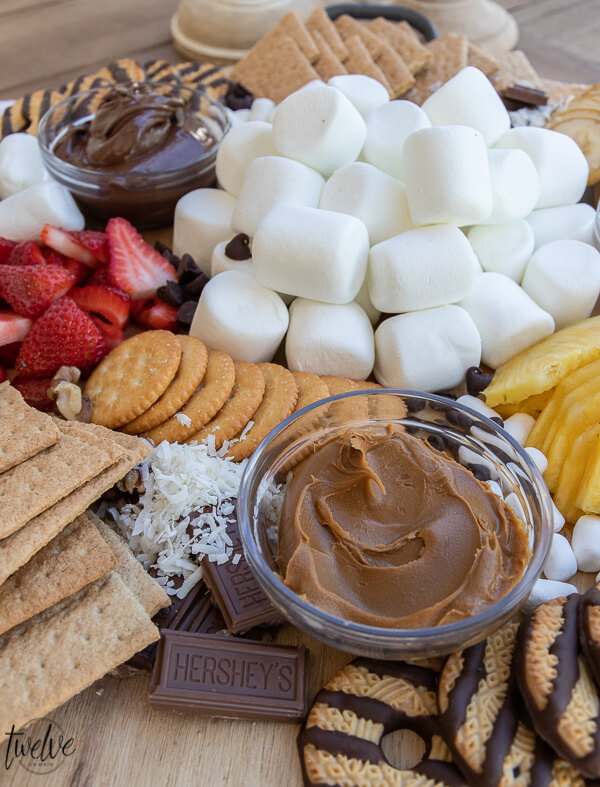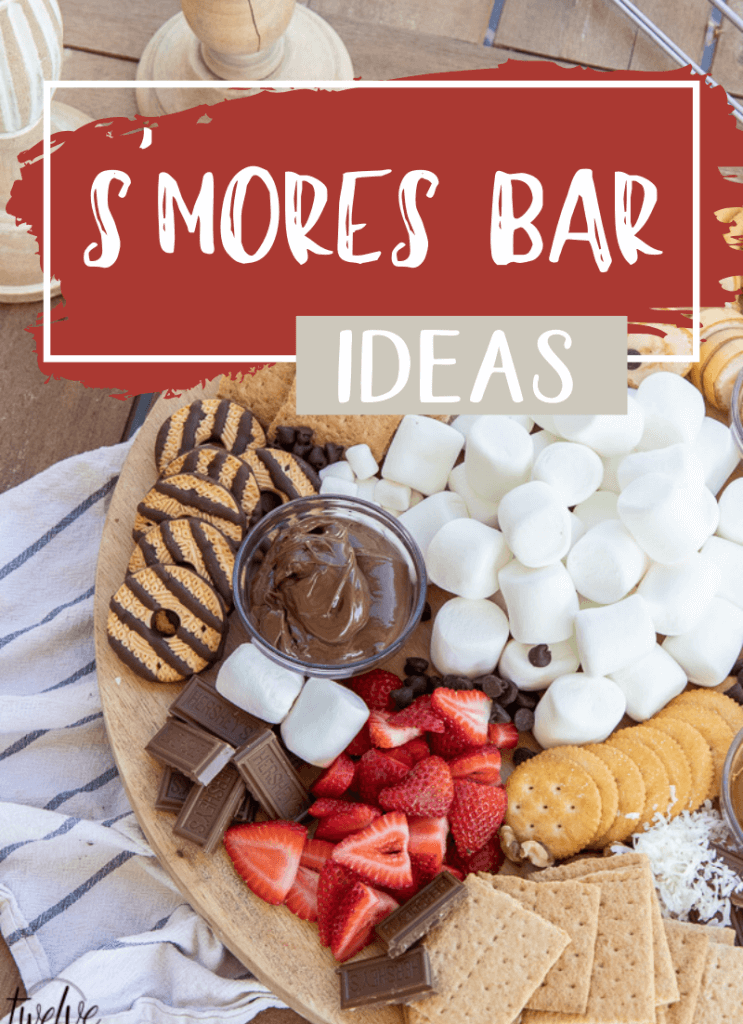 I gave some great s'mores recipes from last summer, check out my nutella strawberry s'mores, my pineapple Nutella s'mores, and my favorite, the peanut butter and Ritz crackers s'mores~
Want more great s'mores ideas? Check these out!
More S'mores Desserts!

My Favorite Recipe for Marshmallow S'mores – My 100 Year Old Home
S'mores Bar Ideas Perfect for Summer – Twelve on Main
Gluten and Dairy Free S'mores Chocolate Chip Cookies – Zevy Joy
Outdoor Fireplace – S'more Time! – Dreaming of Homemaking

No Churn S'Mores Ice Cream – Jenna Kate at Home
S'mores Ice Cream Sandwich Recipe – Happy Happy Nester
A Grown Up Version of S'mores for the 4th of July – Most Lovely Things
S'mores Dessert Charcuterie Board – Modern Glam
GET YOUR FREE GUIDE to 30 DIY projects that can be done over the weekend!
By subscribing, you will gain access to my FREE guide with 30 DIY projects that can each be done in a day, or over a weekend!
You will also receive a weekly email with some of my favorite tips, tricks, and design ideas.