I have been on a mission. The past 4 weeks, I have spent more time learning new things, and trying to get better at old things. I feel like its the only way for me to keep myself from losing my mind. Baking is my stress relief, and eating those delicious rewards is even better. That is exactly why I started making my own sourdough English muffins…and you will want to after you see how easy they are to make!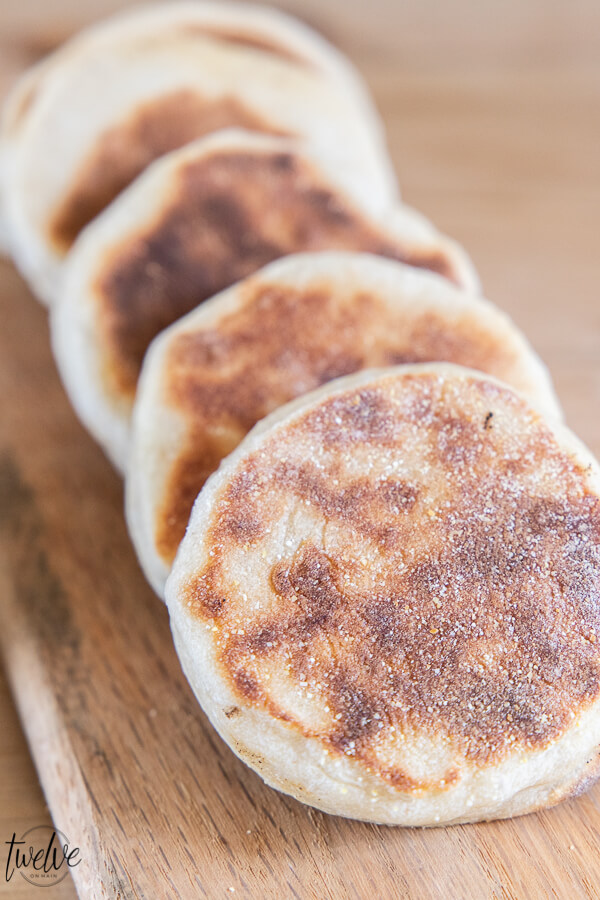 The one item in our kitchen that my kids love and cannot get enough of are English muffins. We go through them so fast, I knew it was time I learned how to make them so that I could easily whip up a batch. Now, being that I am kind of obsessed with sourdough these days, I wanted to learn to make sourdough English muffins for a couple reasons. You can make these without traditional yeast. Mind blown!
Also there are some health benefits to eating sourdough! The process of fermentation is good for your gut he long fermentation process of making sourdough releases nutrients like iron, zinc, magnesium, antioxidants, folic acid and other B vitamins. The natural way this occurs allows our bodies to process them more easily.
I was in search of some ways to increase my gut health while still enjoying some of what I eat…heck I want to enjoy all of what I eat!
And man, I am thoroughly enjoying all of these tasty sourdough recipes. My sourdough pancakes and my sourdough biscuits are so, so very good, I make them all the time!
Now I want to share my sourdough English muffin recipe. This English muffin recipe is really quite easy to make. But, with most sourdough recipes, it takes time. Much of the time is passive time, and you are not actively doing anything with the bread. Its the same with this sourdough bread recipe.
So lets talk about the process of making these sourdough English muffins:
First, you need a sourdough starter! If you are new to this concept, make sure to check out my post all about sourdough and sourdough starters! Its super informative and gives you actionable step by step instruction on how to make your own starter!
Okay, so now you have your sourdough starter right? Lets get going!
You will need about 5 hours of passive time to make these. Let me be clear that you will not be doing much other than letting the dough raise during this time. I promise this time is important and will make such a difference in your finished muffins.
TIP- Use your phone to start timers, This will make it all so much easier to keep track of what you are doing!
First you will mix your sourdough starter, warm water, warm milk, and some flour just until it is mixed through. I like to use my kitchen aid mixer to do this. Once it is mixed together, cover it with a towel and let it sit for 30 minutes.
Go about your business.
After 30 minutes is up, mix in in the rest of the flour, salt, oil, and honey.
Knead the dough for a couple minutes until it is soft, and elastic.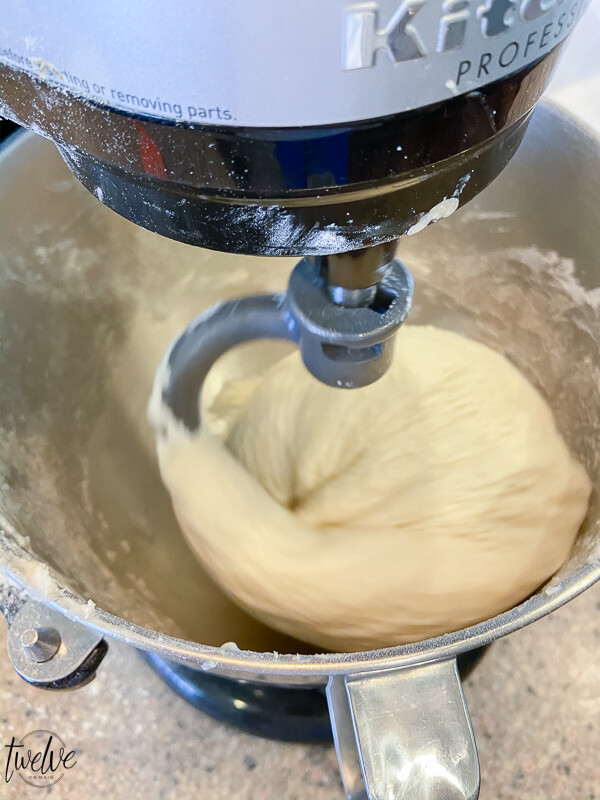 At this point you will want to coat the dough with a small amount of oil, set it in a large bowl, cover with a towel or plastic wrap and let it raise in a room temperature space(or one slightly warmer, I like to let mine raise on my fireplace hearth). Let it sit and raise for 30 minutes.
After 30 minutes, reach in and pull one corner of the dough up and fold it into the center of the dough. Rotate and repeat the same action in four different spots until the entire dough ball has been lifted and pushed into the center.
Cover and let the dough sit for another 30 minutes, repeat the steps again. Cover and let it sit for 1 hour this time.
After 1 hour, repeat the raising and folding of the dough. Cover and let sit for 1 more hour. Your dough should be springy and light. It should have doubled in size.) If it seems still a little slow raising, it may need more time. Give it some more time
After the last hour, you are ready to roll out your dough and get your English muffins made!
Sprinkle a small amount of flour and cornmeal on your surface. You may need a small amount of flour to keep the dough from being too sticky while you roll it out. Roll out your dough until it is about 1/2 inch thick.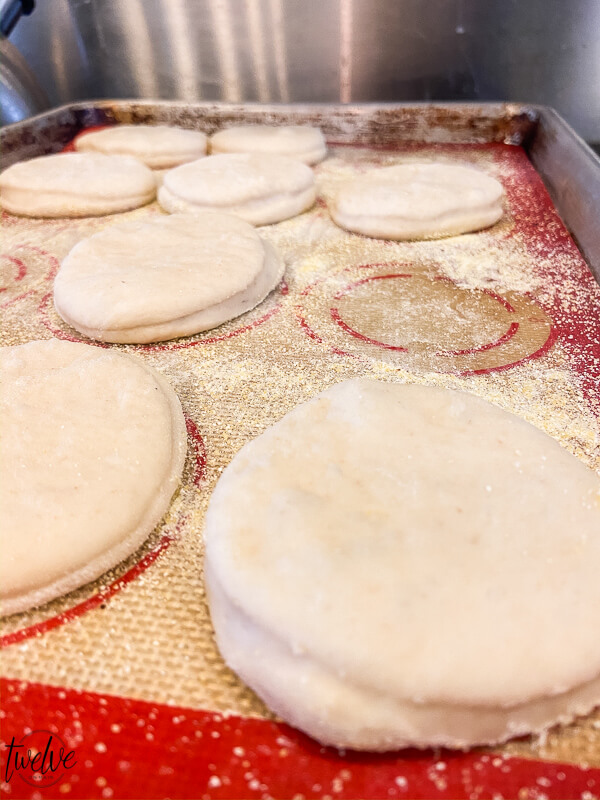 Use a biscuit cutter, cookie cutter or the top of a glass to cut your sourdough English muffins. I transfer my cut muffins onto a cookie sheet that has a light layer of cornmeal on it. This will prevent the muffin from sticking.
I can usually get 24 English muffins out of this recipe.
While you are rolling out the dough, heat a griddle on the stove. I have one built in and it takes a couple minutes to get hot so I do this while I am cutting my muffins.
I usually only let these raise for about 5 minutes before starting them on the griddle. They will continue to raise and you can only cook so many at a time. Keep the uncooked ones covered until they are ready to go on the griddle.
HOW TO COOK YOUR SOURDOUGH ENGLISH MUFFINS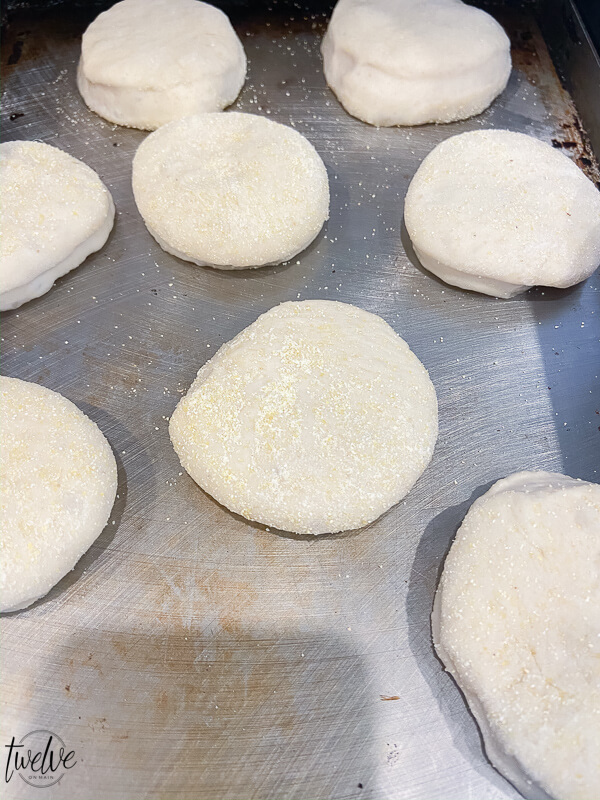 Lay the english muffin on the griddle. Let is sit and cook for about 5 minutes. As it is cooking it will start to raise up. Check the bottom, and once it is starting to brown, flip it over like a pancake gently. Let it cook for about 1 minute and then take your spatula and gently press down on the muffin to flatten the bottom of the muffin to give it that classic English muffin look. Don't push too hard, just lightly. You will be able to feel that the muffin is still uncooked inside. The sides will push out a bit.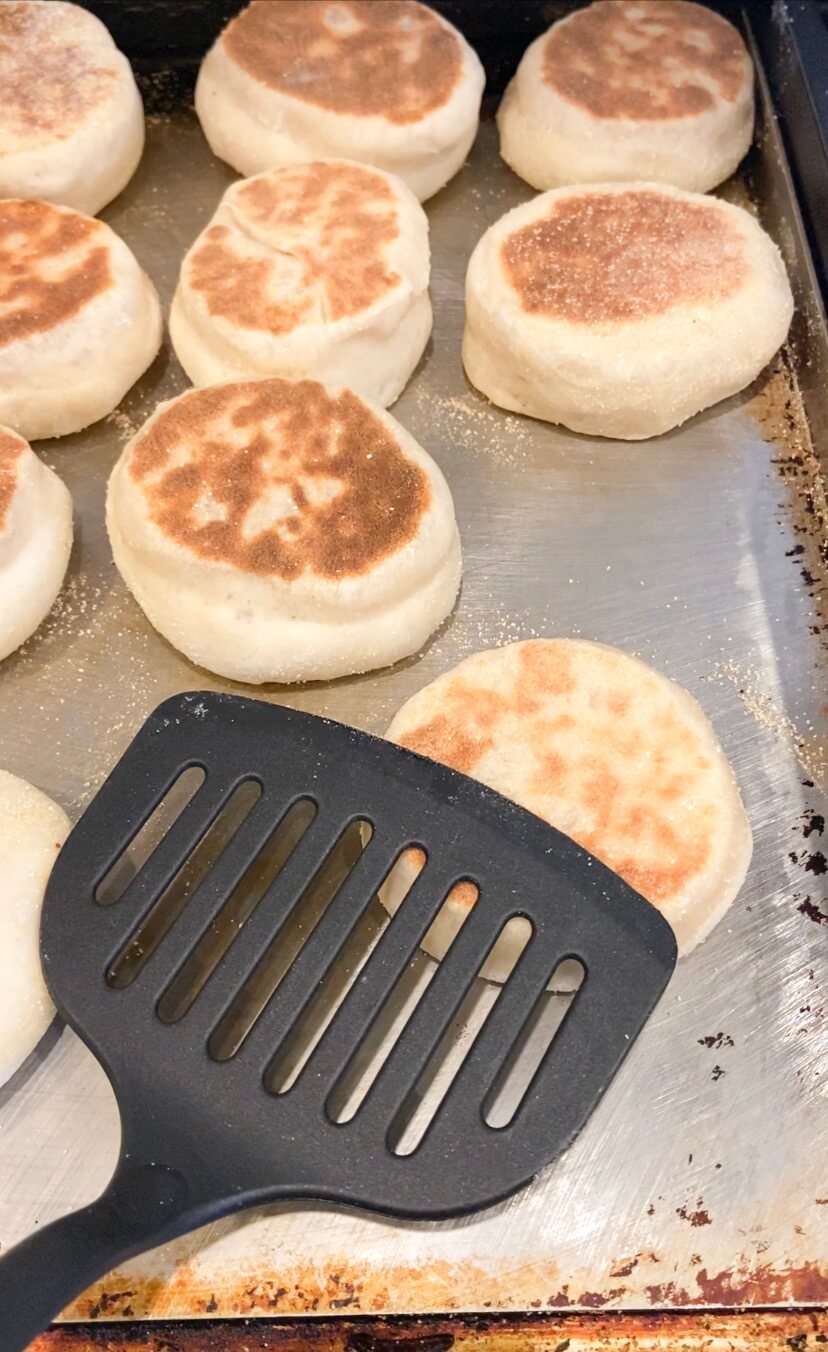 Let it cook for another couple minutes and check the bottom often to make sure it isn't getting burned. I like to bake mine at 35o-375 on my griddle so they can cook all the way through and avoid getting burnt.
HOW DO YOU KNOW WHEN YOUR MUFFINS ARE COOKED?
If you push on the top of the muffin and it is still springy and has a lot of give, its not done. If you push on it, and it feels tender but it has structure to it, it is done.
Take the muffin off the griddle and let it cool completely. You need to let the sourdough English muffins cool completely before eating them. If you try to cut them open hot, they will appear doughy still. But, give them this time to cool down all the way!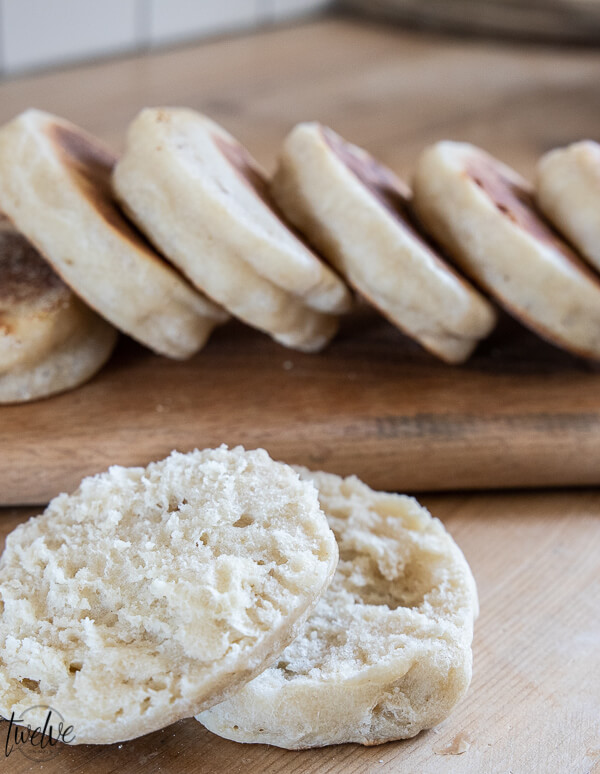 Once they are cold to the touch, use a fork to break them apart and do not cut them. This will help those nooks and crannies really shine! My husband always cuts his and it makes me crazy haha!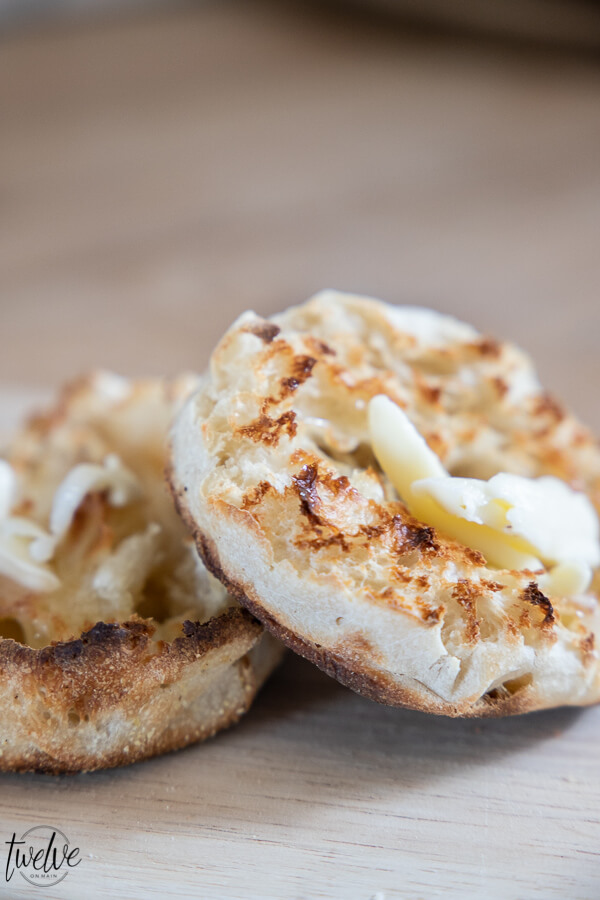 Toast them up, load them with your favorite butter or jam. Or add some cookie butter to the top of the hot crispy sourdough English muffins. This is how we like to eat ours! AMAZING! Thats all I have to say.
CHECK OUT MY FAVORITE TOOLS FOR MAKING ENGLISH MUFFINS AND OTHER BREADS!

Look at all those nooks and crannies! I wasn't lying! I promise these are so worth the wait!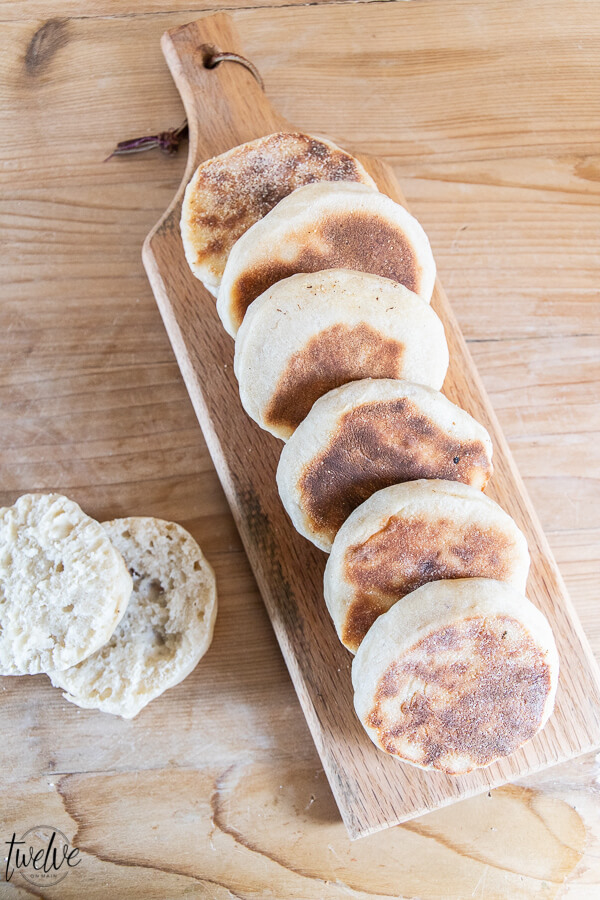 Those toasted outsides are classic English muffins!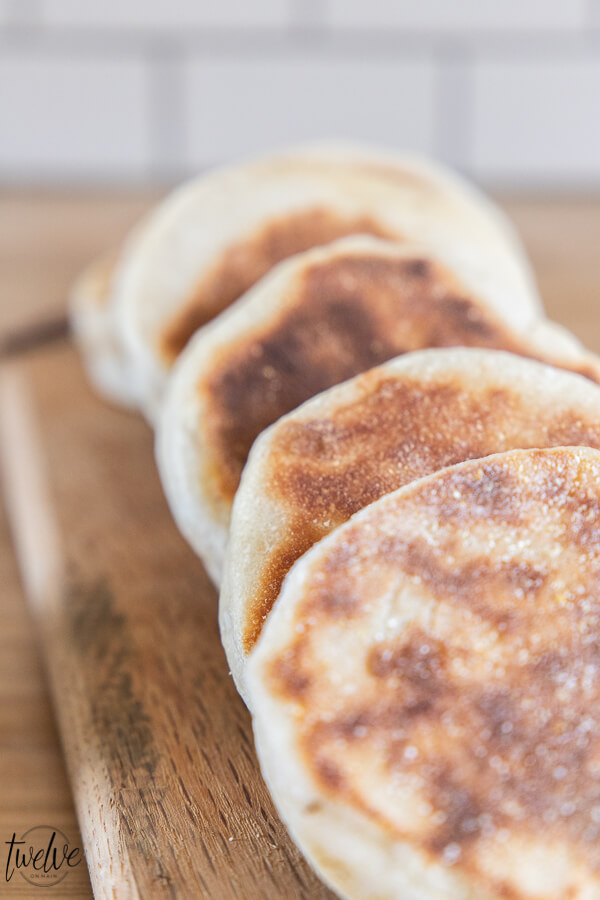 GET THE ENTIRE SOURDOUGH ENGLISH MUFFIN RECIPE BELOW!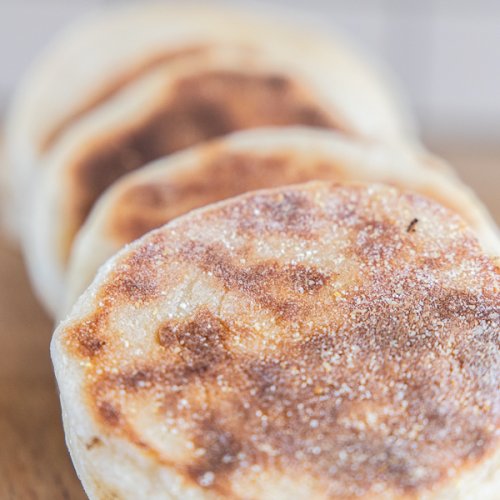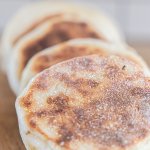 Sourdough English Muffins
How to make amazingly delicious sourdough english muffins!
Prep Time
3
hours
30
minutes
Total Time
4
hours
20
minutes
Ingredients
1

cup

active sourdough starter

3/4

cup

warm water

1

cup

milk warmed

I have used whole milk and 2 percent with similar results

5

cups

white flour

I have used bread flour and all purpose flour with similar results

1/4

cup

olive oil

1/4

cup

honey

2

tsp

salt

cornmeal
Instructions
Take your water, milk, sourdough starter and 2 cups of flour in your mixer and mix until all is combined.

Cover with a towel and let sit for 30 minutes (set a timer and go do something else)

After 30 minutes, add the honey, oil, salt, and flour once cup at a time until it is all combined

Let it knead for 3-5 minutes. It will be soft and have a springy texture

Put a small amount of oil to coat the dough ball and let it sit in a large bowl covers with either a towel or some plastic wrap. Keep it in a room temperature area or slightly warmer. I like to put mine near my fireplace to get just a bit of the ambient heat.

Let it sit for 1 hour(set your timer)

Remove cover and lift one corner of the dough, raise it up and fold it into the center of the dough ball. Do this to the entire dough ball. Usually I do it about 4 times.

Cover and let sit for 1 more hour.

Repeat the process of lifting the corner of the dough and bringing it into the center.

Cover and let raise 1 1/2 hours.

After this raise is done, it should be doubled in size and should be light and springy. If it does not look like it has raised much and seems slow, give it another hour to raise. It may need more time. I think keeping mine near the fireplace or near a warm oven helps to encourage it to raise and progress

Once it is ready, add a small amount of flour and cornmeal to your countertop or rolling surface.

Preheat your griddle to about 350-375 degrees(depending on your griddle settings)

Roll the dough out to about 1/2 inch thick.

Use a cookie cutter, biscuit cutter or the top of a glass to cut your muffins out of the dough.

Take the scraps and knead them together and cut the rest out. I can usually get 24.

Lay the muffins on a baking sheet sprinkled with cornmeal to prevent sticking. I do not like to use flour.

Once you griddle is hot, lay your English muffins on the griddle and let them sit and cook for about 4-5 minutes or until the bottom starts to brown.

Flip it over like a pancake carefully. Wait about 1 minute and gently press down on the muffin with a spatula. This will help the muffin bottom flatten and give it that classic English muffin look.

Let it cook another couple minutes until the muffin feels firm when you push on it. If it feels soft and springy, there is still uncooked dough. Let is cook a bit longer and check the bottom to make sure it is not burning. I like to flip mine over a couple times to make sure that the sides are evenly browned.

When they feel done, take them off and let them cool completely on a bakers rack. Do not cut into or break them apart until the are cool completely. They will appear doughy still. Give them time to cool

Break them apart using a fork, and toast them up! Serve with your favorite butter, jam , or even cookie butter! (that is what we love)

Store in a bread bad or airtight container for 3-4 days.
It may seem like there are a lot of steps to making these sourdough English muffins, but it really is quite a simple process. Plus there is something so relaxing to me about creating and baking. The constant hum of the oven, the familiarity of the dough, the simple repetition of baking and flipping. I love making these.
And in the end, you have 2 dozen fresh handmade sourdough english muffins that you can share with family and friends!
These simple recipes and techniques are important for us to learn. I believe we will all be grateful that we have the knowledge of learning these things.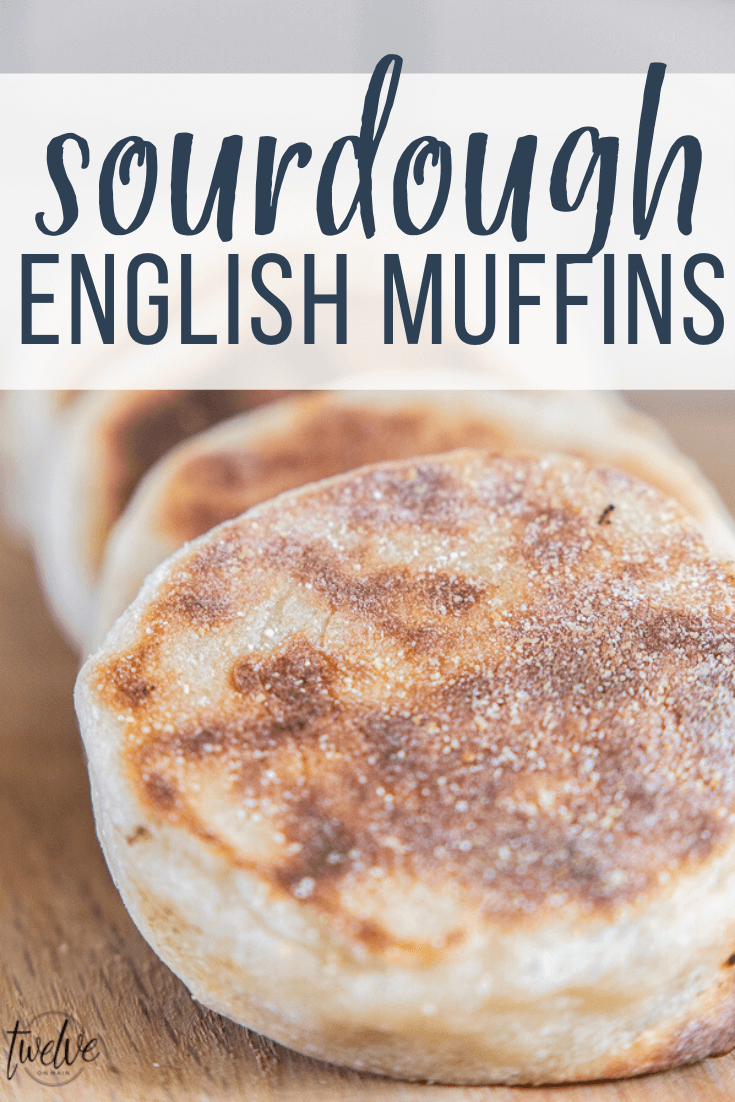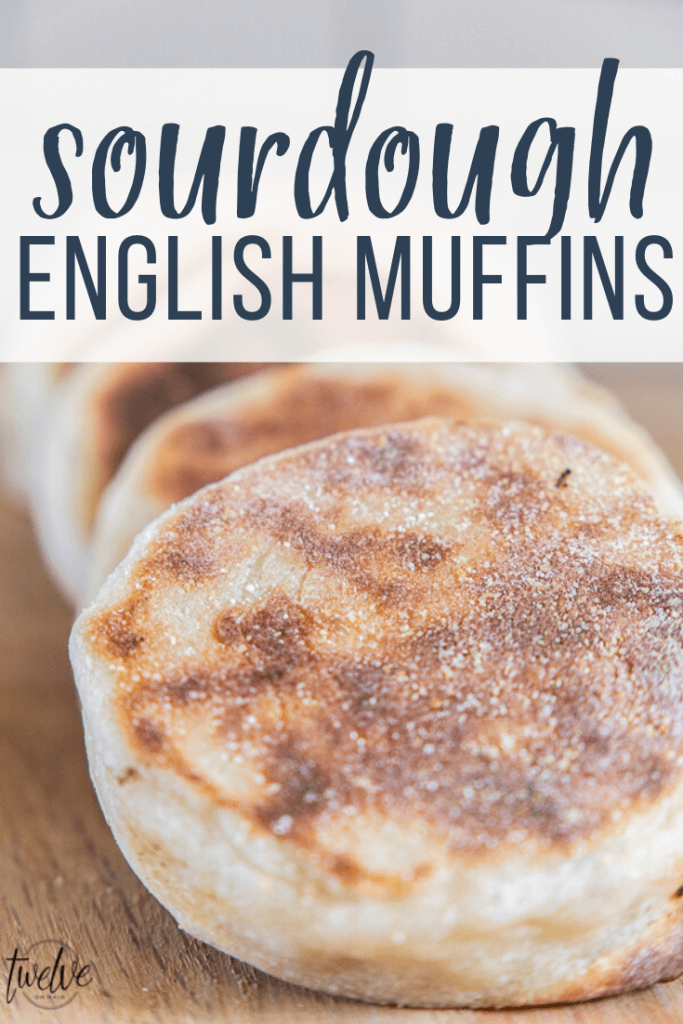 Want more great bread recipes?
Easy French Bread Recipe in Under 2 Hours
Grilled Chicken Souvlaki Skewers With Flatbread and Tzatziki Sauce
How to Make Banana Bread Your Family Will Love
The Easiest 2 Ingredient Flatbread Recipe You WIll Ever Make!