I feel like a whole new world has opened up for me. I never thought I would spend the time learning all these new ideas and skills I have always wanted to. Learning how to make a sourdough starter was a game changer for me. And ever since I succeeded, I have been slightly obsessed with all things sourdough. And my first sourdough recipe is ready to share with you! My light and fluffy sourdough discard pancakes are so divine, you will be making yourself a sourdough starter asap! As my first recipe using sourdough I am thrilled with how it they turn out every time I make them.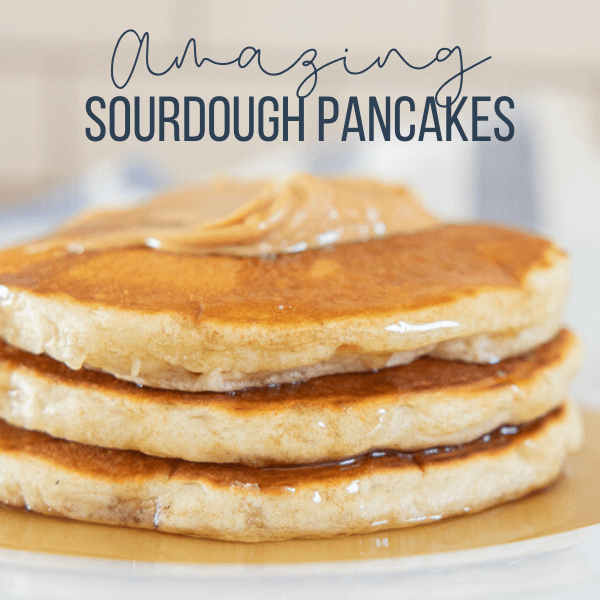 regular pancakes again, and they are so easy!" width="600″ height="600″>
IF YOU WANT TO LEARN ALL THE THINGS ABOUT A SOURDOUGH STARTER AND HOW TO MAKE ONE, READ THIS HERE!
I have been spending a lot of time working on sourdough bread recipes as well as other sourdough starter discard recipes. I have recipes for sourdough crepes, sourdough english muffins, biscuits, and even cinnamon rolls! Check them out!
Now, I am no sourdough expert, I am learning as I go. But I tried quite a few different sourdough pancake recipes and none were exactly what I wanted. Some had ingredients I didn't want to use and were missing some I wanted in it. So, I changed up things, worked on different ratios and cam up with a sourdough pancake recipe that I am so truly in love with!! It is one you really need to try!
There are a few things to make sure you are doing before you make those. Really just one thing. Make sure you have an active and fed sourdough starter. I fed this 24 hours before I made these pancakes. I feed my sourdough starter every 24 hours right now, since it is still on my counter. But if I had it in the fridge, I would have taken it out the day before and fed it. It was ripe and ready to go when I made my pancakes this morning.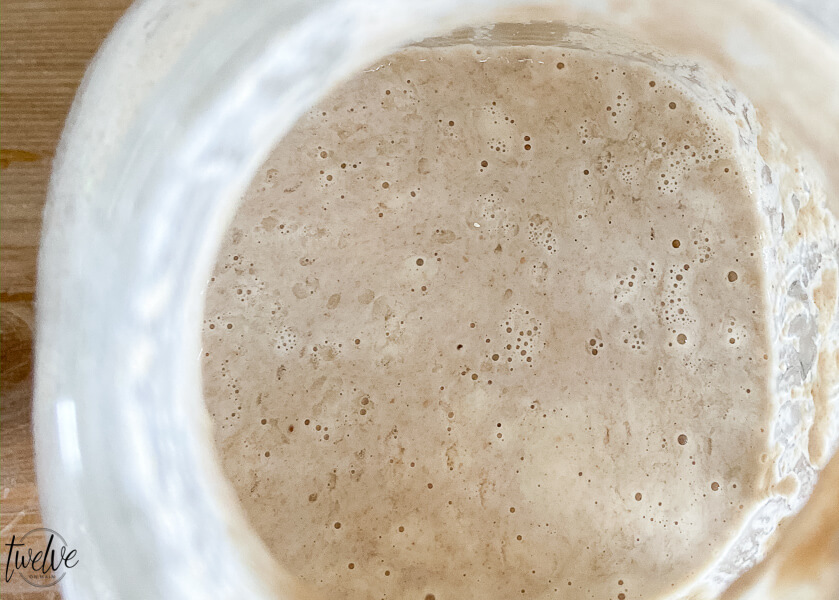 Gosh my sourdough starter has gone through some crazy stages, from the beginning, to the middle (where it was so smelly I almost threw it out!), to now…it smells so good and its working like a charm!
There is nothing better than some homemade pancakes. Hot sourdough pancakes with sweet syrup and butter…my gosh.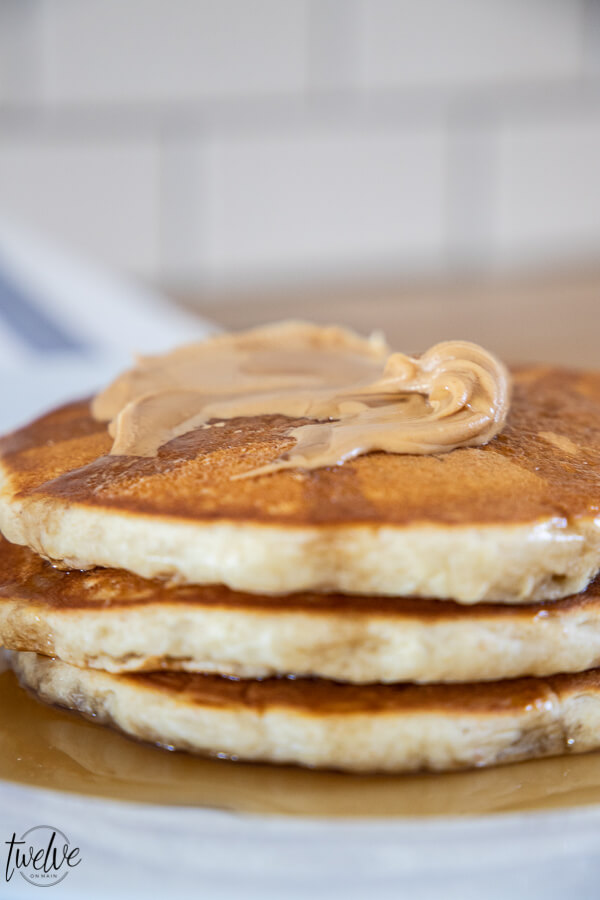 regular pancakes again, and they are so easy!" width="600″ height="900″>
I know, yes you could easily just pull out that Biquick mix, or Hungry Jack pancake mix and add water. I still use that and its great! But, there are some great health benefits to using a sourdough starter. It is generally easier to digest sourdough than other wheat or flour breads. So, I like to think I am doing my best to feed my family at the same time.
Also, this is a great skill to have, especially if you find yourself under quarantined and realize you are out of pancake mix! If you have flour, eggs and a couple simple baking ingredients, you are good to go! This is a great way to use up some of your sourdough discard.
LETS TALK ABOUT HOW TO MAKE THESE DELICIOUS SOURDOUGH DISCARD PANCAKES
First, get your sourdough starter and have it ready. I have made this with freshly fed sourdough as well as starter that hasn't been fed since the night before and they turn out amazing either way. This sourdough discard pancakes recipe uses basic ingredients. Next, take 1 cup of starter, milk, egg, vanilla, coconut oil(liquid, you may need to melt down yours if it is solid. You can also use melted butter), and honey. Mix the wet ingredients until combined in a large bowl. Next, your dry ingredients. Add your all purpose flour, salt, baking soda, and baking powder and a dash of cinnamon and mix until it is all combined.
Ladle some pancake batter onto a hot griddle (I like mine about 400 degrees) or cast-iron skillet that has been greased. Let the batter cook until you see bubbles form on the pancake. Flip the pancake and let cook for another minute or two. They should be nice and golden brown.
Serve the cooked pancakes hot with butter and pure maple syrup or like we do, with peanut butter and syrup! Its so good!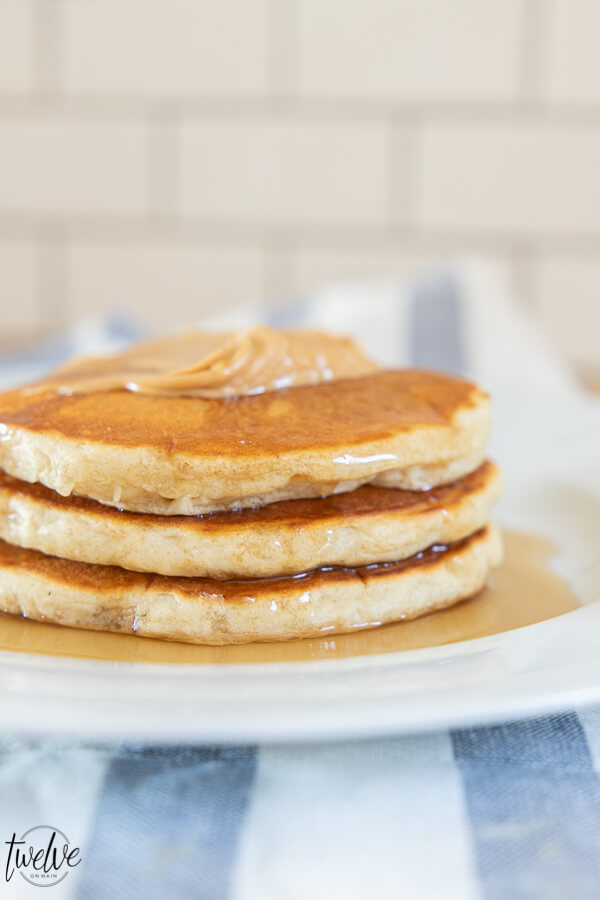 These are by far my most favorite pancakes ever! I dare to say they are the best pancakes in my opinion. They have an amazing texture and flavor. Try them with fresh berries! its the perfect way to get your fruit in! This is my favorite way to use up excess sourdough starter. These fluffy pancakes will soon be your favorite.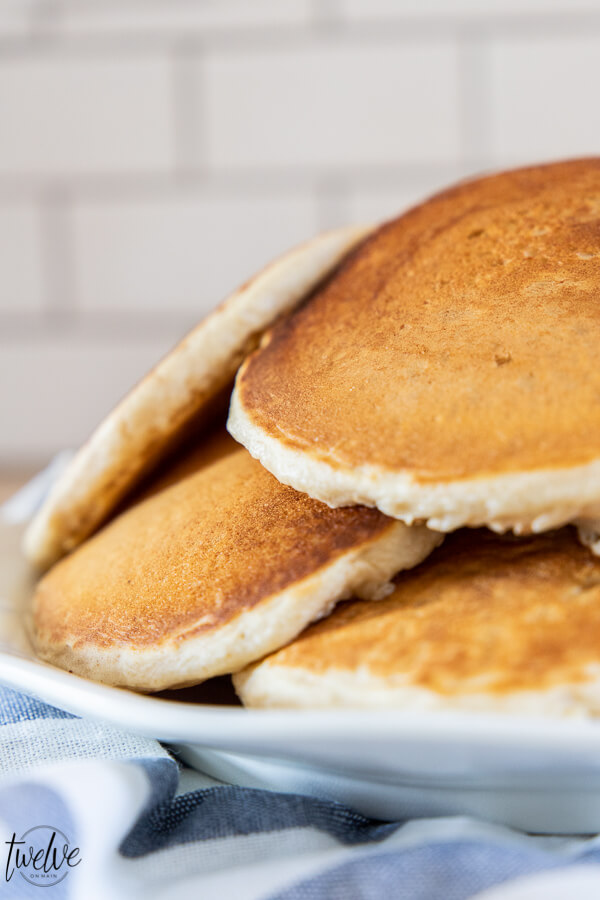 The combination of the crisp outside and the fluffy texture inside is amazing…plus it holds together even after it has syrup on it. You know how sometimes the pancake will pull apart? Nope, these are structurally so good! These are delicious pancakes.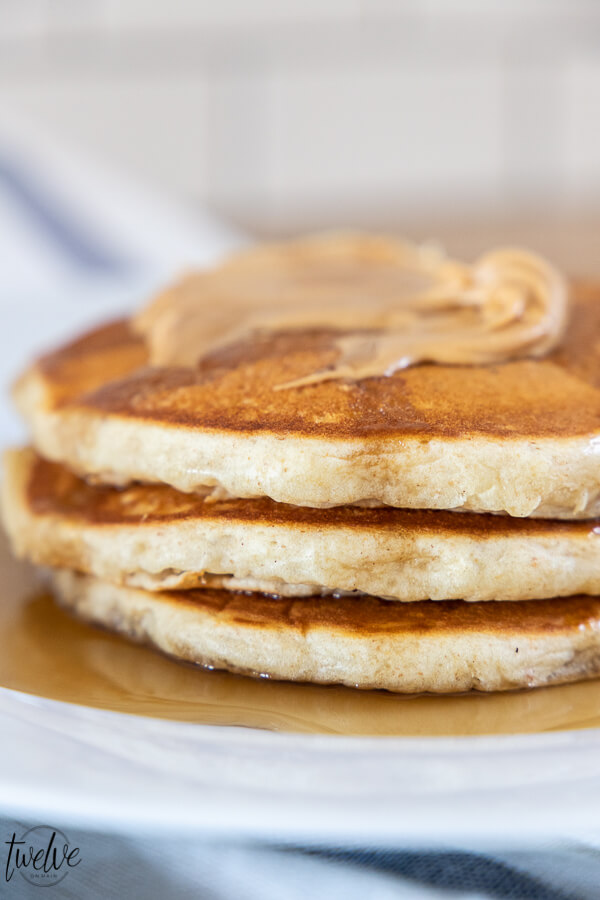 regular pancakes again, and they are so easy!" width="600″ height="900″>
WATCH THIS VIDEO TO SEE HOW THESE SOURDOUGH DISCARD PANCAKES ARE MADE!
GET THE ENTIRE SOURDOUGH DISCARD PANCAKE RECIPE BELOW!!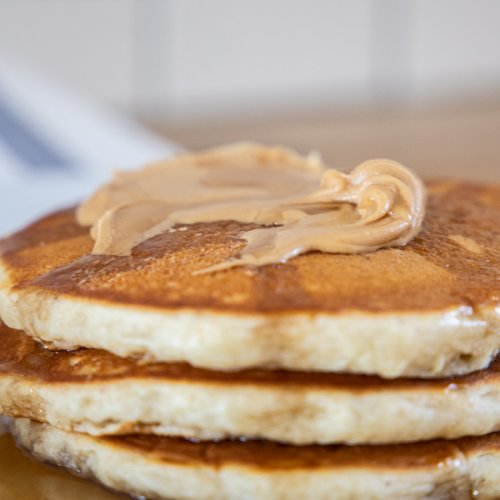 Sourdough Pancakes
The most light and fluffy sourdough pancakes recipe.
Ingredients
2

cup

flour

1

cup

sourdough starter

4

tsp

baking powder

1

tsp

baking soda

2

tbsp

honey

1

tsp

salt

1 1/2

cup

milk

1

lg

egg

2

tbsp

coconut oil

1

tsp

vanilla

optional

dash

cinnamon

optional
Instructions
Preheat your cast iron skillet, or griddle.

Mix milk, eggs, sourdough starter, honey, vanilla, and coconut oil in a bowl.

Add flour, salt, baking powder, baking soda and dash of cinnamon, and mix until combined.

Pour 1/3 cup batter onto a hot griddle or cast iron skillet. Let it cook until you see nice big bubbles, and then flip. Leave them for another minute or so until it is cooked through.

Top with butter and syrup, or the way we like it with peanut butter and syrup!

Jazz them up with blueberries or chocolate chips! They are such good pancakes!
WANT MORE GREAT SOURDOUGH RECIPES?
Sourdough English Muffins With All Those Nooks and Crannies
Easy and Delicious Flakey Biscuits Using Sourdough Discard
Some of my favorite pancake making kitchen tools:
Click on the image to see more about them!

I dare you to try these! If you haven't ever thought of making a sourdough starter, it is time you did!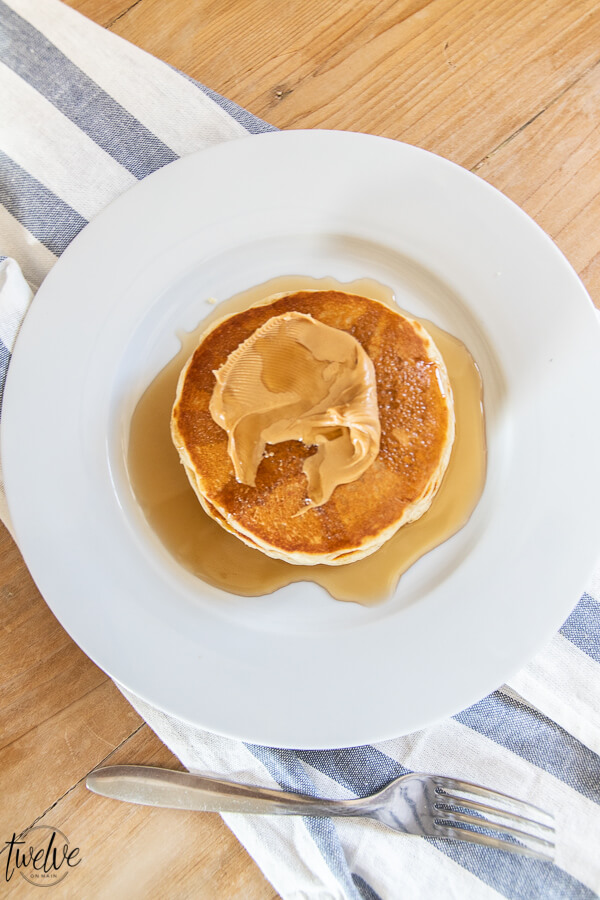 This is what you are guaranteed to get if you do!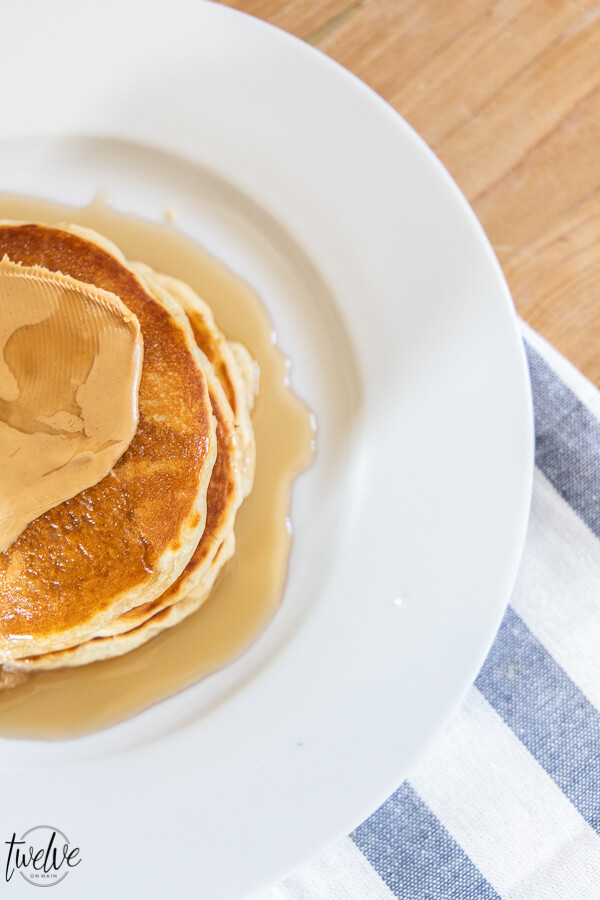 I would love to hear what you think! If you have any sourdough questions please don't hesitate to ask, I would be happy to help!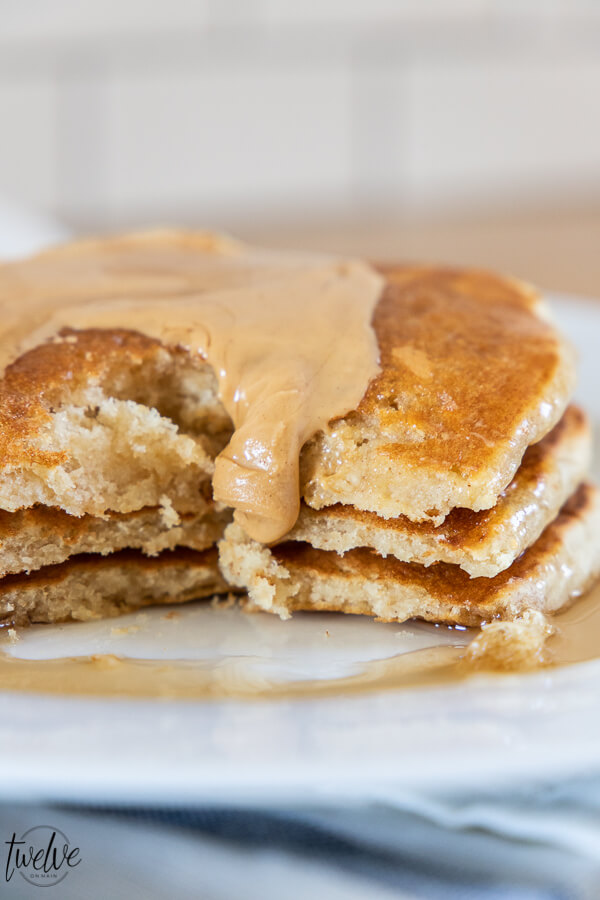 We love our sourdough pancakes with peanut butter and syrup. You guys, its amazing!
Make sure to share this post or save it for later!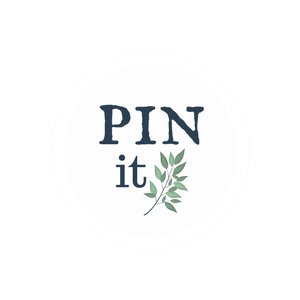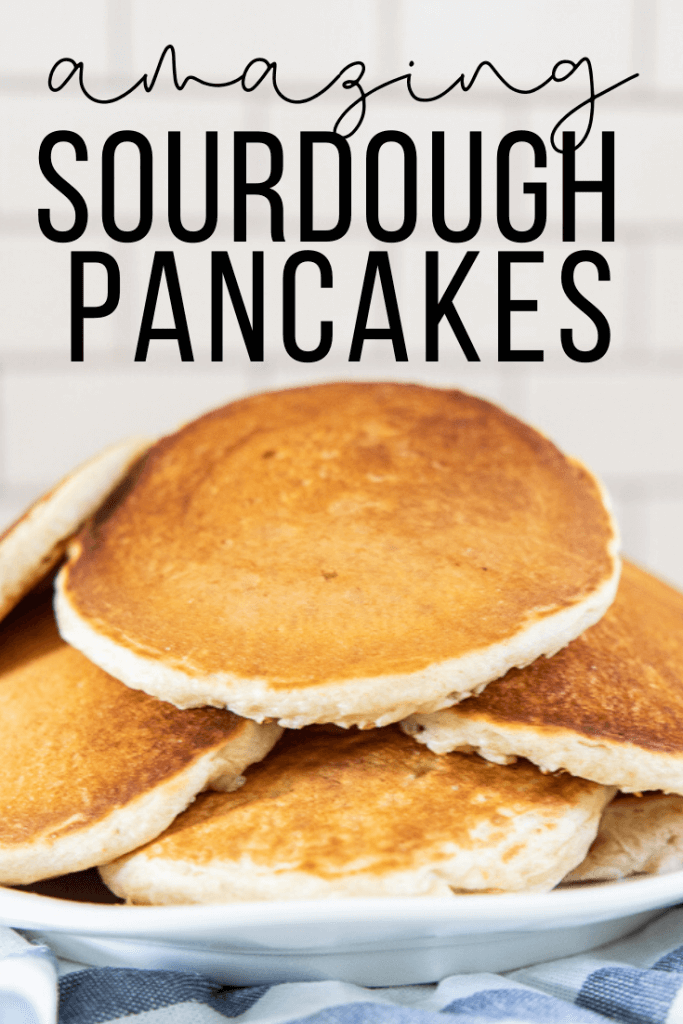 Check out these other great sourdough recipes:
Simple Sourdough Crepes Made 2 Ways (Bonus 2 Recipes)
The Ultimate Dutch Oven Sourdough Bread
Sourdough English Muffins With All Those Nooks and Crannies
8 Must Have Sourdough Recipes to Start Making Now
Yummy Light and Fluffy Sourdough Cinnamon Rolls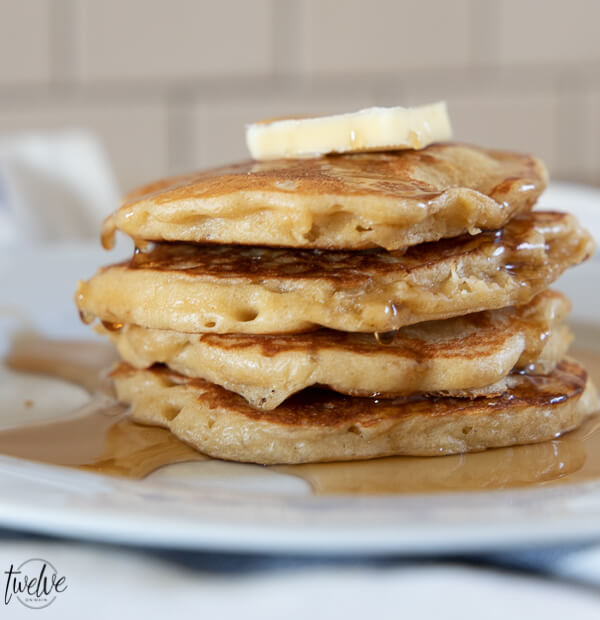 WANT MORE BREAD RECIPES? CHECK THESE OUT:
Easy French Bread Recipe in Under 2 Hours
How to Make Banana Bread Your Family Will Love
The Easiest 2 Ingredient Flatbread Recipe You WIll Ever Make!
How to Make Wheat Bread That is Easy and Delicious
Spring Inspired Bagel and Brunch Charcuterie Board