I have been making all the sourdough things lately. And with a sourdough starter, you can make so many things! When you make a sourdough starter, you have to discard a certain amount each day until you reach a fully active sourdough starter. There has been a lot of questions about what you should do with the sourdough discard. Well, there are many things you can do with it, including making delicious flakey biscuits!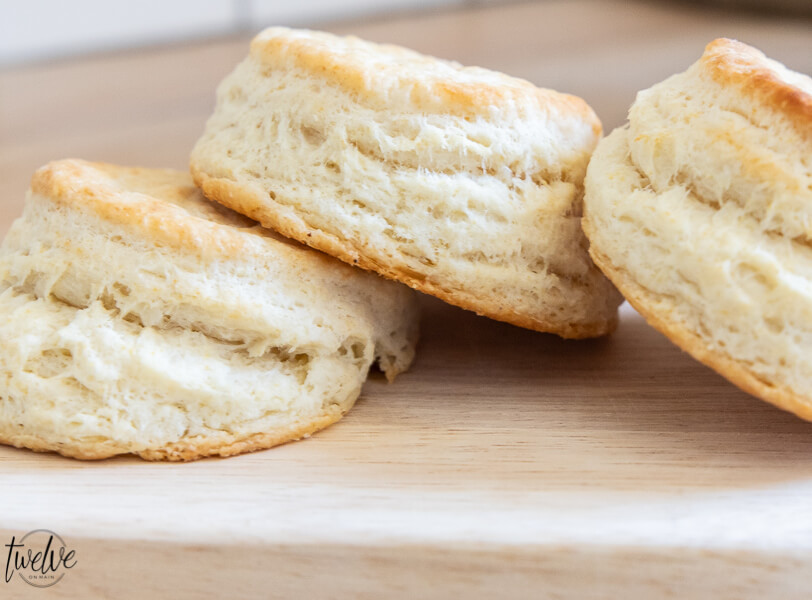 So, let's talk sourdough discards. You can do a couple of things with yours. First, you can dump it, easy as that. Second, you can use it to make another sourdough starter, or give it to a friend and let them start one. And third, you can make food with it! This is my favorite way to use it. We like to use it to make sourdough pancakes and flakey biscuits! You can use it to make muffins and brownies too!
Today we are talking about how to make super tasty flakey biscuits with our sourdough starter discards!
This is a really easy recipe to make. Its super easy to whip these up while you are discarding your sourdough and feeding it in the morning.
Here is what I like to do. I like to discard and feed and while I have my flour out, I grab a bowl and mix up my ingredients. and bake them while I am cleaning up in the kitchen. My kids then have a nice hot homemade biscuit to eat with their breakfast! These aren't only just good biscuits, they are flaky and have those layers just like Pillsbury!
So lets talk about how to make these tasty little bits of heaven:
First, get that sourdough starter out and discard. You really only need to discard when you building up a new starter or if you have too much starter and you need to use some up. You also want to make sure you feed the starter, because this is how it stays alive indefinitely.
Next, you want to grab your ingredients, which are flour, UNSALTED butter, baking powder, salt and sourdough starter.
Please make sure you use unsalted or your biscuits will be very salty!
Put your flour, salt, and baking powder in a bowl, and grate the butter into the bowl as well. I use a cheese grater for this. Make sure the butter is cold, because this is how you will get those flakey layers.
Now, use your hands to mix it all together. Make a little hole in the middle of your flour and your sourdough discard in it.
Mix it all up with your hands. It will be a craggy dough. Don't over mix it.
Lay it out on the counter and shape it into a rectangle, about 1 inch thick. Fold it over on itself, right in half. Flatten it out slightly and reshape into a rectangle. Fold it over itself again, the long way, and flatten out. Repeat this step 8 times. This will give you those flakey layers to the sourdough biscuit.
Now, flatten it out until its about 1 inch thick and cut it into rounds using a biscuit cutter or the top of a cup. I use a cup, because I am lame and don't seem to have a cookie cutter! lol.
Lay them out on a cookie sheet and bake them in a preheated oven at 425 degrees for about 17 minutes.
Take them out when they are nice and lightly golden brown.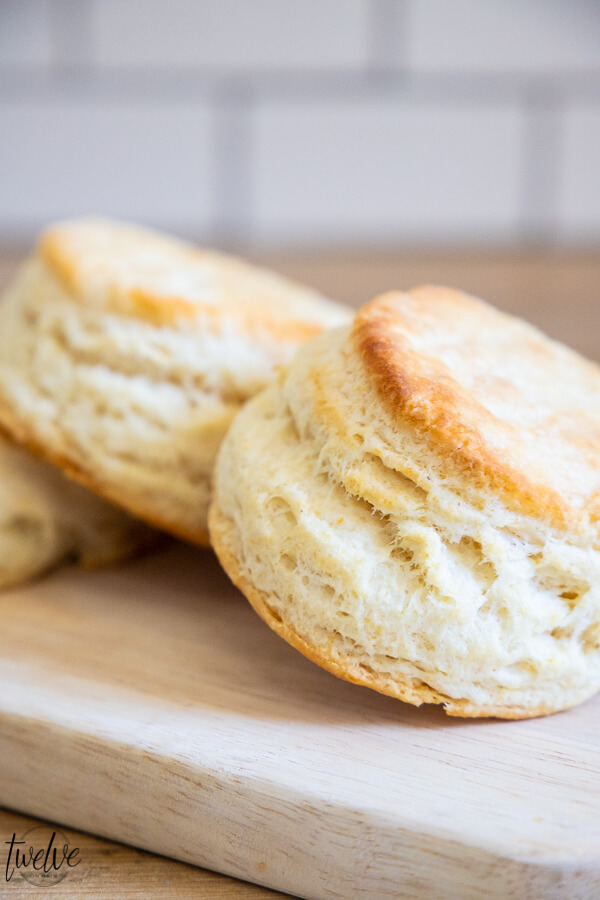 These are such easy biscuits to make! If you find the dough slightly dry and cannot get all the flour to combine, add 1 tbsp of milk to loosen the dough just a bit.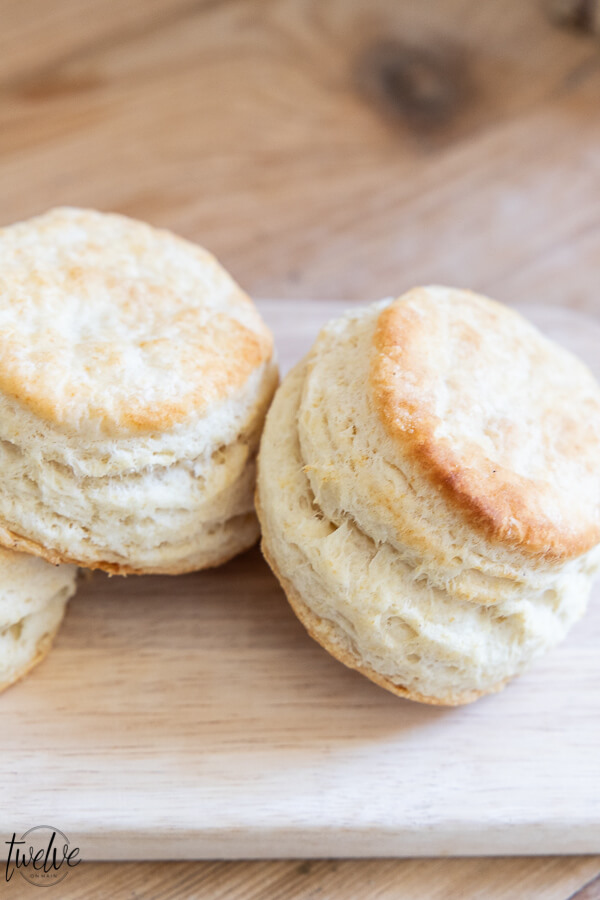 Make sure to use unsalted butter for these, because with the salt, it will be too salty if you use salted butter. Thats a lot of salt in one sentence. Haha!
So good, so flakey! These flakey biscuits using sourdough discards are so great and they make use of something you might otherwise toss out!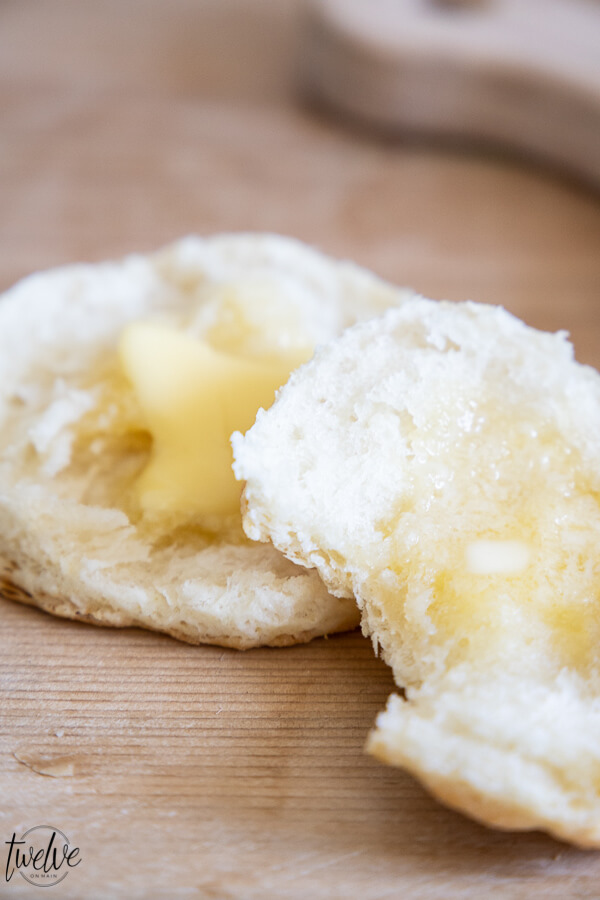 Yum! These are now a regular around our house. They only take me a couple minutes to whip up and are very forgiving!
HERE'S MY RECIPE FOR SOURDOUGH FLAKEY BISCUITS: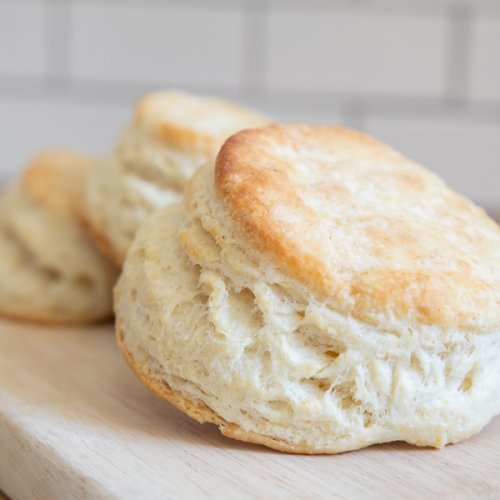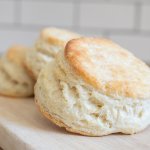 Easy Flakey Sourdough Biscuits
How to use those sourdough discards?
Ingredients
8

tbsp

cold unsalted butter

Make sure to use unsalted or these will be salty!

3/4

cup

flour

1 1/2

tsp

baking powder

1

tsp

salt

1

cup

sourdough starter
Instructions
Put your flour, baking powder, and salt in a bowl

Using a cheese grater, grate the butter into the flour and mix together. Keep your butter in the fridge until ready to use.

Make a little well in the middle of your flour.

Pour your sourdough starter in the middle of the flour and mix it together with your hands. Mix until just combined. You do not want to over mix this. You also don't want to melt the butter by mixing too much.

Pour your biscuit dough onto the counter and form it into a rectangle about an inch high. This isn't a lot of dough, it only makes about 6 biscuits. You can easily double this recipe and use extra sourdough starter if you want,

Take the dough shaped into a rectangle and fold it over in half. Reshape into a rectangle and fold over again the opposite way. Do this 6 times, this is what will give it the flakey texture.

You can also shape into a rectangle and cut into three even pieces and layer them on top of each other. Then repeat this one more time.

Pat the dough until its about 1 inch thick and cut your biscuit rounds using a round cookie cutter,(or these awesome biscuit cutters) and place them on an ungreased pan.

Bake them at 425 degrees for 17-18 minutes.

Serve them immediately hot and flakey!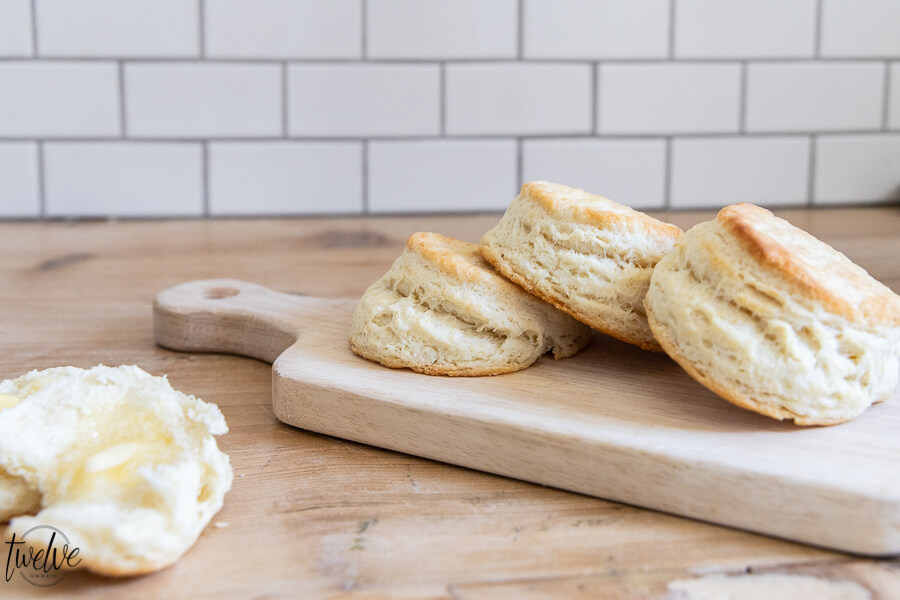 What is your favorite way to eat hot flakey biscuits? I love butter and cinnamon honey! My husband loves butter and jam, and we also love some of that popular cookie butter too!
Want more great recipes? Follow me on Pinterest to see all the great recipes I am pinning!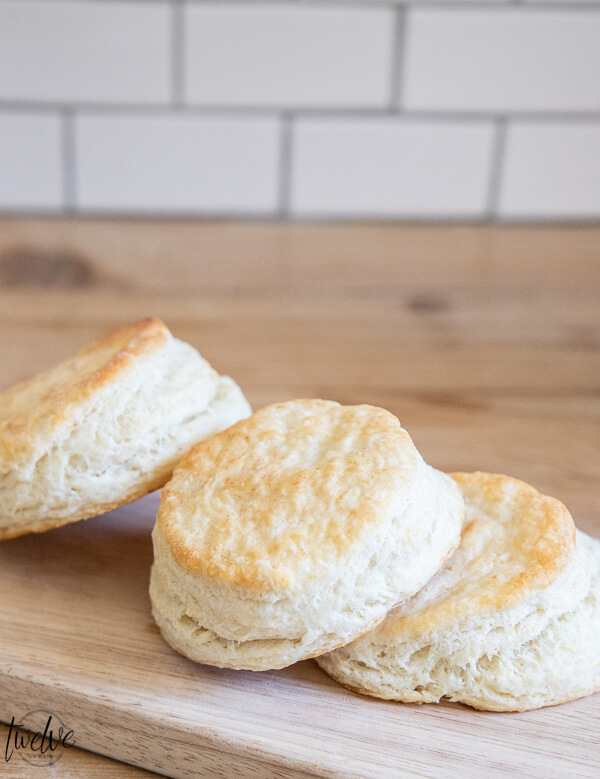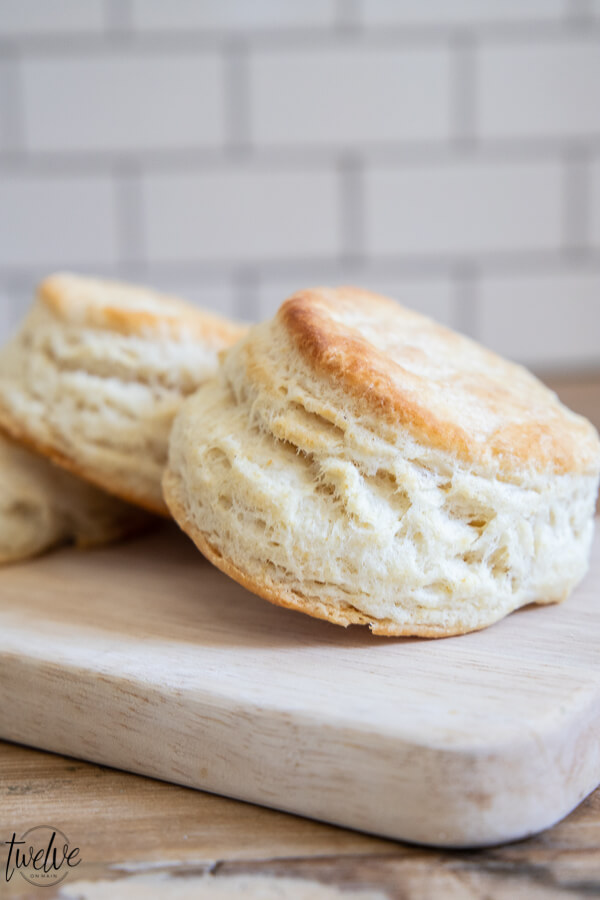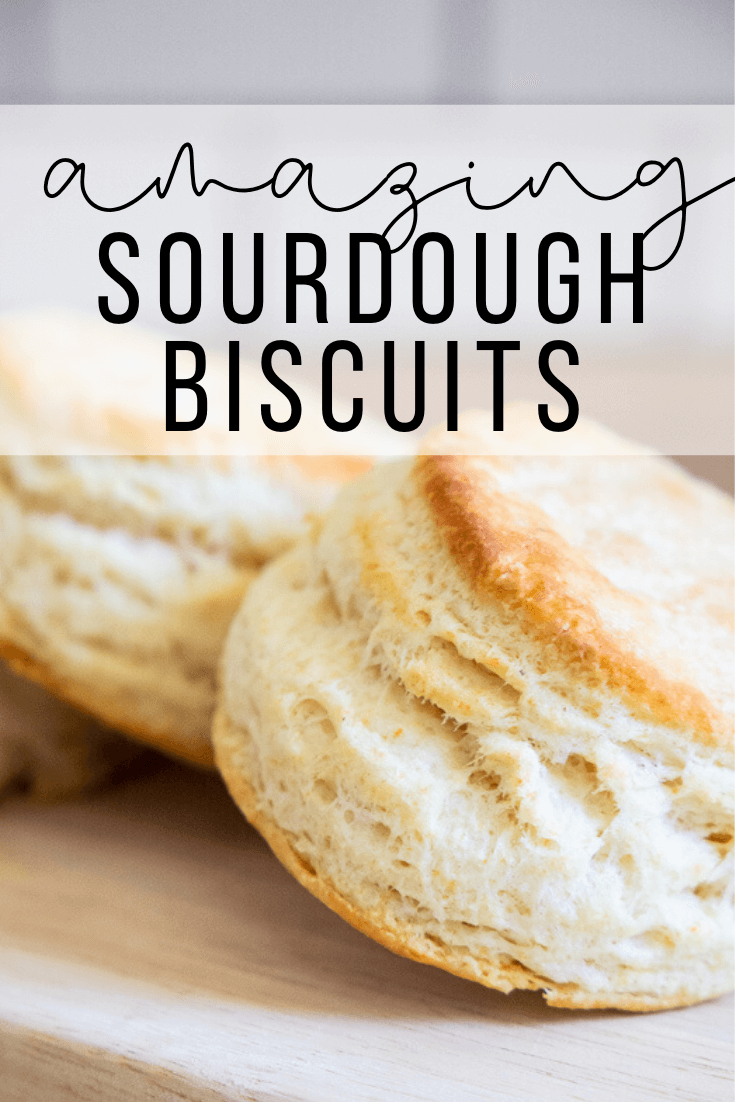 WANT TO LEARN MORE ABOUT SOURDOUGH STARTERS AND MORE RECIPES? CHECK THESE OUT:
Everything You Need to Know About Sourdough and Sourdough Starters
Light, Fluffy and Super Yummy Sourdough Pancakes
Sourdough English Muffins With All Those Nooks and Crannies
HOW ABOUT SOME OTHER GREAT BREAD RECIPES
Easy French Bread Recipe in Under 2 Hours
How to Make Banana Bread Your Family Will Love
The Easiest 2 Ingredient Flatbread Recipe You WIll Ever Make!