This week is my ode to fall treats! Yesterday I shared my favorite sauteed apple recipe, and today I want to share my most favorite homemade caramel sauce recipe. I cannot get enough of this. Lets just say I may have tried to drink it…but I didn't, I knew I had to share with my family.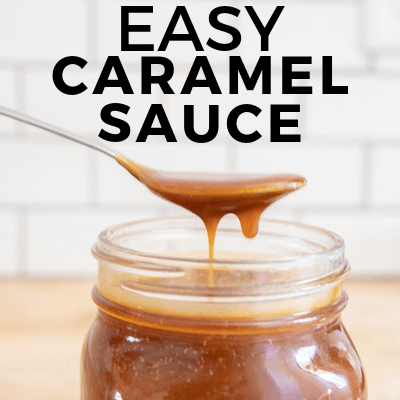 So, why make your own homemade caramel sauce recipe when you can run out and buy some pretty good ones at the store? Well, for starters, you can make this recipe with 3 easy ingredients from home!
Second, it tastes soooooo much better than the store bought stuff, and I didn't know that for a really long time. Third, it stays really well in your fridge, so if you make this batch, you can count on having it for a while, ready in the fridge for you to enjoy on that late night bowl of ice cream.
Now, do I have your attention? I hope so, because…its homemade caramel sauce guys. I sometime forget how easy it is to make and how much better it tastes, and then I work on a new recipe needing a yummy caramel sauce, and I am like, duh, what was I thinking!
So lets talk about how to make this easy caramel sauce:
Jump to Recipe
This is actually really easy to make and you probably have the three ingredients in your kitchen:
sugar
room temperature heavy cream
room temperature salted butter( I like a bit of the salty to balance the sweet)
Start by pouring your sugar in a medium sized sauce pan(I love these pans, I have them). Turn the heat on medium and stir your sugar. Make sure to stir constantly so that you do not burn your sugar.
Your sugar will have stages. It will look clumpy and weird for a bit, and then as the sugar melts, it will become liquid.
Once the sugar is completely dissolved and a caramel color, you will be ready to add your other two ingredients. You can turn off the heat. If you are using electric burners, move your pan to a different burner to avoid burning the caramel sauce.
Add the room temperature butter and mix with a whisk. Your mixture will foam up and boil hard. Be aware of the this. Then add the heavy cream. Whisk it all together until it is creamy and ready to eat. I pour mine into a mason jar with a lid to store it.
Look at that gorgeous caramel color!
I like to let mine rest for about 30 minutes before using since it will be runny and hot! This allows it a chance to thicken up and cool a bit.
You can store this in the fridge for up to 2 weeks, and it actually can be put in the freezer as well. However, ours doesn't last long enough for this.
We love having this caramel sauce on ice cream….
I mean…I die.
How to make easy caramel sauce:
Easy Caramel Sauce Recipe
Caramel sauce is so easy to make at home and you probably have the 3 ingredients already in your kitchen! Make this treat tonight and top that late night ice cream with some!
Ingredients
1/2

cup

room temperature salted butter

I promise it will make a difference!

6

oz

room temperature cream

1 1/2

cup

white sugar
Instructions
Pour your sugar into a medium sized sauce pan, and turn your heat on medium. You are goin to start cooking the sugar. Make sure to stir it about ever 30 seconds. I find if I walk away, I easily forget and burn it. So make sure you have everything ready to go so you can stay with your pan of sugar.

As you stir the sugar, it will start to crystalize. Don't freak out. It will look lumpy and gross, keep going!

Keep stirring until it starts to melt. Adjust your heat to make sure you do not burn your sugar. Stir until the sugar is completely dissolved and a nice caramel color.

Turn the heat off, and add the butter. I use a whisk to do this, since it mixes it easier. Your mixture will bubble up so be cautious of this.

Once the butter is incorporated, add the heavy cream. It will bubble up once again, but keep going! You may wonder if it's going to work out. If you use cold cream or butter, it will seize up your caramel sauce. I have been able to work it through and still make a yummy caramel sauce, but why not just stick to room temperature ingredients.

Use your whisk to mix the cream in. It will start to thicken up as it cools.

I pour mine into a large mason jar for storage.

You can let it sit on the counter and cool for about 30 minutes before using or put it in the fridge for future use. It stays soft and creamy, but you can separate some and reheat it in the microwave if you want it to be warm and more fluid.

Use this on cakes, pies, ice cream, cheesecake, and so much more! It stays good in the fridge for 2 weeks! I have also seen that you can freeze it for up to 3 months. I haven't tried this yet, but I just might!
Make sure to try this recipe out! The fall is the perfect time to make it. Add this caramel sauce to your ice cream and top it with some of my favorite sauteed apples!
Make sure you share this delicious caramel sauce recipe with friends! Friends share!
Try these other indulgent recipes out:
Pineapple Nutella S'mores Treats
Easy and Decadent Cheesecake Mousse Recipe
Instapot Chicken Tacos with Zesty Slaw
Roasted Peach Dessert with Cheesecake Mousse and Basil
The Ultimate Cream Cheese Peach Cobbler Recipe
GET YOUR FREE GUIDE to 30 DIY projects that can be done over the weekend!
By subscribing, you will gain access to my FREE guide with 30 DIY projects that can each be done in a day, or over a weekend!
You will also receive a weekly email with some of my favorite tips, tricks, and design ideas.