Well, I do believe that it's time for another peach recipe! Well, I mean, what do you think? Its peach season and I have some really yummy peach desserts for you! Todays cream cheese peach cobbler recipe is the cats meow! Its so good! The creamy cheesecake mixture with the peaches and the sweetness of the cake topping…its just so good.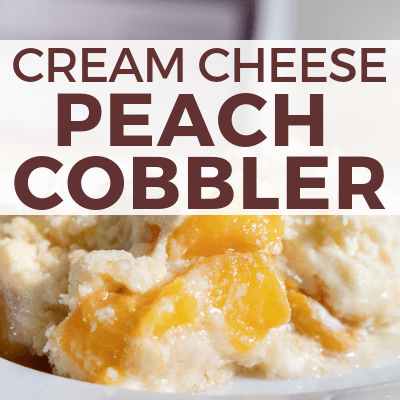 Jump to Recipe
I know I have probably overdone it on the recipes this week, but I cant help it, this one is so good I had to share while the peaches are in season! So make sure you share this post with friends so that they can enjoy it too!
So, let's talk about peach cobbler for a minute. I have always been a fan of peaches, but I never truly loved peach cobblers…maybe its because I always had them with canned peaches and that just not something I like. But with fresh peaches? Oh yes please, I will eat the entire pan.
Now, add a yummy cream cheese mixture to the top of the peaches and voila, you have something truly decadent. I love the combination of the tart peaches, the tangy cream cheese, and the sweet tender cake topping.
Every summer about August, I break out this recipe and have it handy. Thats when our peaches start to ripen and before we know it, we have more peaches than we know what to do with. So, this cream cheese peach cobbler gets made a handful of times.
Whats great about this is that its so delicious cold. My kids love to take it as a treat in their lunches as well as an afternoon snack. I love to sit in the dark and eat it out of the pan, hoping nobody will catch me. It is a tightrope I walk.
This cream cheese peach cobbler is the perfect accompaniment to a outdoor get together, a camping trip(cooked in a dutch oven), or simply for a Monday night when you just need something fabulous to eat.
I find that since it has the creaminess from the cream cheese, it doesn't need ice cream. In fact, I don't think we have ever eaten it with anything. Its simply delicious by itself!
How to make my Cream Cheese Peach Cobbler: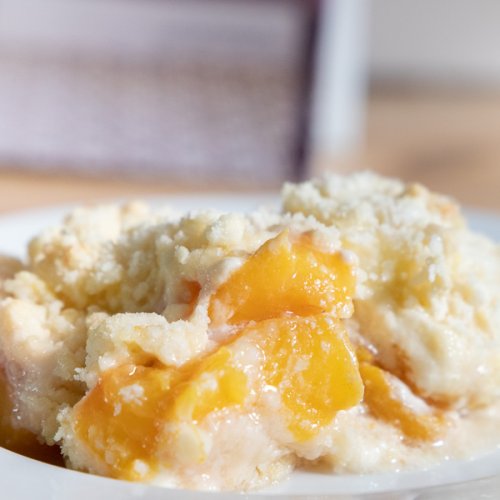 Cream Cheese Peach Cobbler
This is a fun new take on the classic peach cobbler by adding a cream cheese mixture before cooking. It adds a creamy, tangy layer, topped with the sweet cake streusel. Serve warm or cold, its great either way!
Ingredients
6-8

cups

sliced peaches

You can use 2 29 oz. cans of peaches if cant get fresh

1

pkg

White cake mix

1/3

cup

butter

2

large

eggs

8

oz

cream cheese

Best at room temperature

1/3

cup

sugar

1

tsp

vanilla
Instructions
Begin by preheating your over to 350°

Peel and slice your peaches if you are using fresh, if using canned, drain them as best you can.

Take one egg, butter and the white cake mix and use a fork to mix it all together. It will be crumbly but stick together as well

Spray your pan with nonstick spray

reserve 1 1/2 cup of the cake mixture. Set it aside for later. Take the remaining and press it into the bottom of your 9 by 13 sheet pan.

Bake in the oven for 10 minutes.

While the base is cooking, mix your cream cheese, egg, vanilla and sugar with a hand mixer or KitchenAid. Make sure that it is mixed well, and smooth.

Take your pan out of the oven, add your peaches(you can add more or add less if desired. Top the peaches with the cream cheese mixture.

Take the remaining cake mixture and spread it across the top of the peaches and cream cheese.

Bake in the oven for 30 minutes, or until its golden brown on top.

Let is cool for at least 30 minutes before eating. I like it served warm and cold. Its so good!
I'd love to hear if you have made this. Its truly one of my favorite recipes. I actually have been freezing many of our peaches in hopes that I can make this through those long months when we don't have delicious peaches.
Make sure you save it for later!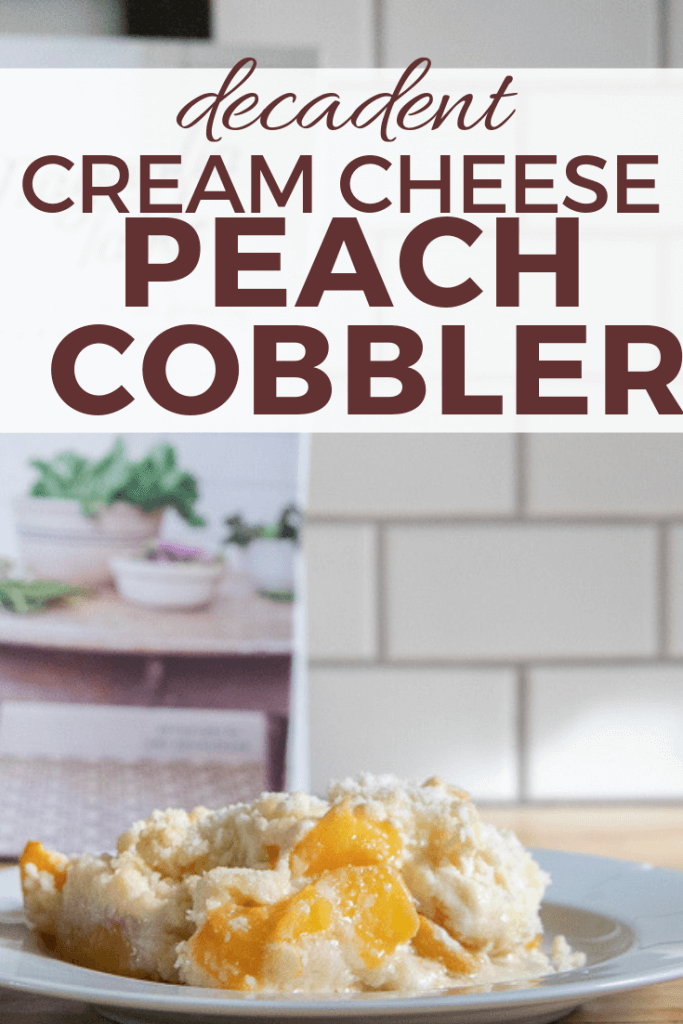 Make sure to check out these other yummy recipes!
Non-Alcoholic Strawberry Mojito Popsicles for Kids and Adults!
Roasted Peach Dessert with Cheesecake Mousse and Basil
Easy and Decadent Cheesecake Mousse Recipe
Edible Summer Tablescape Ideas
Grilled Chicken Souvlaki Skewers With Flatbread and Tzatziki Sauce
GET YOUR FREE GUIDE to 30 DIY projects that can be done over the weekend!
By subscribing, you will gain access to my FREE guide with 30 DIY projects that can each be done in a day, or over a weekend!
You will also receive a weekly email with some of my favorite tips, tricks, and design ideas.