Salt Dough Christmas Ornaments You Can Use for Anything!
I originally wanted to make salt dough ornaments for my Christmas tree, and then I decided I wanted to use them as a garland on my fireplace. This is one of the easiest crafts, but it can be tricky if you make a wrong move! Read along to see how I created my very own salt dough ornaments and how I turned them into Christmas garland.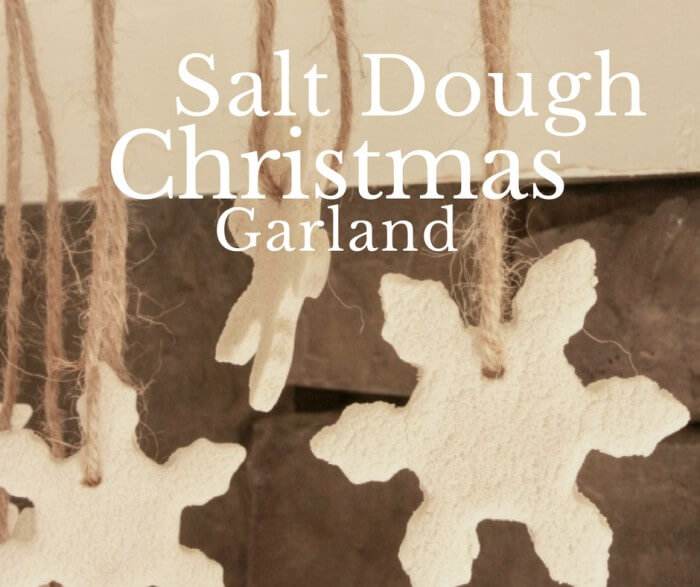 Are you ready to see how I made my very own salt dough Christmas ornaments and how I used them to make a cute Christmas garland? Well, keep on reading!
Hey there! Its been a whirlwind of a week here at Twelve On Main. I will be revealing my master bathroom remodel for the One Room Challenge tomorrow! I can't believe it.
I am also so very excited about today's post. I joined a whole slew of amazing bloggers for a handmade holiday bloghop. We wanted to show you real, simple and do-able projects that can be done this holiday season.
I decided to take on something I haven't worked with since I was a child. Salt Dough. We are going to make salt dough Christmas garland, using snowflake salt dough ornaments.
I decided I wanted to make these, since, I havn't ever done it. I wanted to try it out and show you that is certainly is do-able and actually it was really easy! The only time consuming thing about this project was waiting for the salt dough to dry. But, don't despair, I have a tip on how to get that process going a little faster.
Here is what you will need for salt dough ornaments:
*This post contains affiliate links for your convenience*
So, we start with the usual recipe for salt dough:
1 cup flour
1 cup salt
1/2 cup water
-Mix all these ingredients together. Take it out of the bowl and knead it on the counter for a bit. Make sure it is all mixed together.
Now, we roll out the salt dough. Make sure you have plenty of flour on the bottom, so when you use your cookie dough cutters, the dough doesn't stick to the counter.
Once they were all cut out, I set them on a pan on some wax paper, just to make sure they didn't stick to the pan.
I used a tooth pick to create a small hole in each snowflake. This is where I will feed the twine through to be able to hang them.
Then you wait. I found it best to let it air dry overnight. I rotated them every few hours to make sure both sides were drying evenly.
In the morning, they were almost completely dry.
This is when I put them in the oven. I turned on my oven at 150 degrees, or lower if your oven does. I'd try 100 degrees.
I also used the convection setting on my oven to move the air around.
After about two hours they were hard as a rock. Obviously not that durable though, you still have to be careful.
Once they were out of the oven, I fed a piece of twine through each of my snowflakes. I chose to only do snowflakes because I liked the simplicity of it, but you could really make this fun by adding other fun shapes.
Once they were fed through the salt dough ornaments, I tied each one to another long piece of twine. This is where the salt dough Christmas garland comes into play.
I actually draped the twine from one side of my mantel to the other and then tied them on as I went. I liked doing it this way because then you can see exactly where you want them to be.
I tied some shorter and some longer, just depending on how I wanted it to look. I wanted to have a staggered look.
By tying the salt dough ornaments the way I did, I can move them around still even though the are tied on. I took both ends of the twine from a snowflake and wrapped it around the garland piece of twine.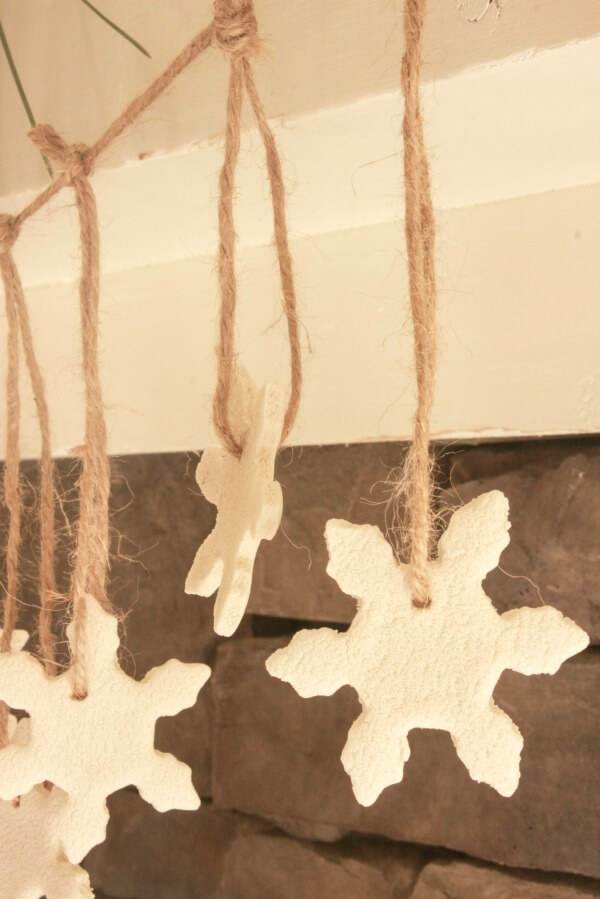 And that is it. I added some pine boughs to my mantel to add some simple Christmas decor.
Since I am not quite ready to go full out Christmas decor just yet, a simple addition like this can transition your fall decor to your winter decor. If you are one of those that like to wait until after Thanksgiving, this could still be a nice piece that is not specifically Christmas, but can be included as simple winter decor.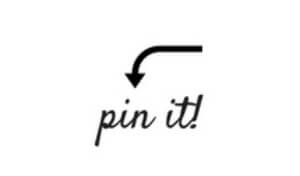 What do you think of my salt dough Christmas garland? I'd love to hear from you.
Now, are you ready for more fun? Check out this awesome giveaway that we are doing!
The giveaway is for 11 prizes of $50+ value each. We will be choosing 11 winners – each will receive one prize. Winners will be randomly drawn from all contest entries on November 14, 2016.
And make sure you check out all these other awesome handmade holiday decor ideas!
Have a great day! If you are looking for some other fun Christmas ideas check these out:
Farmhouse Christmas Dining Room
Woodland Themed Christmas Porch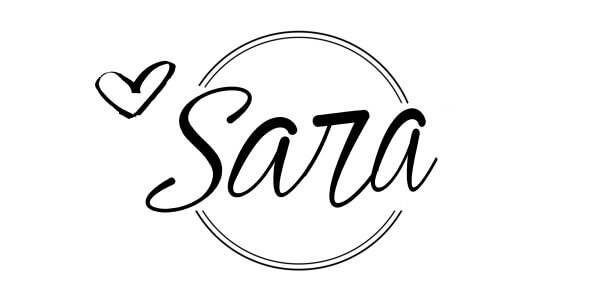 GET YOUR FREE GUIDE to 30 DIY projects that can be done over the weekend!
30 DIY Projects to do this weekend!