This shop has been compensated by Collective Bias, Inc. and its advertiser, MARS Incorporated. All opinions are mine alone. #PedigreeMoments #CollectiveBias
DIY Dog Leash and Treat Holder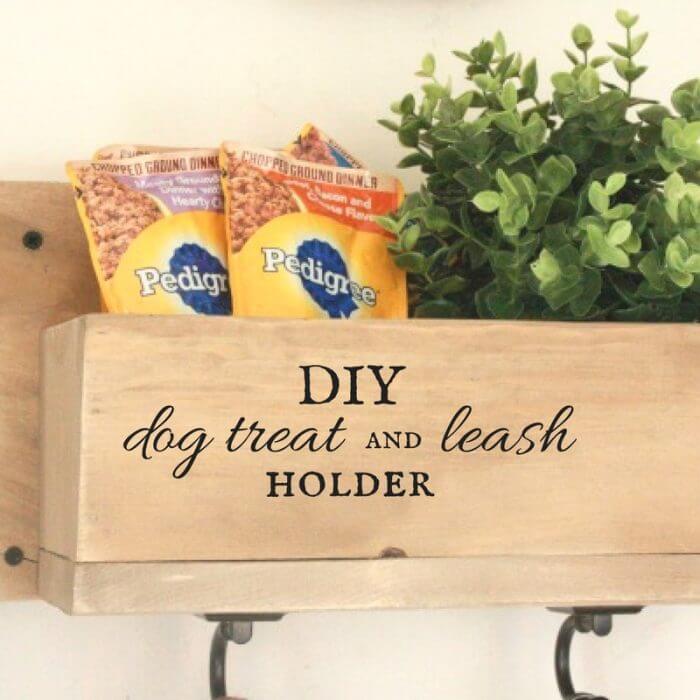 I love my dog, that is why I made this DIY dog leash and treat holder.
What I will do for our dog. I am really excited about my post today. I have 4 children…well I actually count 5. Bruin our 4 year old German Shepherd is like one of my children. We got him at 6 weeks old when my daughter was only 3 months old.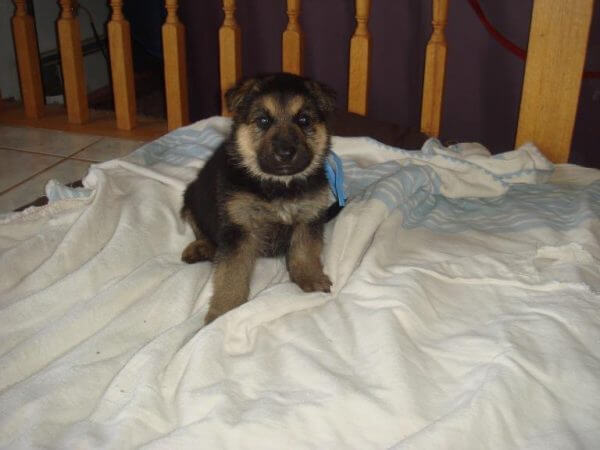 People thought I was crazy to get a puppy when my baby was so little. I knew better.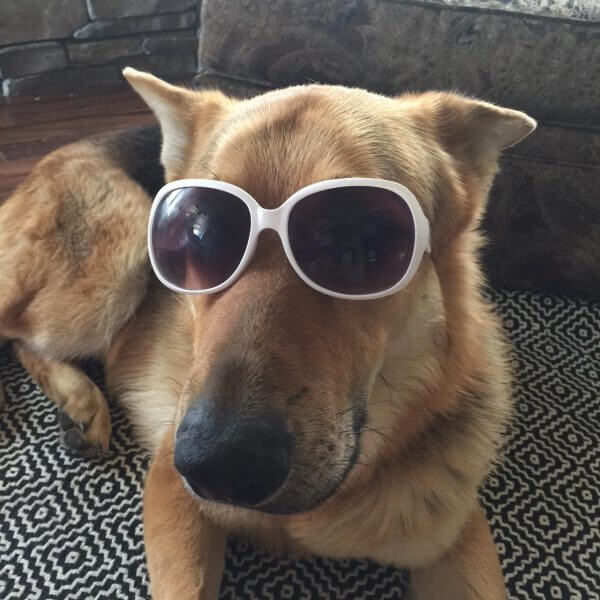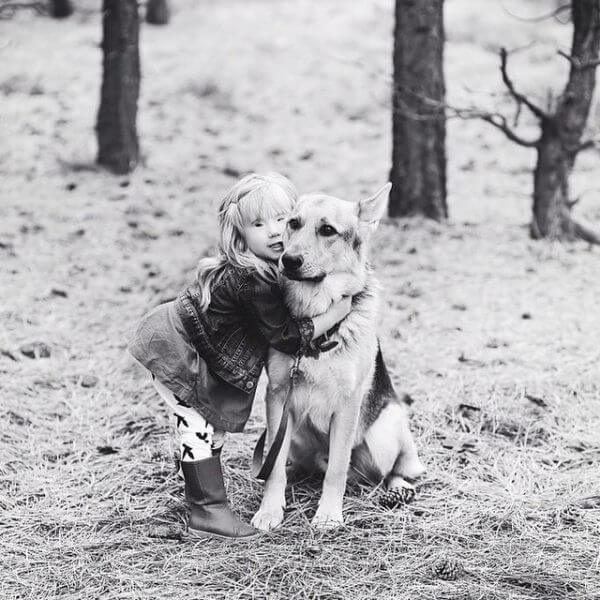 He was raised right along side my children, playing when it was time to play, and getting a scolding when he'd done wrong.
Over the past few years he has shown how valuable he can be. Last summer, our oldest had a seizure one night while falling asleep. I will only say this….it was bad, and it was scary. As we came into his room when we heard him seizing, Bruin was there, pacing in his room, and then came to stand by him. As we tried to help him while we waited for the paramedics, it became evident that Bruin was not going to leave his side.
He had always slept in our oldest sons room, so he knew him well. As the paramedics came, we had to tear Bruin away to even let them get to him.
I was surprised at his behavior. He had always shown his love to his pack, but I had never seen him in a situation as dire as this.
Even now, I feel so grateful to have him around, to know he is there, sleeping with my babies, making sure they are safe. He spends his days following them around from one pursuit to the next, thoroughly enjoying the company of his kids.
Because of what a great pup he has been, we love to reward him and treat him special. He loves to go for rides, and go running with me. The second he sees my running shoes or hears the clink of his collar and leash, he is in a frenzy.
And with life as crazy as ever here at Twelve On Main, its hard to keep things organized, in their right place, and on the ready, especially when it time to find Bruins leash. I swear, sometimes the leash monster comes and steals it.
I also have been looking at a more functional and stylish way to store his treats, so I came up with a really fun and easy DIY dog leash and treat holder. I was inspired by these PEDIGREE® Moments.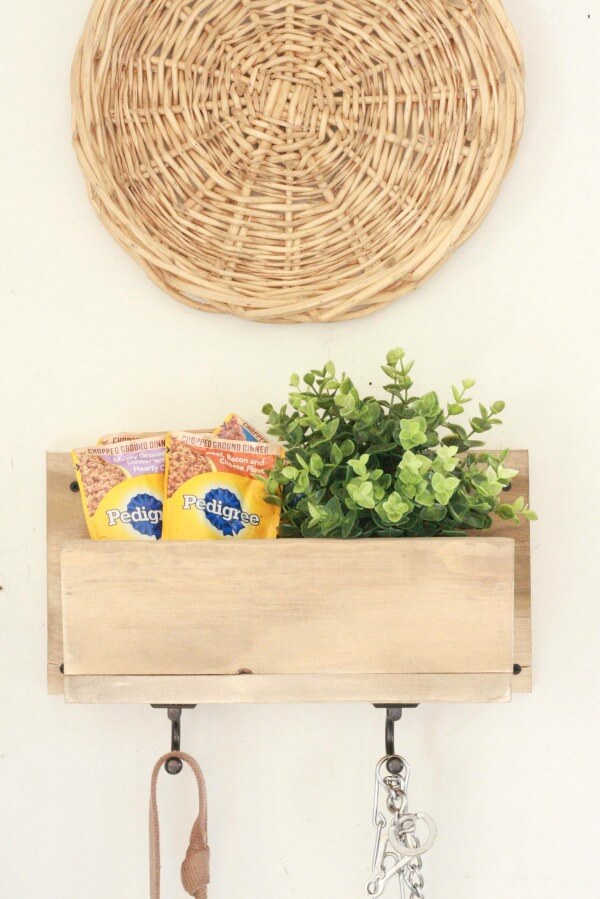 I needed it to be serve a few purposes:
hold leashes and collars
store dog treats and other feeding items
blend seamlessly into the decor of my home
Now, I will admit that my pup is a high maintenance eater. He only likes certain foods, and I have been known to spoil him with all sorts of treats. This has all created a difficult eater, that only really eats when he is starving. I had to find a way to make dinnertime more appetizing.
He loves his PEDIGREE® Dry Complete Nutrition Chicken dog food , but he deserves a treat just like the rest of us, and I wanted something convenient.
Then I came across these super cool and super convenient PEDIGREE® Pouches at Walmart! I have to tell you, these are so convenient. Treating and eating on the go just got a whole lot easier with PEDIGREE® Pouches. They come in assorted flavors including: Meaty Ground Dinner with Beef, Hearty Chicken/Beef, Bacon & Cheese.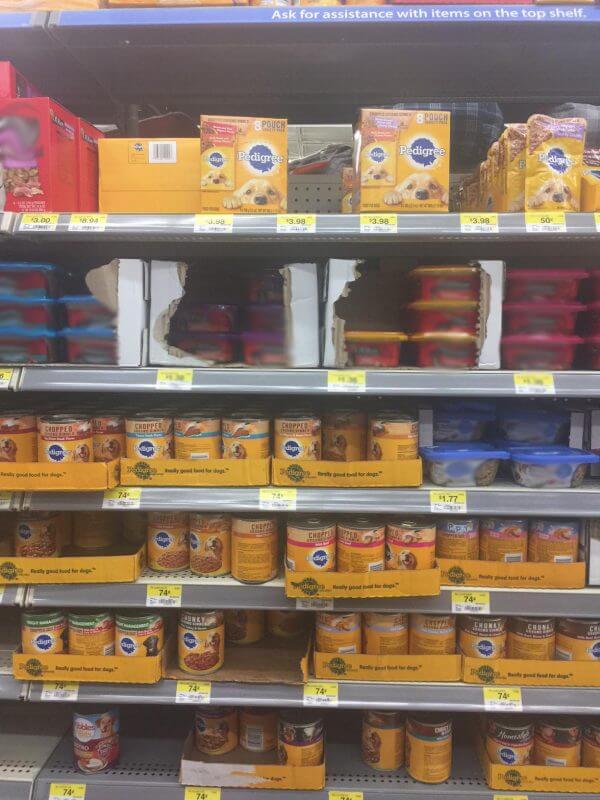 One small PEDIGREE® pouch is perfect as an add-in to Bruins dry food, and its also a fun treat to offer him throughout the day. No messy leftovers.
So I used these PEDIGREE® Pouches as inspiration for my DIY dog leash and treat holder. I wanted something that I could store these pouches, where my kids could grab them and feed him themselves. I wanted to be able to keep the space organized as well. Check out more PEDIGREE® Moments.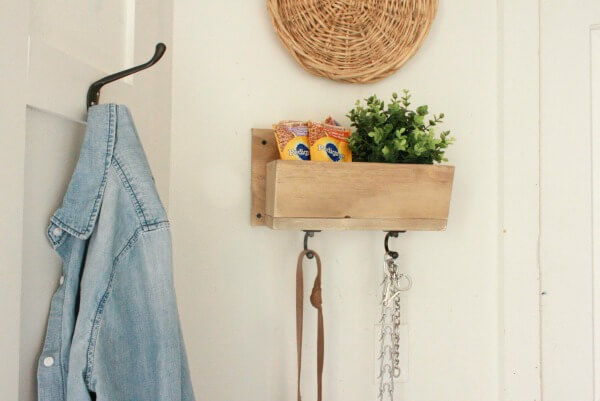 My DIY dog leash and treat holder is a really simple concept, but it is so perfect for what I needed it for. Plus, it fits in with the style of my home.
I started with:
1- 1 by 4 inch by 8 feet long
1- 1 by 7 1/2 inch 5 feet long
2 hooks ( whatever style you like)
I wanted the dog leash and treat holder to have somewhat of a mail cubby holder.
I started by building the "holder" part of the project. You will need:
2 pieces cut at 4 by 13 inches ( this will be the front and back)
3- 4 by 3 1/2 inch square pieces(these will be cut at an angle later) and this step can be omitted if you want to keep the cubby's square instead of tapered like I did.
1 piece cut at 4 1/2 by 13 inches
One of the 4 by 13 inch pieces will be mitered on both long sides at 15 degrees so that the top will be straight since it will be on an angle as well.
The bottom piece will also be cut on a 15 degree angle to line up with the front edge.
The three 4 by 3 1/2 inch pieces will be cut at a 15 degrees on the edge to create the taper. We cut them all together in one block to ensure that they were all the same.
Take the base and secure the back piece with finish nails. You can now add the small square pieces to back and bottom pieces. Secure them with nails as well.
Now you can add the front piece.
My Bruin is always there, even when I am working on a project:)
Now that the cubby is assembled, cut a piece of the 1 by 7 1/2 inch at 15 inches. This will be the back.
I used my DIY weathered wood stain to stain all the wood.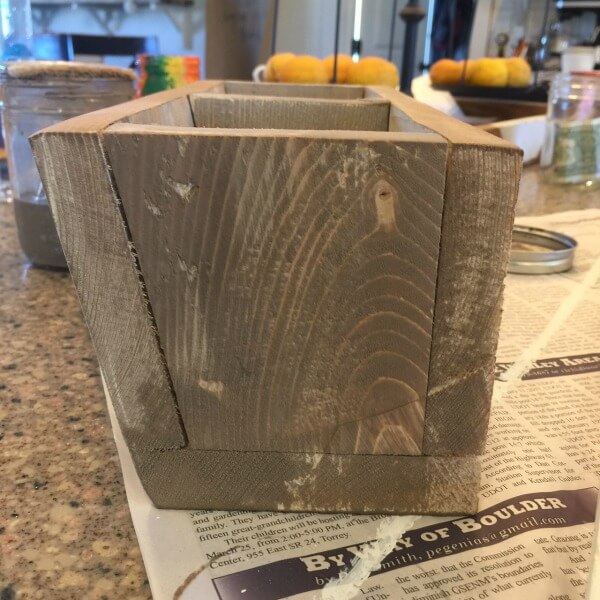 Now, take the cubby and center it on the larger piece of wood. I lined it up along the bottom as well.
I used screws to secure the two pieces together.
Next I took the hooks that I chose. I decided I wanted to hang them on the underside of the cubbys. I thought they looked better there, and they were functional.
Last is to hang it on the wall and fill it full of goodies for your pup!
These Pedigree Pouches fit perfectly in my DIY dog treat and leash holder.and I had to add some greenery just to give it a softer look.
As you can see, Bruin loves it mixed in with his food. These PEDIGREE® pouches are great. Great as a treat or a meal topper.
Can you tell that he's a fan? He's a quick learner.
Quality they deserve. Savings you'll love.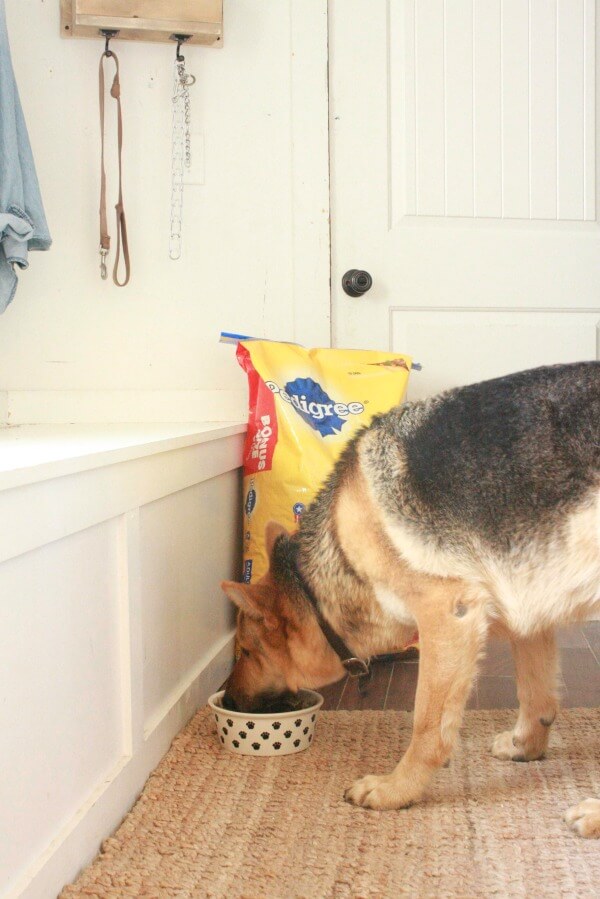 Feed the good.™
I hope you feel inspired to love your dog a little more, and treat them like they should. If you are looking for more inspiration, check out these PEDIGREE® Moments.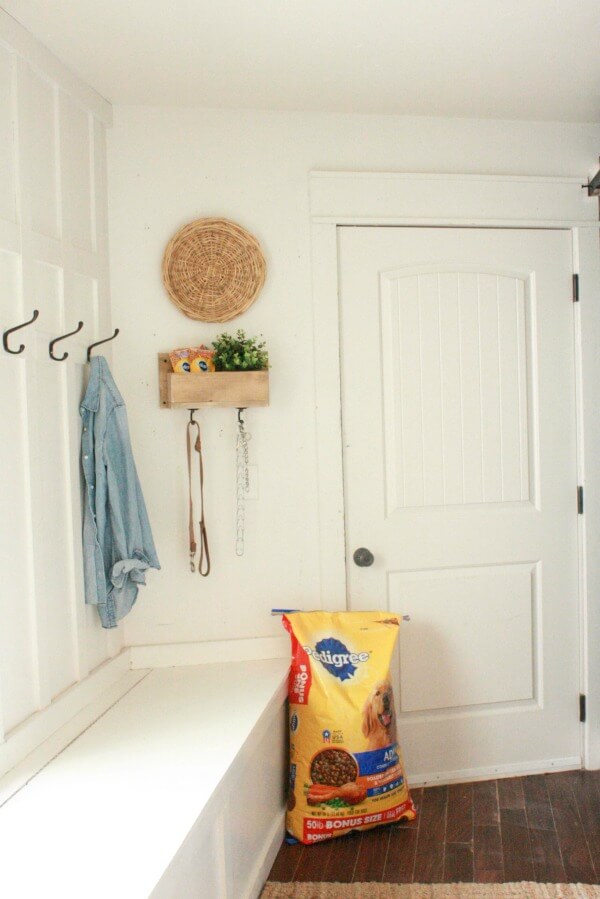 I hope you've enjoyed hearing about my pup. He really is a very important part of our life, and he deserves to be treated that way.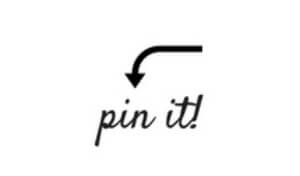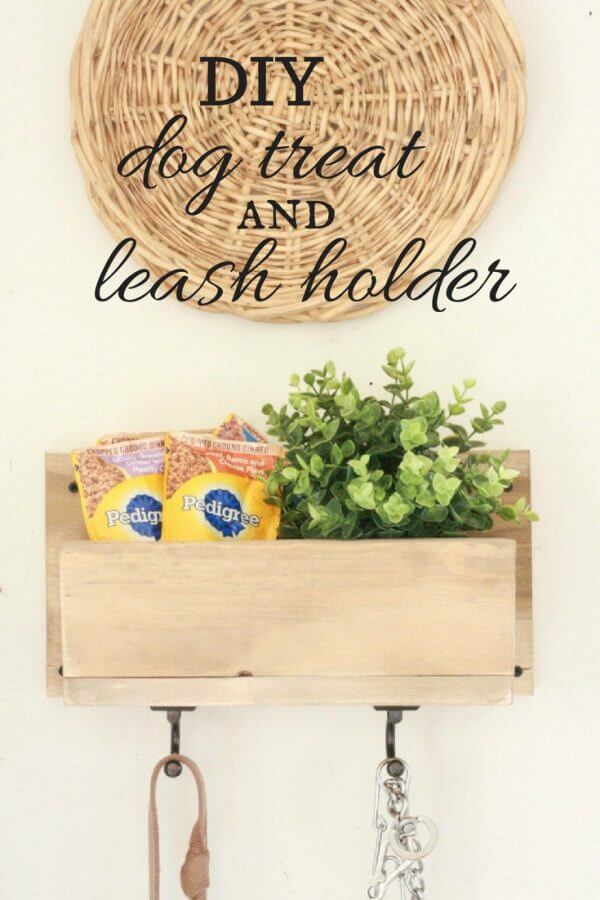 Have a great day!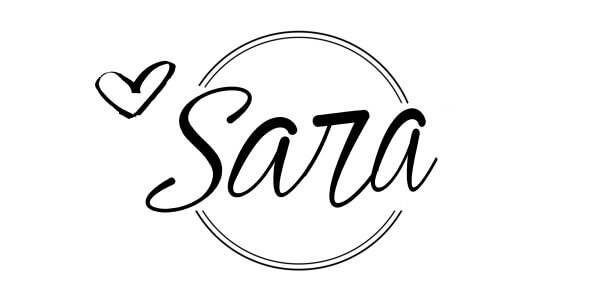 GET YOUR FREE GUIDE to 30 DIY projects that can be done over the weekend!
By subscribing, you will gain access to my FREE guide with 30 DIY projects that can each be done in a day, or over a weekend!
You will also receive a weekly email with some of my favorite tips, tricks, and design ideas.