Easy and Inexpensive Tabletop Tree Decor Hack
As the holiday season creeps up quickly, I am in work mode over here, furiously trying to get things done. I have projects to finish and rooms to decorate and complete. Honestly I think I take on a little too much when it comes to the holidays. I love having everything done before December hits so I can sit back and enjoy the time instead of stress. When it comes to decor, I have really tried to keep things simple, and I am always looking for unique ways to change up my decor. Something I love using in my decor are tabletop trees.
Whether you are decorating small spaces, or just want to add a mini Christmas tree to your homes holiday decor, there are tons of options out there and I want to share how to change them up with one simple item. Its one idea of a million, let me explain.
I love using small Christmas trees in my home, whether its for my coffee table, on some of my shelves, on my mantel, or in a centerpiece on my dining table. Tabletop trees are so versatile and can be used in so many great ways. Sometimes when you get these simple trees, they can look quite generic with their plastic bases. I always feel like they need a little dolling up. That is what I did to my most recent trees purchased from IKEA. While they are the cutest little trees, and the bases are actually pretty great, I wanted something a bit more organic.
I have seen a couple different applications online where people have used faux brown paper bags, or even fabric to conceal the ugly base of tabletop Christmas trees. One idea I had was to use some fabric stiffener and use it one some drop cloth to create a bag of sorts to wrap around the base of my miniature tree.
I ultimately decided to wait on that option because I came across some brown paper sacks I had sitting in my kitchen cabinet. I wondered if they would work for what I was looking for.
So, I decided to try them out. The first step was to open the brown paper sack. I wanted the bag to have a more worn look so I rolled the top down twice to create a hem at the top. I then put the small tabletop Christmas tree in the bag and adjusted it to where I wanted it to be. Next, I used my hands to smooth out the creases and add a couple wrinkles to give it a more worn look.
These were so easy to throw together and it made these faux trees look amazing. I love these trees I got from IKEA. I was so thrilled that they actually had some in stock, I was having a really hard time finding any, and my sweet friend found them for me!
If I have to use an artificial Christmas tree, I want it to look unique. I think that is what I love about the real ones. They are so unique and have so much character. Artificial trees are so convenient though and they can be super affordable so I like to use them as well.
More Tabletop Tree Ideas

Pink Tabletop Christmas Tree DIY // My 100 Year Old Home
Felt Tabletop Christmas Tree (DIY) // Happy Happy Nester
Cozy Tabletop Christmas Tree DIY // The Happy Housie
How to Make Scandinavean Felt Trees // Most Lovely Things

Vintage Ornament Tree // Modern Glam
Easy and Inexpensive Tabletop Tree Decor Hack // Twelve On Main
Vintage Inspired Nutcracker Tabletop Tree // Sincerely, Marie
Gingerbread Men Tabletop Tree // Tatertots & Jello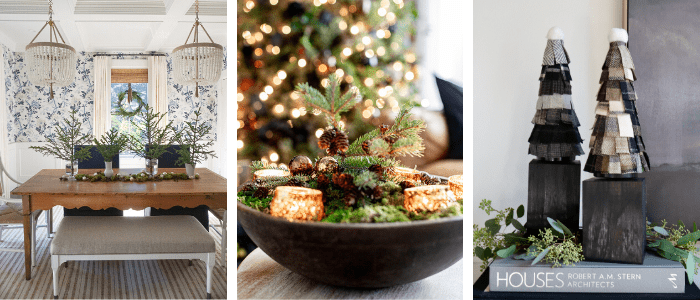 Tabletop Trees Inspired by the Forest // Finding Lovely
Natural Christmas Arrangement // Craftberry Bush
Scrap Fabric Tabletop Trees // My Sweet Savannah
GET YOUR FREE GUIDE to 30 DIY projects that can be done over the weekend!
30 DIY Projects to do this weekend!