Spring means flowers! Am I right? Gosh I cant wait for spring! Today I want to share some really fun posts with you. Today I am joining some of my favorite bloggers to bring you some flower arrangement ideas! I am sharing a fun spring flower arrangement using a cute basket I had hanging around my house. To see all the other great posts, make sure to scroll to the end to see them all! Believe me, they are gorgeous!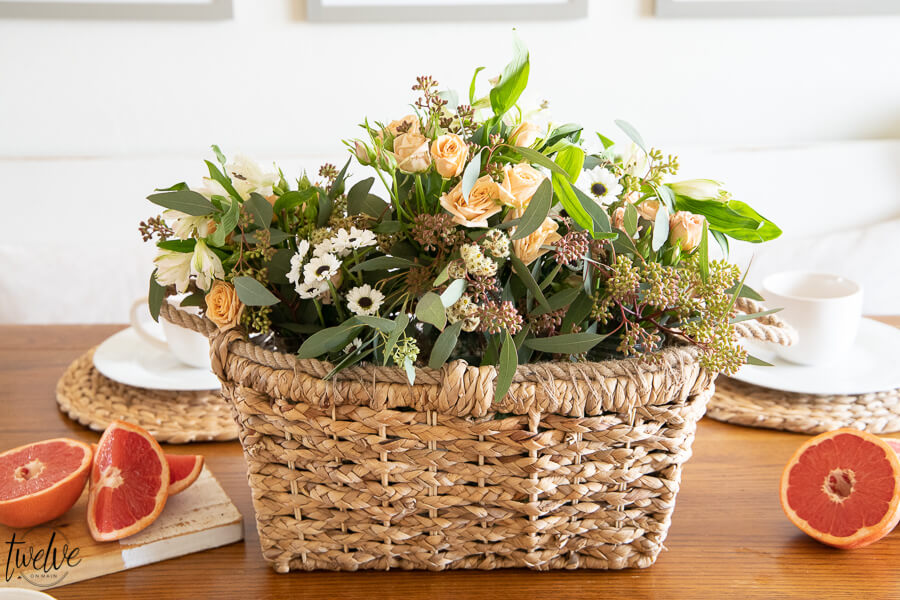 What I wanted to portray in this spring flower arrangement was the abundance of flowers we feel and imagine in the springtime. When in reality, where I live, I do not see flowers until well after spring. But, spring brings hoe and renewal, and a basket full of flowers. Gosh, that screams spring to me.
Funny thing though, its hard to find any fresh flowers in my area. Like, nowhere. Miraculously, however I was able to find a lady about 30 minutes away that had a small florist business. I was elated! I had stuck gold! Now, I have a great source for fresh flowers all year around.
You may wonder why this is such a big deal to me? Well, we live 1 and 1/2 hours from the nearest large grocery store. We have a small store in town that carries all the essentials, and during certain holidays, such as Valentines, they do carry small bouquets of flowers but thats about it.
I have to plan…like really plan if I want to create something using flowers. I have to make sure to be prepared and make the long trip to get what I need. It can get really overwhelming to do that, especially when its hard to come by certain things such as fresh flowers. And fresh flowers is what I wanted and needed. And guess what? I had not planned. I had not prepared in advance to get the flowers I needed.
So, finding a florist in the town 3o minutes away was the most exciting news of the year! I have been wanting to create a harvested type spring floral arrangement. Something that looked as if I spent some time in the spring time sun, picking and cutting flowers and filling a basket full of beautiful flowers. Then to lay them on the table as a simple, impromptu spring centerpiece.
And that is exactly what I did! I was able to get ahold of simple gorgeous tiny roses in a beige, peachy color. I also was able to get some seeded eucalyptus, and some tiny white daisies with black centers. The last thing I got was a simple lily of some kind(I wish I could remember).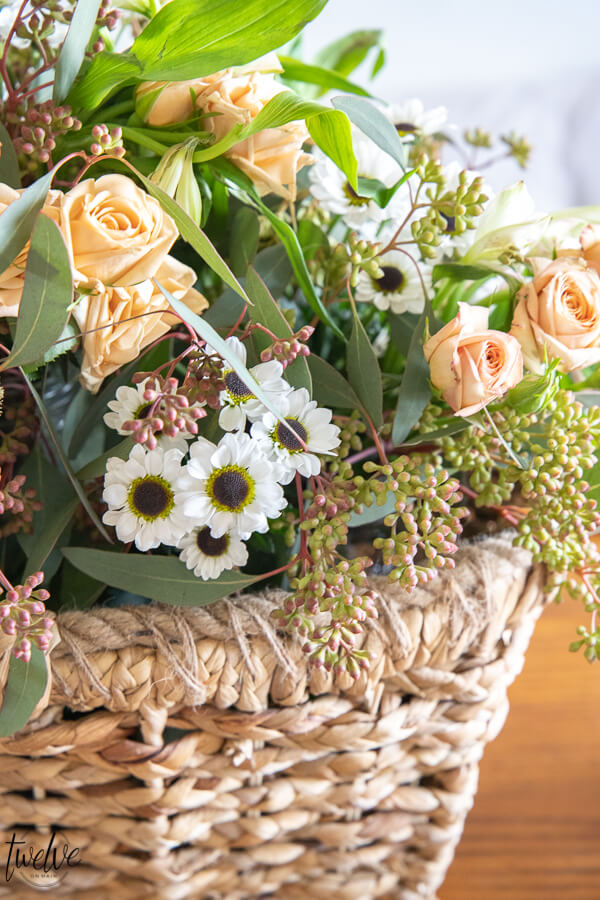 I am such a big fan of seeded eucalyptus, and I think its something you can use in floral arrangements all year around. And that is what I plan to do haha!
There are so many baskets in my house and that is what I decided to use for this spring floral centerpiece. I think for a table centerpiece, it was important to keep it lower and more compact, so I chose a lower basket that would hold the flowers nicely.
I took all the flowers out of their packaging and laid them out to assess what I had.
The way I gave this basket a full look was to create three different arrangements in three different mason jars. I has one larger one that would be the center.
This allowed me to have more control over the flowers once they were in the basket. Trying to arrange the flowers right in the basket would never stay put where you want them. Using smaller containers to hold the flowers is easier. You could also use floral blocks to secure the flowers, but for someone like me, I don't have access to those all the time.
So, I used mason jars. It worked out great!
A basket full of spring flowers.
I started with the small roses, and arranged them in the jars first.
Second, I added the lilies and then filled in the empty spaces with the seeded eucalyptus.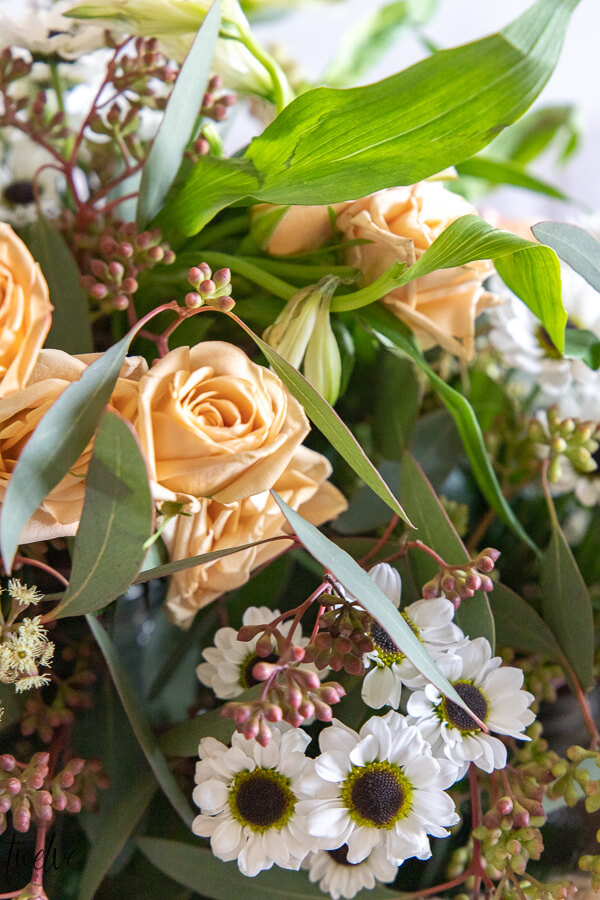 Third, I added the tiny white daisies, throwing them in alternately until I felt the jars were balanced.
I added the jars to the basket. I made sure the jars were lower than the basket so that you could not see them.
The appearance is a bountiful basket full of spring flowers.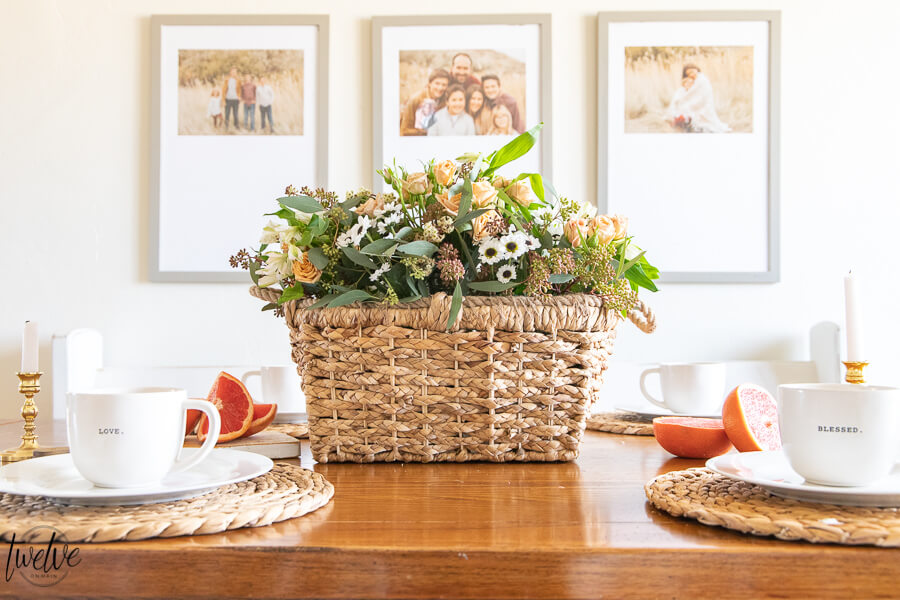 After I put the flowers in the basket, I arranged them as needed depending on if anything needed changing. I love the idea that I went outside in the warm spring sun and picked all these flowers. Isn't that a nice thought? Especially when it is still winter here. Haha.
I added some fresh cut grapefruits to the table, just to pull out more of that peach color in the flowers.
Plus, they are so fresh and the color is perfect for spring.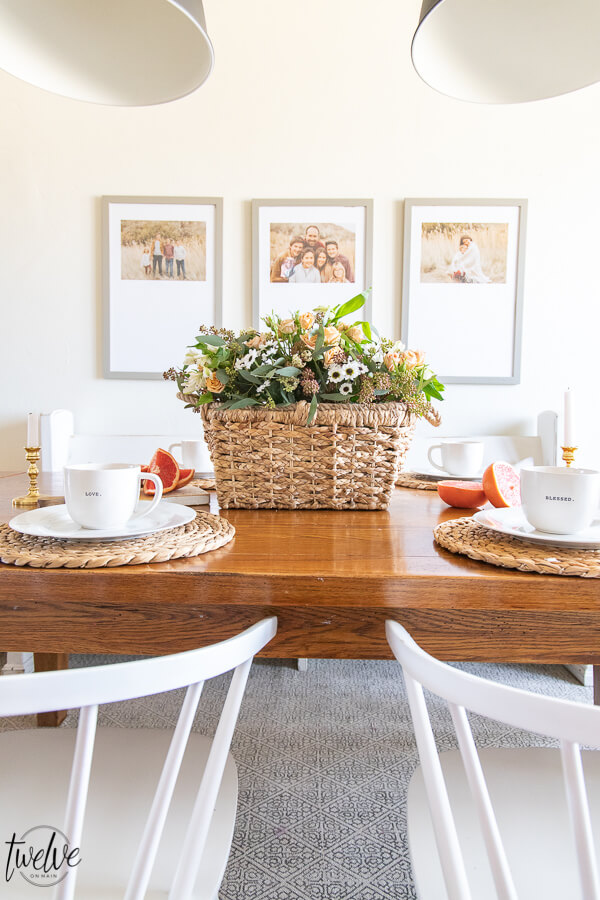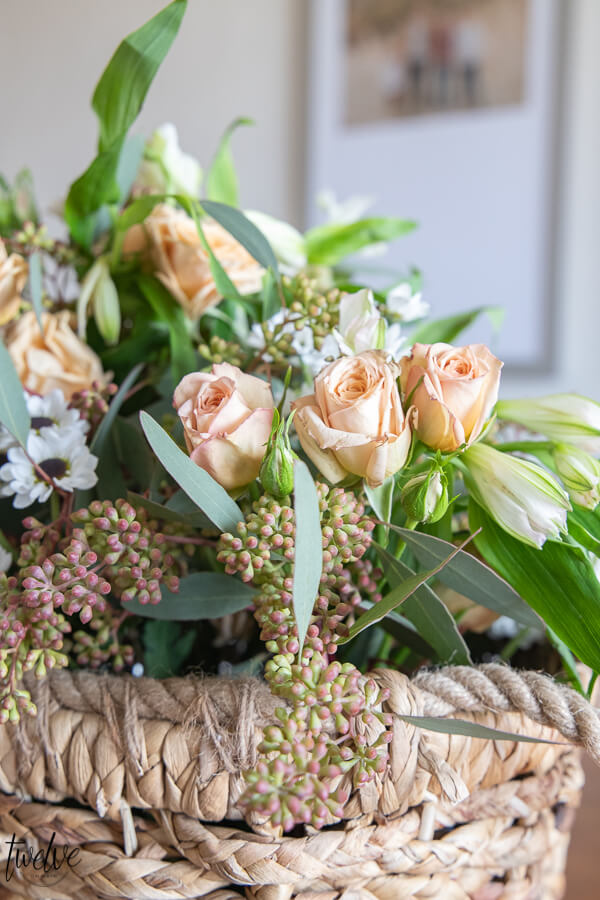 The blush on the seeded eucalyptus is so pretty! I love this stuff.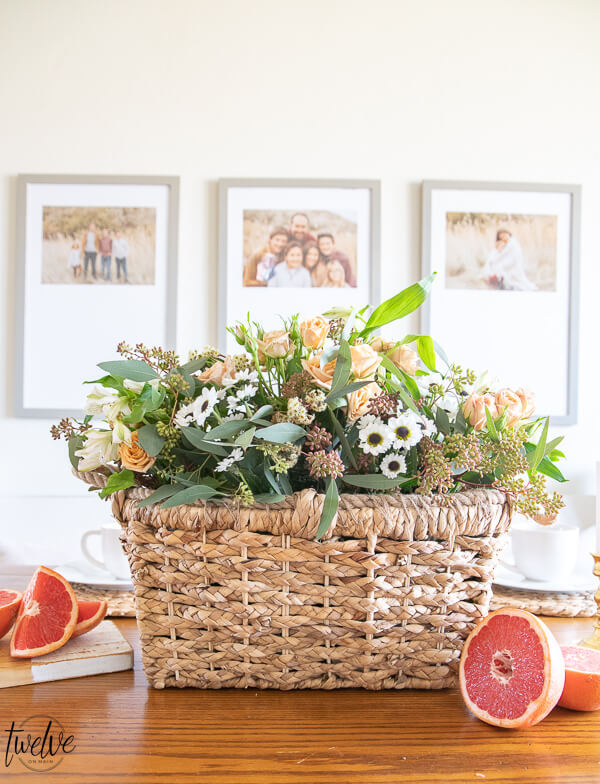 Now, make sure to check out all these other amazing spring floral arrangement ideas~
20 Beautiful Flower Arrangements
Click the links below each group of images to visit these inspiring ideas for spring!

Creative Flower Arrangement Ideas for Spring – Happy Happy Nester // How to Arrange Grocery Store Flowers – The DIY Mommy // Grocery Store Roses Spring Arrangement – Craftberry Bush // DIY Easy Tulip Arrangement – A Blue Nest

Spring Floral Arrangements – My 100 Year Old Home // A Flower Arrangement in a Vintage Find – Finding Lovely // Farmhouse Flower Arrangement – My Sweet Savannah // Simple Spring Tulip Floral Arrangement – Zevy Joy

DIY Faux Eucalyptus Garland – Modern Glam // Elegant Tulip Eucalyptus Floral Arrangement – Inspiration for Moms // Easy DIY Flower Arrangement – She Gave It A Go // DIY Color Block Vase – Lolly Jane

Easy Flower Styling Ideas – The Handmade Home // 8 Ways to Style a Big Vase with Faux Spring Florals – The Happy Housie // Spring Floral Table – Taryn Whiteaker // Moody Spring Floral Arrangement – Cassie Bustamante

Easy Spring Flower Arrangement – Twelve on Main // 5 Tips to Make Faux Flowers Look Real – Hallstrom Home // Spring Flower Arrangement – Jennifer Maune // 3 Ways to Style a Faux Flower Arrangement – The Tattered Pew

GET YOUR FREE GUIDE to 30 DIY projects that can be done over the weekend!
By subscribing, you will gain access to my FREE guide with 30 DIY projects that can each be done in a day, or over a weekend!
You will also receive a weekly email with some of my favorite tips, tricks, and design ideas.