Its time to add some spring to your home! I know, its still freezing cold here, and winter is not a memory yet! That is why its time to add some cheer to your home with a bright and springy wreath for spring! I get it, this time of year is hard. I feel like January and February are difficult months. I feel the pull of spring, yet its still so far off for us. Its the coldest months, full of snow, freezing winds, and miserable days. I really need something to brighten this time of year. That is why I wanted to create and share this blog post. I am sharing 18 gorgeous DIY wreaths for spring.
Something else that helps me in the dreary months of winter are having projects to do. I love working on projects. It gives me something to look forward to. And what a better way than to make a cute spring wreath or even a wreath for Easter! Its not too long before Easter makes its appearance, and I love to add a bit of brightness to my home.
I have found some really great wreaths for spring. These were each hand made and come with full tutorials. I love the diversity in them. Some are spring inspired wreaths and some are perfect wreaths for Easter with Easter eggs, bunnies and more!
Some of these wreaths are simple and can be kept through the year, even past spring! That is my favorite kind of home decor. Something that can work for more than one season or holiday.
But, don't get me wrong, I still love a cute Easter wreath. Some of these wreaths are so ingenious and also inexpensive! From materials such as yarn and plastic eggs to faux eucalyptus, cardboard, and fake flowers. These can be made exactly as they are, or take a bit of inspiration to make your very own! So lets have a look at these great wreaths.
Gorgeous wreaths for spring and Easter:
First I wanted to share a couple of my own wreaths for spring. I made this easy Eucalyptus wreath and you will not believe how easy it was to make! Also, its totally reusable and can be disassembled so easily!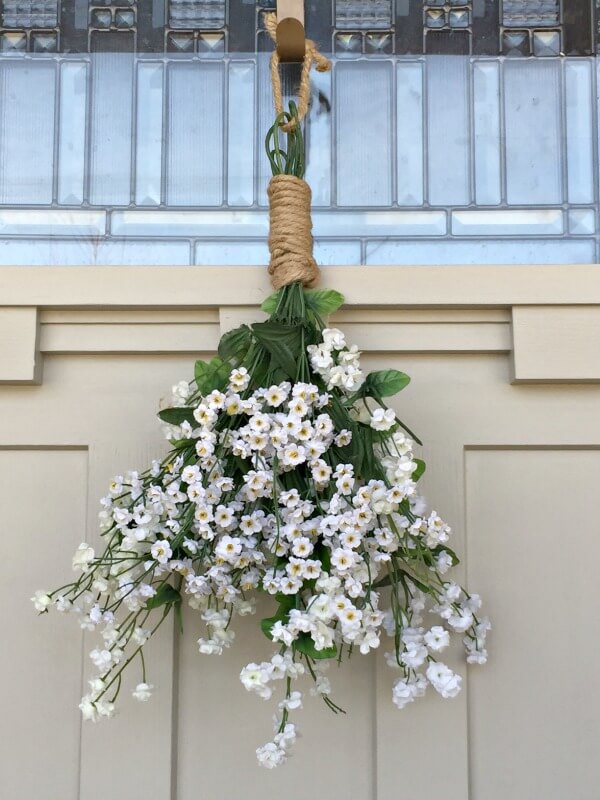 This wreath took me literally minutes to make! Check it out and make this unique swag wreath for spring.
The bright colors of this wreath by Houseful of Handmade is so perfect for spring! Love the touches of moss!
I love the colors of this spring wreath by DIY Beautify.
This embroidery hoop wreath by Girl in the Garage is so sweet! I love the fabric pieces hanging down!
Heres another great DIY wreath by Girl in the Garage! This easy rag wreath can be made in no time and you can customize it with any fabric choice!
This wagon wheel wreath by Lydi Out Loud is so pretty! The little watering can adds a cute springy touch along with the bright flowers. I love the combination of the wood wheel and the bright flowers. Perfect for spring!
Another great hoop wreath. If you are looking for a simple spring wreath this one by Lemon Thistle is perfect! I tend to lean towards simple spring touches and this one fits the bill. Check out the tutorial too!
I love Eucalyptus its true! This wreath by Inspiration for Moms is gorgeous with some simple white flowers added to it!
Who doesn't love tulips for spring! I can't imagine anyone not finding this appealing for spring. I love this wreath by The How to Mom.
Another great hoop wreath! These things are so popular right now! Check this one out made by Hello Central Avenue
Artsy Chicks Rule knocked it out of the park with this colorful spring wreath! Check out the full tutorial to se how she made it!
Looking the a fun wreath for Easter? Check out this cute Bunny wreath by Simplicity in the South. It is made with faux boxwood and is just the perfect Easter decoration!
Okay so maybe you need another wreath for Easter? Check out this Easter Egg Wreath by Where the Smiles Have Been.
How about one more? This Easter Bunny Wreath is soooo cute! Another great wreath by Where the Smiles Have Been.
Another great embroidery hoop wreath by Virginia Sweet Pea! These are some of my favorites!
And last, this gorgeous hula hoop wreath by Living Letter Home!
I love the sweet colors of the flowers and the gold painted hula hoop. I never would have thought of this!
I hope these spring wreaths give you some inspiration and help you feel a bit brighter during those dark winter times. Lets get excited for the spring. Warm those temperatures up, dream of sun shining, and flowers growing. Thats what is getting me through these next couple months.
Have a great day
xx
Sara
Check out these other great posts!
Handmade Watercolor Olive Branch Spring Printables!
FREE Spring Inspired Hand Painted Watercolor Plant Printables
Minimal Spring Decor Ideas That Last
Spring Inspired Bagel and Brunch Charcuterie Board
Laid Back Spring Tablescape and Entertaining Tips
GET YOUR FREE GUIDE to 30 DIY projects that can be done over the weekend!
By subscribing, you will gain access to my FREE guide with 30 DIY projects that can each be done in a day, or over a weekend!
You will also receive a weekly email with some of my favorite tips, tricks, and design ideas.