Wow I can't believe its getting close to Christmas. This month has just flown by….I guess its only the 5th of December but man, I already feel like the month is flying by! This year, I have been so excited about all the fun Christmas posts that have been shared lately and today I want to share a fun post on great ideas for Charcuterie board for the holidays. Today, I have linked up with some of my favorite bloggers and you can see all their posts at the end of this one!
First off, what is this Charcuterie(pronounced [shar-koo-tuh–ree] )board I speak of?
Charcuterie is the art of preparing cured or smoked meats. A charcuterie board is basically how you are presenting those meats with cheeses and other accompaniments. I guess you could call it a plate of meat and cheese…but how fancy is that? I think we will stick to its first name.
Now, the great thing about creating a charcuterie board is that you can make it however you want! Pick your cheeses, meats, breads and crackers. Maybe add veggies, fruits, simple treats. Make a dessert board, or a hot chocolate board! The options are endless.
It's no secret that we love charcuterie boards in our house. I am often begged to make up one for our dinner. I am often happy to oblige. There are so many great ways to create charcuterie boards, and depending on the season, you can really make it an event and theme it accordingly.
We had so many over the summer. (You can see our summertime charcuterie board ideas here) We would sit outside and eat it out in our yard on our picnic table in the shade of our giant cottonwood tree. It became a Sunday tradition of sorts. So, as it nears the holidays, I wanted to create some ideas for charcuterie board options for the holidays.
It's so easy to create a board that brings in all the things I love about the holiday season. Earth tones, yummy ingredients, deep plum colored fruits, rustic meats and cheeses. You really can create a wonderful setting. And that is what I try to do whenever I thin of ideas for charcuterie board options. If I am going to create a winter themed board, I am going all in. So let's talk about how I created mine.
I wanted to make this one a bit more fun with some treats mixed in with the rest of the yummy additions. One thing we always start with are some meat and cheese options. We almost always have some salami and summer sausage. They are my kids absolute favorite. We also try to add prosciutto or ham if we can find it. In our small town, it's sometimes hard to come by.
Our kids most favorite feature is the goat cheese. My sister introduced me to this last year at Thanksgiving and its is so so so good. Its quite simple to make. You need one goat cheese log, some lemon fig jam(you can actually get this at Walmart), some chopped dried figs, and some chopped pistachios. It is divine!
It is wonderful on any kind of crackers. We love the melba toast crackers, and the Toasteds crackers.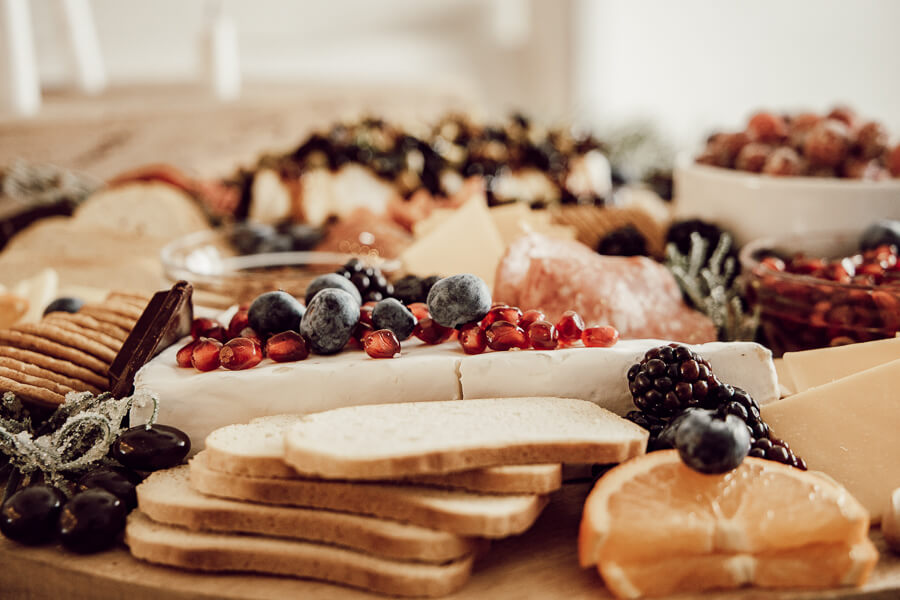 In addition to my meats, cheeses, and crackers, I wanted to add some winter fruits as well as some treats. One thing my kids are obsessed with are sugared cranberries! Oh my gosh, my daughter cannot get enough of them. So this was an obvious choice for its holiday feel and the yumminess of them. You can see how to make sugared cranberries here!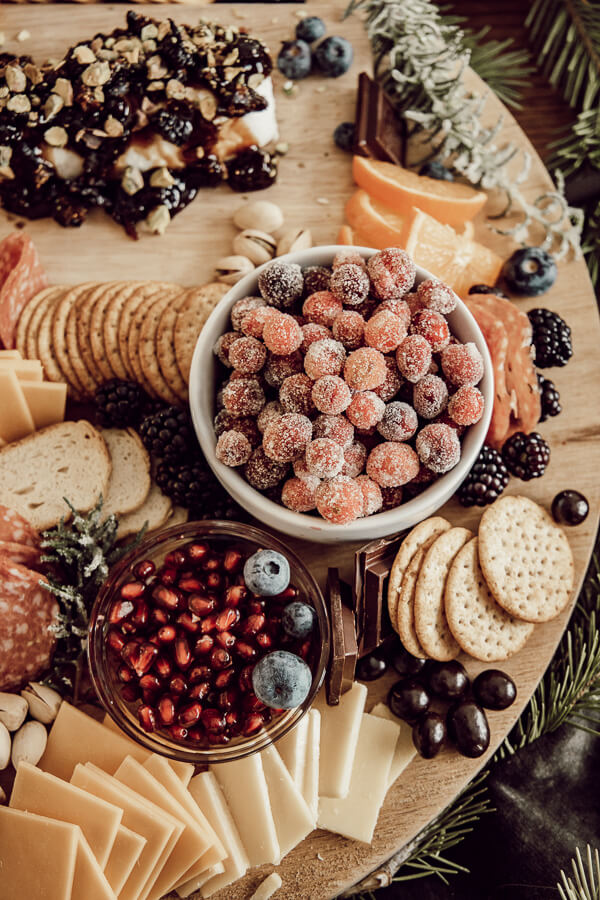 I also added pomegranates, blueberries, and sliced oranges. So yummy and refreshing with the meats and cheeses.
We added a slice of Brie with some pomegranates added to the top. A drizzle of honey and you have another great combination.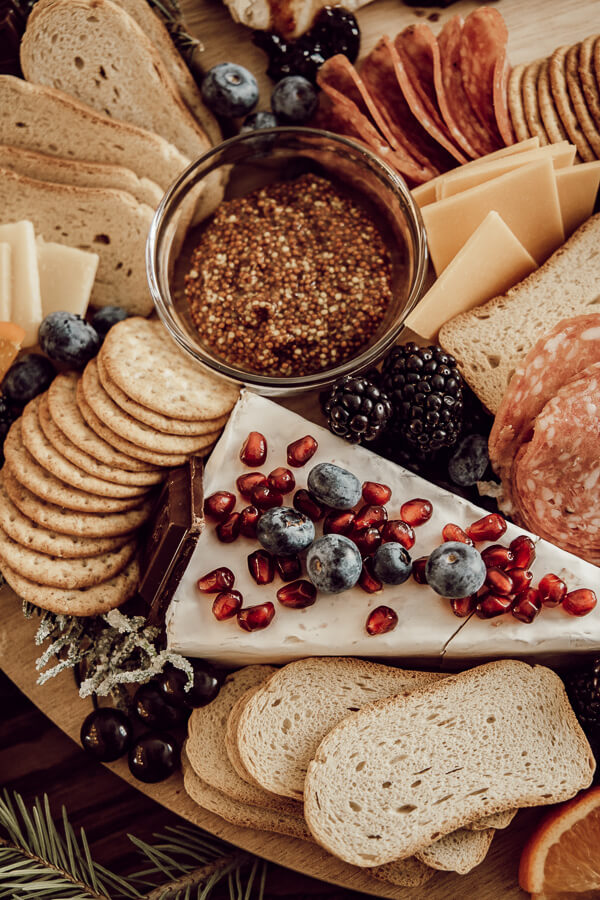 One of my kids favorite sweet treats are the Brookside dark chocolate acai treats, so I added some of them to the plate as well.
I wanted this charcuterie board to be a combination of everything you could want to eat and be satisfied. My goal is to create something so that the entire family can gather around and stay a the table, eating, talking, and just enjoying each other.
Here are my tips for arranging and organizing a charcuterie board that is functional and beautiful.
First, I like to lay out all the items I want to use. I will start by adding the small bowls (if I have any) that may be filled with toppings or some other treat. On mine, I has some different fruits and some mustard as well.
Second, I like to start laying out the crackers. I space them out, trying to balance the board by putting them in random places.
Next, I will take the cheeses and space them out around the board, nestling some with the crackers and if I have something like a goat cheese log with a topping I will actually place that on a smaller board and layer it on top of the bigger board. This allows it to keep the more messy bits a bit more separate.
Fourth, I will start to add my fruits. I want to make sure I keep my fruits away from my crackers so they don't add moisture to them. Even if they have been dried and cleaned, they still have moisture in them. It really depends on the fruit. For the orange slices, I for sure keep them away from the crackers or breads. I like to nestle the fruits and nuts in the small spaces that haven't been filled with any of the previous items.
Last, I like to take some sweets and sneak them into some of the hidden spots as well. I also like to add a bit of garnish. For this board, I added sugared rosemary as a pretty decoration. I made it the same as my sugared cranberries.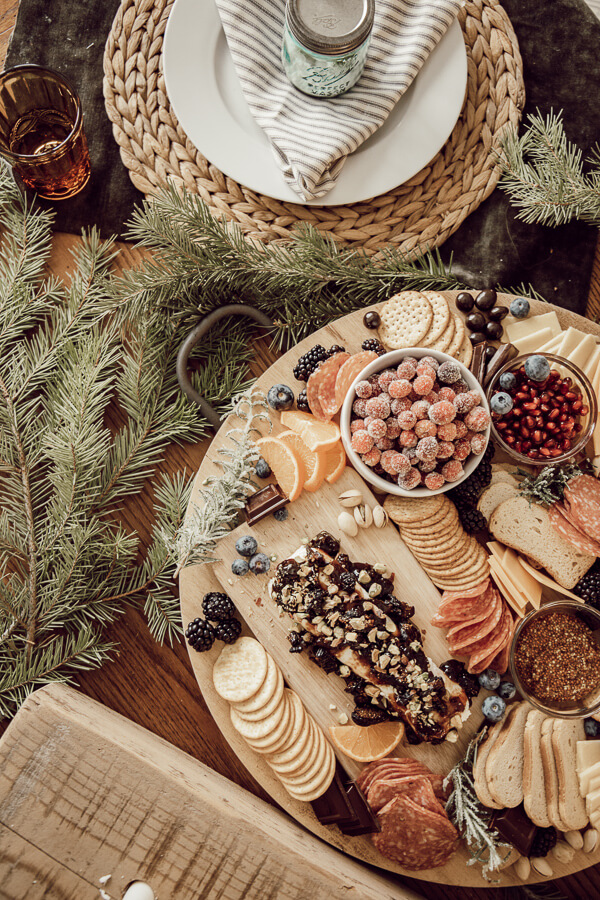 The end result is a delicious board full of flavor, texture, and all manner of yumminess.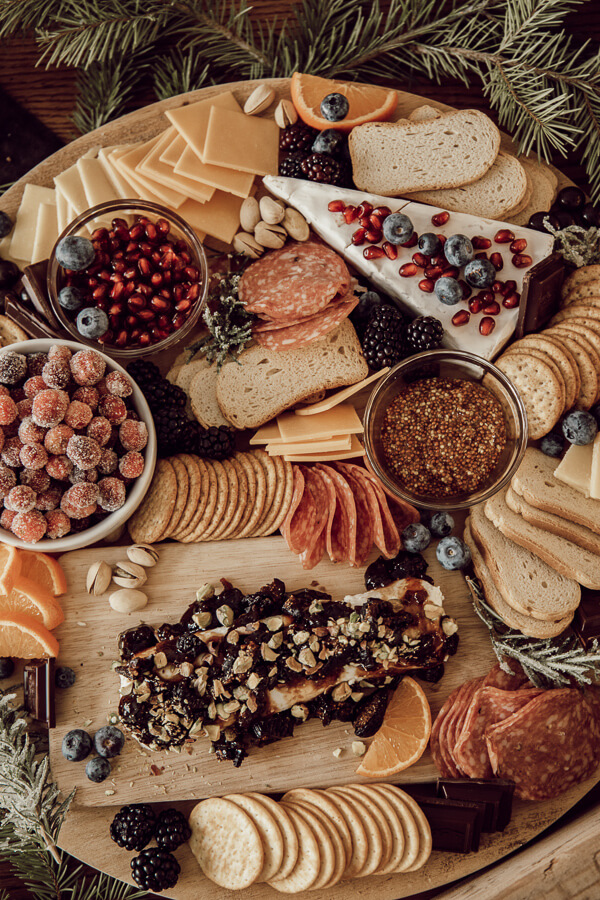 C'mon, try one out this holiday season. These are the funnest way to create a family dinner, use at a holiday party, or just to have as an intimate treat for two.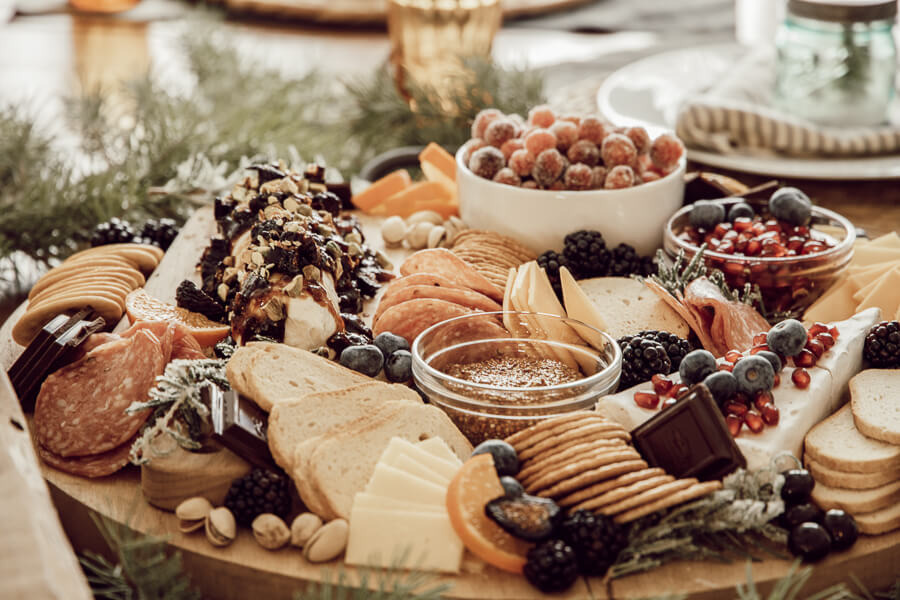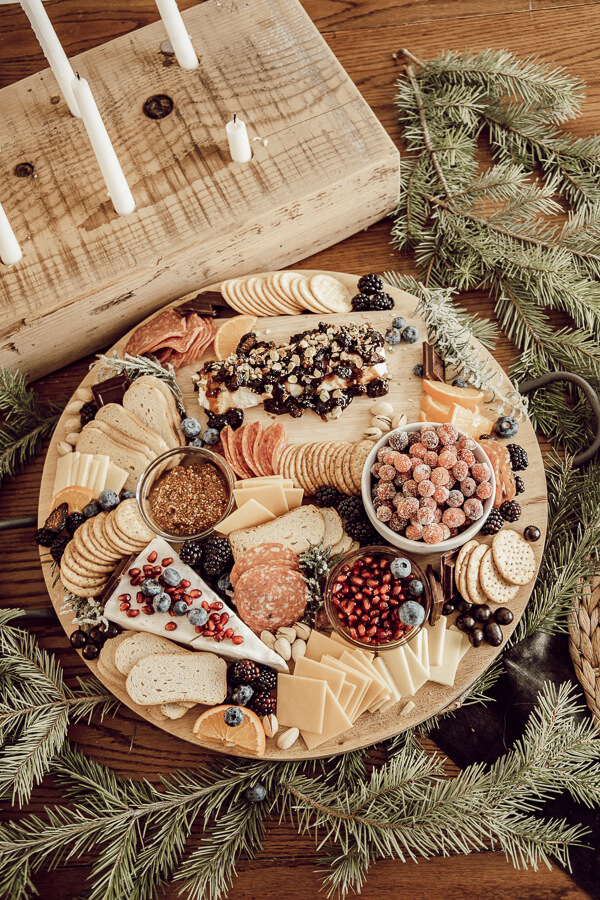 Now, I want to share more! I have linked up with some of my favorite bloggers to bring their ideas for charcuterie board options. Whether its savory or sweet, there are some very fun ideas!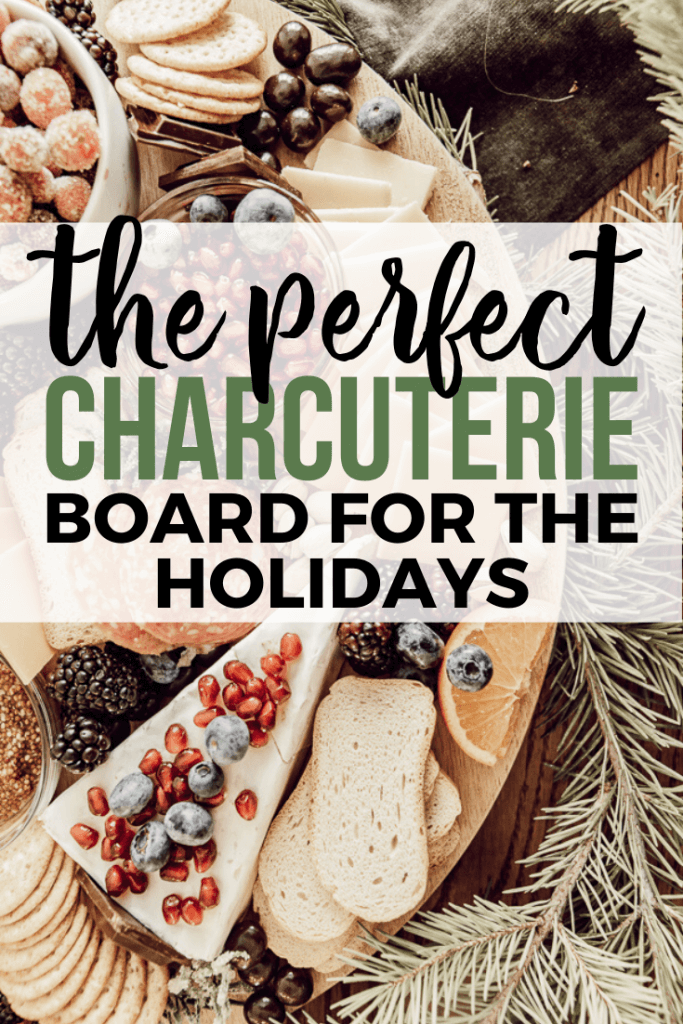 More Charcuterie board tips and tricks

Christmas Dessert from Happy Happy Nester // Red & Green Christmas Charcuterie Board from The DIY Mommy // Cookie Chocolate Dessert Charcuterie Board from Inspiration for Moms // Sweet and Savory Charcuterie Board from The Handmade Home

Christmas Cookie Dessert Board from Modern Glam // Gluten Free Dessert Charcuterie Board from Taryn Whiteaker // Charcuterie Board for the Holidays from Twelve on Main // Hot Chocolate Dessert Board from Jenna Kate at Home

Hot Cocoa Charcuterie Board from Hallstrom Home // Kid Friendly Charcuterie Board from She Gave It A Go // Classic Charcuterie Board from The Happy Housie // Holiday Charcuterie Board from Jennifer Maune
Check these great posts out too!
Edible Summer Tablescape Ideas
My Cozy Hygge and Scandinavian Inspired Christmas Table Decor
My Simple and Cozy Christmas Decor in the Dining Room
Easy to Make Mason Jar Christmas Scenes
How to Use a Chalkboard In So Many Different Ways
GET YOUR FREE GUIDE to 30 DIY projects that can be done over the weekend!
By subscribing, you will gain access to my FREE guide with 30 DIY projects that can each be done in a day, or over a weekend!
You will also receive a weekly email with some of my favorite tips, tricks, and design ideas.