Hey friends~ Its finally warming up here in Southern Utah and I am so excited. I have been dying to get outside and be able to spend more time there. I also have been waiting quite impatiently to ready my outdoor living space when the warm weather finally hits.
Now, if you live somewhere that does not have rough winters like us, maybe you are able to use your patio all year around. We cannot. During the winter our back patio turns into a staging area for our firewood, winter boots, and other winter accessories.
When fall is wrapping up and winter is approaching we store our outdoor furniture in our tree house, which does not get used in the winter either, so it works out well. The treehouse is about 10 by 10 and makes a great storage area for our patio couch, cushions and rugs. I am always sad to see them get stored away and thrilled when it is time to get them out.
I want to share with you how I ready my outdoor living space when it is finally warm enough to do so.
First, we do a deep clean, essentially throwing things away that might have been left out or trash that might have blown through with the wind. We clean up all the random items that might be out.
We then take everything off the porch, EVERYTHING. The goal is to give the exterior a deep clean, and this can be accomplished by using a pressure washer. You can purchase super affordable pressure washers, which can be used all over the house, on cars, and more!
We use ours all the time. Ours is a Greenworks electric pressure washer and I have loved it far more than my previous gas pressure washer.
Using a pressure washer to ready your outdoor living space is the first thing you should do prior to setting up your furniture or other outdoor decor.
I start by washing the walls and windows first. You will not believe how much dirt accumulates on your home exterior. I start spraying the top and work down.
Once the walls are washed, I then work from the inside out, getting corners and under door thresholds. I then continue spraying until I get everything off the porch or patio. Pressure washing is a very satisfying form of cleaning. I love using my pressure washer. I also use it to clean my outdoor furniture.
Often, outdoor upholstered furniture is made using special fabrics that repel stains and water. I have found that using a pressure washer is an easy way to get dirt and stains out of fabric.
,I spray all my cushions and pillows, as well as frames, chairs and tables. Everything seems to get dirty and yucky over the winter.
WATCH MY MOST RECENT VIDEO, FULL OF FARM FUN AND OUTDOOR LIVING SPACE IDEAS!
Once everything is sprayed off, and your furniture is dry, its time to arrange your furniture. Even if you have simple camp chairs or folding chairs, creating a space that you can actually spend some time in is so very important to me.
I love giving my porch a refresh for spring. Its the best way to scrub off those long winter months.
We love hanging vintage outdoor light strands as a way to add sparkle at night.
Everything is clean, and has been maintained so that we can enjoy it for another year.
Other things I would recommend doing too refresh your outdoor living space:
Add a sealer to wood furniture including tables and chairs
Use a fabric protector on fabric that is not an outdoor fabric
Wash outdoor rugs with a pressure washer
Fix any broken items or update items including lights, patio flooring, and siding
Wash windows to give them a sparkling clean look
Add planters with herbs and flowers to add brightness and greenery to the area. This is an inexpensive way to bring a lot of color.
Want more great patio decor ideas? Check these out below! I have joined some of my favorite bloggers to bring you some amazing porch and patio ideas and how to update your outdoor space.
10 Gorgeous Patio Decor Ideas

How To Create An Outdoor Living Space // Modern Glam
Simple Garden Flower Arrangement // Happy Happy Nester
How to Ready Your Porch for Spring // Twelve On Main
Hanging Basket DIY // Finding Lovely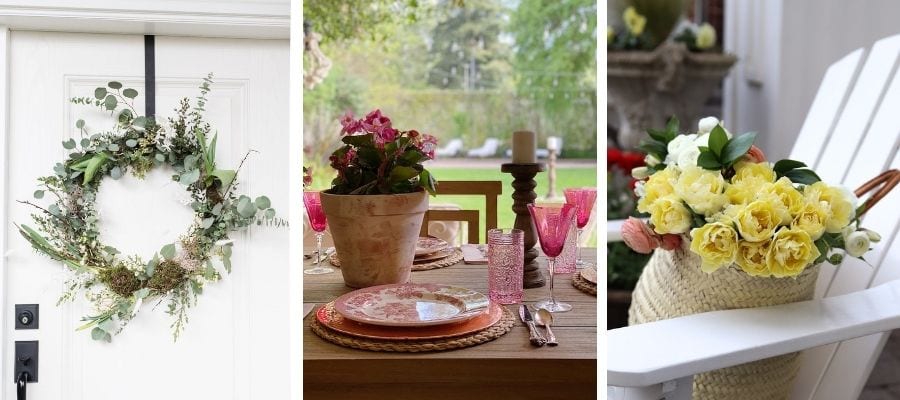 How to Refresh Your Front Door for Spring // Life Is Better At Home
How to Decorate Your Back Porch for Spring // My 100 Year Old Home
10+ Inspiring Front Porch Decorating Ideas // Lemon Grove Lane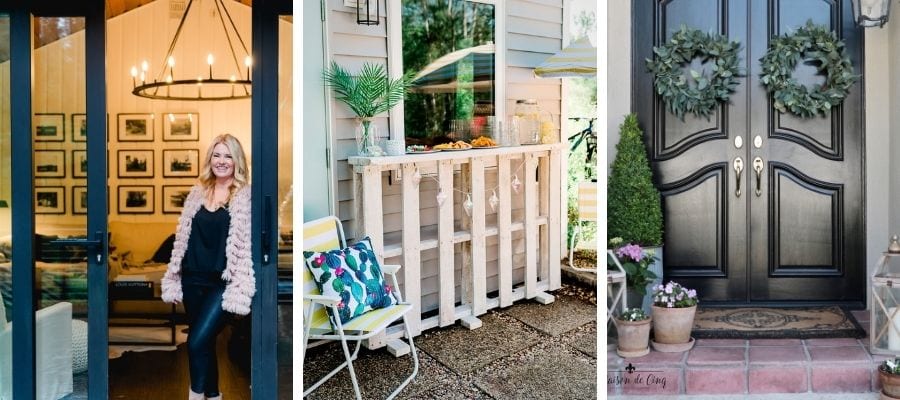 How I Decorate Our Deck For Function and Beauty // My Sweet Savannah
How to Build an Easy DIY Pallet Bar // The DIY Mommy
How to Decorate a Spring Front Porch // Maison De Cinq
GET YOUR FREE GUIDE to 30 DIY projects that can be done over the weekend!
By subscribing, you will gain access to my FREE guide with 30 DIY projects that can each be done in a day, or over a weekend!
You will also receive a weekly email with some of my favorite tips, tricks, and design ideas.