My life has taken a huge turn as of about a month ago. After many months of feeling off, battling fatigue and digestive issues, I was finally given some answers and I have been put on a very special diet, a LOW FODMAP diet. Have you heard of it? I never had! What it has done for my life too far has been pretty amazing. The drawback has been that it is quite restrictive and I have worked really hard to create recipes and meals that I can eat within my parameters. These light and fluffy banana oatmeal pancakes might not seem like the ultimate Christmas brunch recipe, but they are amazing, taste like banana bread, and give us people with weird restrictions something amazing to eat.
Today I am sharing this recipe along with some of my very favorite bloggers, all sharing a tasty Christmas brunch recipe. Since I am working really hard to change my eating lifestyle, I wanted to include a recipe of something that I can eat, and others that may be in the same boat.
These banana oatmeal low FODMAP pancakes are the perfect go-to for someone that might be limited in dairy, gluten, and many other things. The low FODMAP diet is very different from a simple. food elimination diet, because you can still have some types of dairy, your fruits and vegetables are limited, you cannot have anything with high fructose corn syrup, as well as many other unusual rules.
These oatmeal banana pancakes fit the bill though!
LOW FODMAP PANCAKES FOR THE WIN!
Throughout the holidays, I have needed to be creative and adjust many recipes in order to make it something that I can eat. Thanksgiving was quite the experiment. These low fodmap pancakes were done of the only things that saved me.
If you are planning a family brunch or a celebratory get together for the holidays these pancakes are a perfect addition, especially if you or someone you know has a special diet. It would be so very thoughtful to include something that they can eat as well.
Not only are these perfect for someone on a gluten, dairy, or low fodmap diet, they are so good everyone will like them. My kid actually ask me to make these instead of regular pancakes. These really are that good!
This oatmeal banana pancake recipe is for 3-4 4 inch pancakes. You can easily double or triple this recipe. I often triple it for the family and add 3 eggs and 1-2 egg whites instead of all three.
Light and Fluffy Oatmeal Banana Pancakes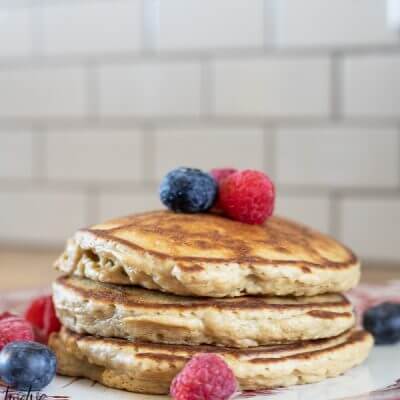 Light and Fluffy Banana Oatmeal Pancakes
These banana and oatmeal pancakes are so amazing~ They are light and fluffy and even better...they are low fodmap and gluten free!
Ingredients
1/2

cup

Dry Oatmeal

1/8

cup

almond milk

1

tsp

baking powder

1/2

tsp

baking soda

1/3

banana

1

tsp

organic pure maple syrup

1

lg

egg

1-2

egg whites
Instructions
Add all the ingredients into your blender. Add 1 whole egg and 1 egg white. I find this makes the pancakes fluffier than using 2 whole eggs.

Blend it all together for 45-60 seconds.

Let it sit for about 4-5 minutes while your skillet or griddle heats up.

This time is important because it allows the batter to thicken up.

Apply nonstick spray to the griddle. Pour 3-4 4 inch pancakes.

Once the pancake starts bubbling at the top and the bottom looks cooked, flip the pancakes and let them cook another minute or 2.

I love to add cream cheese, defrosted raspberries, and a tbsp of maple syrup.

These are also amazing with a couple chocolate chips baked into them.

Save any leftovers in a baggie in the fridge. You can easily toast them in the toaster and eat them that way!
Want more pancake recipes? Check these all out:
Light, Fluffy and Healthy Oatmeal Pancakes
Super Easy Light and Fluffy Blender Whole Wheat Pancakes
Light, Fluffy and Super Yummy Sourdough Pancakes
How about more amazing Christmas brunch recipes? check these out!
9 Yummy Holiday Brunch Recipes

Christmas Brunch Recipes | My 100 Year Old Home
Savory Egg and Cheese Casserole | Finding Lovely
Spinach and Sausage Breakfast Casserole | My Sweet Savannah
Sausage Gravy Biscuit Cups | Jennifer Maune
Keto Low Carb Jalapeno Popper Egg Casseroles | Tatertots & Jello

Cranberry Spice Scones for Christmas Morning | Satori Design For Living
Christmas Family Brunch And Victorian Homes in SF | Classic Casual Home
Vintage Glam Christmas Kitchen and Favorite Brunch Recipe | Styled With Lace
Light and Fluffy Banana Oatmeal Pancakes | Twelve On Main
How about some real banana bread? Check out this amazing recipe:
How to Make Banana Bread Your Family Will Love
GET YOUR FREE GUIDE to 30 DIY projects that can be done over the weekend!
By subscribing, you will gain access to my FREE guide with 30 DIY projects that can each be done in a day, or over a weekend!
You will also receive a weekly email with some of my favorite tips, tricks, and design ideas.