In part of my new, healthy life, I have been trying out so many new recipes, creating some that work for me. I am kind of a snob when it comes to pancakes and would rather eat my sourdough pancakes every single day, but alas, that is not a wise idea I don't think. So, I started working on a new oatmeal pancakes recipe. I have heard and tried them before but never made them. After looking at tons of recipes, I decided to just create my own. I tried so many of the ones out there and they just didn't quite hit it with me. I want a pancake that is light and fluffy and that is hard to pull off with oats. But I did it!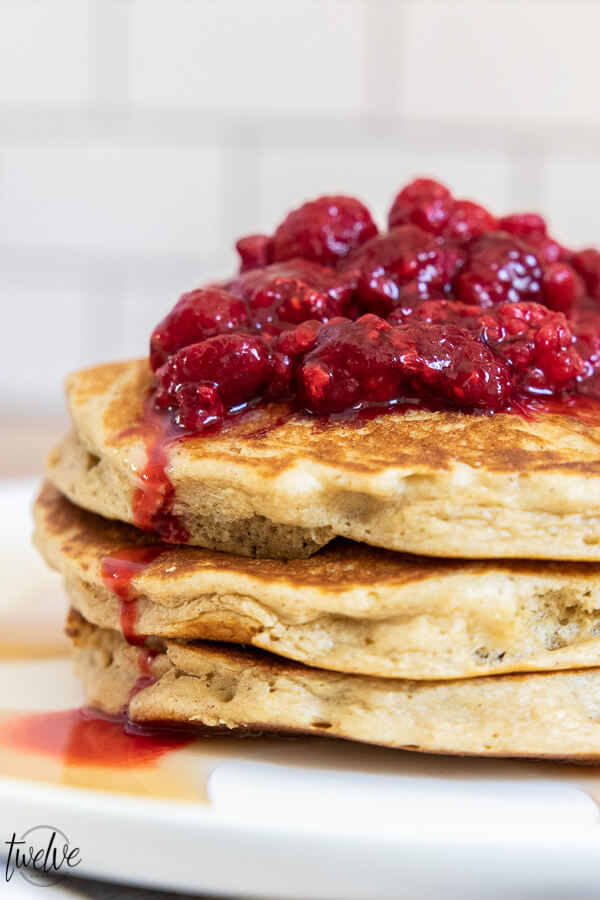 I had an awakening about 2 weeks ago. I knew I needed to change up my routine. There were so many things I needed to do. Change my diet, start working out again, and just try to be more motivated. It has been a long and hard last couple months with the world being in its crazy tailspin. I finally decided I needed to take control of my life and start fresh, no more binge eating at midnight and staying up watching all the shows. It was time to come clean and start over.
Part of my new routine is to wake up early and milk our goat, get the kids off to school, go workout for about an hour, and then come home to make myself breakfast. Little old me, and that is all. I did not want to have to make a large batch of pancakes every time I wanted pancakes when I was home alone, and so my goal was to be able to make one serving simply, that was healthy, balanced, and flavorful.
These oatmeal pancakes are amazingly yummy! I have eaten them every day for a week! The first week I decided to make them, I tried different combinations every time, and finally after a lot of trial and error, I finally settled on a pretty great recipe that can be made for one person, or can be doubled and made for more!
Now, I would not expect these to be as light and fluffy as my sourdough pancakes. Because of the oatmeal and greek yogurt, they are moist and flavorful. They are so hearty, you will not be hungry for lunch! I promise you that.
I like to eat mine with some butter, fresh or frozen fruit(specifically raspberries and peaches are the top of my list) and some maple sugar or sugar free syrup(depending on how indulgent I want to be).
The great part about these oatmeal pancakes is that they are made in the blender, which makes it so quick and easy to make. I simply throw all the ingredients in the blender and blend for about 45 seconds. Once they have been blended I let the mixture sit for about a minute to thicken up. It needs just a minute.
I cook mine on my griddle on about 35o degrees. Wait until there are bubbles coming through the pancake and the edges begin to look a bit doughy.
I love using pure maple syrup and fresh or frozen fruit, especially raspberries.
The result is these amazing fluffy and moist oatmeal pancakes. This oatmeal pancakes recipe is legit I tell you.
Want other great breakfast recipes? Check these out:
Super Easy Light and Fluffy Blender Whole Wheat Pancakes
Light, Fluffy and Super Yummy Sourdough Pancakes
The Easiest Crustless Quiche Recipe Ever
Egg, Sausage, and Potato Breakfast Burrito Recipe
Two Super Easy and Flavorful Sourdough Crepes Recipes!
Fluffy and Moist Oatmeal Pancakes Recipe
Light and Fluffy Oatmeal Pancakes
These oatmeal pancakes are an amazing way to get your protein, they are gluten free, and super healthy. They taste amazing and have so many benefits! Give them a try!
Ingredients
3/4

cup

oatmeal

do not use the quick cooking type

1/4

cup

plain greek yogurt

1/4

cup

milk of your choice

1

tsp

honey

1/2

tsp

vanilla

1

large

egg

1/2

tsp

coconut oil

pinch of salt

pinch of cinnamon

1

tsp

baking powder

1/2

tsp

baking soda
Instructions
Preheat your griddle to 350 degrees

Put all the ingredients in the blender and blend on medium of high for 45 seconds.

This is important because it helps to lighten the ingredients(especially the egg)

Once it is done, let it sit for a couple minutes to thicken up a bit.

If you find its too thick, you can add a tiny amount of milk at a time to thin it out.

I find that this makes three regular sized pancakes.

Cook them like you would any pancake.

My favorite way to top these is with s small amount of butter, fresh fruit and sugar free syrup or pure maple syrup.

These oatmeal pancakes will keep you full for hours! I find that I am not hungry at lunch time.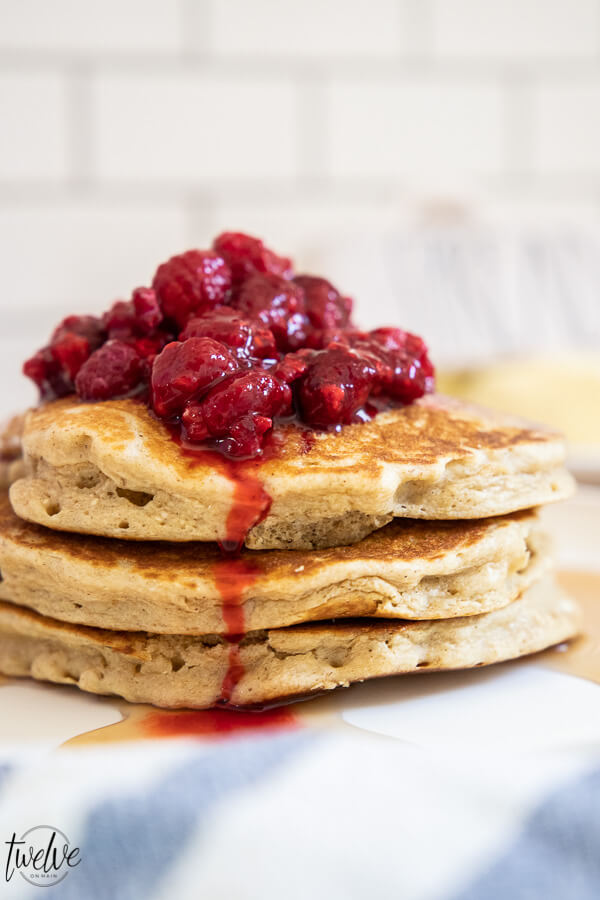 I cannot get enough of them and find that they are a great rotation in my "healthy breakfast" routine.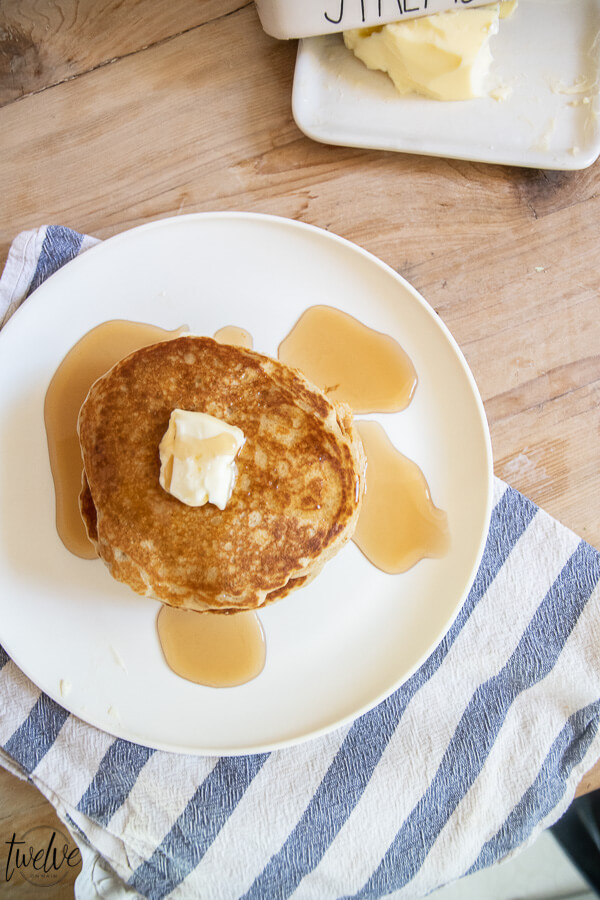 Make sure to try them!
GET YOUR FREE GUIDE to 30 DIY projects that can be done over the weekend!
By subscribing, you will gain access to my FREE guide with 30 DIY projects that can each be done in a day, or over a weekend!
You will also receive a weekly email with some of my favorite tips, tricks, and design ideas.