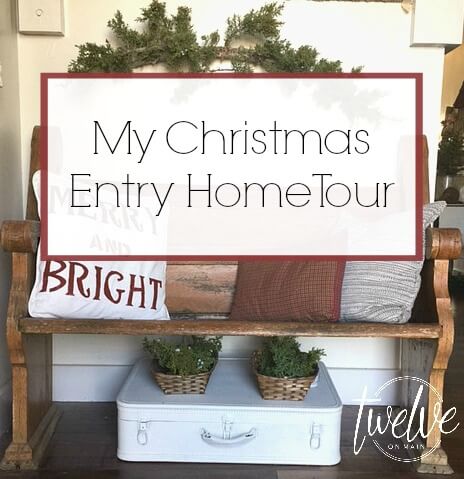 Hey all!  How was your weekend?  Mine was pretty great!  Spent the weekend shopping and playing with our kids in Salt Lake City.  It is a tradition we do every year.  Our favorite part is checking out the Christmas lights at Temple Square.  If you have never seen this, you really must check it out sometime.  As much fun as we had, it is so nice to be home!  After spending many years enjoying our Christmas at home in our small town, there is nothing I crave more than to be surrounded by those mountains and enjoy the peace during this hectic holiday season.  I feel so grateful to be able to avoid the craziness.
So today I wanted to give to a little tour of my entryway all decked out for the season.  As with the rest of my home this year, I have decided to keep it simple and really focus on nature in my decor.  I love the woodland theme.  A huge bonus to this type of decor, is that it can be quite economical depending on where you live.  For me, it meant taking a short ride with the family in tow out into the woods.  I wonder if this is why this chalkboard art spoke so dearly to me.
This type of excursion is definitely in the top 3 favorite memories of Christmas.  I found a chalkboard pic similar to this on Pinterest and decided to put all my college art classes to work.  What a fun and whimsical design.  This pine cone and cinnamon stick garland was found at our local thrift store, can you believe it?
I created this evergreen swag by wiring a few tree limbs together and then nailed it onto the wall.
I am in love with this area of my entryway.  I love changing this chalkboard each season.  It is the first thing visitors see when entering my home and I love how it sets the tone for the rest of my home.
I have this great copper bucket sitting next to my front door and I love to fill it with different items for each season.  I continued the  evergreen and filled it with juniper limbs, the same as what i used for the swag over my chalkboard.
This old key holder that I was gifted to my my mom, was originally my grandfathers and I feel so lucky to have it.  I simply decorated this area by adding some more greenery to my sweet little pitcher.
Last but not least, my precious antique church pew is simply the most amazing acquisition I have come across in a really long time.  It has so much character, it does not need much to highlight it in all its glory.  A few simple Christmas pillows and a light and airy blanket and it was done.  I added a little bit of the greenery that I have used throughout to the baskets underneath the pew.  I think my painted farmhouse suitcase seamlessly finishes off the look.
I hope you have enjoyed my little entry tour and I really, truly appreciate you stopping by!  You are all the reason I do this and you are all the reason my dream in becoming a reality!  Thank you, Thank you!  I don't know if its the holiday season that has me feeling so tender these days, but I truly feel like the luckiest girl in the world.  Thank you.