Neutral Farmhouse Style Christmas Tree
Neutral, Hygge, Farmhouse.
That is what I think of when I see my most recent farmhouse style Christmas tree. Hi there! I am so glad you are here. If you are visiting from The Little Red Brick House, wasn't that Scandi-inspired tree something amazing?
I am so excited to be taking part in Casa Watkins Living's– My Home Style Christmas Tree Series! Where we each decorate our tree and break it down, and make it easy for you to obtain if you are inspired to decorate in a similar style. I chose my neutral farmhouse style Christmas tree. It is definitely a departure from some of my other trees. In all reality, my most favorite Christmas tree is a naked tree, but what kind of post would that be! I love the look of a naked Christmas tree in my home, mainly because the simple look of the tree, where the focal point is the beauty of the tree is so farmhouse its not even funny.
Alas, my kids just wont go for that, and so I wanted to create something different this year. Since I kind of traveled away from the traditional Christmas colors in my living room, I knew I needed to create a Christmas tree that was an asset to the space, and also beautiful.
Neutral, Hygge, Farmhouse…..that is what I wanted. I was recently persuing Miss Mustard Seeds blog, and fell in love with her dining room Christmas decor and the super sweet Christmas tree in it.
If you are new to Hygge and are wondering why I am putting odd words in my post, let me explain. Hygge is a danish term, simply defined as surrounding yourself with the simple and cozy things in life. That is like my mantra.
I think there is plenty of Hygge in my farmhouse style Christmas tree, as well as my whole living room. I chose to be very specific and strategic in choosing only things that I love, things that I would surround myself in my daily life.
Ticking stripe, mercury glass, popcorn garland, wood inspired ornaments and rustic jingle bells. Its earthy, soft, full of texture, and hearkens back to those times when we sat around the fire stringing popcorn garland for the tree.
I'd say that qualifies as the simple and cozy things in life.
Every year my little family goes out and cuts down our own Christmas tree. It is one of our most favorite traditions. The one constant aspect about this being that the tree will never be perfect. But that is just how I like them.
An imperfect tree can be a bit difficult to decorate, especially if you want it to look like a designer tree, because, well, to put it simply, its got a lot more going on, and you often have holes in the tree, its definitely not symmetrical, but that all adds to the charm of the tree. And this tree had plenty of charm!
So, to hide some of those "holes" I wanted to add ribbon or a large garland of some kind. I have a large stockpile of ticking stripe fabric that I use for so many things. I draped the fabric around the tree, adjusting as I went.
I then added a thinner ribbon that looked like linen. I layered that around the ticking stripe fabric. The last part of my garland was the popcorn garland. I sat watching Netflix and made a bunch. I am so glad I did! I love the combination of the three. So much texture!
I like to add my garland before I add ornaments. I alternated my wood inspired snowflake glass ornaments, mercury glass ornaments, rustic bells, and clear glass icicle ornaments….all from Target.
I loved the combination of the rustic with the delicate. I often use this method in my home.
I think that the use of the ticking stripe fabric will either be a hit or a miss for most people. For me, it was a hit. It pulled the tree together. It filled in some of those holes, and it warmed up the decor.
The last thing I did was add an old set of skis that I found at a salvage yard. The wear and tear on these is perfect, and the flaking paint and worn look next to the delicate and beautiful pieces is perfect.
Neutral, Hygge, Farmhouse.
Yep, neutral does not have to be boring, not when you can use so many interesting textures. I think this years neutral farmhouse style Christmas tree is my favorite.
I hope you found some inspiration in my tree as well. You can use anything you want. There are no rules! Do whatever inspires you! Thanks so much for stopping by! Up next is..Julie from Redhead Can Decorate!
Did you find something you love? Shop the post!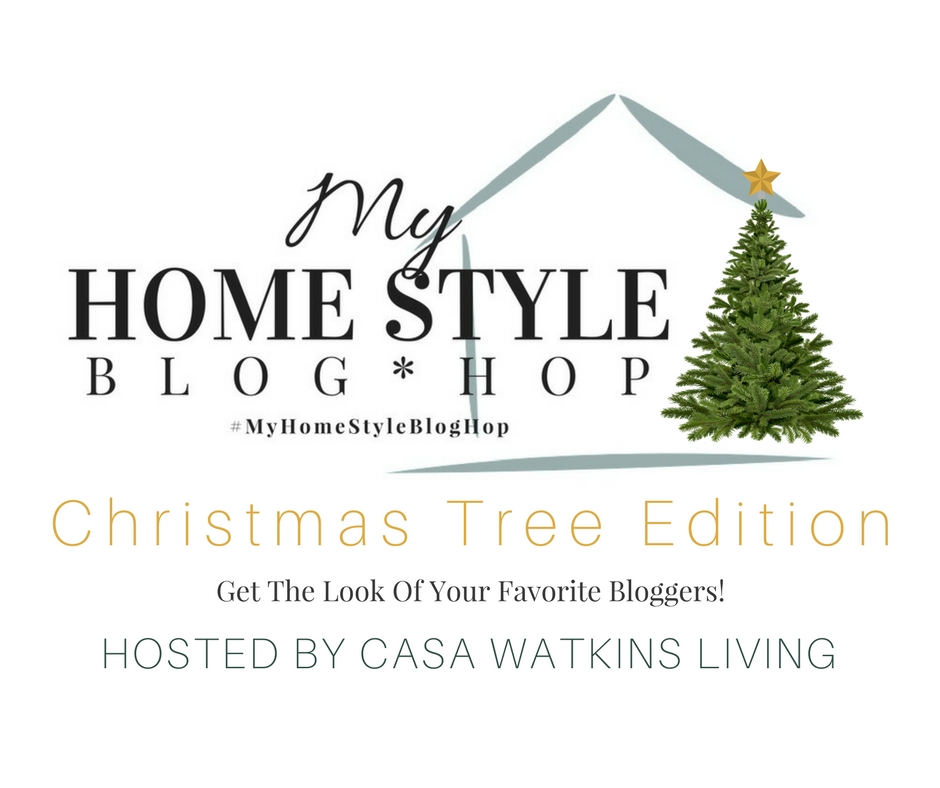 Monday
Tuesday
Wednesday
Thursday
Friday