Well its bound to happen when you live in my house….there have been a few changes! Haha I feel like that is just the way it goes in my house. I am always changing something up and this week it is my mudroom. A couple years ago, we built a mudroom bench in our breezeway with storage for all our kids stuff and today I want to talk about our mudroom design and our mudroom decor.
It has been so great. The mudroom bench with tops that lifts up. We can hide all their shoes and basketballs easily. We also added hooks to the walls above and each person had their own. Over the years our hooks have been bent, pulled out of the wall and were all loose and had torn the wood they were screwed into. So, I knew we needed to replace them.
I originally painted it all white, which was great, but after a couple years it was showing its age and needed to be repainted. This fall, I have been really loving Benjamin Moore Gettysburg Grey paint and decided that was the color I would paint it. I am so very excited about the change!
Here is what our breezeway looked like before….
It was nice! I really did like it, but I was ready to change it up. Mudroom decor can be easily changed up.
Here is what it looks like now!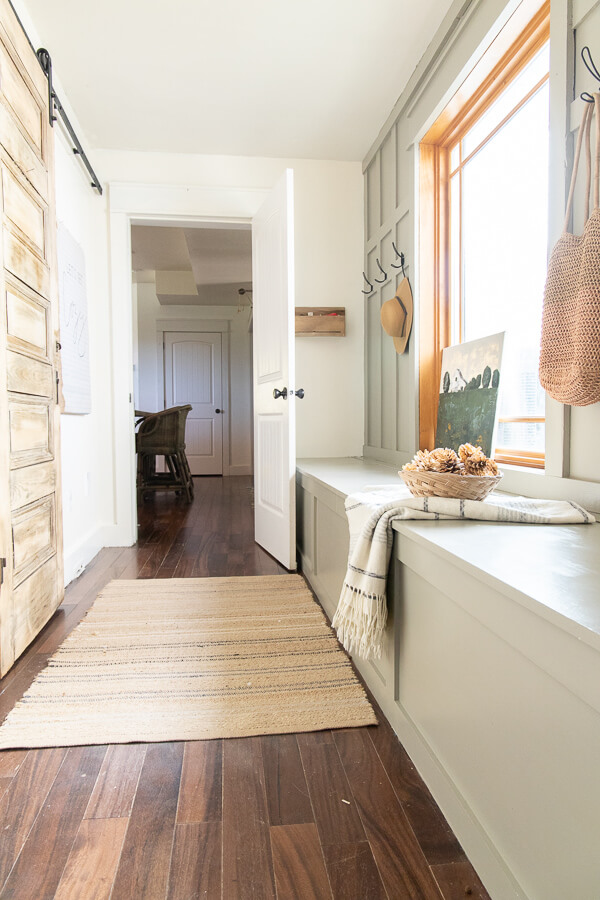 It wasn't a huge change, with just new hooks and paint but it was just what the space needed. The basic mudroom design plan works well, I just wanted it to be updated.
Mudroom decor can be tricky. You don't want to deck out the space in so much stuff that it takes away from the functionality of the space. Its a very high trafficked place in our home and it needed to keep that functionality. I keep it simple adding a couple things, focusing on highlighting the storage as a focal point.
Another big change I addressed was our big green chalkboard wall. You can see it in the first picture. It was so fun for the kids to draw and leave messages on, but they have all kind of grown out of it, and I was ready for a change, so I painted over our chalkboard wall with Benjamin Moore Swiss Coffee. It really brightens up the space.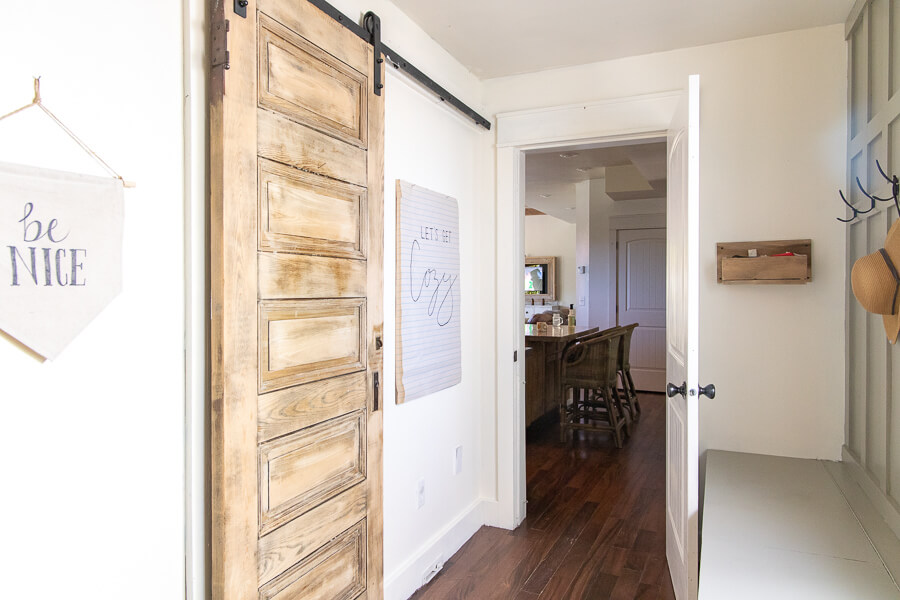 This past year, our kids elementary school got torn down and a new one got built. Before it was torn down they let us all go through the school and get a few things that they were giving away. I got this cool giant pad of paper! Everyone looked at me like "what in the world are you going to do with that!?" Well, now you see!
I thought this was a good replacement for my chalkboard wall. I can still write notes and to do's that need to be done, but it isn't a permanent fixture like it used to be.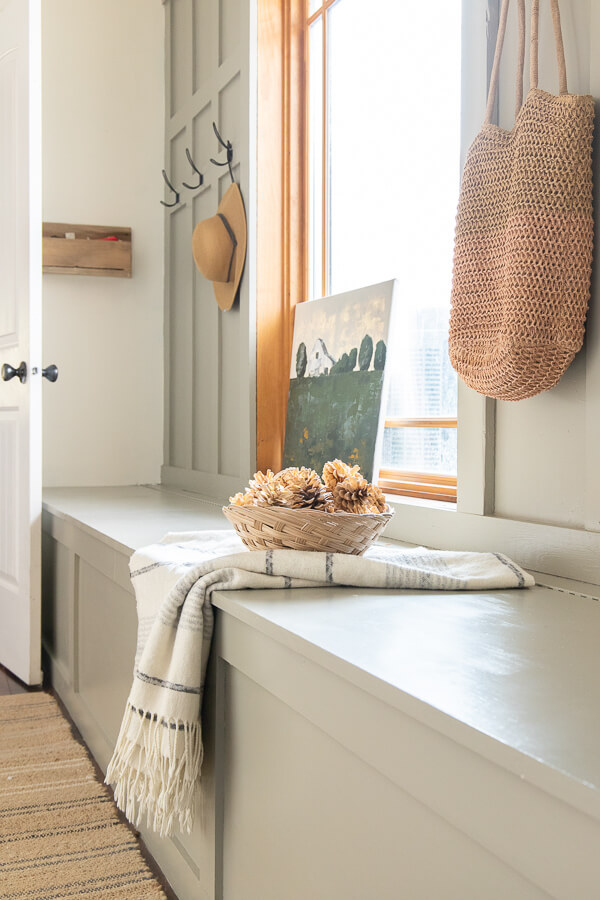 This mudroom storage bench has been truly one of my most favorite features in my home and with its new paint color and new hooks it truly is a gorgeous and functional space.
Check out this little video all about it: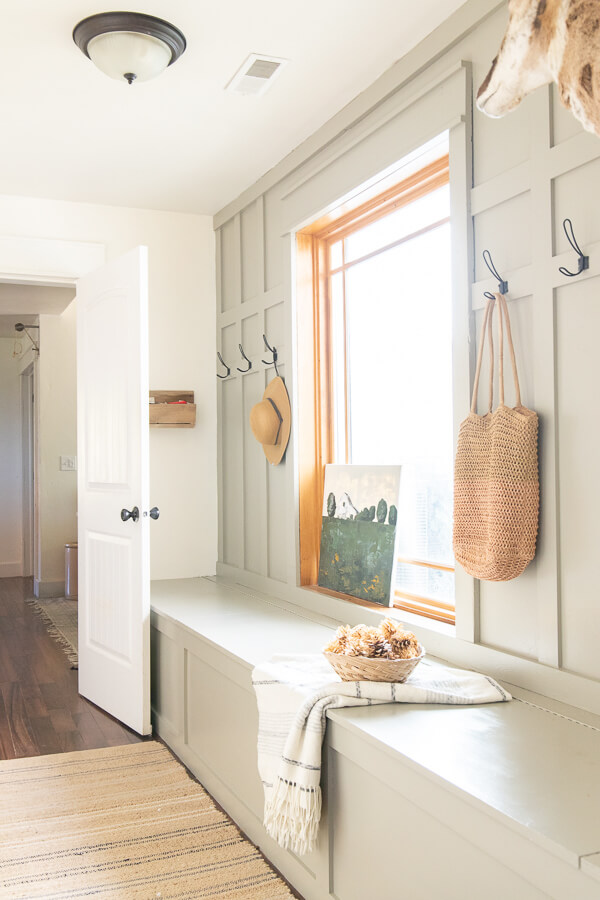 This Gettysburg Grey paint is so soothing and has just the right amount of grey, green, and beige in it.
I love how I can hide the ugly and the messy inside these benches. It is so great.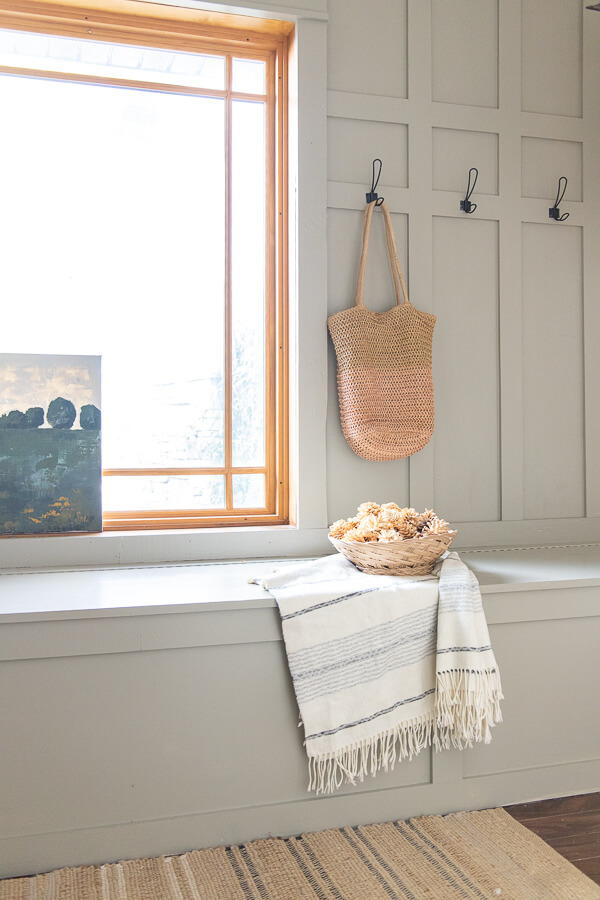 I added a piece of my artwork to the space a while ago and it still is here. I love this painting in this room.
And that antelope is my husbands, from when he was in high school! It's been around for a long time, and only recently got hung in our home. I have enjoyed having him here.
Want to get this mudroom design? Shop this post!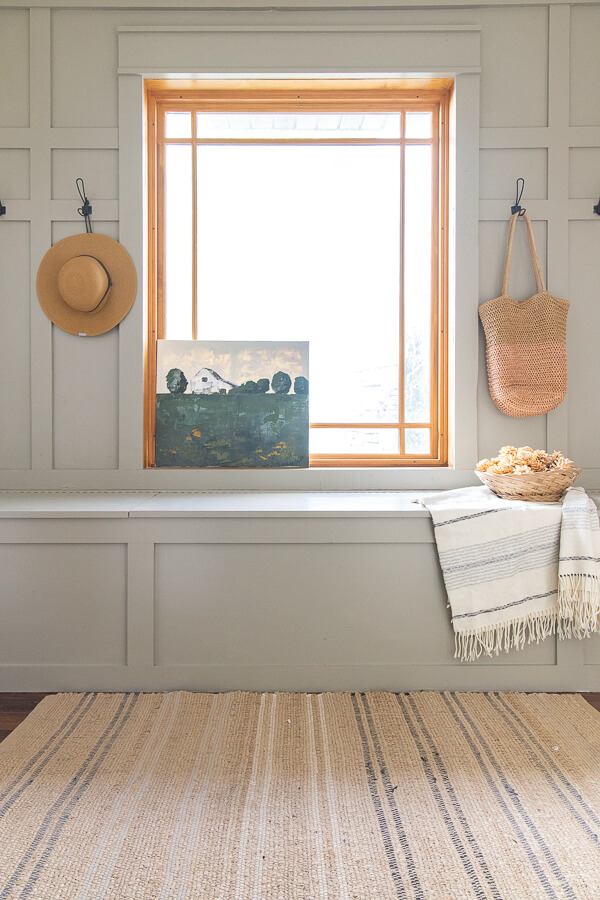 I am so happy with how this space turned out and I wanted to share a few tips if you are looking to give a room a quick update.
How to update a space with just a couple steps:
Paint. Paint is the easiest and most inexpensive way to update a room. It can completely transform a room. It is amazing how much of a difference it can make.
Change out hardware. Just like we updated our hooks in the breezeway with these metal wire hooks, changing up hardware is an easy way to do that.
Rugs and curtains. By changing out a rug, you can give you room a whole new look. I change out my rugs quite often and it is amazing what a rug can do!
Change out your pillows. This is something I also like to do through out the year, especially in the changing seasons.
Artwork. Adding new pictures or artwork is another easy way to change up a space. I change mine out often as well, also with the changing seasons.
Try these steps to update a space. Even just doing one or two of them will give change things up a lot! Adding some mudroom decor gives your space a more inviting feel. There are so many mudroom designs you can go with, and it is important to take a look at your space, whether its a small corner, a hallway or an entire room and assess what you can do and what will work for you.
Have a great day!
xx
Sara
Check out these other great posts!
Mid Century Farmhouse Outdoor Decor Ideas With A Boho Twist | My Patio Reveal
How to Make Faux Brick Panels Look Like Real Brick
The Best and Easiest DIY Faux Wood Beams to Make Yourself
DIY Drop Cloth Rug for Every Season
Boho Farmhouse Style Girls Reading Nook Ideas
25 Large Natural Fiber Rugs Under $250