Summertime is the best time to spend your evenings out on a porch, deck or other fantastic outdoor area. We are fortunate enough to have a couple different places we can lounge at during the summer. Something many people forget to consider when planning their outdoor spaces are lighting options, and today I want to share some great deck lighting ideas that will be perfect for your outdoor deck or patio.
In my backyard on my deck, we have a couple different lighting sources. We have an overhead light fixture, wall sconces and some outdoor string lights. The combination of the three give us multiple options on how we can illuminate our outdoor area depending on need. Our back deck is one of my favorite outdoor spaces . I love the space we have created in our garden as well. Each place has light sources specific to our needs.
It may seem daunting to have to choose a type of lighting or multiple types of lighting for a space. When you plan lighting you want a couple different options. Overhead lighting is essential, and task lighting is ideal as well. Wall lights or sconces are another great option. Each type of light source you provide will add depth make your ability to hang out there at night more enjoyable. Lets list some of the many different lighting ideas.
Outdoor deck lighting ideas:
Solar lights
Ceiling fans
Solar deck lights
String Lights
Deck Post Lights
Landscape Lighting
Wall Sconces
Overhead lights
Recessed Lighting
Rope Lighting
Step Lighting
Table Lighting
There are many more beyond these, but I want to expand on these a bit.
Solar Lights– There are so many different solar lighting options out in the market today. They are starting to be quite stylish too! I actually have solar light fixtures in my chicken coop and goat house. They have come a long way since they were purely functional, however you can still find those kinds as well. You can get solar deck post lights as well as solar deck stair lighting . This makes it so much easier to add lighting when you do not have to run electricity.
You can check out some of my favorite outdoor solar lights below:

Ceiling Fans– Lets be realistic, if you live in a warm humid climate, a ceiling fan on the deck can be an absolute necessity. You can get outdoor ceiling fans with lights in them. This is a great way to add some overhead lighting while being functional at the same time.
Solar Deck Lights- This includes deck stair lights, strip lights and more. Having these low voltage deck lighting options give you space a cozy, intimate feel and keep your overall light pollution down. Having these low voltage options also keep the area from being too bright, which can attract all sorts of bugs and flying objects. They provide safety as well with their ability to illuminate stairs and areas that may seem to dark to be safe to gather in. They provide just enough light to be able to safely traverse through.
String Lights- In addition to overhead lights, we have string lights around our deck. These give off such a nice warm glow, they make you feel fancy anytime you have them on. Not only do they provide wonderful deck lighting, but they are so pretty and add a touch of style and whimsey to your deck.
Deck Post Lights- These are often solar powered and provide a touch of low voltage lighting to your deck railings. These are another great option when a power source is not close by or readily available.
Landscape Lighting- I find landscape lighting to be one of the most forgotten about lighting options for outside. Simple low voltage landscape lights can amplify the beauty of your decking area. A simple lit up pathway adds just enough light to an otherwise dark area.
Wall Sconces – We have wall sconces on our front porch that flank either side of the front door. We also have them near out back patio doors. They provide sufficient light and add curb appeal to your home.
Overhead lights – These are the most popular option of deck lighting. This can include flush mount, semi flush mount or pendant style hanging overhead lighting. Overhead lighting is important. You can get this same effect if you choose a ceiling fan. We chose a farmhouse style large industrial pendant light that directs the light down.
Recessed Lighting- Recessed lighting is like the super hero of lighting. I love our indoor recessed lighting and I would love to have it outdoors as well. This type of light works best if you have a flat ceiling. We have angled ceiling which would cause weird lighting and it would shine down at weird angles.
Rope Lighting- Rope lighting is what it sounds like! It is usually LED lighting, and it can be installed anywhere you feel you need more lighting. You could install it under the lip of a deck, illuminating the underside to add a threshold where people will know where the deck starts and stops.
Step Lighting– Step lighting is often installed in each step in the riser. These are so very important as far as deck lighting ideas are concerned. You will have peace of mind and increase safety when people are out enjoying your deck at night, knowing thy can get from one place to another safely.
Table Lighting– This can include hurricane lanterns, candles and more. This is often a source that is underutilized. This type of lighting is perfect soft glow that can add a touch of coziness to your dinner party.
I want to show you some of my favorite deck lighting ideas:

Each and every homes deck lighting options will be different depending on individual needs. You may not need stair lighting because you may not have stairs. If you do not have an overhead structure over your deck, consider using string lights as an affordable overhead lighting option. They provide the perfect ambiance for any occasion.
The enjoyment of your deck is key. With so many options you can create the perfect lighting for your deck. In my opinion subtle illumination is the way to go when focusing on functional and essential areas that need light.
If you are building a home and working with an architect or contractor they can create a custom lighting design with great deck lighting ideas.
Sources for Outdoor Deck Lighting:
When searching for the right light
Home Improvement Stores such as Home Depot and Lowes
You can often get a free consultation or lighting plan for your home. If you are feeling overwhelmed with the options, make sure to contact an Interior Designer or a landscape designer who can help you find great lighting for your deck area.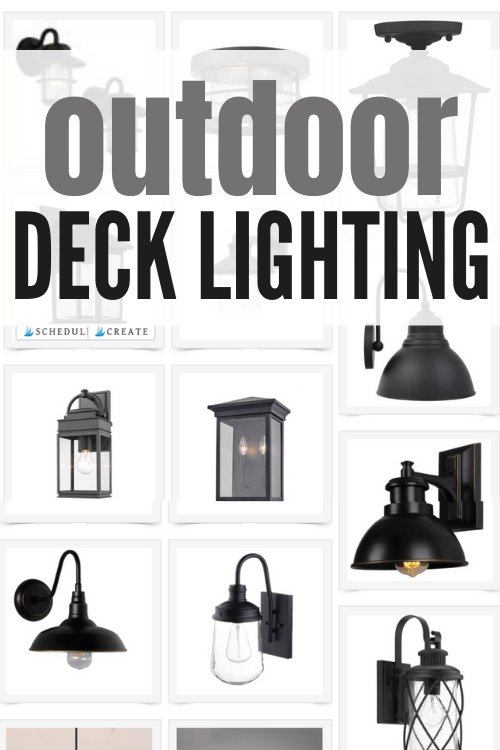 Check these other great outdoor posts out:
24 Outdoor Dining and Entertaining Tips for Your Backyard
Over 60 of the Most Popular Black Outdoor Light Fixtures for 2021
How to Ready Your Outdoor Living Space for Spring
40 Stylish Solar Lighting for Outdoors
Mid Century Farmhouse Outdoor Decor Ideas With A Boho Twist | My Patio Reveal
50 Gorgeous and Cozy Outdoor Sofas Perfect for Your Patio
GET YOUR FREE GUIDE to 30 DIY projects that can be done over the weekend!
By subscribing, you will gain access to my FREE guide with 30 DIY projects that can each be done in a day, or over a weekend!
You will also receive a weekly email with some of my favorite tips, tricks, and design ideas.