10 Ways to Update Your Home For Spring | Spring Home Decor Ideas
With the weather warming up and we are finally feeling like spring is upon us, I thought it was time to add some of those spring vibes. Today I want to share some great spring home decor ideas that you can incorporate into your home that can give you a quick and easy change for the spring season.
When you are tired of the same old space, with the same furniture and accessories, there are some things you can do to refresh your space without doing a complete room makeover. When the flowers are in bloom and the new season is upon me, I need to give things a fresh look. But I don't want to spend a ton of money. Here are some great ways to do that.
Rugs
Updating old rugs can be a great way to refresh a space for spring. wither you want pops of color or something more neutral, there are tons of affordable options! This image below shows the current rug in my living room. The rich colors look amazing with the lighter, softer tones of the house.
Here are some great rug options below:

Window treatments
Another way to brighten the space after a long winter is to update your window treatments. If you have heavy drapes or curtains, you can easily brighten the space by changing them out for a lighter set. You can also eliminate them completely for the summer if you are not worried about privacy issues.
Pillows
One of my favorite ways to refresh my spaces with spring decor. There are so many great pillow cover options available and it is a great and affordable way to update a room without having to purchase brand new pillows. Pillow covers are also easier to store than having a ton of full size pillows. I recently changed out a couple of throw pillows on my bed.
Just because its spring does not mean I have to use bright floral colors or anything like that. I prefer to use the colors that speak to me, and by adding other elements I still get that fresh spring feel.
Spring Pillow Options:

Bedding
In the winter months, we use warmer blankets and sheets. As it warms up, its the perfect time to change out your bedding and add some more lightweight options. I love adding a light linen duvet cover. This is a great all around piece that works well in so many spaces.
You can add interesting textures by adding light layers such as coverlets or thin blankets.
Spring Bedding Options:

Greenery/Fresh Flowers
Greenery and fresh flowers are a perfect way to add brightness to a space. If you choose to keep your textiles and other elements more neutral, adding fresh flowers or plants is my favorite spring decor.
Use tulips and other spring flowers to brighten a kitchen. Add a faux tree to brighten up a living room or entryway. Bring a bit of the outdoors in as the world starts to green up.
Great Greenery Options:

Wall Art
A great way to refresh a space is by changing out artwork. I live to do this. In the winter, I use moody more neutral prints, and in the spring I like to add a bit more color and brightness.
I offer free printable art on my website, all you have to do is sign up for my weekly newsletter to get exclusive access to my printable library.
Get access to our free Printables library
When you join our newsletter
Wreaths
Wreaths are another great way to bring the spring season to your home. Adding a spring wreath to your front door is a great welcome to those stopping by. You can also use them inside the home like I did with this cute little DIY lemon wreath.
Accessories
I think the most fun way to add spring decor to yours home is with accessories. You can think outside the box for this and use everyday items as your spring accessories. Why not add a bowl of lemons or oranges to your counter. Use them as you enjoy the spring vibe.
Add small accessories such as these small olive trees. They are a fun way to add some greenery without going overboard.
More great spring accessories below:

Throw Blankets
Lighten up your sofa with a sage green throw blanket or make a chunky blanket yourself! Throw blankets are the best thing to have during the spring because it is still chilly in the mornings and evenings around here.
Try these throw blankets out:

Table Settings
Why not create a fun spring table setting with a simple centerpiece made with lemons and greenery. The yellows and greens are just the right amount of color. We like to enjoy these outside in the spring, but you can create these in the dining room too.
I hope these ideas help you enjoy the beautiful spring with all the gorgeous flowers and new growth that comes along with it.
There are so many spring decor ideas, and I like to look past the obvious items and find decor that can be used well past springtime. Give your home new life with these great spring home decor ideas.
Want more great spring home decor ideas?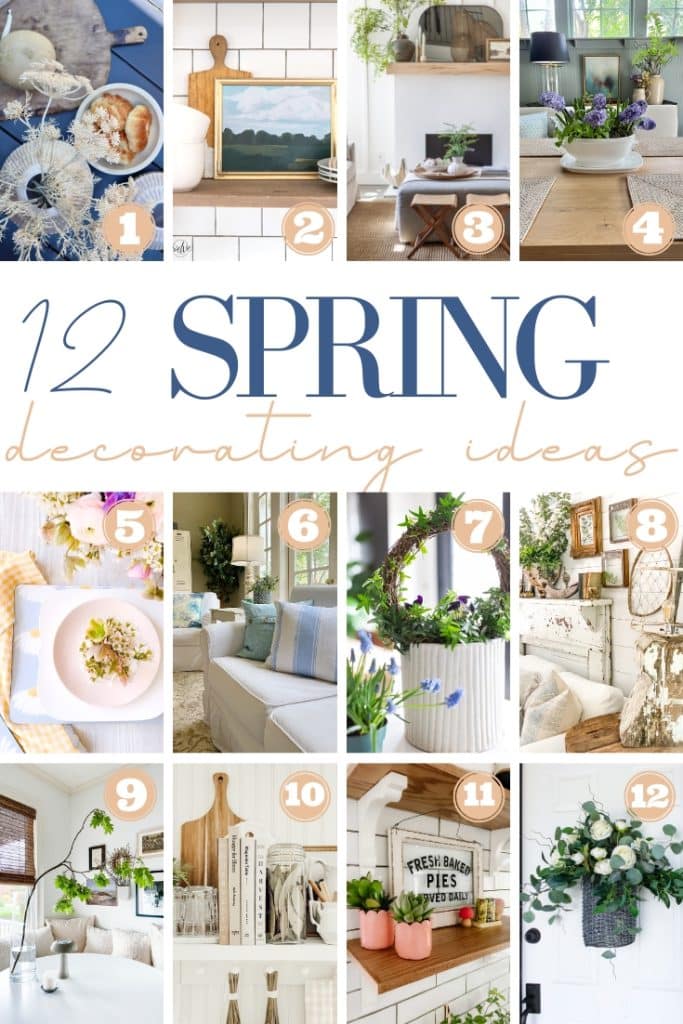 Blogger's Best Spring Decorating Ideas