We love having friends and family over to our home for fun Friday night parties or a game night with the adults.  Entertaining can seem daunting and overwhelming to so many…but it doesn't have to be.  There is no reason why you can't take a laid back approach to your entertaining.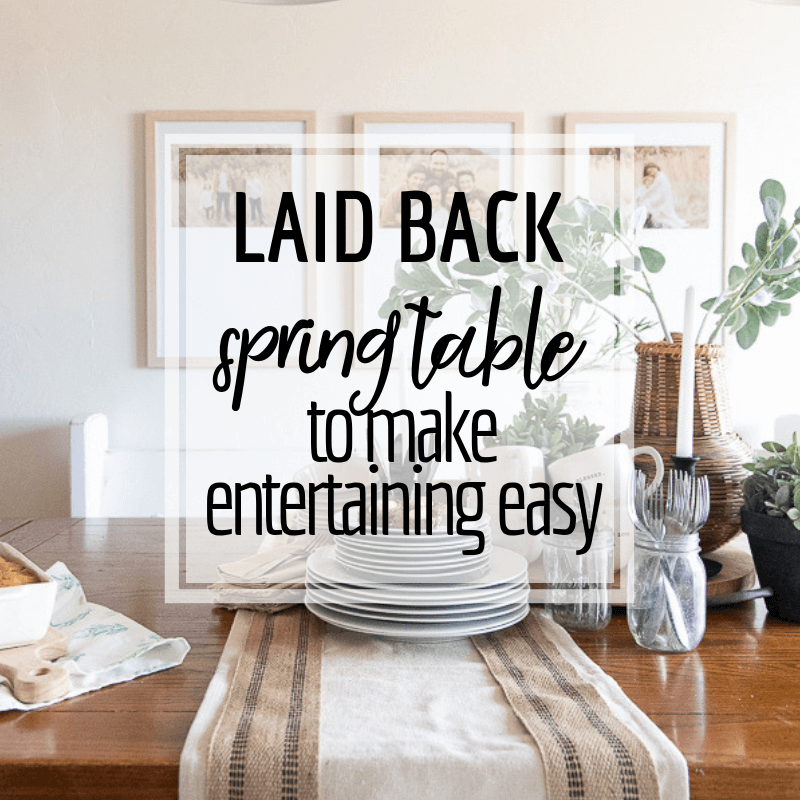 Hi there!  I am so thrilled to be taking part in a Spring Tablescape Bloghop with some of my blogger friends. If you have been here before, you may know that just yesterday, I posted all about my updated modern farmhouse dining room makeover!  It has completely changed the way I use this space. I love it!
This year I decided to take a different approach to my spring tablescape.  I wanted to show you how I take a laid back approach to entertaining and turn my tablescape into a gorgeous combination of a centertpiece and table setting all in one grouping.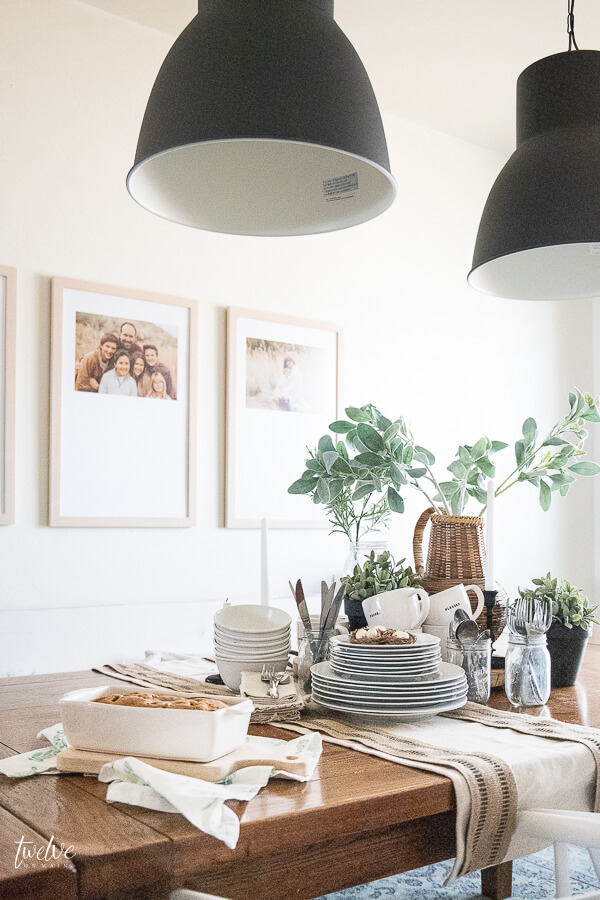 When we have get togethers, we rarely, if ever set the whole table with all the fixings and seating assigments.  We like to have a laid back atmosphere, where people can choose where they want to sit, pick the dinner ware that they need and just enjoy their time at our house.
But, isn't it weird to have your tablesettings all piled up and included in the centerpiece?  NO!  You are killing two birds with one stone!  That is my favorite kind of project.  The secret is to make sure yo layer and arrange things so that they look like they were meant to be there.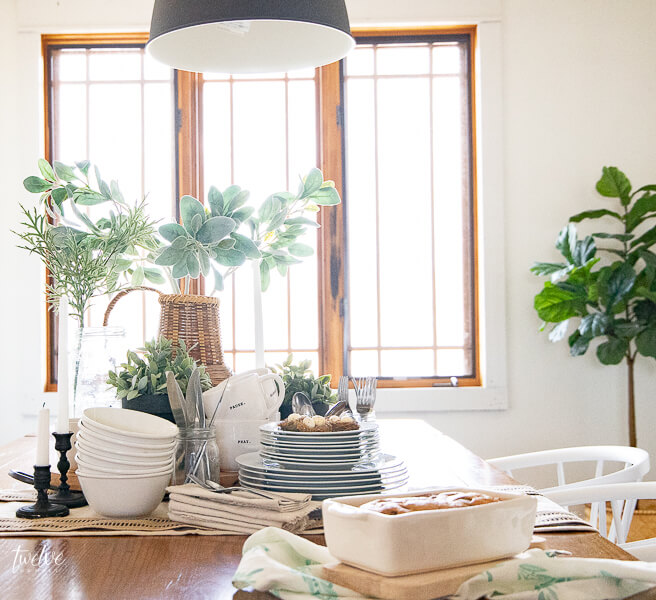 They key to creating a functional and stylish laid backcenterpiece is to give it some drama.  Here are a few things I like to consider when entertaining  with a tablescape like this:
add some height with greenery
combine textures such as glass, ceramics, greenery, fabric, metals, and organic materials such as wood and stone.
Keep your color scheme purposeful.  I used whites, greens, blacks, and wood tones.  This allows the centerpiece to look purposeful and stylish
keep it simple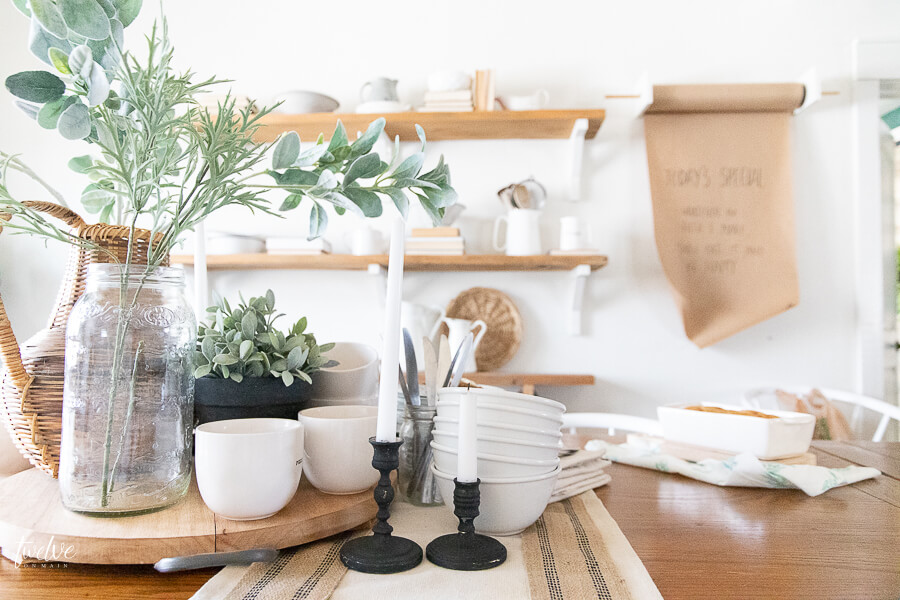 So, as you can see, I started with a large round butcher block tray.  I used this to give the table some separation from the centerpiece/tablescape.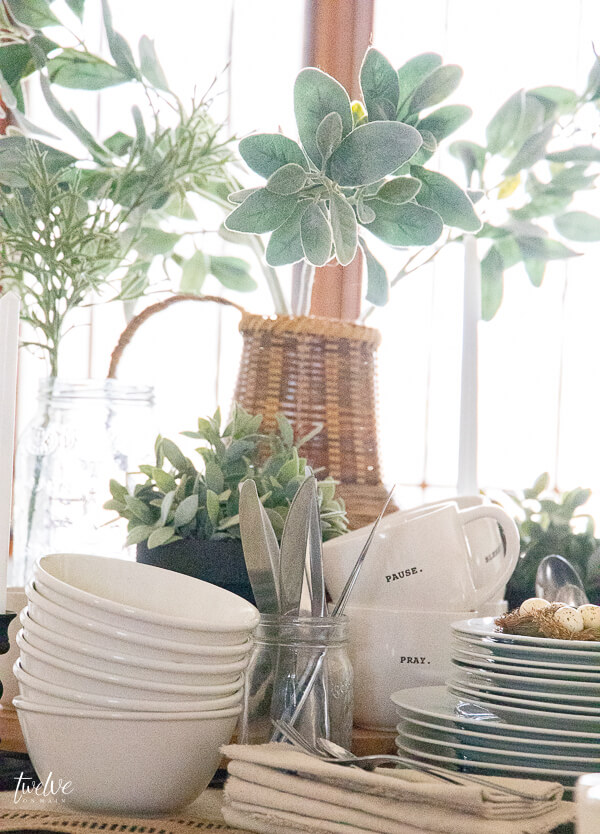 Then I added some drama with some tall vases filled with greenery.  I really wanted the greenery to pop, so I stayed with a very simple color scheme of blacks, whites, and wood tones….then the green really gives that spring feel.
I then wanted to consider the functionality of the table.  I want my friends and family to be able to grab a plate and s utensil and start filling their plate with food.  We truly keep things very relaxed around our house and I feel that it was important to create something that really represented this.
I stacked my plates together, adding some adorable Easter egg nests as a fun nod to spring.  We also stacked the bowls and mugs around and atop the large butcher block tray.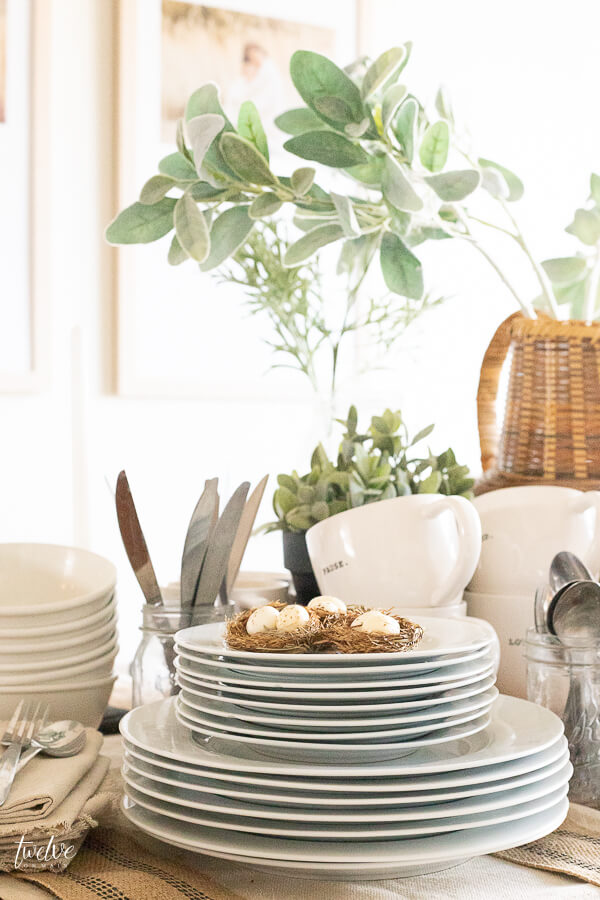 This gives my guests the flexibility to grab whichever items they need.  I arranged them so that they were easily accessible to all the guests.  Then I added some mason jars to hold the assortment of utensils.  I often feel that when we set a formal table, with all the pieces including all the utensils, more than half of the utensils don't get used.  So, I find it much better to offer them this way.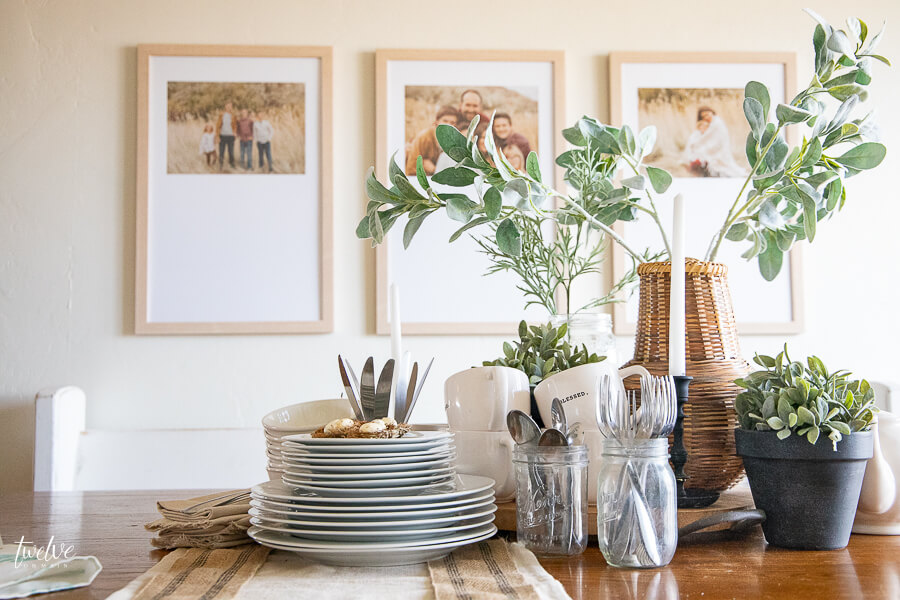 Now they only need to take the ones they need and the rest can be put away and not washed again for no reason.
A few candlesticks and a couple more pots of greenery to fill the spaces and my laid back entertaining tablescape is complete!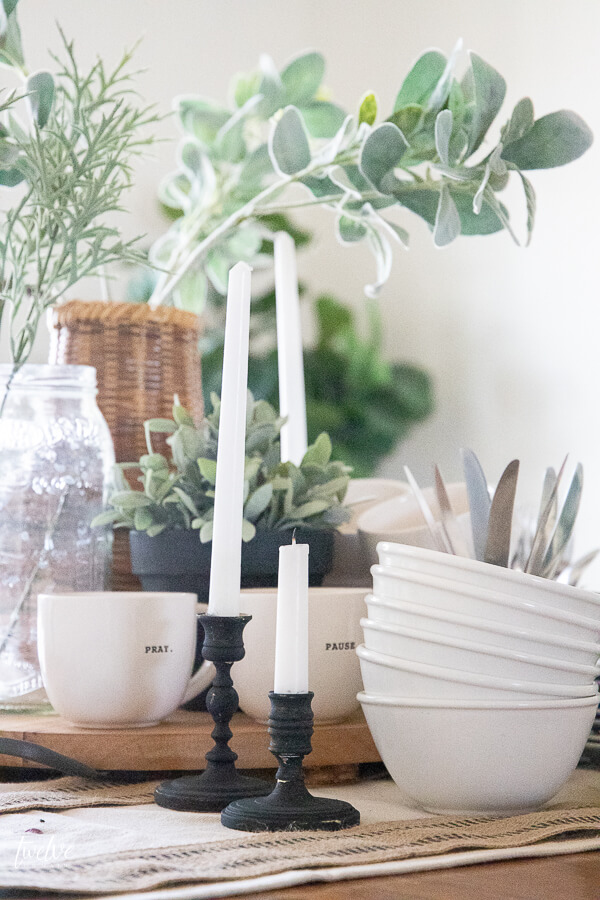 I was thinking that this may be the way to go everyday with my kids.  Instead of fighting 6 bodies coming in and out of the kitchen during meals, why not keep it all right there on the table where they can grab what they need and keep things flowing smoothly.
I decorated this tablescape just like I would any other part of my home for spring.  Simple spring touches….and the main accent is the greenery.  Its such an easy way to break away from the winter blues.  Immediately the space is brighter and feels like it has more life!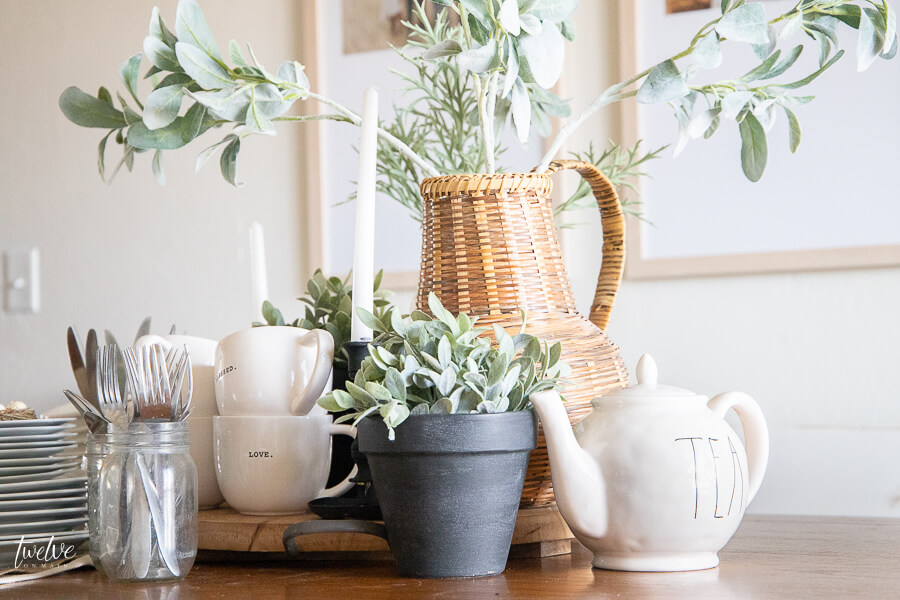 I thought since today was my sons birthday we would try this fun laid back entertaining tablescape out and see how it worked.  And wouldn't you know it, it worked like a charm!  We even lit the big candles and let him blow them out!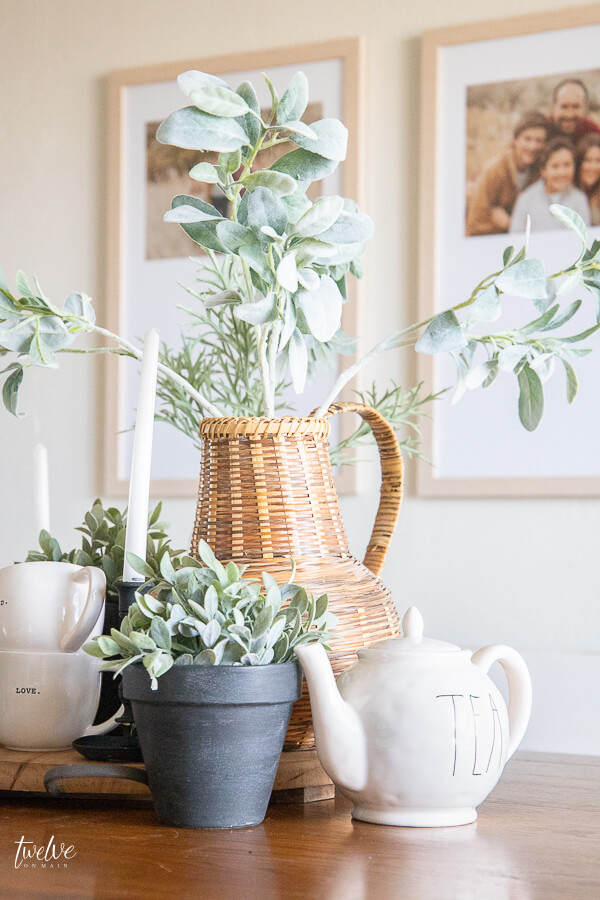 As a special addition I made my favorite banana bread recipe.  I think I will be posting about it soon!  It's so yummy and super easy to make!  Adding a simple treat to the table give everyone a reason to hang around a little longer!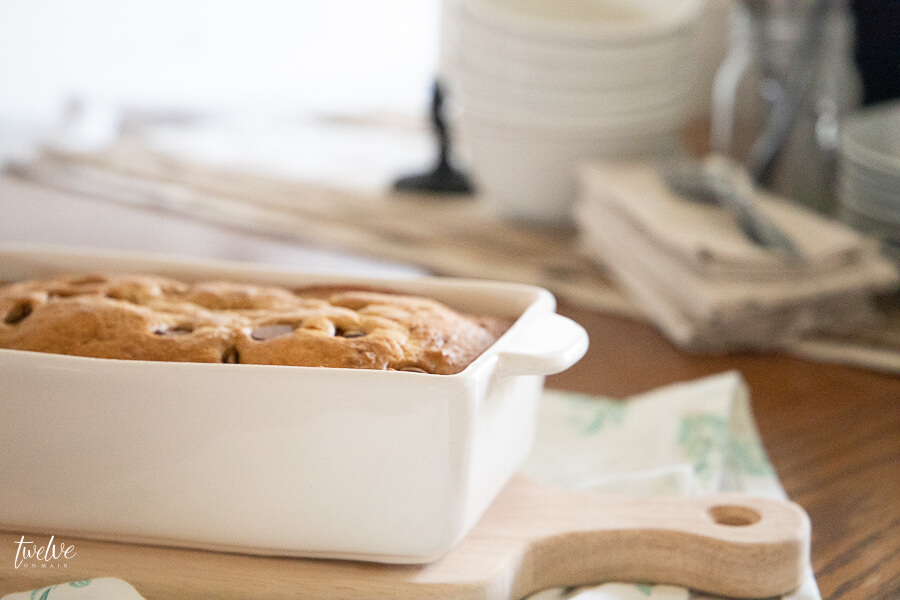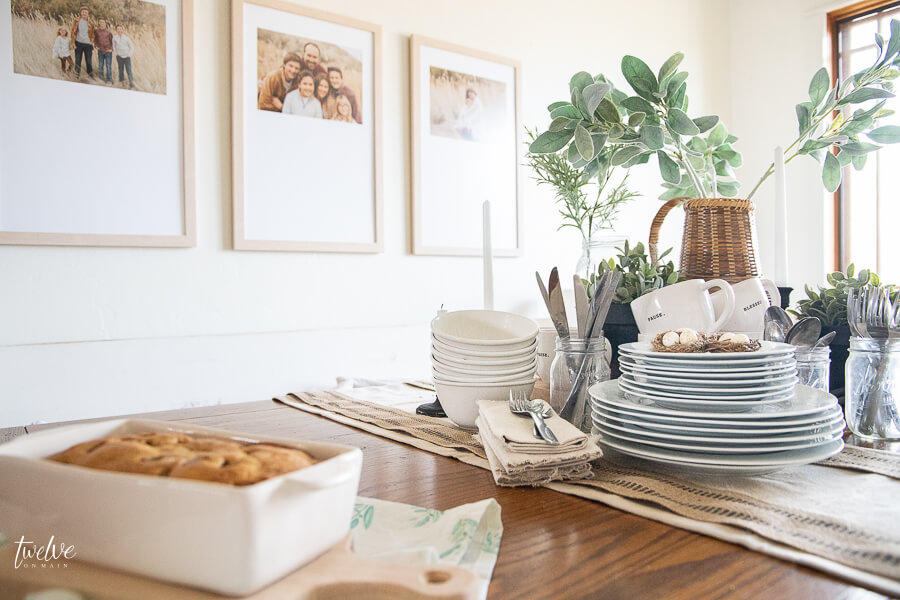 Creating a simple, laid back tablescape is my favorite way to go when I am entertaining friends and family.  Its a one stop shop, where people can grab what they need and enjoy their time in my home.
Found something you love?  Make sure to shop the post!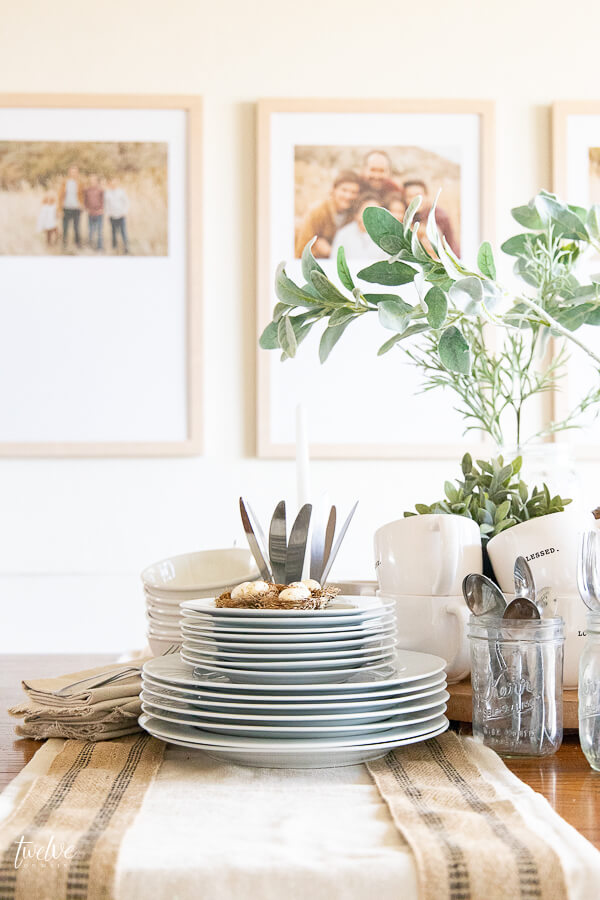 Make sure you PIN IT!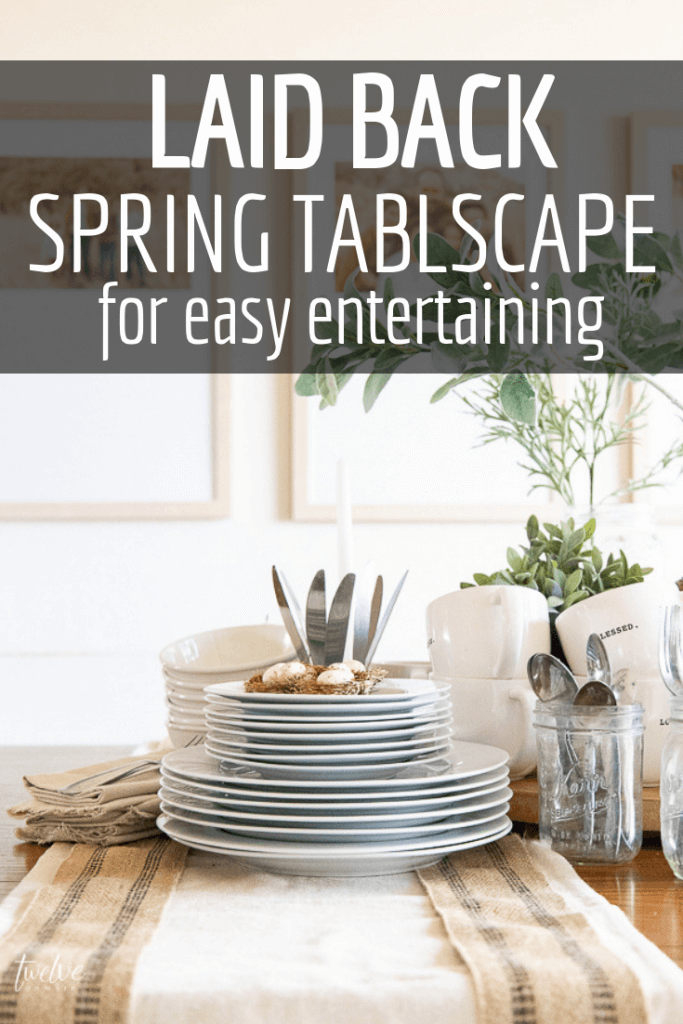 Now, are you looking for more tablescape inspiration? Check out these other lovely bloggers as they create and display their own spring tablescapes!
Monday
A Casa di Bianca | Red Cottage Chronicles | Panoply
 The Little Yellow Corner Store | From My Carolina Home
Tuesday
Celebrate & Decorate | Everyday Living  | Home is where the Boat Is | Belle Blue Interiors 
Living With Thanksgiving 
Wednesday
The Painted Apron | Debbee's Buzz | Bluesky at Home | Corner of Plaid and Paisley
Home and Gardening With Liz
Thursday
Sweet Sensations | Chasing Quaintness | Our Crafty Mom | Zucchini Sisters | Life and Linda
Friday
My Thrift Store Addiction | My Family Thyme | Me and My Captain 
Follow the Yellow Brick Home | Katherine's Corner | Twelve on Main 
If you are looking for more spring inspiration, check out these posts:
Art Inspired Farmhouse Spring Home Decor
11 Ways to Add Spring to Your Home Right Now
Have a great day friends!
GET YOUR FREE GUIDE to 30 DIY projects that can be done over the weekend!
By subscribing, you will gain access to my FREE guide with 30 DIY projects that can each be done in a day, or over a weekend!
You will also receive a weekly email with some of my favorite tips, tricks, and design ideas.