Well, its has been a long and arduous journey over the past couple weeks getting to this point. We had basketball game after basketball game, only to finish it off with a healthy bout with Covid. Not really what you want when you are trying to finish up a big remodel project. But, now our teen boy bedroom is done and I think I just might move in myself…its that great. Keep reading to see the before and after and some of our favorite products used in this space.
If you have been here before, you know how great a good before and after project can be! From our laundry room and master bedroom to our master bathroom, its clear we are not afraid of big room remodels. This project was a bit more unique. We were remodeling a room in our home for our 14 year old teenage son….and pleasing a 14 year old while maintaining the style I was looking for was a hard ask, but if you ask my son, I knocked it out of the park…..
What he really said was "yeah, its good".
Thats all you can get out of a teenager these days anyways haha.
For 13 years, my two middle sons have shared a room. This past year during Covid and all the quarantining we realized they finally needed their own space. We also decided that with as much time as we are spending at home, that we wanted to create cozy spaces for our kids where they can spend time when necessary.
So when it was time to split these two boys into separate rooms, the room we decided to use for my 14 year old son was the one room in out house that has not been touched since we built the house. It has spent time as a guest room as well as an exercise room….with a side of storage and junk thrown in the mix.
This was the only room with its original paint from when we built! No other room can say that…We all know how much I like painting walls.
We had big plans for this space, including replacing the wood trim and adding board and batten on the walls. We also had plans to build a custom built in bookshelf below the window and a custom desk built in as well. We had our work cut out for us. As far as cosmetics, we planned to paint, replace the boob light fixture and get new furniture, as well as new bedding.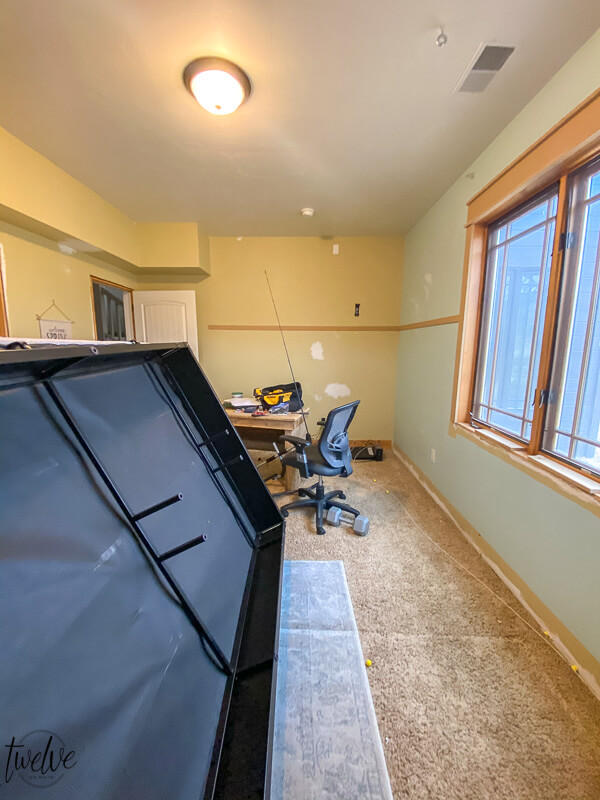 Let's have another look at the before….in all its glory. This space needed a lot of love and we wanted to give it so that our son could have a space of his own. We wanted it to reflect his personality and his interests…let's see if we did it.
Here is a list of things we wanted to incorporate in this new teen bedroom:
board and batten walls
bookshelves for storage
built in desk
new light fixture
incorporate his hobbies and interests in the room
new bedding
new trim and window coverings
warm paint color to create a cozy space.
Do you think we did it?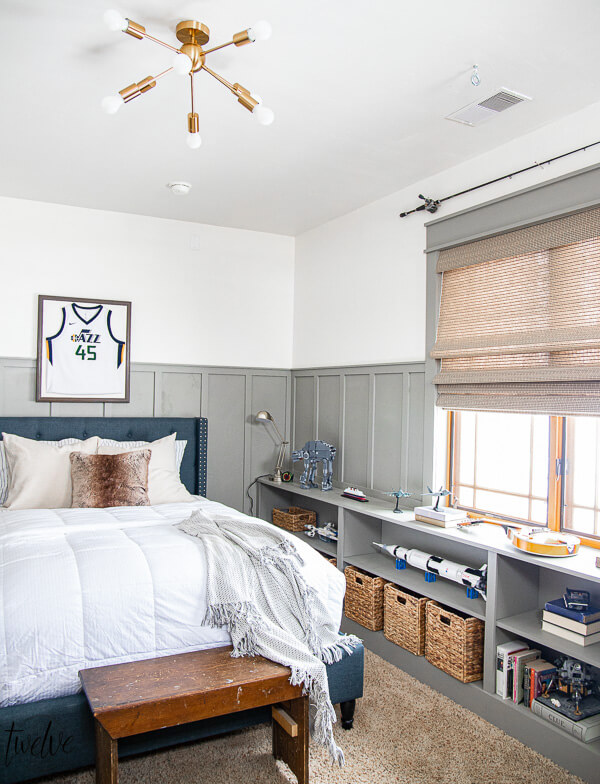 I think we did it! This teen boy bedroom is a dream!
The Board and Batten
We spent considerable time planning out the board and batten on the walls. There are a couple good options to height when installing board and batten. We went 2/3 up the walls. You can also go 1/3 or 3/4 if you want it higher. Splitting it into thirds make it easy on the eyes to process the proportions. By painting it Gettysburg Grey from Benjamin Moore, which is one of my favorites, it warms up the space and gives it a cozy feel.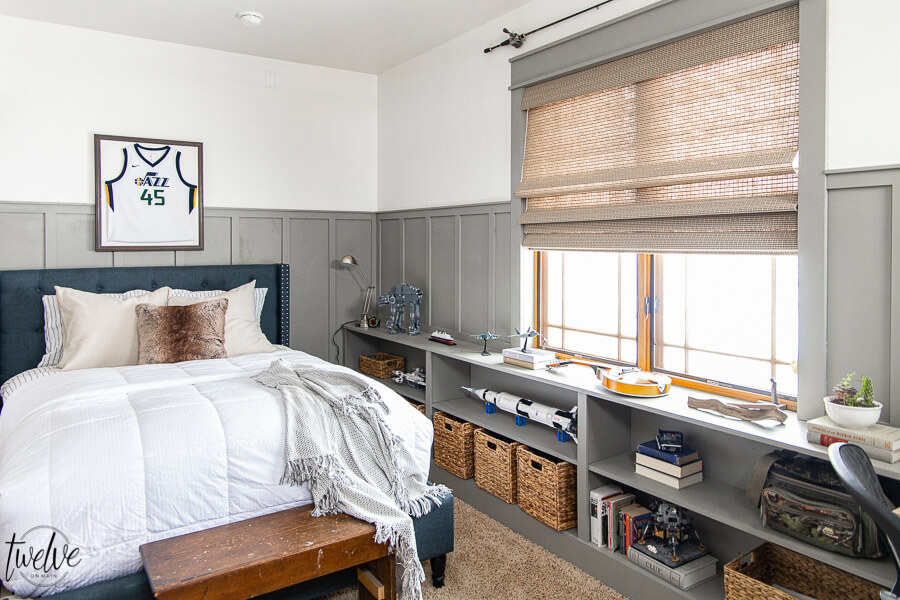 The need for storage
There are so many things I love about this space. First off, the storage! We wanted to really focus on creating ample storage where my son could display all his favorite pieces. He loves to collect trinkets when we go on vacation and he needed a place to show them off. He also loves to build giant Lego sets, and these are by far the hardest to display.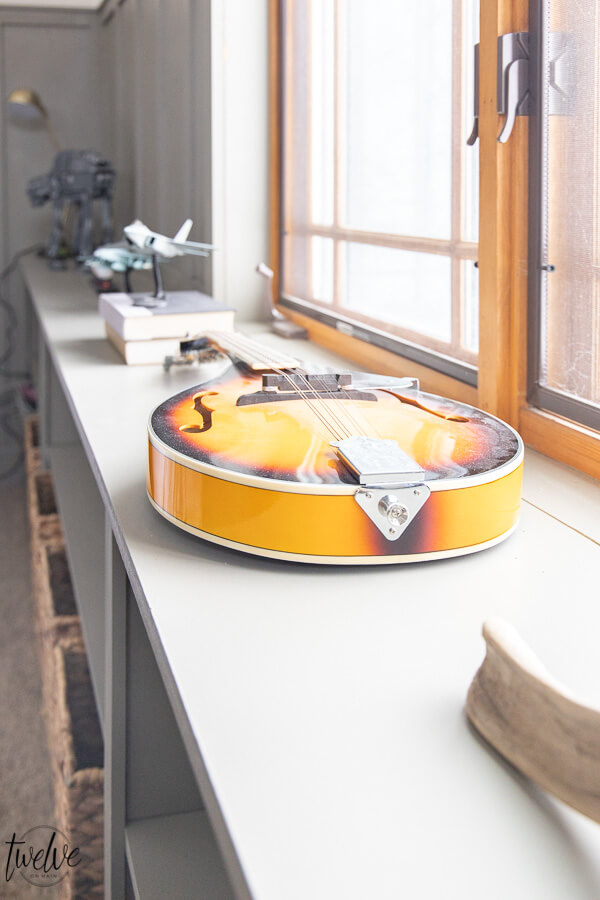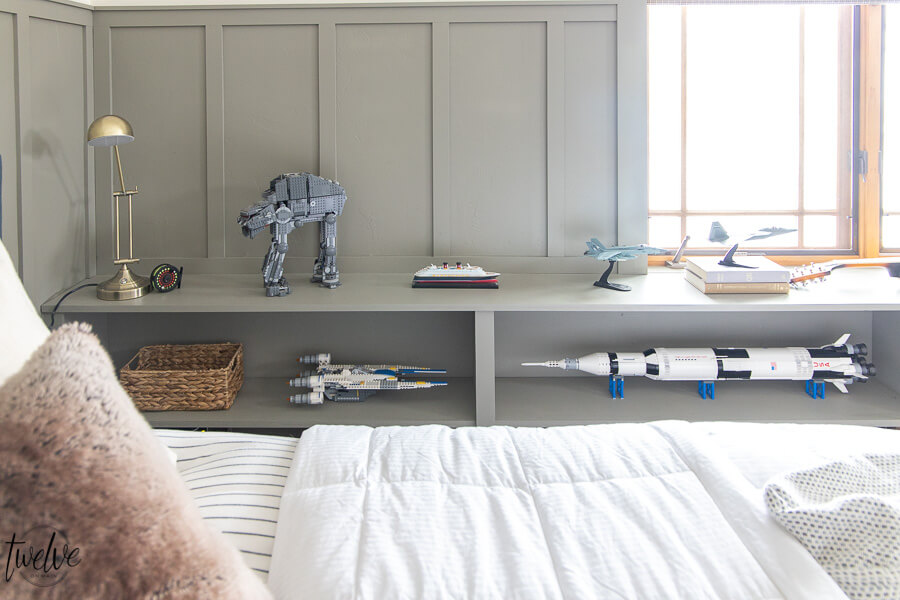 Built In Bookshelves!
The built in bookshelves turned out exactly how I had them in my mind. I wanted them to be functional where he could use it as his nightstand as well.
It makes the perfect companion to his new and improved bed!
Custom Wall Art
We framed out one of his favorite Jazz jerseys, and he was thrilled about it. We kept the decor on the walls to a minimum because I wanted everything else to shine. We can slowly add more as he grows and changes,
New Bedding!
This new bed frame is the perfect backdrop to his new bedding, which we got from Downlite Bedding. We have gotten a few blankets from them in the past and loved them, so when we had the opportunity to try out a couple products we were thrilled.
I think the biggest hit is the down feather bed. This thing is like sleeping on a cloud and I am now thinking I have completely spoiled my son by giving it to him. it is so soft and has a thick baffle box construction which gives you that all over plush feel, and it has a layer of batting on the top to prevent the down feathers from poking through like traditional feather beds.
The pillows we got are just like hotel pillows~ in a very good way. They are soft and squishy but don't go flat or lose their shape! They have tons of different options to choose from.
We decided to put the feather bed under the sheets to protect it from sleeping on it. It fits perfect under the new set of sheets we put on the bed.
We topped it all off with one of their down alternative blankets. Downlite prides themselves on having hotel quality bedding and this is certainly a hotel comforter.
Their hotel bedding is top notch and I am really impressed with the quality and the level of comfort. Bedding is always one of the hardest things for me to choose, especially for a teen boy bedroom. I have found some really amazing products with Downlite Bedding.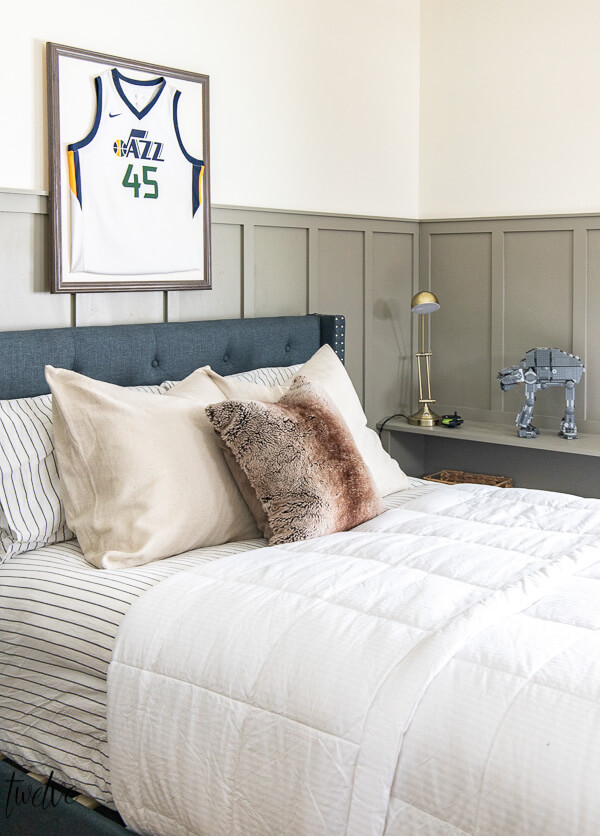 A New Custom Desk for our teen bedroom
On the other side of the room, we built a custom desk for our son. It connects to the built in book shelves as well.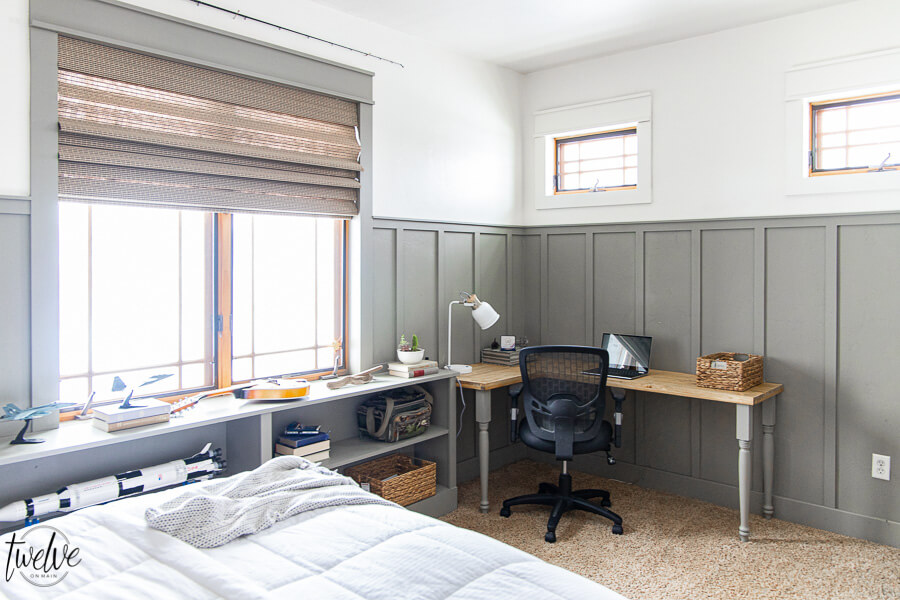 The board and batten, the book shelves, and the desk all work together to get that built in look we were going for. By keeping the paint all the same on the three it helps keep a cohesive look.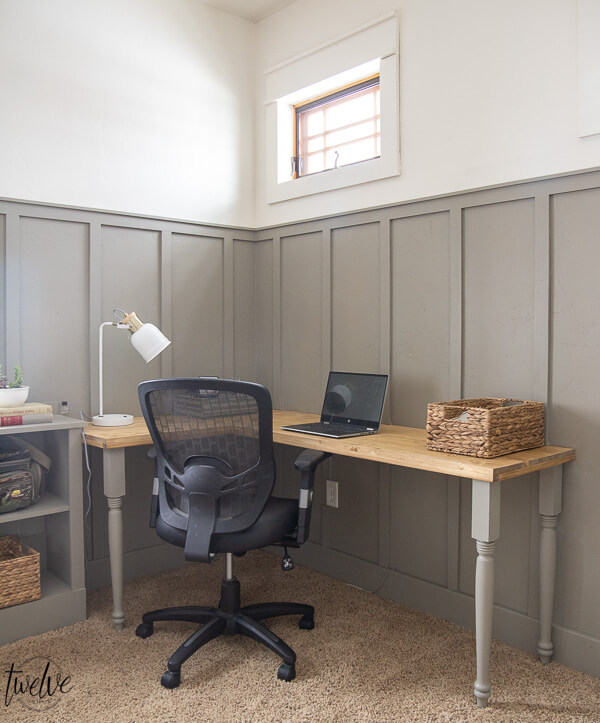 I think the desk is something I am going to write a separate post and show how we built it. It was super easy and quite inexpensive to make.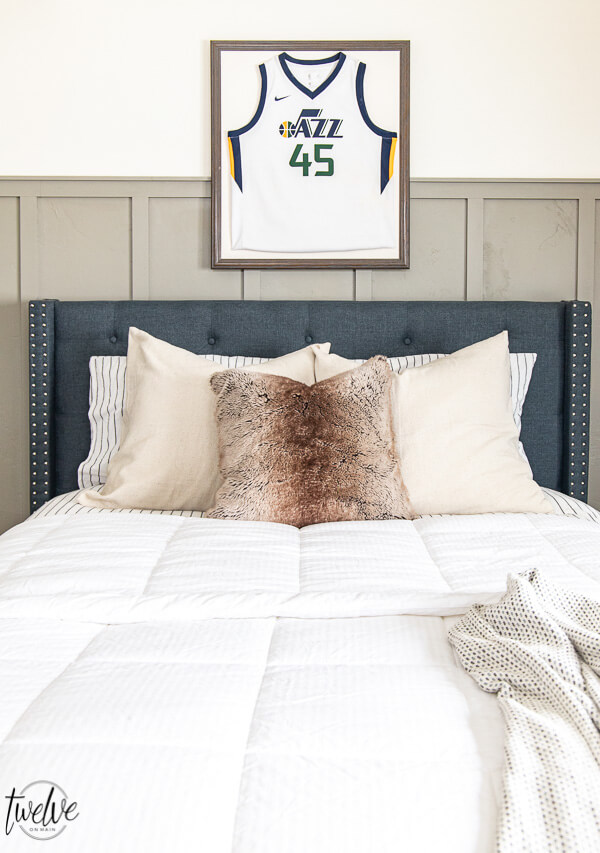 Our teen boy bedroom is just right for him
My son loves basketball and he loves fishing. I tried to include those things in his room. We hung one of his favorite fishing reels above the window. It is dual purpose. It serves as decor but also as a place to store it while its not in use.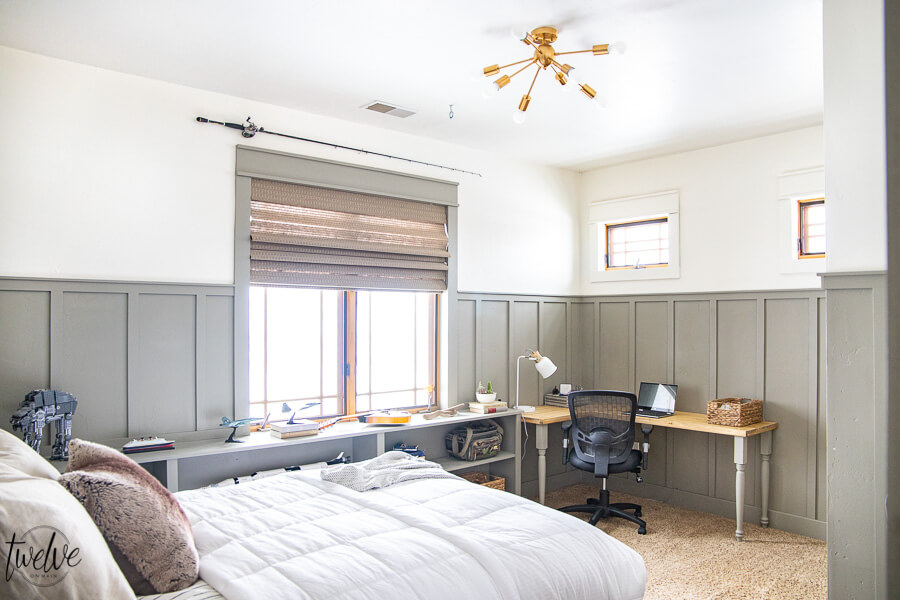 I think this is my teenage sons dream room. I got what I wanted out of it, which was to have style and a cohesive look, while he got the features he wanted.
The new light fixture ties the room together and adds a fun touch of industrial/modern style to the space. I am so happy with how it all turned out, now I just need to figure out how to trick him into letting me sleep here! I hope you enjoyed the tour of our new teen bedroom! Its one of my most favorite spaces.
Want to see more room reveals? Check these out!
How to Install Board and Batten Wall Treatment on the Cheap
My Budget Friendly Bathroom Makeover | Reveal
Farmhouse Master Bathroom | Final Reveal
One Room Challenge- Farmhouse Laundry Room Reveal!
The Ultimate Farmhouse Bedroom Decor Ideas
GET YOUR FREE GUIDE to 30 DIY projects that can be done over the weekend!
By subscribing, you will gain access to my FREE guide with 30 DIY projects that can each be done in a day, or over a weekend!
You will also receive a weekly email with some of my favorite tips, tricks, and design ideas.