So you want to create a bit of interest to your home decor? Try creating this DIY farmhouse style board and batten wall treatment on the cheap with this step by step tutorial!
There are so many ways to create an interesting interior. For many, creating some kind of wall treatment may seem daunting, overwhelming, expensive, and permanent.
But, I am here to tell you it does not have to be. You can create board and batten walls on the cheap!
*This post was originally featured on Remodelaholic.*
I love turning a house into a home. There are so many ways to create a cozy and inviting space, and it doesn't have to cost you an arm and a leg.
If you are a farmhouse style fan, then this project is even more desirable! While shiplap has been very popular(yes I have some in my home, I even have a tutorial on how to install shiplap) board and batten is a wonderful and timeless option to incorporate into your home.
I love board and batten and I recently installed it in my bedroom. I also have it in 1 of our bathrooms, and my mudroom. It adds dimension to your walls, and in turn allows your walls to have more style and decor without overrunning it with other decor.
So, do you worry that installing a board and batten wall treatment can be costly and out of your budget? What about feeling that it is not something you could do yourself? Well, I will tell you this…I installed this all myself, without the help of a man or construction expert, and it cost me next to nothing.
I already had the tools on hand to create my board and batten wall treatment. Here is a list of all the tools I used for this project:
furring strips
choice of paint
measuring tape
A little note on my tools:
If you are lacking when it comes to tools, you can definitely use other options, such as a hand saw, and a regular old hammer. Since there are only straight cuts, and it is a very straightforward project it is definitely possible. The only reason I recommend these tools are that is makes your project go much more quickly, and easily.
Board and batten wall design options:
Now there are so many ways to install board and batten. You can create a half wall effect, where you only install the board and batten 1/2 to 3/4 of the way up the wall. You can also install it the full length of the wall. The choice is really up to you.
When I decided to install the board and batten in my master bedroom, I had to decide how high up I was going to install it. Since my master bedroom has vaulted ceilings, and we installed faux beams that come across to the other sides of the room, we had to decide if we wanted to extend it to the ceiling or keep it lower.
We have a weird ceiling and wall set up. One side of the room has walls that go sky high up about 20 foot, and the other side is slanted where or dormers in the roof are. We ended up taking the board and batten to where the faux beams are installed and left it open at the top of the ceiling.
You must decide what will work best for your space design wise. If you feel like you cannot make that decision, you can always get a consult from a designer, a friend, or even feel free to email me, and I will most certainly help you out.
Okay, now lets get down to business. Now that I have decided where we will install the board and batten, it is time to get to work.
My secret weapon to an inexpensive board and batten wall treatment:
Here is the trick to installing board and batten wall treatment on the cheap……furring strips.
What are furring strips you ask? Well, they are thin strips of wood generally used in construction and other rough lumber jobs. You can use them in installing doors, installing them under something to keep them away from moisture. They are used all the time.
You can usually find these furring strips in an assortment of sizes including 2 by 2 inch square, 1 by 4 inch, and 1 by 3 inch strips.
The reason they are so inexpensive to use is because they are not perfect. They are not grade A lumber and you may often find pieces with knot holes or ones that are slightly warped. Don't worry though, you can easily find pieces that are perfect for your DIY projects. And…if you find you have some with imperfections such as knot holes, it is totalyl fixable with some wood putty. Nobody will ever know.
Installing a board and batten wall treatment in your home:
Okay, now lets get that board and batten wall treatment installed.
The first thing you want to address is your baseboards. If they are thick enough to install the board and batten right up next to it then you can keep it up. If it is too thin, you may have to install a thicker piece of baseboard or use the strips of wood for the board and batten that are thinner than the baseboard.
We were able to use our original baseboards since we installed a thicker one to begin with.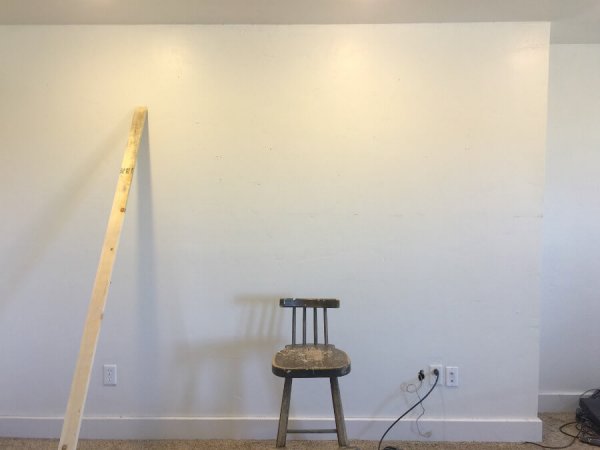 Start with a blank wall. I had decided how tall I was going to make it, so I first installed my top piece that would go horizontally along the wall.
I used my level and measuring tape to make sure I got it the correct height and that it was level. Then I drew a line where the piece would be installed.
Now I had to decide how far apart I wanted each vertical piece to be. We decided to do around 18 inches. To make this easy, I cut some boards to that length. This will come in handy when installing the vertical pieces.
I measured from the top of my baseboards to the bottom of the top horizontal trim piece is. This is the length I will cut the vertical pieces. Make sure not to just cut them all the same length, because you really want to make sure that they all fit perfectly. Measure them each individually to take into account any flaws in your walls.
Start by installing the first vertical piece. I used my level to make sure it was straight up and down and then I nailed it in with my brad nailer. You can use glue to secure it to the walls as well, but I wanted to keep these the least permanent as possible, just in case I get sick of them someday(I don't see that happening).
Once the first piece was installed, I took my pre-cut boards that I talked about earlier. Then, I grabbed my next vertical piece and began to set it up. I used the pre-cut measured board between the first vertical piece, and the newest one. This will give you the exact spacing and it will all be consistent as you continue the installation of the board and batten.
Once you have the next piece in place, nail it, and move on. Do the same thing for each vertical piece, making sure they are the correct length and that you use the blocks to make sure the spacing is correct.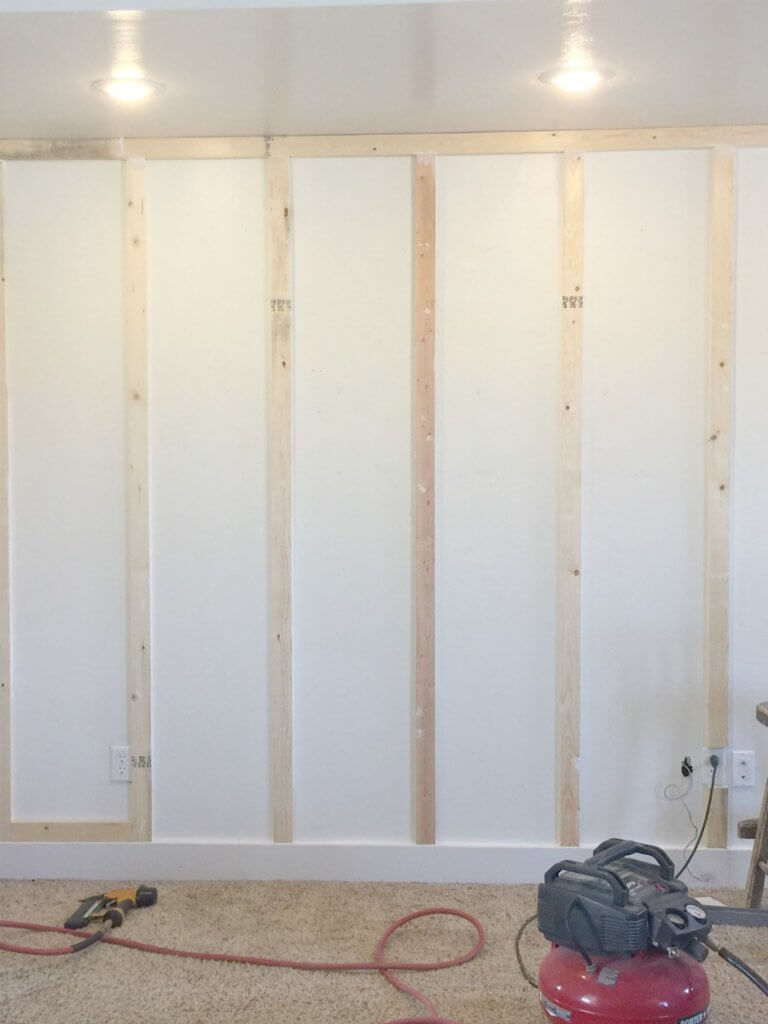 *If you run into knot holes or uneven boards, do not worry, we will fix those.*
I used wood putty or wood filler to fill in the knot holes and other small imperfections in the wood. Here is a secret: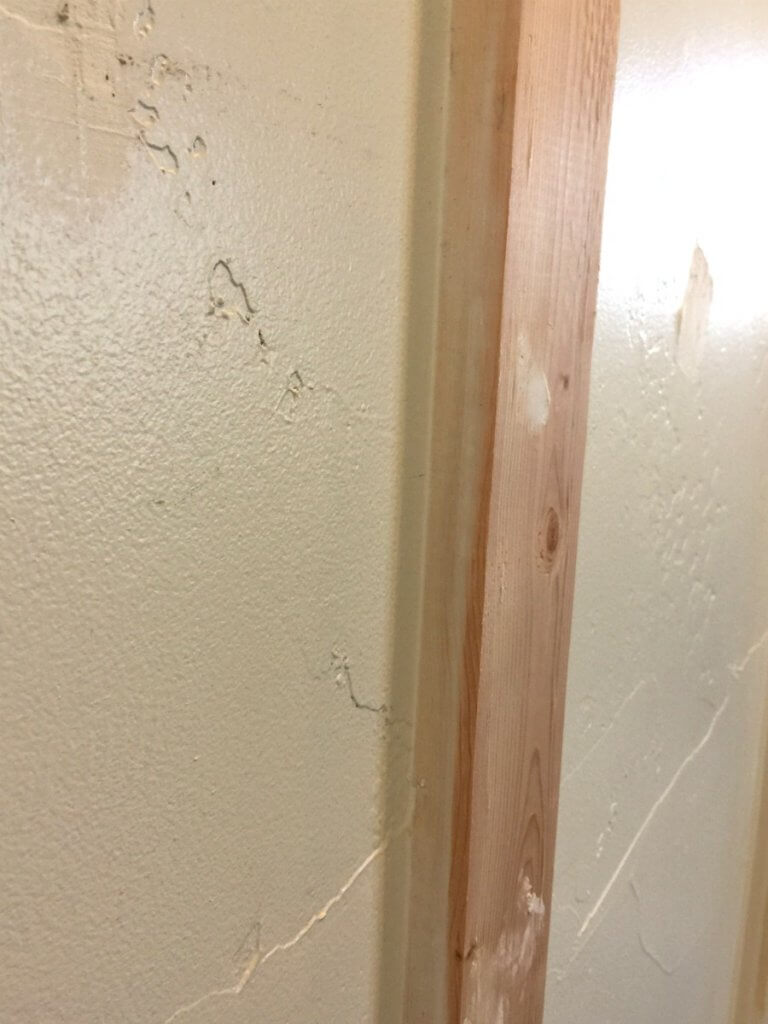 If one side of the wood has a lot of ugly parts, you can make sure that side is sitting towards the wall. If there are parts or spaces between the wood and the wall, you can use wood filler or caulk to fill them in.
Once I had all the board and batten pieces in place, I went through and filled all the nail holes with wood filler and then sanded them all. When they were dry, I sanded off the excess I then went along the edges of the wood, where it meets with the wall and filled them with caulk for a seamless look.
I gave it all a quick sand, making sure the edges were smooth.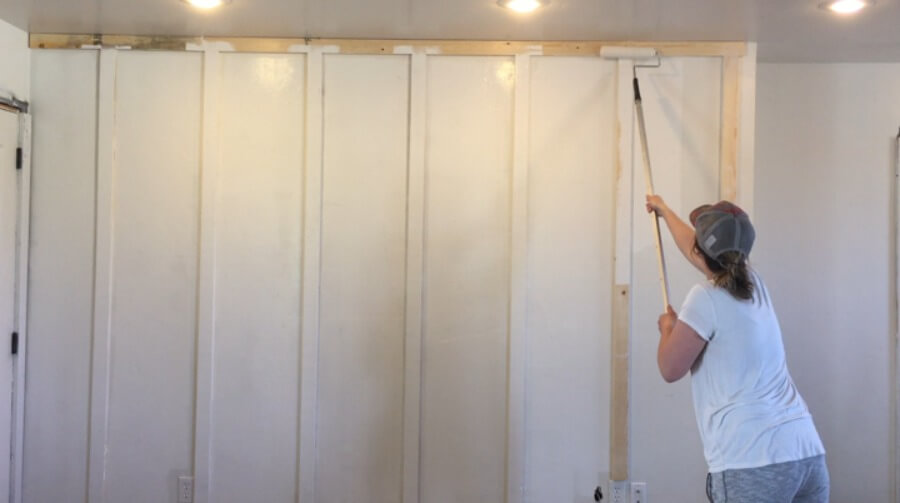 I then primed and painted the wood and the wall that was still exposed.
Once it is all painted, the board and batten wall treatment is done!
I will not mislead you. This project will take you a bit of time. Now, the installation goes quite quickly, but the puttying, caulking, sanding and painting will be the most time consuming. But, it is not hard. This is definitely something that a beginner DIYer can do.
Now check out my finished DIY farmhouse style board and batten walls!

This is the same wall that I show in the photos above. Doesn't it look great finished?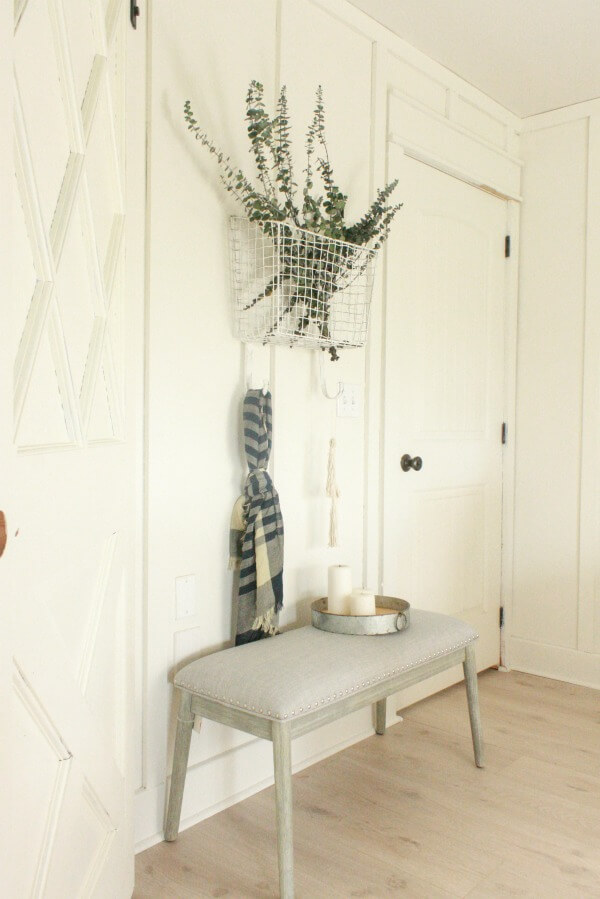 I installed this on all the walls except one in my master bedroom.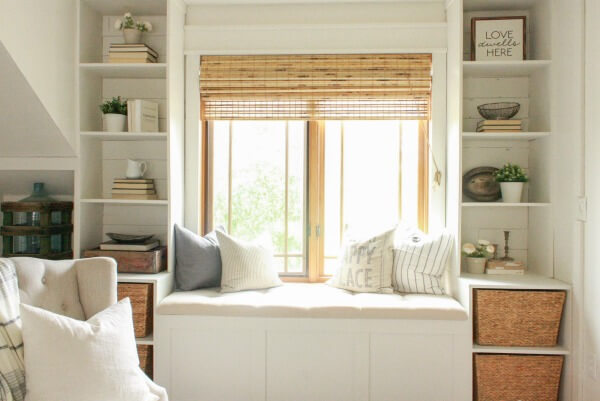 The one wall that doesn't have it installed is where we built some built in book shelves and a window seats with storage.
These were sorely needed in our bedroom and with the short wall where or dormers were, it made sense to use that space wisely. We built the board and batten right up to the bookshelves.
The combination of the board and batten along with the small amount of shiplap above our fireplace is one of my favorite features.
Here is the view from my bed. This wall goes up about 10 more feet, but I ended the board and batten where the other side of the rooms ceiling ended.
You can see it better in this image below.
This helps the room to have a more intimate and cozy look by breaking up that large expanse of wall. By adding our super easy DIY faux wood beams to the wall as well, the space took on a complete new look.
Installing this easy and inexpensive board and batten to the walls of our bedroom completed the cozy cottage farmhouse style look that we were looking for.
This is my escape. It is my very own retreat where I can unwind and just breath for a bit.
If you are interested in any of the products, home decor items, or accessories, I have included similar and exact items below for your convenience.


We did all the work in our master bedroom ourselves and we have many projects on the blog that are in this room. You should check out our DIY faux farmhouse style fireplace or my unique DIY ladder nightstand. I re-purposed an old ladder I found at a junk yard. It has become the best and most stylish nightstand I have ever had.
If you are interested in the flooring that we installed, check out this post about what flooring we chose and how we installed it.
Thank you so much for stopping by my site. I appreciate each and every one of you for the time you have spent here. It truly makes my day, and it makes this website/blog possible.
Have a great and and remember, I am here to help you make your home your own.
Make sure to PIN this board and batten wall treatment for later!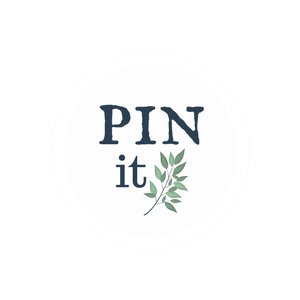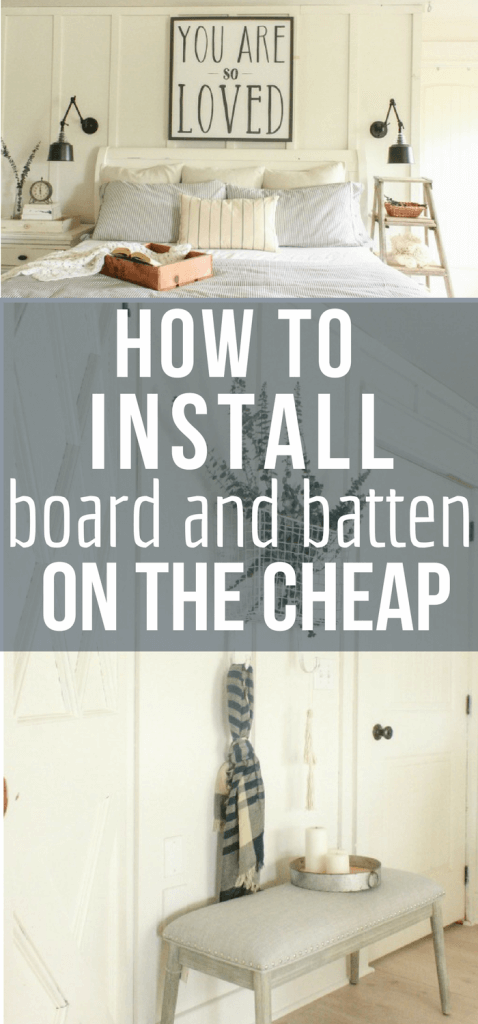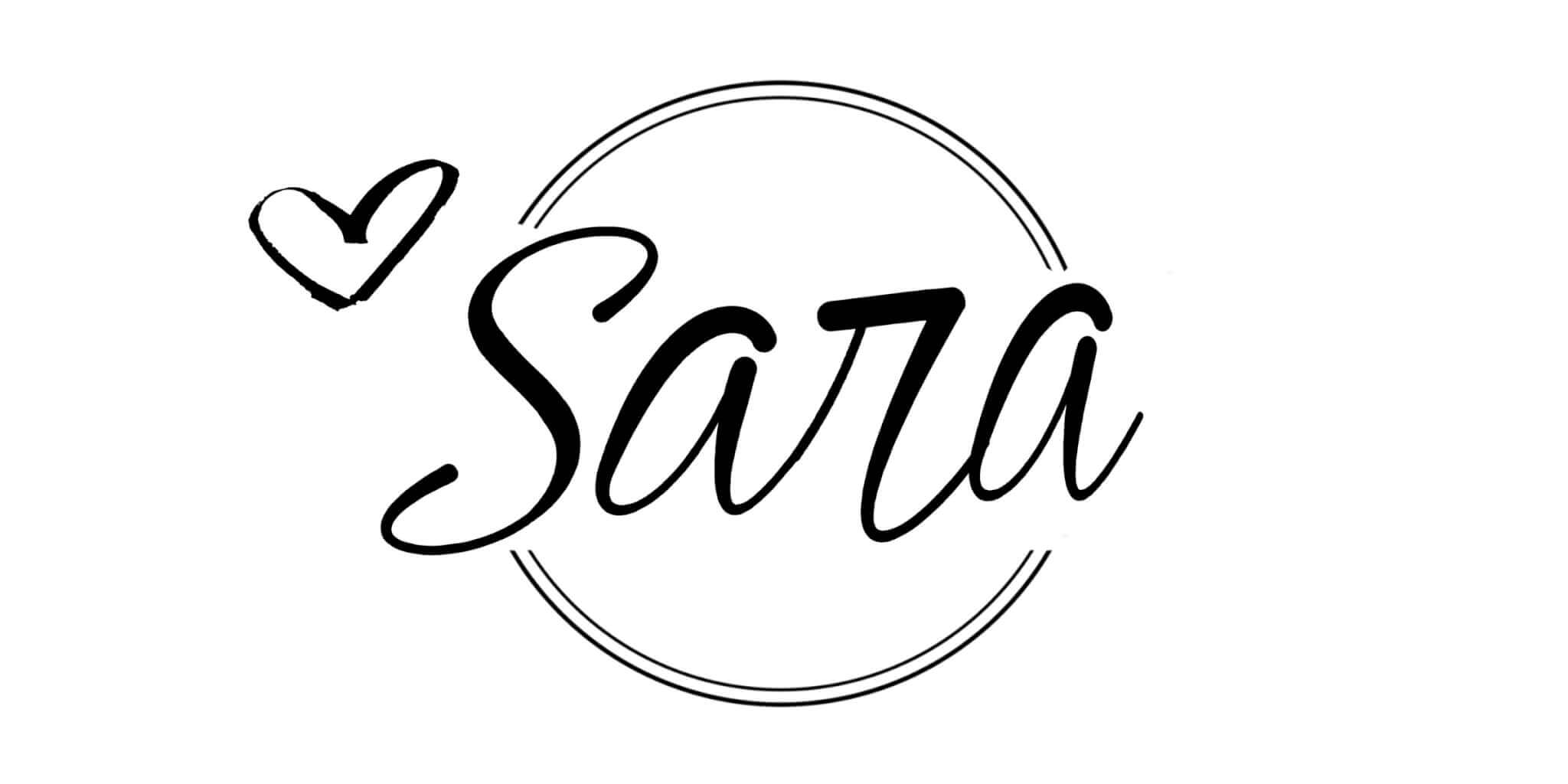 If you like this post, you'll love these:
My Budget Friendly Bathroom Makeover | Reveal
Install a Barn Door on a Budget
5 Inexpensive Ways to Update Any Bathroom Decor
Farmhouse Living Room Refresh with Paint
Painting and Distressing Furniture 101- Bringing Farmhouse Style Home
GET YOUR FREE GUIDE to 30 DIY projects that can be done over the weekend!
By subscribing, you will gain access to my FREE guide with 30 DIY projects that can each be done in a day, or over a weekend!
You will also receive a weekly email with some of my favorite tips, tricks, and design ideas.