Never in my life did I imagine I would have goats roaming around in a pasture in my backyard. Well, over the past couple of years, many things have changed for me, and one of those is goats. A couple years ago we got some Nigerian Dwarfs and have never looked back. Many people have asked me, what are goats good for? So, I wanted to share our personal experience as well as what other things they can be useful for.
Have you been looking into getting goats? Maybe you are searching the internet looking for information on what kind would be best for your needs? I want to share a bit of insight and some information in hopes that it will help you to choose what works for you.
When we first considered getting these fun little animals, I knew I wanted a small breed. The small breeds consist of mainly the Nigerian Dwarf and the Pigmy goats. While they are both small, they have very distinct qualities. Nigerian Dwarfs are slightly taller and more lean than the Pigmies. Pigmy's have shorter legs and are thicker in their body. From what I have been told, Nigerians are better for milk and Pigmies are better for meat. This is only in consideration of the smaller breeds. I will talk about others in a minute.
We mainly wanted some that could work on keeping the vegetation and weeds down in our back property. As I was looking, I thought that maybe having a small goat that I could eventually milk would be a good combination. I ultimately decided on getting two baby Nigerian Dwarfs. I chose a cute little doe and a wether, which is a castrated male, as her companion.
First lets have a chat about what certain terms mean because as I have chatted with people when selling my babies, or just in casual conversation I was really surprised how many people thought a billy goat was a certain breed. I wont laugh if you are currently thinking, "oops that would be me".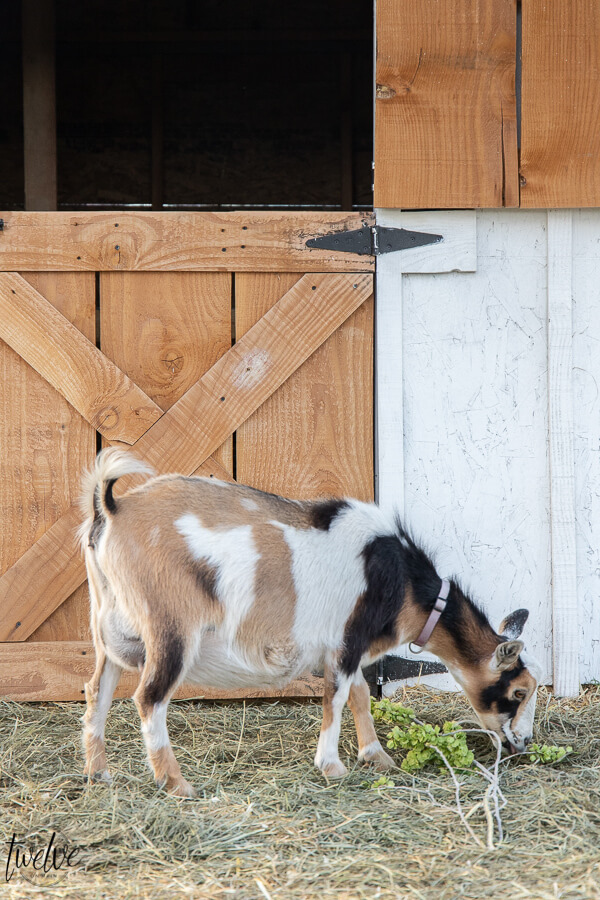 Common terms related to goat types and age distinctions:
Billy Goat or Sire-
A billy goat or Sire is a male goat that is in tact, which means that he has all his working male parts and can breed with other females and produce offspring. They are often stinky because of their mating ritual of peeing oneself to attract the ladies. He is the male parent.
Wether-
A wether is when male that have been fixed or castrated. They can be banded as a kid or have them surgically removed. We band our wethers. This means that they do not have their testicles which allow them to breed. Wethers end up being good pets and are good companion options for billies as well as female since they pose no threat to either. We currently have two wethers in our herd and they are great additions. They do not have all the hormones that a billy goat has, therefore they do not have the stinky habits and are very mild mannered. All they really care about is food haha.
This is our favorite wether Doug. He is our baby nanny. He is so great with the babies and cares for them as well as mom.
Doe or Nanny:
This is a sexually mature female goat. She is of breeding age and can and may have already delivered kids of her own.
Kid:
This is a goat of less than one year old.
Lets talk about the different kinds of breeds there are. For the most part, there are dairy and meat goats. Let's talk about the different kinds there are.
Popular milking goats:
The top 5 milk goats are Saanen, Nigerian Dwarf, Alpine, Nubian, and La Mancha
Popular meat goats:
Boer is the most popular breed for meat but there are many others that can be bred for meat. Take a look.
The Kalahari Red, Spanish, Kiko, Angora(primarily used for fiber but produce good meat and milk), Savanna, Tennessee fainting, Saanen and more.
There are many other breeds that can be added to these lists but these are the most popular ones. Lets dig a bit deeper into some of these breeds and their characteristics.
12 popular goat breeds:
ALPINE:
This dairy breed originated in the French Alps, and can thrive in nearly any climate. They are the highest producing milkers, with the top performers producing up to two gallons per day. That is pretty impressive!
LA MANCHA:
La Mancha's are born with very tiny ears. I have never understood why. They are good milkers, producing milk with high protein and butterfat content. One of the big advantages of this breed is that they can be milked for two years without freshening. They are generally easy-going, cooperative, and sturdy
NUBIAN:
Nubian goats are easily recognizable due to their long, floppy ears, and convex "Roman nose" muzzle. I love the Nubians and would love to eventually add a couple to my herd. Because of their Middle Eastern heritage, this breed can thrive in hotter climates then other dairy breeds, and they have a longer breeding season. Although they don't produce as much milk per goat as other breeds, Nubian milk is very high in fat content. This breed is also raised for meat, or for both meat and dairy.
SAANEN:
Saanen's are the largest breed of dairy goat, and are second in milk production only to Alpine goats. These popular animals have short, white hair and upright ears, and are known for their easy-going temperament.
BOER GOAT:
If you're looking for an economical meat animal or are interested in making a little extra money, consider raising Boer's. Originally bred in South Africa, Boers are now one of the principal meat goat breeds in the U.S.
SPANISH:
When the Spanish came to the Americas in the 16th century, they brought goats with them. These meat goats are excellent foragers, and will climb a tree for the last leaf if they have to. They're good mothers, easy birthers, hardy, and resistant to many parasites.
KIKO:
This meat goat from New Zealand is easy to raise, grows to market weight quickly, and will even clean up weeds on your acreage. The Kiko goat was developed in New Zealand by crossing feral goats with dairy goats in the 1980s. The goal was survivability and growth rate. The breed took off in the U.S. around 2000 when breeders started crossing Kikos with Boers to combine meat production with mothering ability.
TENNESSEE FAINTING:
This is the only goat breed indigenous to the United States. The term fainting comes from the goat's tendency to stiffen or tense up when startled or excited, due to a genetic condition called myotonia congenita. The muscle stiffening can cause them to freeze in place for about 10 to 20 seconds and, sometimes, fall over. While they are classified as meat goats, many acreage owners keep them for pets because of their docile nature and entertaining ways. They come in a wide variety of colors and coat lengths.
PYGMY
An adult pygmy goat is about as big as a medium-sized dog, which makes these mini animals perfect for acreages. While this breed does produce milk, they are most often raised as pets and for show.
NIGERIAN DWARF
This small dairy breed has big personality! With a high butter fat content they produce great milk that is more sweet than other goats milk. They are often used for showing as well. These are the perfect option for a small backyard farm.
ANGORA
Angora goats produce mohair, often used in making sweaters, scarves, and other garments. These require a bit of extra protection from the weather, since they can get hypothermia if their long hair gets wet from cold rain or snow.
CASHMERE
Cashmere is the downy undercoat produced by all goats and harvested by brushing rather than shearing. These goats aren't a specific breed, but not all have what it takes to produce cashmere on a commercial scale. Goats raised for cashmere production have been selectively bred to produce high quality cashmere in significant amounts. Still, it takes four goats about a year to produce enough cashmere for a sweater.
So what are you going to use your goats for?
1. If you simply want a couple of goats just to have as pets there are a couple of breeds that are good for that. Nigerian Dwarf, Pigmy, as well as fainting goats are all great pets. They have great characteristics and are manageable because of their small size.
2. Maybe you want a herd of goats to help you clear land? You cannot go wrong with just about any breed. We originally bought ours to help with this, and they have since become much more important to our farm, producing nutritious milk for our family. I make goat milk yogurt, cheese, and more with our goat's milk.
3. Are you wanting to dive deep into dairy goat production? Nubian, Saanen, Alpine, Nigerian Dwarf and La Mancha breeds are great for this. Nigerian Dwarf will produce less because of the goats' smaller size, but they also make a great addition if you have a small farm or even a large backyard. The larger animals, such as Nubians will produce more milk. Contact or check out the American Dairy Goat Association for all the information you might need.
4. Do you want to raise them for meat goat production? You can definitely do this and there are many breeds good for this. I do not like goat meat and therefore will never be raising for meat at our home.
5. Goats are also great companion animals for horses and other large farm animals. It is often said that they are great companions for race horses as they keep them calm. This is a great option for a wether, which is a fixed male. I would not recommend adding a Billy goat to a horse pen with another male horse. As I have seen first hand, sometimes the testosterone can get a bit heavy and a feud between a Billy goat and a Stallion is not pretty.
A few things to keep in mind about goats:
Goats are "herd animals" or "pack animals". They are also very social animals. If you are new goat owners or plan to own one soon. Make sure to not just purchase one. They need a companion. You do not want a lonely one, they will bellow and yell at you all day. The number of goats is up to you and what you are wanting. We started with two, and have grown to 5 at this point, however our herd as been as large as 9 when we include all the babies.
Get the right breed for your needs. If you plan to raise goats for meat, do not choose a Nigerian Dwarf for that purpose. While they are versatile animals there are breeds with specific purposes and you will get the best result if you choose your breed wisely.
Make sure you have good fencing for them. I cannot stress this enough. This is for their safety and the safety of your garden or yard. We installed 2 by 4 inch no climb fencing around our entire goats pen, and have never had a jail break. We have also never had any dogs able to breach the fence and attack our goats.
In closing, I just want to say that we love having goats. They serve many purposes on our small farm. They keep the weeds down, we milk our doe for milk and produce dairy products as well as milk, soap, and lotion. Our Nigerian Dwarfs also provide a small source of income when we sell the babies or "kids" off in the springtime. Lastly, they are a lot of fun, and ours have such great personalities. They are an important part of how we live and we love having them.
If you have a small farm and are getting your first animals, you can easily add them to it. They are great at clearing invasive weeds and with the smaller breeds you can easily home them with less space. You can use the goat manure in your gardens, and goats produce milk too! There are many advantages to owning these animals or being a goat farmer.
Check out these other great posts:
How We Use the Deep Litter Method with Our Goats and Chickens To Keep Them Warm
Our Nigerian Dwarf Baby Goats & A Glimmer of Hope on the Farm
Simple and Stylish Goat House Design
How to Choose the Right Chicken Breeds for Your Backyard
GET YOUR FREE GUIDE to 30 DIY projects that can be done over the weekend!
By subscribing, you will gain access to my FREE guide with 30 DIY projects that can each be done in a day, or over a weekend!
You will also receive a weekly email with some of my favorite tips, tricks, and design ideas.